| | |
| --- | --- |
| | LUVS2BIKE101's Recent Blog Entries |


Saturday, June 30, 2012
It's been a hot, hazy, but not-so-lazy kind of day. Before the temperature reached 90, I headed outside to do a bit of gardening at my church as well as on the home front. The newly planted flowers were in dire need of a good watering. I did a short power walk on the way home. Later, I freshened up a bit, had lunch and then headed to my sewing room for some creativity. With 4th of July upon us, I was feeling very patriotic and dove right into my stash of red, white and blue fabric. What kitchen would be without the stars and stripes as we begin to celebrate the birthday of our country? Not mine!

Happy birthday, America!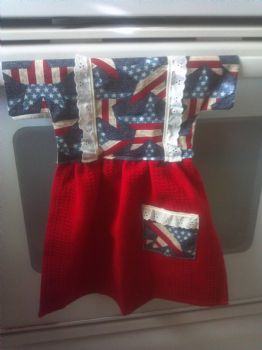 Wednesday, June 20, 2012
As I look back over the past two years, I am amazed at how I successfully began a journey to transformed myself into a new, healthy individual with goals and dreams I never thought conceivable. And it was all made possible because of my faith in God and with the continuous support and encouragement from my family, the entire SparkPeople.com team and friends like you! Now it is time for me to review my short and long range goals, celebrate my 2nd Sparkversary, and plan my next new adventure. I invite you to continue this journey with me and to celebrate...........celebrate life!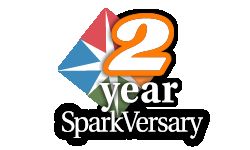 Saturday, June 16, 2012
We were so excited about joining the group for a kayak adventure on the Wallkill River. This river flows through the National Wildlife Refuge beginning at Sussex, NJ. It flows north between two major rivers that flow south, the Hudson and the Delaware. The weather report called for mostly sunny skies with a 10% chance of late afternoon rain.

Prior to meet-up, the leader of the group informed us that the paddle launch is 10:30AM. Because we were anxious and not so familiar with the area, we arrived by 10AM. Shortly after we arrived and unloaded our kayaks, most of the group filed in, one gentleman with his hand-made canoe. It was the most beautiful piece of workmanship I had ever seen.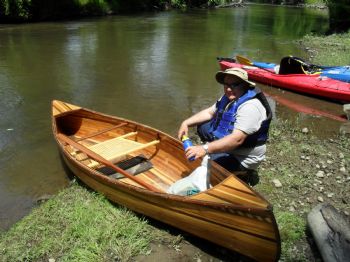 Because the leader arrived late, we launched at around 11:30AM. The journey up the river was amazing. The sounds of the Baltimore Orioles and other songbirds were a delight to listen to as we paddled. The beaver dams were huge! And the canopy formation from the trees hovering over the river made the paddle so serene and peaceful.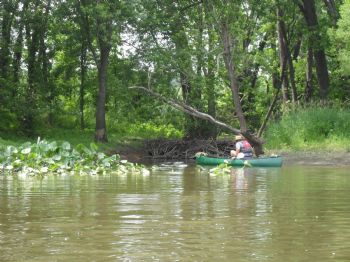 (Paddler checking out beaver dam.)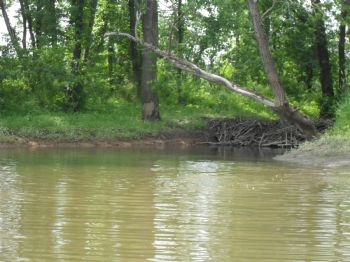 (beaver dam)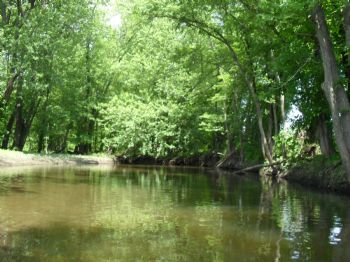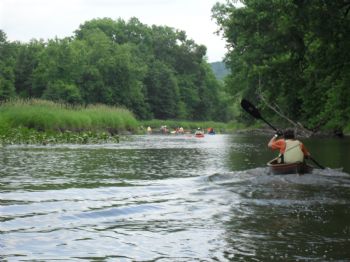 This was a nine-mile journey from point to point with several obstacles along the way. Sometimes we were able to paddle through brush. But then there were situations that forced us to climb over debris or go on shore to hike around downed trees, all while carrying our kayaks. Yes, this was challenging but not as exciting as it was to paddle through a couple of rapids while negotiating around obstacles.

As we entered the last quarter mile of the trip, the skies opened up and torrents of rain fell upon us. It was very difficult to see. In retrospect, had the leader arrived on time to launch the paddle as scheduled, we would have completed the trip in dry clothes and without fear of lightning danger. However, this drastic change in weather was a blessing in disguise because it made me realize the abilities I possess that were hidden all my life. I have come to realize during that brief quarter mile that I CAN DO IT --- no matter what I face!

This was actually a great experience and I learned so much about myself, kayaking, teamwork, life and the true meaning of commitment. What and when is your next adventure? Will you take on a leadership role? Become involved. Get active. Be committed to helping yourself and others to a healthy lifestyle. And have fun while doing it!

See you on the water!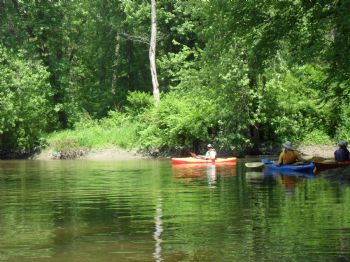 Saturday, June 09, 2012
Did you ever have one of those days when everything is going along so smoothly? And then you begin to wonder "when is the other shoe going to drop"? No matter what I did today, I was led in the right direction and everything I did, every place I visited, every person I spoke with brought a smile to my face. It was certainly a day filled with positive outcomes.

The morning began with a relaxing blueberry and whole wheat pancake breakfast. This time I remembered to include all the necessary ingredients so nothing would stick to the griddle. The pancakes were cooked to as near perfection as possible. (Thanks to a Spark recipe!)

After breakfast, I headed to Project Linus and met up with my new friends to spend time sewing labels on dozens of completed quilts that were ready for distribution. The work was done so quickly with everyone working toward a common goal, needle and thread in hand. As I was sewing, a couple of gals were telling me about a fantastic yard-estate sale going on not too far from our meeting place. They had stopped in prior to coming to the meeting but couldn't stay long as they did not want to be late for our meeting. It was THE yard sale for quilters. The entire main floor of the house was filled with fabric, notions, patterns, quilt books, etc., all at very little cost. So, we all agreed we would caravan to the sale after the meeting concluded. I was there less than ten minutes and I had two shopping bags filled with goodies, all for $12.50! That sale was a great find indeed.

After bidding farewell to the group, I continued shopping at the local stores. I needed a pastry blender/cutter to make Blueberry Buckle. All you Orange County, NY Sparkers out there be sure to pick up the latest complimentary issue of Orange Magazine. That's where you will find the recipe, which I am trying for the first time this evening. There is also Summer Pasta Salad recipe in the magazine that appears to be easy and quick to prepare.

About that other shoe, it did drop when I misread the amount of butter needed for the Blueberry Buckle. I thought I read 1/2 cup instead of the required 1/4. As you can see, it turned out ok, just tastes a little more flavorful with the butter.




Good planning leads to success. Make time to relax, to create, to help one another, to succeed.






Saturday, June 02, 2012
Being active is key to successful weight loss and all around good health. There is seldom any free time in my life to sit around and do nothing. Since adding kayaking to my world, I've become reacquainted with nature while finding a new purpose with my life.

There is nothing like the serenity or the beauty of a marsh in Spring. Sit quietly for a moment and close your eyes. Think of the sight and sounds of the red winged blackbirds, the beautiful yellow blooms of the lily pads, a family of ducklings waddling by, or the sound of the bullfrogs. Along the shoreline are colonies of turtles sunning themselves while resting on downed tree limbs. Now, with eyes still closed, look up and see the American Bald Eagle flying overhead and then suddenly swooping down in front of you, grabbing a fish and then immediately flying off to its nest to feed its young. Oh, look to your left! There is an osprey! Yes, there is so much to see from the seat of a kayak.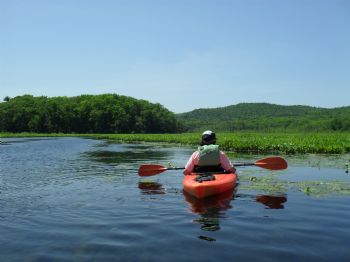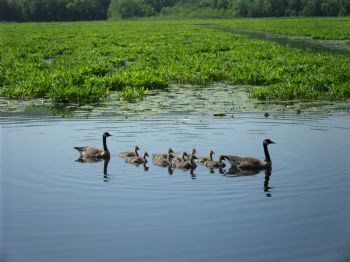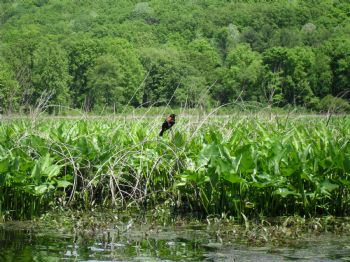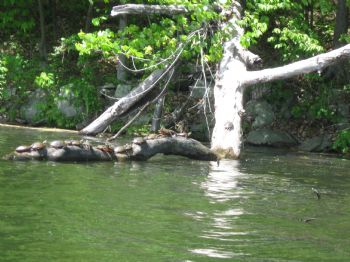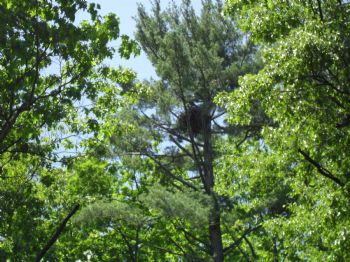 (Eagle's nest)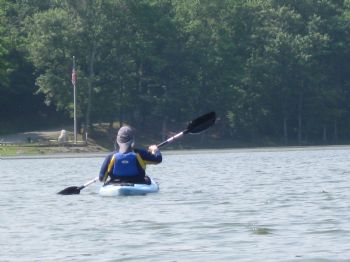 Open your eyes now and let your imagination become a reality. I do hope you all get outside to play this weekend......and every day. Ride a bike, paddle a stream, hike/walk a trail, whatever your pleasure, just do it! And, if mowing the grass or trimming the shrubs is on the agenda, do it in a fun way. Be thankful you are healthy enough to complete that task and enjoy the great outdoors!



First Page
1
2
3
4
5
6
7 8 9 10 11 12 13 14 15 16 17 18 19 20 21 Last Page

Get An Email Alert Each Time LUVS2BIKE101 Posts