| | |
| --- | --- |
| | LOULOUBELLE2's Recent Blog Entries |


Sunday, October 27, 2013
Can you tell that I'm a proud Great Grand Ma? Well I am...........
Quinten is 9 days old, Mathes is 9 weeks old when they met this past weekend. So very Special. What a Blessing to our family.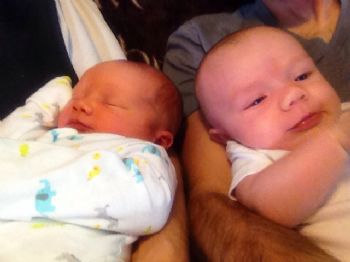 Tuesday, September 17, 2013

Received this in a E-Mail today and had to pass it on.
~~~~~~~~~~~~~~~~~~~~~~~~~~~~~~~~~~~~~~~~
~~~~~~~~~~~~~~


WHAT HAPPENS IN HEAVEN WHEN WE PRAY
I dreamt that I went to Heaven and an angel was showing me around. We walked side-by-side inside a large workroom filled with angels. My angel guide stopped in front of the first section and said, 'This is the Receiving Section. Here, all petitions to God said in prayer are received.

I looked around in this area, and it was terribly busy with so many angels sorting out petitions written on voluminous paper sheets and scraps from people all over the world.

Then we moved on down a long corridor until we reached the second section.

The angel then said to me, "This is the Packaging and Delivery Section. Here, the graces and blessings the people asked for are processed and delivered to the living persons who asked for them." I noticed again how busy it was there. There were many angels working hard at that station, since so many blessings had been requested and were being packaged
for delivery to Earth.

Finally at the farthest end of the long corridor we stopped at the door of a very small station. To my great surprise, only one angel was seated there, idly doing nothing. "This is the Acknowledgment Section, my angel friend quietly admitted to me. He seemed embarrassed.
"How is it that there is no work going on here? I asked."

"So sad," the angel sighed. "After people receive the blessings that they asked for, very few send back acknowledgments."

"How does one acknowledge God's blessings? "I asked.

"Simple," the angel answered. Just say, "Thank you, Lord."

"What blessings should they acknowledge?" I asked.

"If you have food in the refrigerator, clothes on your back, a roof overhead and a place to sleep you are richer than 75% of this world.
If you have money in the bank, in your wallet, and spare change in a dish, you are among the top 8% of the world's wealthy, and if you get this on your own computer, you are part of the 1% in the world who has that opportunity."

"If you woke up this morning with more health than illness.. You are more blessed than the many who will not even survive this day."

"If you have never experienced the fear in battle, the loneliness of imprisonment, the agony of torture, or the pangs of starvation... You are ahead of 700 million people in the world."

"If you can attend a church without the fear of harassment, arrest, torture or death you are envied by, and more blessed than, three billion people in the world."

"If your parents are still alive and still married.... you are very rare."

"If you can hold your head up and smile, you are not the norm, you're unique to all those in doubt and despair......."

"Ok," I said. "What now? How can I start?"

The Angel said, "If you can read this message, you just received a double blessing in that someone was thinking of you as very special and you are more blessed than over two billion people in the world who cannot read at all."

Have a good day, count your blessings , and if you care to, pass this along to remind everyone else how blessed we all are..........

ATTN: Acknowledge Dept .
"Thank you Lord, for giving me the ability to share this message and for giving me so many wonderful people with whom to share it."




Sunday, September 15, 2013
"Water, water everywhere and not a drop to drink".
An old wise tale? Yes, but kind of the truth today in parts of Northern CO. It's raining extremely hard again today as it has been for 4-5 days now. Many road closer's are again in effect. Our No. CO. Rivers, "The Big Thompson", "Cache La Poudre", "Platte" and the "St. Vrain" all are way above flood stage once again. Hundreds are still trapped and in need of rescue. We have 16 lg. Fema Helicopters ready to help rescue, but they can't fly due to low visibility.
We lost a very active member of our church.....She is presumed dead as she was last seen trying to break out her bedroom window as her house broke apart and was carried down the flooding river. Other cities and towns are in bad shape to, some cut off from the world with no way out or in due to damaged roads.
It's going to be a long, long time before N. CO is back to normal if it ever is. So many roads destroyed even washed completely away, bridges out, homes and businesses lost, lives changed forever.
Our city, Loveland, is again divided in half due to floodwaters spilling over all our east/west roads, many north/south roads are blacked as well. Our Daughter's family and one of our Grandsons & family are okay, but they are on the south side of the city. We are on the north. Another Grandson is also on the north side of our city, which is good as his wife is weeks away from having their 1st baby and the Hospital is on our side of the city. Our Phones and electric are working, but dimming periodically.
I feel so guilty as I sit in our home, safe and dry, watching TV, the flood coverage and a bit of football. It all seems so surreal. Road closer's everywhere, so as soon as we can get out we are hoping to volunteer anywhere we can.
One bit of good news is that starting sometime tomorrow it's predicted the rain will to be coming to an end and the sun will return. I pray the weathermen are right and the sun will soon shine and start to dry us out.



Thursday, October 13, 2011

This is an interesting concept that I thought was well worth passing on to my Spark Friends. Iím certainly going to look at labels more carefully after reading this.

All of the following is from 1 e-mail sent to me.
----------------------------------------
------------
ONE AT A TIME:

This probably sounds crazy, but just yesterday I was in Wal-Mart looking for a wastebasket. I found some made in China for $6.99. I didn't want to pay that much so I asked the lady if they had any others. She took me to another department where they had some at 2.50 and made in USA. They are just as good. Same with the kitchen rug I needed. I had to look, but I found some made in the USA and they were 3.00 cheaper.

We are being brain washed that everything that comes from China and Mexico is cheaper. Not true. That is also why I don't buy cards at Hallmark anymore. They are made in China and are expensive. I buy them at Dollar Tree. 50 cents each and made in USA. One Light Bulb at a Time A physics teacher in high school, once told the students that while one grasshopper on the railroad tracks wouldn't slow a train very much, a billion of them would. With that thought in mind, read the following, obviously written by a good American

. . . Good idea . . .. one light bulb at a time . .. ...
Check this out. I can verify this because I was in Lowes the other day for some reason and just for the heck of it I was looking at the hose attachments. They were all made in China. The next day I was in Ace Hardware so just for the heck of it I checked the hose attachments there. They were made in USA. Start looking around people and read the labels. In our current economic situation, every little thing we buy or do affects someone else - even their job.

So, after reading this email, I think this lady is on the right track.. Let's get behind her! My grandson likes Hershey's candy. I noticed, though, that it is marked made in Mexico now. I do not buy it any more. My favorite toothpaste Colgate is made in Mexico, now I have switched to Crest. You have to read the labels on everything.
This past weekend I was at Krogerís. I needed 60W light bulbs and Bounce dryer sheets. I was in the light bulb aisle, and right next to the GE brand I normally buy was an off-brand labeled, "Everyday Value. I picked up both types of bulbs and compared the stats they were the same except for the price. The GE bulbs were more money than the Everyday Value brand but the thing that surprised me the most was the fact that GE was made in MEXICO and the Everyday Value brand was made in - get ready for this - the USA at a company in Cleveland, Ohio.

So throw out the myth that you cannot find products you use every day that are made right here. So now on to another aisle - Bounce Dryer Sheets - yep, you guessed it, Bounce cost more money and is made in Canada. The Everyday Value brand was less money and MADE IN THE USA! I did laundry yesterday and the dryer sheets performed just like the Bounce Free that I have been using for years and at almost half the price!

My challenge to you is to start reading the labels when you shop for everyday things and see what you can find that is made in the USA - the job you save may be your own or your neighbors! If you accept the challenge, pass this on to others in your address book so we can all start buying American, one light bulb at a time! Stop buying from overseas companies! (We should have awakened a decade ago....) Let's get with the program and help our fellow Americans keep their jobs and create more jobs here in the USA

Author of the above e-mail: Anonymous



Wednesday, September 07, 2011
When my computer crashed several weeks ago, I learned numerous things about what my eye disease, Wet Macular Degeneration, was actually doing to me. This disease has left me partially blind after 9 different surgeries to my eyes.
Since I wasnít spending time staring at my computer monitor, several things became clearer to me, (no pun intended). Those were:

1. I could read my Bible easier, even the large print one I have, a real blessing to me.
2. But then I noticed that I could read the amounts of recipes ingredients easier.
3. The markings on our microwave, washer/dryer and our remotes were clearer.
4. It was easier to dial the phone and read my watch.
5. Even writing checks and reading mail/newspaper was easier.
6. Not to mention I could distinguish colors a bit easier and even see that 1/4Ē seam allowance when quilting.
Plus
7. I had a tiny bit more time to get in some exercise and stretches in which actually improved my back pain.

These improvements in my sight meant that I wasnít stressing my eyes on the computer as much and this really was a big revelation to me as I thought that I had been handling the situation pretty well. Now I realize that I must take care of what sight I have left, which at the same time will also improve the quality of my ďrealĒ life. By cutting back the time on my computer Iíll have more time to walk and train our new little puppy, more time to read, quilt and more time to stretch and exercise my back. All these changes will make for a happier me and my DH to!!!!!!!

Therefore I resigned my leadership on the OALB Team, signed out of some, but not all, of my other teams. The OALB Team and its members mean too much to me to leave that team. In general I will cut out reading lots of Sparksís e-mails and blogs, I love being on Sparks, I love being a Sparkie, itís been a God send to me, so Iím not leaving Sparks.

So fellow Sparklesí please forgive me if I donít always answer you promptly, but know I appreciate your goodies and comments more than you know.

Thank You for understanding. Iím still a Sparkie and still Sparking.

1 2 3 4 5 6 7 8 9 10 11 12 13 14 15 16 17 18 19 20 21 22 Last Page

Get An Email Alert Each Time LOULOUBELLE2 Posts