| | |
| --- | --- |
| | LOTUSFLOWER's Recent Blog Entries |


Sunday, August 05, 2012
As some of you may know, a good friend of mine from high school passed away recently. After this happened, it made me look at my own life closer, and I wanted to live it more. So many times we say we don't have time for things, or say, "Oh, we will do this or that later." Well for the cup of coffee that my late friend and I kept saying we would grab, that time never came.

After this happened, I made a lot of calls to my best friend since freshman year of H.S., Cheri, and I brought up the Terrapin. A few months back I mentioned it to her since it is a race we talked about doing often - she is a big Grateful Dead fan and this race is not only named after a Dead song, but hosts a concert during and after the 5k and the headliners are a Grateful Dead cover band. But at the time she was planning a big move out of state to Colorado and I was interviewing for a new job and packing up my old office. It wasn't, as they say, good timing. So we had sort of shelved it.

But after our friend died, we decided that life was short and we should do it. I told her that I would pay for half of her plane ticket, but she wouldn't let me, so instead I bought our hotel room to stay in that night and bought our race entries. As the race grew closer the timing got even worse - the Monday before the race she moved to Colorado into her new dream home, and I started my new job. I told her I would understand if she had to cancel. She wouldn't hear of it. She said if it was anyone else, yes, but that she would never let me down like that. I have the best friend ever. I really don't know many people who would do this.

Well I have to say it was all worth it! To say we had a great time would be an understatement. (I'm waiting for the official pictures to come in, but I'm hoping they captured her dancing to "I'm Sexy and I Know It" while running, people came up to her afterward and said it was the highlight of the race for them!

It was hot out, it was supposed to cool down to 75 from 90, but I don't think it cooled down much, it's the hottest race I've done, I had beads of sweat all over me and even sweat dripping from my ears when it was over with, and I don't sweat easy! But worth it.

Us before the race.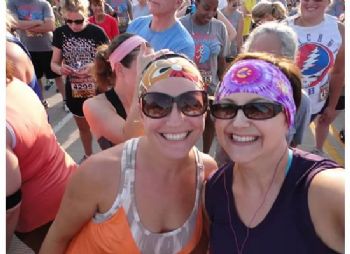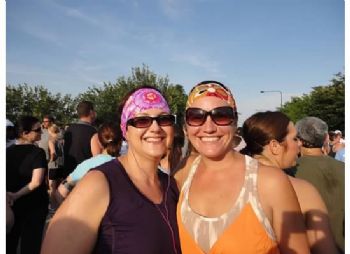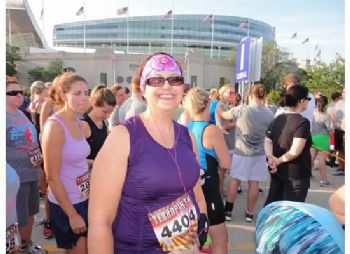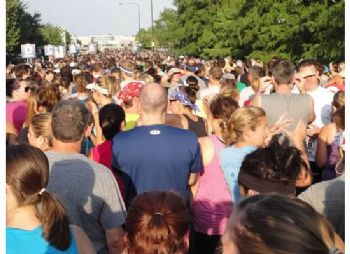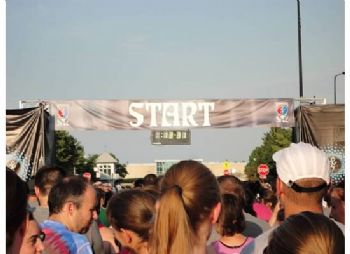 The view at the turnaround spot



The goodies after the race - a donut and a veggie quesadilla




Cheri taking a balloon off the post for a young boy - you should have seen his face light up when she handed it to him!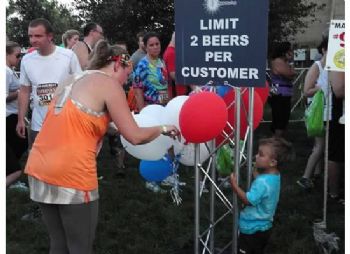 Us after the race - official time was 39:29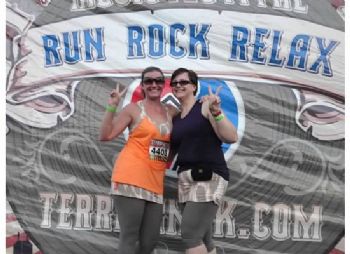 We also each got a free beer and Nuts on Clark mixed popcorn - yum!




The moon was beautiful! Later it turned white.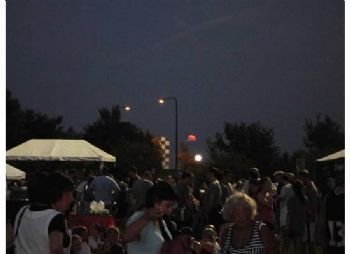 Mr. Blotto - music and dancing.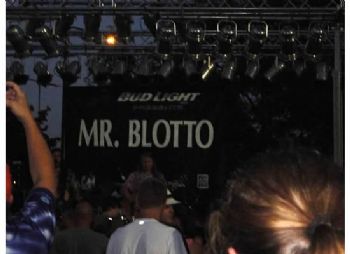 Then Cheri took me to a yummy Mexican restaurant and we had dinner and a margarita.

Afterward at the hotel in our Terrapin shirts enjoying some wine and sharing laughter.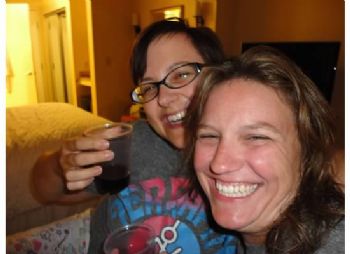 Having this time together in the city brought back great memories of one of the best years of my life when we both were single and lived together in the city. It was so nice to have that time without the kids and husbands.

Is there something that you've been putting off? Just get out there and do it. Life is short.








Thursday, July 26, 2012
I can't tell you how much I dreaded showing my license - ever - to anyone. The checkout lady at Trader Joes, to verify employment, to prove residency, every time I had to take that thin piece of plastic out of my wallet I cringed. 8 years of this hatred for my Driver's License picture. We all can take bad pictures, but this one was bad with a capital "B"! First, I didn't realize I was getting my photo taken, the person ahead of me just got a reprint of their last photo, which is what I was secretly hoping for, as I had gained over 100 lbs. since my last DL picture. But no, that camera silently snapped just as I realized (too late) what was happening. I had a bit of a hair mishap, too (it was a windy day) and I was generally not a happy person, living larger than I should be and showing it on the outside.

And as I lost weight, it would cause confusion. The guy carding me to get into a bar would do a double-take, was that really me? The cashier at Trader Joe's once gave me a side glance and said "You go, girl." See, I wasn't the person in that photo. Not anymore.

Since I'm a good driver, I usually renew over the phone, so I have lived with this bad picture for 8 long years. But since I needed to take the vision exam again (they only give you so many free passes), I had to physically go in and get my new license, and get a new photo.

I was so excited for this change to "redo" my terrible license picture. Not only because this time I would be prepared and smile at that tiny blue light, but because I was thinner by 105 lbs., too. BONUS!

Here is my comparison of the old to new. I feel 10 years YOUNGER, not older, and I feel like I've been given a new chance, at the DMV...and in life.

I also updated my weight on my license to be my goal weight - 178. I'm not there yet, but I will be. (And the weight on my old DL I never updated with my weight gain, so it always read 180. A white lie at the time that is slowly coming true.)

EDITED: I want to add and make it clear that I EMBRACE who I was. I truly do. You can read my blog "Pictures on the Shelf" below if you would like to read more about that.

www.sparkpeople.com/mypage_public_jo
urnal_individual.asp?blog_id=4833401

But this is a HUGE NSV for me and I am going to celebrate it. Embracing a terrible picture of yourself on your Driver's License (how many of us dislike these photos) is not the same as embracing who you WERE. Now I have a little slice of this new life in my wallet and I like it, and I AM going to celebrate it. I deserve to. Too much of my life has been spent looking backwards at my past, and not living in the CURRENT. Now my Driver's License has caught up to who I AM and I will not just let that go by without tooting my own horn. Sometimes we need to be our own cheerleaders - that's my secret to getting through the hard times.






And it is nice not to erase, but to re-write history.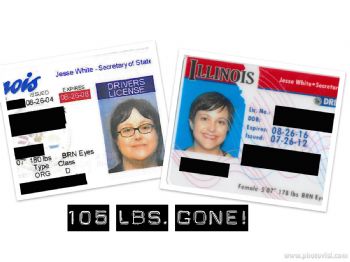 (To see a larger image I also uploaded this picture to my Spark page).





Wednesday, July 18, 2012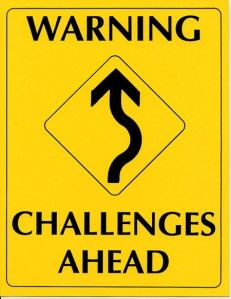 One of our challenges this week for RockIt is to write about two of our roadblocks that may prevent us from reaching our health goals. Both of mine have the same core principal.

FEAR.

FEAR OF FAILURE: I am a perfectionist. I have to do things perfectly or not do them at all. This doesn't fare well for my dreams in life, which are 1. To get to my goal weight and no longer be "obese" and 2. Publish a novel.

See, sometimes I just stand on the sidelines because it's better to not try at all and look like a fool, than try and fail. Right? Wrong. This is the very thinking I'm trying to obliterate, but it is what stalls me sometimes. I'm not the fastest runner. I will never be "perfect" at running. For me, it is an imperfect sport, and therefore it doesn't fit into the square cutout of my ideal -- but that is also the beauty of it. I can run and flail my arms about if I want to. (Remember the Friends episode where Phoebe runs?) Yes, I will look silly, but I would still be technically running. I would still be burning calories. With writing if I don't get words down on the page, there will be nothing to edit. So without my willingness to step out on the ledge and jump, there will be no story, no art, no beauty. Without being willing to jump, and possibly fall, I will remain the exact same person as I am today. No growth. No movement.

One of my favorite Woody Allen quotes is "A relationship, I think, is like a shark. You know? It has to constantly move forward or it dies." Well I think the same rings true for us as humans. We need to keep learning, and failing, and learning from those mistakes, to truly grow and become the people we were meant to be.

I am a comic geek, and love the quote Batman's father says to a young Bruce Wayne after he falls. "And why do we fall, Bruce? So we can learn to pick ourselves up." It's hard but I do think that every setback makes us stronger and the next time a situation presents itself we handle it a little better each time. And then we may have a huge setback, but we always get back up.

FEAR OF SUCCEEDING: The opposite of fearing failure. Seems silly, right? But how many of us are overweight because of the protection that being larger offered us? (...Raises hand.) Being a larger woman I could be passed by and ignored. I have been mistreated in my life, in my past. By men. When I was a svelte size 6 and considered by some to be beautiful. After certain tragedies in my life, I turned to food. It not only comforted me, it padded me from the world and its risks. I lived over ten years of my life in this fat bubble. To be breaking out of it and seeing men staring at this new creature emerging, to have men open doors for me, to be flirted with, all of this is scary. Yes, I am married now to a wonderful man. But it doesn't make that attention any less scary, not for someone who has been burned so badly that she is scarred.

I recently lost my childhood best friend unexpectedly. She was young, 37. It was her heart. And while we still talked via text, email and occassionally on the phone, we hadn't seen each other in almost 15 years. Why? Because I had gained 100 lbs. in the span of a year at the age of 24. And I was afraid for her to see me like that. I didn't want her to see what I had become....and felt that she would reject me. Would she have? No. But that was how I lived those 10 + years of my life, living in fear, staying indoors, not having the children we wanted...I lived in a prison that I created myself. This bubble is no longer serving me, and must be burst.

I am no longer going to let fear define, restrict or drive me.

Another quote from Batman, when Henri Ducard says to Bruce Wayne before training him "What you really fear, is inside yourself. You fear your own power .. your own anger... the drive to do great - (or terrible) - things."

What if what I am really afraid of, in both of my roadblocks, is my own power? That I have the power inside of me to change? Perhaps it's my own instinct to keep things at the status quo, to avoid change. Change is scary, right?

The thing is, we all have this power inside of us and I think that for me, once I reach my lowest weight (which coincidentally just happened before I hit my 11 month record-setting plateau), I get scared. I see a part of me I haven't seen in such a long time. And terrible things happened to that smaller person. This weight has protected me, like a blanket. And sometimes shedding that blanket is much more mental than it is physical.

I am going to be strong and let my body take shape and know that now is not my past, I am not defined by my past, and I can step out into the light, and embrace the freedom that comes with it.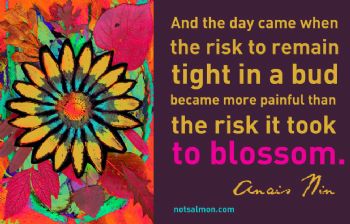 Our greatest fear is not that we are inadequate,
but that we are powerful beyond measure.

It is our light, not our darkness, that frightens us.
We ask ourselves, Who am I to be brilliant,
gorgeous, handsome, talented and fabulous?

Actually, who are you not to be?
You are a child of God.

Your playing small does not serve the world.
There is nothing enlightened about shrinking
so that other people won't feel insecure around you.

We were born to make manifest the glory of God within us.
It is not just in some; it is in everyone.

And, as we let our own light shine, we consciously give
other people permission to do the same.
As we are liberated from our fear,
our presence automatically liberates others.

~ Marianne Williamson






Monday, July 09, 2012
I just got a copy of Leslie Sansone's Walk at Home newsletter and I discovered that I am now officially a "walk star"! I'm the second story down, and the first story is my friend Nancy, who I met at the certification in April.

www.walkathome.com/walk-stars-storie
s/

This is a dream come true - what initially prompted me to start her program and lose weight was seeing a WAH newsletter with a picture of a Mom who lost 100 lbs. to be healthy for her 2 kids...I printed out that newsletter and wrote on it "This is going to be me! (dated 4/18/08)" (picture below).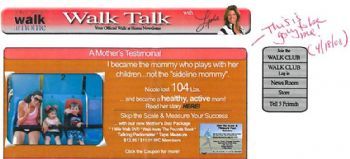 Now I AM that Mom!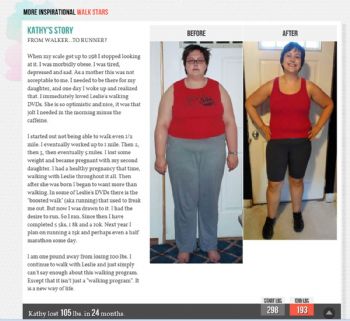 (Disclaimer: It took me longer than 24 months to achieve my 100+ lb. weight loss, it took over 3 yrs., that is a typo.)






Monday, July 02, 2012
MAIN CHALLENGE: For the main challenge this week, plan 3-5 workouts through out the week and complete them. Once you have your plan picked out, either post in your team or on your blog so that it is out there and we can help support you. Having a plan is one of the many steps that you can take to help you achieve your goals. Baby steps lead the way to your goals! Rock It! Ladies!!!!! These workouts need to be at least 30 minutes long and can be either strength training or cardio. Get it done ladies! You will feel AMAZING!

I will be going to Michigan tomorrow afternoon so I wanted to plan workouts that I could do in Michigan as well as here. The run scheduled for tomorrow morning depends on how I feel, I am still exhausted from the weekend, and drinking a few too many martinis...but without the run this still equals 5 workouts.

I also have a healthy eating plan for Michigan, eat all of my lunches and dinners with a salad, or make it into a salad. For example, if it's burgers I will have it minus the bun and put it into a salad with lots of veggies. Also striving for no grazing on chips and the like.

My planned workouts:

Monday: Teach Walk Live Class
Tuesday: Run in the morning
Wednesday: Swimming in the lake
Thursday: Lead a walk at the cottage with my family.
Friday: Walk
Saturday: Run in Michigan



First Page
1
2
3
4
5
6
7
8
9
10
11
12 13 14 15 16 17 18 19 20 21 22 23 24 25 26 27 28 29 30 31 32 33 34 35 36 37 38 39 40 41 42 43 44 45 46 47 48 49 50 51 52 53 54 55 56 Last Page

Get An Email Alert Each Time LOTUSFLOWER Posts