| | |
| --- | --- |
| | LOTUSFLOWER's Recent Blog Entries |


Friday, June 29, 2012
I started off the SASS Seasonal Done Girl challenge at 196 lbs. I had recently reached 100 lbs. down and I felt like I was going to reach my goal weight during this challenge. That was not to be. I ended the challenge weighing 197.5. Well, weigh in isn't until tomorrow...and I have a funny feeling I will end the challenge at the exact same weight that I started.

I want to say it's a plateau. I've been here for a long time, and I know that in a weight loss journey such as mine, where I have so much weight to lose, I will hit a few of these potholes along the way.

But....

I've slacked off, too.

I read an article about plateaus that asked an important question: "Is it a Real Plateau or Not?"

Well, yes, this feels real enough. But I read on further.

"Just because your weight loss has stalled does not mean you have hit a "true" plateau. A true plateau is one that results from you "tapping out" the weight loss capacity of your current efforts. So, for example, if you stuck to your 1700 calorie diet and worked out 4 times a week consistently, eventually you would stop losing weight from that specific effort. That plan will only get you so far, and you will know how far when the weight loss stops. Often people hit their first plateau at about a 7-10% weight loss, and then more plateaus will follow at various increments. The most important thing to figure out though is if the plateau is real or instead being caused by your calorie intake having increased or your exercise having decreased. So, back to our example, if your 1700 calorie diet has drifted up to a 1900 calorie diet and your 4 day exercise plan turned into 2, then you are drifting not plateau'ing."

I think I am drifting. (see link below for tips on stopping a "drift")

www.fudiet.com/2011/03/catch-your-ow
n-drift/

(Who else had the lyrics "Like a drifter I was born to walk alone" go through their heads? Ok, onto it).

I haven't burned my goal of 2200 calories per week in a while. I've been eating out, I've been indulging a bit too much.

I've been lazy.

I might have had a few weeks where I did give it my all and the scale didn't budge...that frustrated me so I slacked off. Why not, right? Where was all this doing things by the books going?

I looked back and the last monthly progress report blog I posted was back in March. At that time I was at my lowest weight: 193.5. Now I've drifted back up to 197.5.

I know I have mental work to do, too...Am I mentally ready to be in the 180s? I don't know.

But I'm not going to give up without trying.

So, what I am going to do is analyze my food. Log everything and stop indulging in too much popcorn or wine, my vices.

I am going to blog monthly about my progress.

I am going to workout every day.

I will not be too strict or hard on myself, as that leads to more drifting, especially for me, but I am going to be honest with myself.

WEIGHT GOALS:

Challenge Starting Weight (Your weight on 07.01.2012): 197.5
Long-Term Goal Weight (in pounds): 178
Challenge Goal Weight (in pounds): 181

Weight goal: To lose 16.5 lbs. during this 16 week challenge.

Notice that my ultimate goal weight is 178, but my challenge goal is 181. I always set goals that are too high for myself, and I don't attain them. Over time, I've remained the same. So my thinking is to set an attainable goal for me. We are all different and when I am losing, I am a slow loser. So this weight loss goal calculates to a weight loss of about 1 lb. per week. That is completely do-able.

FITNESS GOALS:

To start making running a habit. I have only been running on average 1x per week. I want to bring that up to 3x per week so that I am ready for half marathon training come September.

To incorporate yoga back into my routine.

To start boxing with my husband.

GOAL: Burn at least 2200 cals. per week:

Monday 3 Mile Walk Live Class (515)
Tuesday Run (525)
Wednesday Boxing with Jim mixed with cardio and ST (300)
Thursday: Run in the morning and 3 Mile Walk Live Class at night (1100)
Friday Walk & kickboxing (150)
Saturday Long Run (630 - 700)
Sunday walking and yoga: (125)

Total: 3415

NUTRITION GOALS:

1400 - 1750 calories
10 glasses of water per day.
Only 2 cups of coffee in the morning, tea in the afternoon.
NO dairy – going cold turkey. (working on this!)
Get all of my freggies in.
Popcorn – break out the air popper and make it truly healthy. Then I can have 2 bowls.
Wine – only 1 – 2 glasses on special occasions. No more casual drinking.
Track all of my food into the fitness tracker and check my stats nightly to see where I need to tweak anything.
Start using SP meal plans again.
Start cookies recipes from the Spark Cookbook again.





Saturday, June 09, 2012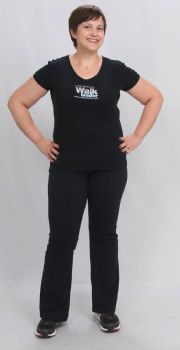 Three years ago when they introduced the Walk Leader certification program from Leslie Sansone, I saved the postcard that my Aunt Barb gave me announcing it, and put it up on my desk. I wondered if I would be a good leader. However, at that time, I was still at the beginning of my journey. I still needed to lose 100 lbs. And I wondered, how could I lead, when I needed to be led? So I put that postcard away and shelved that dream. But as anyone knows with a dream deferred, as the poem by Langston Hughes states, it "explodes", meaning this dream kept building in my head and it was something I would think about, then disregard. This certification is only offered once a year, so every year come certification time, as I grew closer to my weight loss goal, I would think about it, but then think of a million reasons why not. It cost too much money. Who would come to my class? Who did I think I WAS, really.

Well, no more. This past year when the class was offered I went through the usual hemming and hawing, and then I decided I was going to DO this. I got so many signs that it was the right step to move forward with this. They say you should do what would make you happy even if you didn't make any money at it. For me, that is simple. Writing and walking. I lead walks for my family in Michigan all the time; I led my sister when she was pregnant with twins, my parents, my other sisters, my own kids and family. This was something I loved to do, and the core of my workout program during this weight loss journey. A walk always makes me feel better. Wouldn't that transfer to other people and help them? I had to try. I wasn't afraid of failure anymore.

Now I am just so excited to be a certified Walk Leader for Leslie Sansone so that I can teach others how to start working out and becoming stronger. I am thrilled to be able to say I am now a certified "Fitness Instructor". I lead 3 classes a week. I am still pinching myself, I can hardly believe it. And to hear my students say "I love your class!" as they are leaving? Just amazing.

And to think at the start of this journey I couldn't walk even a half mile with Leslie. The journey of 1,000 miles does indeed start with that one, first, single step.

I can't wait to inspire others to take the first step, if they haven't already.

Is there a dream out there that is deferred to you? What steps can you take to reach out and grab it?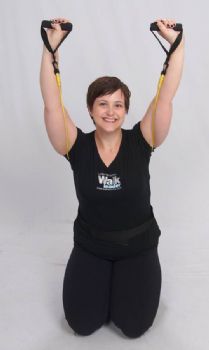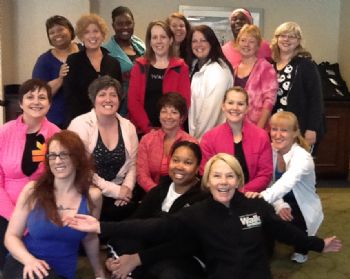 Graduation Class of 2012 in Chicago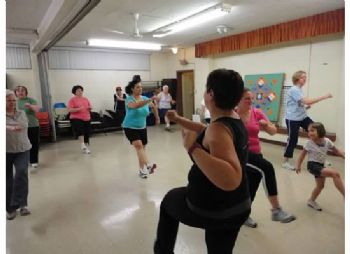 Picture of my class. There's my daughter Lucy in the front row!


***
What happens to a dream deferred?
~ By Langston Hughes

Does it dry up
like a raisin in the sun?
Or fester like a sore--
And then run?
Does it stink like rotten meat?
Or crust and sugar over--
like a syrupy sweet?

Maybe it just sags
like a heavy load.

Or does it explode?






Friday, June 08, 2012
This race report is a little late in getting posted, but that doesn't make it any less important. This was my baby sister Missy's FIRST 5k. Missy is a mother to 4, having had twins a year ago. After she had the twins (2 beautiful baby girls to balance off her two toddler boys) she made a commitment to run a 5k. I told her about the Couch to 5K program and she trained with that program on her treadmill at home, along with her husband, my BIL, Tony.

One weekend in Michigan we went for our first run together: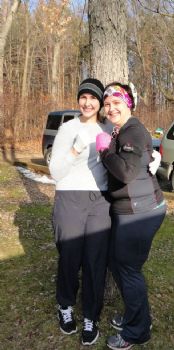 Before our run.



After :)

A week before the race her and I took a test run outside, she hadn't run outside often during her training and it can be intimidating. It's different than running on the treadmill. She did awesome, she is faster than me, which I knew she would be, and I was so proud of her!

This race benefits the mission of Easter Seals, to enable infants, children, and adults with disabilities to achieve maximum independence and to provide support for the families who love and care for them.

On race day I met my sister and Tony at their house and we walked to the race.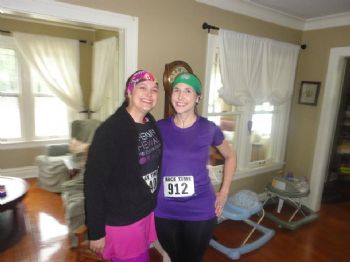 Me (left) with Missy (right) - See the twin walkers behind her? She's a rock star!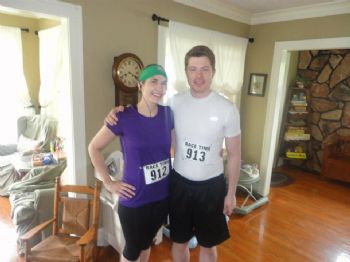 Missy with Tony at the house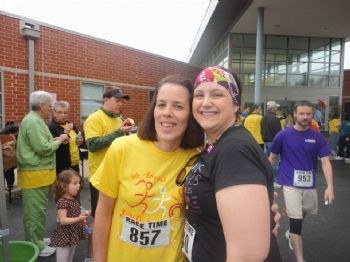 Me with my workout partner, Jackie!



Missy with Tony before the race

And we're off!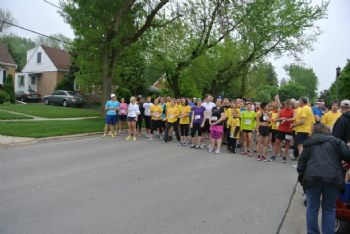 See us in the front? You can't miss my pink skirt/leggings :)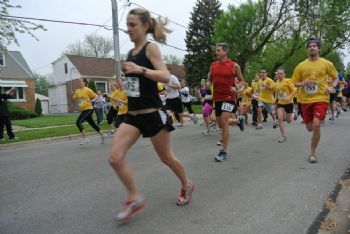 (See my pink leggings? LOL.)

The start of the race had an actual gun (shooting blanks of course). But it threw me off, and I think a live gun makes people run faster. So while my plan was to stay with my sister, once that gun went off I ran as if I was running for my life! I honestly thought she was in front of me anyway, since she's faster. I saw her husband book ahead, too.

About 5 minutes into it my sister comes running up to me and wasn't very happy with me. She said something like "Nice job waiting for me." I felt about as big as a tack. I felt terrible, her first 5k and my plan was to stay with her! So from that point on we were together. Both of us started too quickly due to the nature of the start (did I mention we were in the front of the pack? Not a good idea it turns out). Both of us were feeling a pain in our side. I told her to go ahead, I felt like I was slowing her down. She did for a bit, but then around the 2 mile mark was waiting for me, turns out her side was hurting her as well. We started to do a bit of walking and running. I reassured her that this was completely fine for her first 5k, and I didn't want her to feel bad about it.

We ran/walked the rest of the race, but truly we only walked for a few minutes over all. Then the finish line was in sight!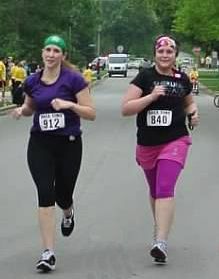 Coming toward the finish line!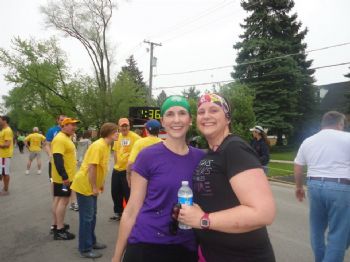 After the race! Victory!

Final time: 34:21. I actually got 7th place in my age group! It was a smaller race, but still, what a victory! I almost PR'd, this was my second fastest 5k. And for Missy's first 5k this is a great time! I am so proud of her!



And just for fun, here's a picture of me (left) with Missy (right) at my sister's recent wedding all dolled up. I just love this girl!







Tuesday, May 22, 2012
So I am way behind. On reading my favorite blogs, on posting my own blogs. I have yet to write one about my latest 5k and my Walk Leader Certification. But those can wait...at least a little bit longer.

I'm determined to reach goal weight in 2012, and I've been in a plateau for the past 6 months. SO, it's inspiration time. This is what helps me to see how far I've come, and to keep going.

I wore a favorite dress over the weekend and my sister snapped a picture of me. I realized that I had used this dress in a comparison photo 40 lbs. previously, so I thought I would update it: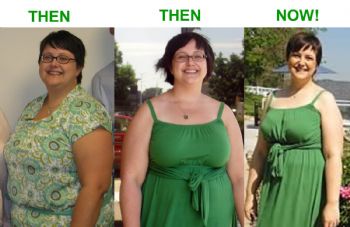 Left to right: Me at 300 lbs., at 234 lbs, and 196 lbs. now.

Then I also realized I took a cute picture of me and my beautiful daughters, and wanted to compare it to a picture of me right after Marlo was born, which is about the start of my journey to lose over 100 lbs: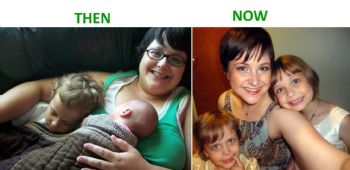 And I realized that I have come a long way, and I have a little bit longer to go, but I'm in the home stretch and I'm in this to win it!






Friday, April 13, 2012
I was talking with a friend over the weekend who has also lost a lot of weight. She said that when she visited her in-laws house she went into the study and saw framed photos of her and her husband on the mantle. These frames held pictures of a woman she no longer knew. She said she was going to go in when they were out of town and take all the pictures out and replace them with new photos. She wondered how she had let herself "go" and get so big. I've wondered that too, it's like when it's happening you don't *see* yourself clearly.

I get it. I do understand that feeling of wanting to destroy pictures. And what she said got me thinking, and prompted me to look at my own shelf.

I saw a larger me, yes. But I also saw a life that was being lived DESPITE those extra layers of fat that surrounded me. Despite the pain that I was in. I think it takes a certain spirit to not only live through this, but to go out, set goals and accomplish them despite the "largeness" and the world being as critical as it is and un-accepting of that.

Here's what I found on my shelf: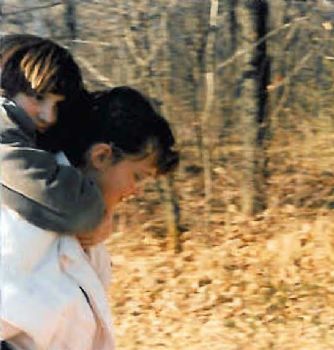 This first photo is me when I was maybe in 5th grade, giving my sister Kara a piggy back ride. Holding her felt important to me.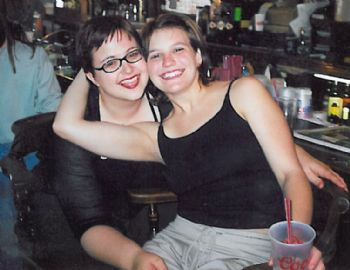 A picture of me with my best friend Cheri, who has accepted me at every size - we've been friends for 25 years now, she always knows how to make me laugh.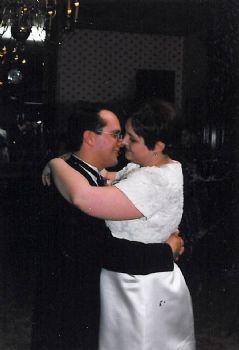 A picture from my wedding day. Even though I had to get my dress made by a dressmaker as the style I wanted wasn't in my size, I was beautiful and happy.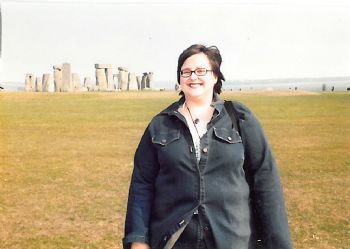 A picture of me in England. I went with a group of 11 strangers. This was out of my comfort zone. I got a scholarship to attend, and I knew that this trip would change me and it did. This was where I discovered my faith that I thought was long gone.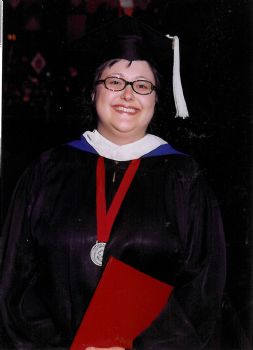 Me graduating with my Bachelor of Arts degree from DePaul University. I earned that degree working full-time and going to school full-time. I left my home when I was younger and only 18 yrs. Old. I had to work hard for everything I've gotten and this was no different.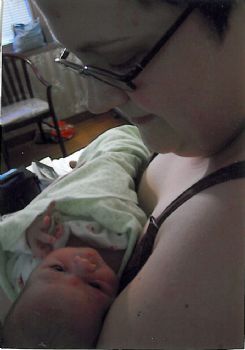 My new role as a mother. Looking into her eyes was endless and holding her I felt I was holding the world.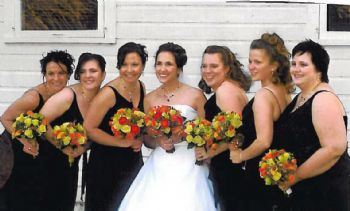 My sister Missy's wedding day (I'm on the far right). I was so happy for her and her new life ahead.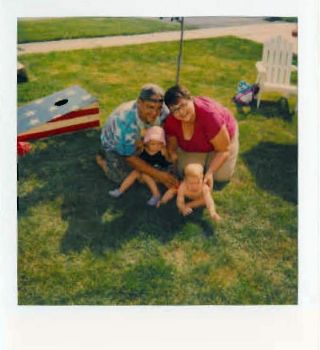 My nephew Tony's first birthday party. Playing with the kids makes me feel like a kid again.

These pictures show a story. It isn't a sad story, but a story of a life lived.

I think about my husband and what his experience with me has been, looking at myself through the picture frames has made me try to see myself through his eyes. Although I had always struggled with my weight, at the time I met him I was coming off of my anorexic phase and I was a size 8. Through our dating I grew, and when we got married I was a curvy size 16 and weighed over 200 lbs. He still loved me.

After we got married is when I really packed the pounds on. I went from a curvy 16 to a very unflattering size 26. All in a year's time.

Why do I tell you this? Because I used to think that my husband was a saint for staying with me through this journey but looking back at my pictures on the shelf, I see a woman who despite the odds has soared. Had I not lost the 100+ lbs. that I have so far, would it make me a different person? Not in the ways that count. See, my husband stayed with me for who I am, for that spirit inside, that is who he fell in love with, not the outside wrapper. And my friend I told you earlier about is an amazing person too, and her weight, even when she was bigger, did not define her.

And so this blog isn't about "Yaay me, I am so great.". It's just my observations of what I found on that shelf. But really, this blog is about YOU. How many times have you felt "less than" because of your size, or any restrictions it may give you? How many times have people maybe pointed at you, or laughed behind your back? And you know what? You are living despite that. You are making goals, working toward goals and becoming new people – not destroying that old part of you, but enhancing it and embellishing it. Letting that spirit SHOW . Because you are all great spirits as well. We all have the power inside of us to reach outside of our comfort zones, to sign up for that 5k, to train for that marathon, to go to a new country. Being on this journey helps us see ourselves through new eyes.

I would have never thought at the beginning of this journey that the very classes I was taking to start incorporating working out into my life that I would one day teach. But I am studying to be certified at the end of the month to teach Walk Live classes through Leslie Sansone's Walk at Home program.

This morning my 5 yr. old daughter looked at me as I'm practicing for the movement exam, and asked me why am I going to teach classes? She went on to say "You're just a mom."

That gave me a laugh, "JUST a mom" (is that all? LOL.) (It's funny how we are viewed by our children). But I told her that I want to help other people change their lives like I have. I've been given a huge second chance. And I'm not wasting one minute of it. I want to just ooze inspiration everywhere I go! And maybe this will plant a bit of inspiration in my two daughters to go for their dreams, too.

I just wanted to simply say that wherever you are, right NOW, it is enough. You are amazing, just as you are. Will you be even greater someday? I have no doubt about it. Whatever you wish for and dream for, it can happen.

We all have those old pictures on the shelf we'd rather never see again. But I ask you to perhaps embrace the person you are, once were, and who you will be.

And remember, just like Dorothy – you have had the power all along.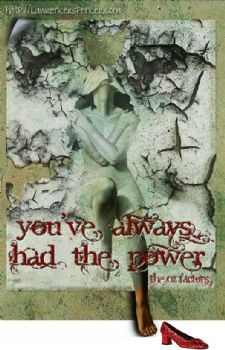 First Page
1
2
3
4
5
6
7
8
9
10
11
12
13 14 15 16 17 18 19 20 21 22 23 24 25 26 27 28 29 30 31 32 33 34 35 36 37 38 39 40 41 42 43 44 45 46 47 48 49 50 51 52 53 54 55 56 Last Page

Get An Email Alert Each Time LOTUSFLOWER Posts