| | |
| --- | --- |
| | LOTUSFLOWER's Recent Blog Entries |


Monday, October 17, 2011
And the last pound goes to...

After losing 99 lbs. on my birthday I was inspired to write a blog about 99 things I've learned, or are blessed with.

www.sparkpeople.com/mypage_public_jo
urnal_individual.asp?blog_id=4449756
One very important thing was left out of that list. Something I was saving for the last pound that would bring me into the club of those who have lost 100 lbs.

At the time I had no idea that to lose this last pound would take 2 months. A 2 month plateau!

On the verge of greatness, on the edge of passing through and being able to say I've lost 100 lbs. So many people these past couple of months have asked me how much weight I've lost. To have to say ALMOST 100 lbs (seems less crazy than to say 99 lbs. exactly) was so frustrating to me. What was holding me back? I was doing everything "right"…working out, tracking my food…well I believe I was holding myself back. Afraid to go into that unknown territory. When I would find myself touching my stomach that gets flatter each day…I seemed foreign to myself. An alien. Better eat some more.

But through working with these feelings, and through prayer, and trying to remain grounded in who I AM, not what I look like, I was able to hopefully, finally break through this fear of being thin. I'm through with my fat cushioning me from the world. I don't need that anymore. I'm ready to live now.

But back to what this blog is really about. Out of 100 things that have blessed me on this journey, the #1 most important thing, other than God, is my FAMILY. My family is – in a word – amazing. Yes, I might be biased. Heck, I AM biased. But I do believe that I have one of the best families there is. A family who never – ever – made me feel like I was "fat". Like I was not right. On the contrary, they made me feel loved, accepted. Funny and smart. Like the belle of the ball. I can be introverted at first around people I don't know. But my family – that was always my comfort zone. I always love being around my family. Close friends, too.

Now you may say that my family not telling me "Hey, you need to lose weight" was a disservice. I disagree. I see your point, yes, but I ask you – in how many situations in life do you have COMPLETE, utter UNCONDITIONAL LOVE other than from God up high? How often do you get that? How rare that is! But I've been blessed with that. With a place I could go to when I was 300 lbs….a place that was separate from the world and all of its conditions it puts on people. A place where I was LOVED – despite all of my faults. When I was at my heaviest, I didn't go out much. I blew off friends. I hibernated in my cozy world with my husband and the only times I DID want to go out was to see – MY FAMILY.

Now if this family told me "Hey, you're overweight, you are hurting yourself with this overeating. Possibly even killing yourself." That wouldn't have made one lick of difference. I knew I had a problem. Had they done that I would possibly have stayed in that dark place and just never come out. See, they loved me and took me for what I was. (Now I do feel my dr. should have said something, and she never mentioned it).

And really, the decision to want to lose weight has to come from within.

Once I had Lucy, I knew things had to change.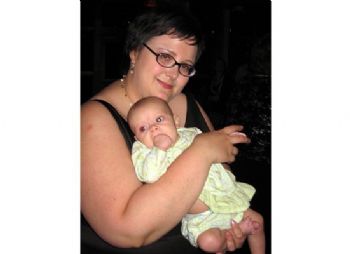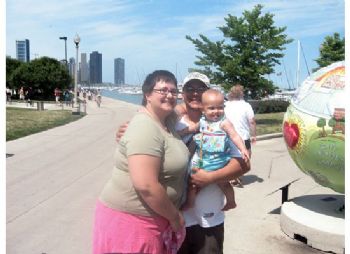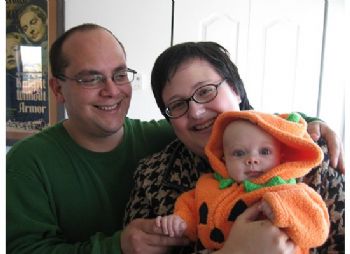 Then once Marlo was born, I decided TO change.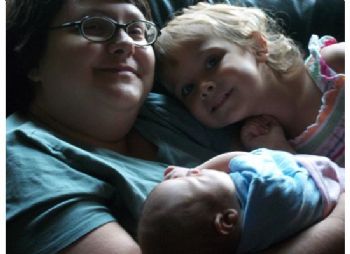 Then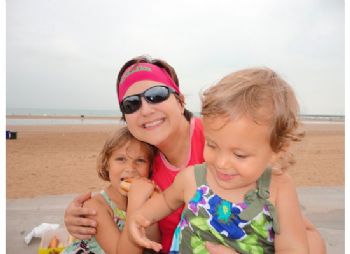 Now.

So this blog is dedicated to that last pound to reach 100, and to my family. Who is amazing in and of themselves. See for yourself. (In no particular order and I am sure I'm missing some people and I apologize for that).

My husband, Jim. Has always been there for me. We will be married 13 yrs. Next year. He never EVER made me feel less than or fat. He IS the man. He is an amazing husband, too.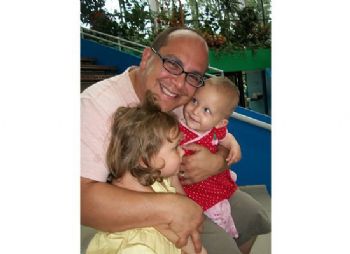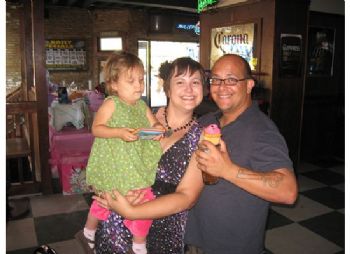 My wonderful princesses, Lucy and Marlo. They show me each and every day that we should take the time to laugh, to listen, to have fun, to be patient, and that there is always something new to learn.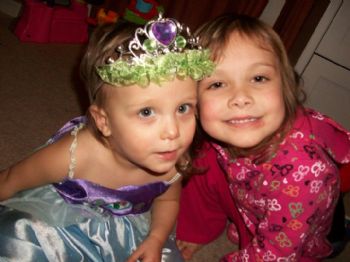 My Dad. He is always there for me, and it's on his bucket list to run a race with me someday. Isn't that cool? He cheers me on and is there for me during races. We trudged through the 2010 Shamrock Shuffle together and he just inspires me every day. He is the best dad ever. And he makes amazing award-winning chili.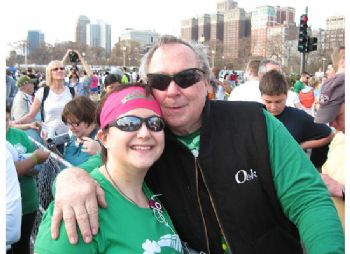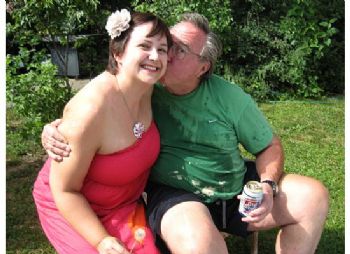 My Mom. She raised 4 (that's right, 4) girls and always puts herself last. She is the sort of person to cut out newspaper articles she thinks one of her daughter's (or their husbands/boyfriends) may find interesting and she is always encouraging.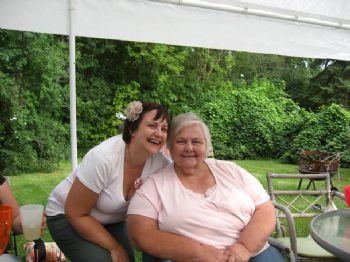 My sister Kris. She inspired me to run my first 5k and has always cheered me on. She is there for me in the drop of a hat, even once when I called her at 10 p.m. and begged her to run a race with me the following morning at 7 a.m. because I was afraid to do it alone. She didn't even ask a question. She is now the proud Mama to a baby girl, Stella.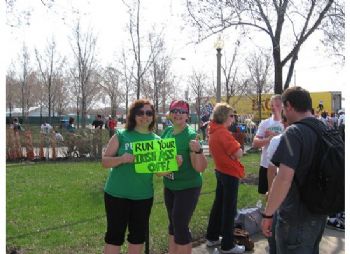 Her boyfriend Ben ran in my first 5k with me and has always encouraged me with my running.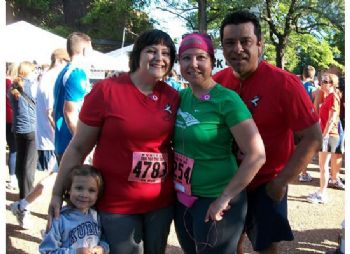 My sister Kara. Being my fellow middle sister, Kara and I have always been close. She is a big encourager and always wants to read the blogs I write, and any creative writing I do also. She ran the Hot Chocolate last year with me, with her boyfriend Jan, and plans to run it again this year. She also goes running with me in Michigan when I'm sure she'd rather be playing Scrabble or drinking wine.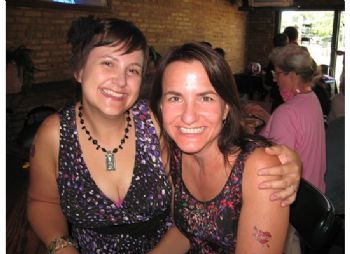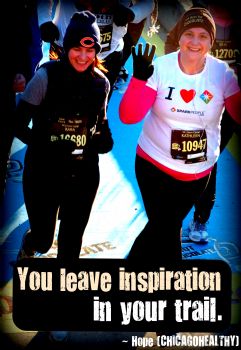 Her boyfriend, Jan, is also like one of the family.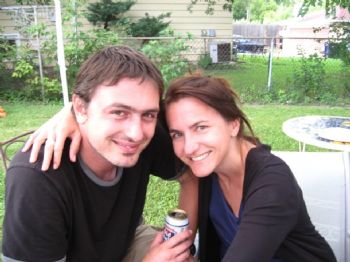 My sister Missy. She is my baby sister and some days (ok, most) she shows me more about how to be a good parent than I ever thought possible. I call her for advice, and being a mom of 4 – two boys and TWIN girls, she continues to amaze me every day. It's her dream to run the Hot Chocolate and I'm holding her to it for next year – 2012 baby!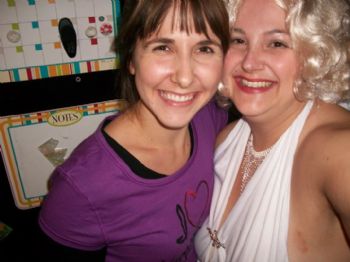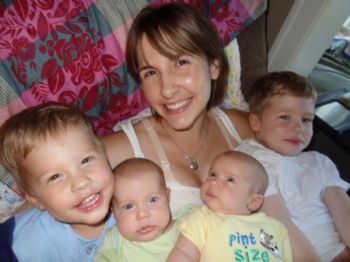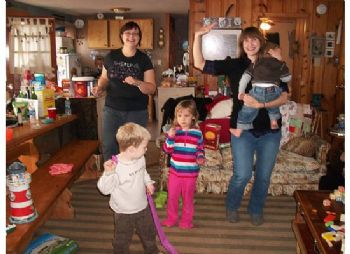 Missy doing Leslie Sansone with me and our kids - WHILE pregnant with twins!

My brother-in-law Tony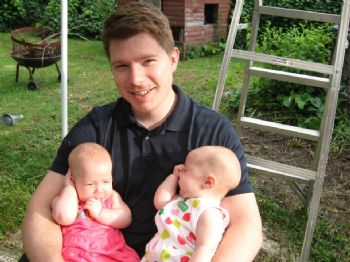 He is an amazing dad to 4 kids and is a computer genius and always knows more about literature than I do. I've never seen him lose his cool, and that is a trait I highly admire, especially with 4 kids age 4 and under! He always helps w/ computer issues too.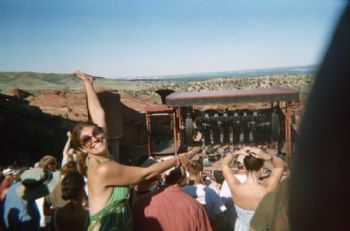 My best friend Cheri. To say she has always been there for me is an understatement. Ever since we were in freshman year IPS class and she stood up to Cassandra Scott for me (who would whisper in my ear things I will not repeat) we have been stuck together like glue. She has always accepted me for who I am, quirks and all. In fact, I think she prefers the quirks! One of the best years of my life was when we were both single and lived together in an amazing apartment in Chicago with a sun room and all. When I asked her if she wanted to run the Elvis run with me, she surprised me by not even hesitating. She was on board!



Me and Cheri crossing the finishing line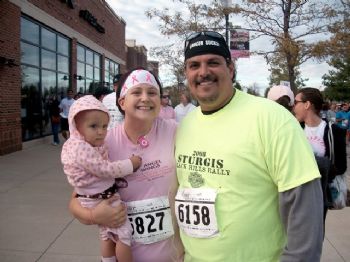 My brother-in-law Mike. He is one of the funniest guys I know and always knows how to make me laugh. Last year he decided – a few DAYS before the Susan Komen Race for the Cure – that he would RUN it. He is not a runner. I run it in honor of his mother who lost her life to breast cancer and he wanted to honor her, and others, who have lost their lives to cancer. He finished the race just a few short minutes after me – and I had been training for 12 weeks! He had 0 training and he worked it out. He amazes me! He has the biggest heart, too. On the outside he's a Harley guy, but on the inside he's all marshmallows. Love you Mike!




My niece, Sydney. I was lucky enough to have experience Syd from being a baby and beyond. She was my first niece and always will hold a special place in my heart. It was through her first that I realized what it was to be an Aunt, and also realized I needed to lose weight – I had no kids of my own yet, but loved to have her sleepover and we would have dance parties and just have fun. But I didn't have as much energy as I would have liked. She is a teenager now, and I still can't quite believe it. She's a talented photographer and has a big future ahead of her.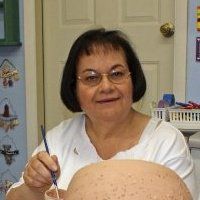 My Aunt Barb – she has lost almost 100 lbs. on WW and has had some health issues, but doesn't let that hold her back from scrapping amazing cookbooks for the entire family and also scrapbooks of the cousins/kids.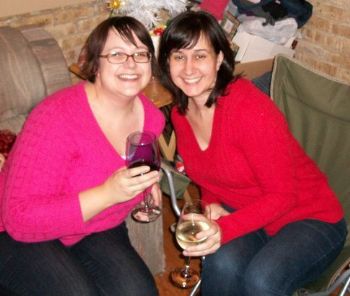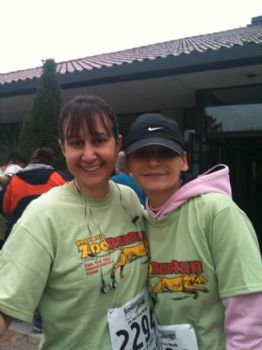 (Kim is on the left)
My cousin Kim – she recently ran a 5k and said that I inspired her to! She has run 5ks and 8ks but since her second son, Nick, was born she hadn't ran and wanted to get back into it. I'm so proud of her!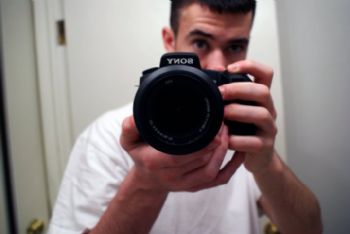 My cousin's son, Ryan is an amazing photographer and artist.




My nephews!



Tony makes me realize we shouldn't be afraid to jump into anything and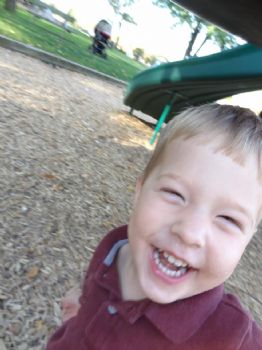 Owen just plain makes me smile.

My nieces!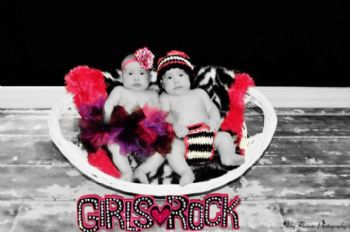 Rachel and Paige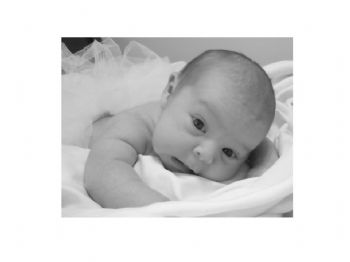 Stella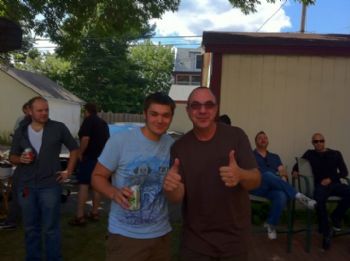 I have an uncle who is winning the fight against addiction (on the right)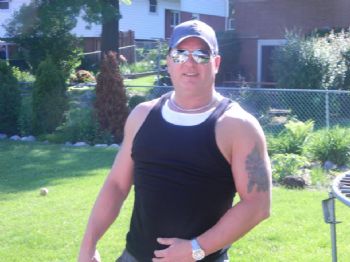 And a cousin who has been sober for years (and has lost a ton of weight in the process). He was also my rock when I was younger, and protected me from Bozo the clown when I was (and still am) so fearful of clowns! (I'm the one in the picture crying).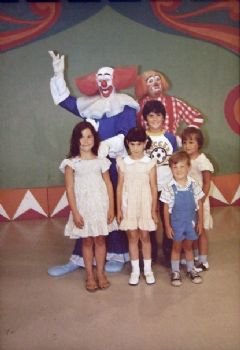 (I'm on the top right)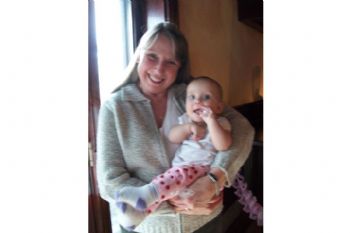 My step-mother-in-law Jane served as a nurse and then moved back home to care for her parents. She is a woman of faith and always encourages me and inspires me.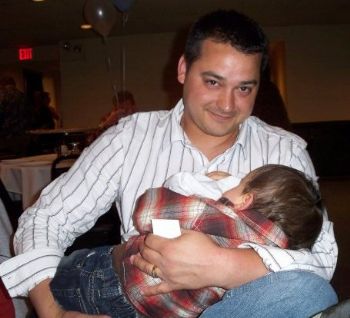 My cousin John is building a business from rehabbing houses and is an amazing dad to Nick.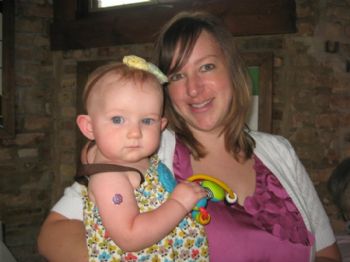 My cousin, Sheryl encouraged me to see a naturalist dr. and start eating clean.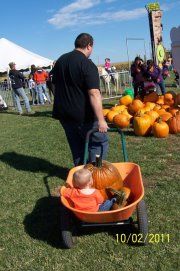 Her husband, John has lost 55 lbs. so far and they have an amazing daughter.



My cousin, George, and his wife Erika are both doctors, and are raising two kids. My Aunt Sheryl has been successful in her own Ebay business and my Uncle George is a successful banker.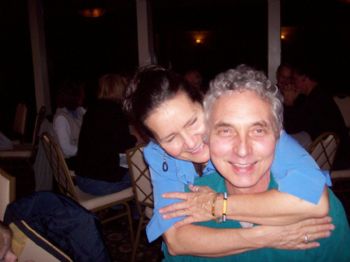 My Uncle Danny and his wife Marte are amazing people and it's always good to see them. They are so supportive.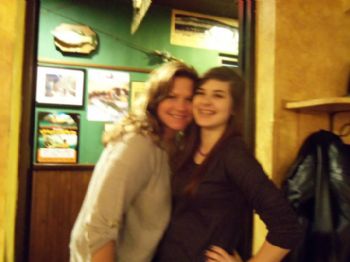 My sister-in-law Kim went to school later in life, after raising 3 kids, and is going to be a nurse.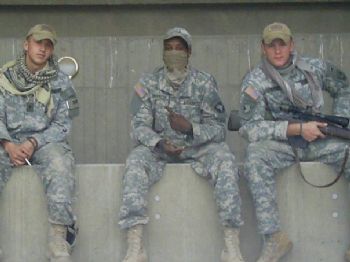 My sister-in-law's son, Danny serves in the Army and protects our country. (left)


My cousin Kim's mother-in-law, Mary, treats me and my sisters like we were family. She is a big advocate for finding a cure for breast cancer. She is always cheering me on.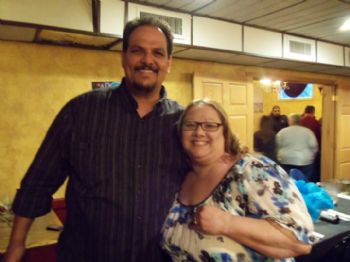 My husband's cousin, Cheryl is always so kind and supportive and is going back to school. I'm so proud of her. She is an amazing mother and has a wonderful family.

My husband's cousin, Tina, who is a strong woman of faith and is a wonderful mother. Her daughter, Emily, suffers from Pulmonary Atresia and is an open-heart surgery survivor. They are always in my prayers.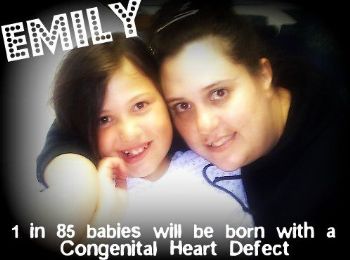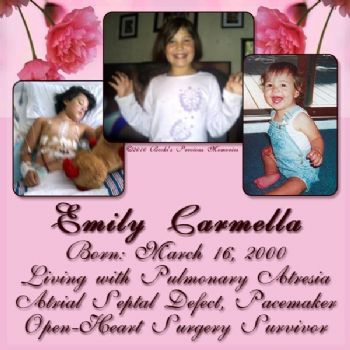 My friend LaTannya who has always been there for me and makes me laugh so hard I sometimes cry. She also is a role model for me as a mother. She has an amazing daughter, Taria, and she is a single mom and is going back to school. In a word, she rocks.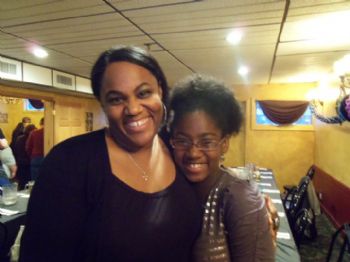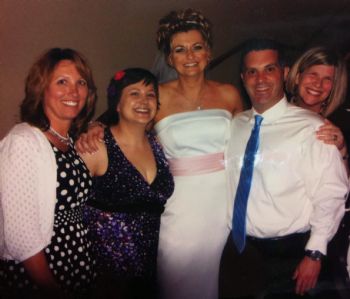 My friend Karoline! I used to work with her and miss it so much.
My friend Tom (Dotes) who always makes me laugh.
Danielle who is a mom to two girls as well and I love talking to her as it makes me feel like I'm not the only one going through whatever I'm going through.
(In this picture Danielle on the far right, then Dotes, then Karoline, or "KC" as I call her)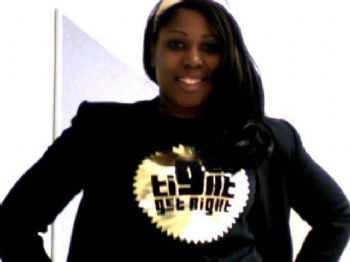 My friend Kimmah, who is a certified trainer (aka the "Fitness Mistress") and also owns her own business, Get Tight Get Right, with her friend Akilah (also an amazing woman). She is a woman of faith who is always cheering me on. She always says she's on "Team Kate"!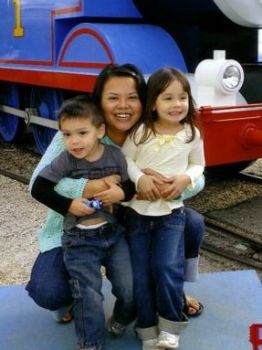 My friend Oyster who is also an amazing mother. She is a good friend to our family and helps us out with hand-me-down clothes from her daughter.

And the list goes on. My brother-in-law Kirk follows his dream and is working on painting race cars and has his own business. He doesn't let anything stand in his way. My Uncle Charlie followed his dream and moved to New Zealand. I have so many other friends and family not named here who support me and I am so blessed for that. I am also in a group of writers that I love, too, the Sweethearts.

Also I had two grandmothers who I miss very much. They helped shape and mold the woman I became today.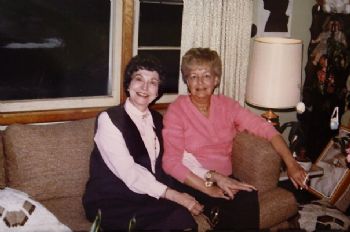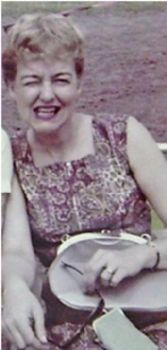 My Gram Keller with my mom and her sisters.

I never met either of my grandfathers, unfortunately...

And my husband's mom, Carm, and Dad, James, whose passing all too soon from cancer have driven me to support causes such as Susan Komen foundation to help find a cure.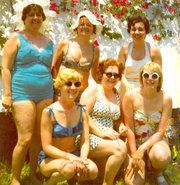 Jim's mom is the top right.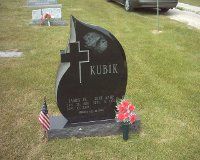 And many Sparkers have become my family, too.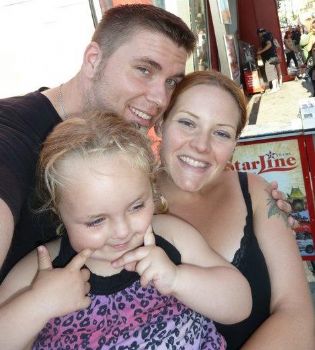 Blaize (DANCINGEARTHMOM) is a woman of deep spiritual roots and is always exploring herself to go even further into her journey. She is a single mother to an amazing daughter, Azali, and is getting her Doctorate while supporting her daughter and losing weight. She has run a half marathon and she continues to amaze me every day!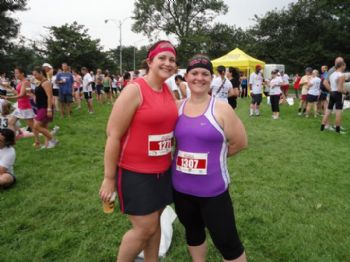 Jenn (KITHKINCAID) is my wonderful amazing Chicago spark friend who has lost 120 lbs. and has run several races with me, she has run 5ks, an 8k, a 10k and will be running the Hot Chocolate 15k next month!! She is a Zumba lover, a runner, an athlete and a creative woman who produces plays too!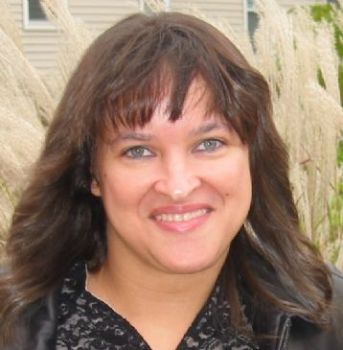 Shelly (GLITTERGIRL69) is my rock, she keeps me rooted in faith and I can tell her anything! She keeps me accountable to my faith.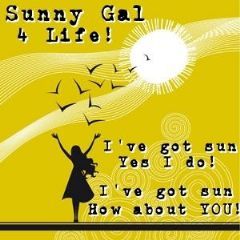 And my Sunny Gals are more like a family than a team!! I love you all!!!

I also have an amazing church family that is always accepting of everyone, including me.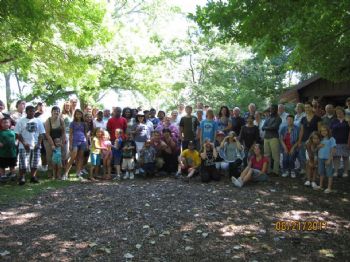 Yes, family is the thing dreams are created through. Family is our soil that supports our roots as we grow. And family is the people who are there when we succeed – and when we fall.

Family makes us wish…and dream.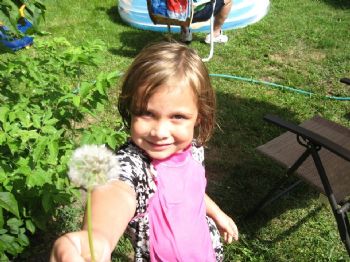 Call it a clan, call it a network, call it a tribe, call it a family: Whatever you call it, whoever you are, you need one.
~ Jane Howard ~

Feelings of worth can flourish only in an atmosphere where individual differences are appreciated, mistakes are tolerated, communication is open, and rules are flexible -- the kind of atmosphere that is found in a nurturing family.
~ Virginia Satir ~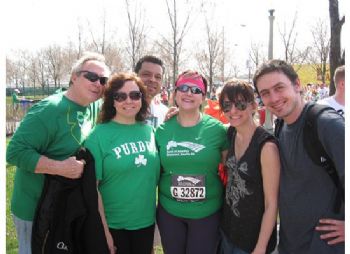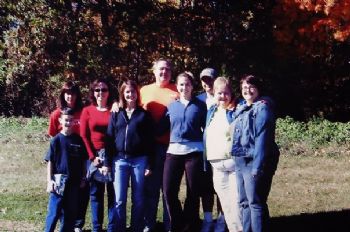 I'm on the very right - much heavier here, maybe 278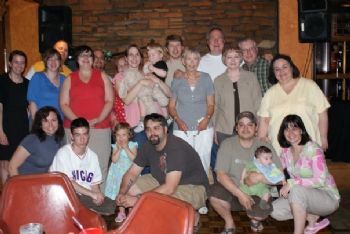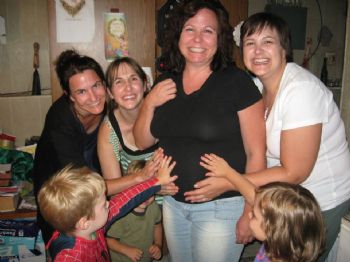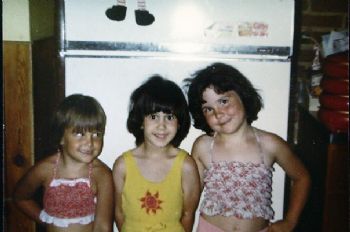 Me on the far left, then my cousin Kim, then my sister Kris





Saturday, October 01, 2011
Breakfast: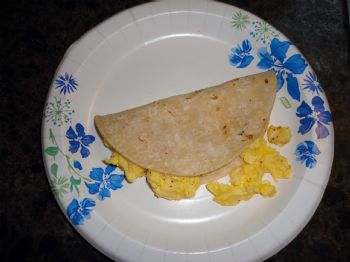 Cheesy Egg wrap using egg substitute with La Tortilla tortilla (only 45 calories and has fiber and flax)

Morning snack:

Low sodium cashews (pre-proportioned into a quarter cup serving)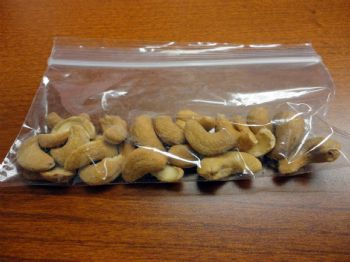 Lunch: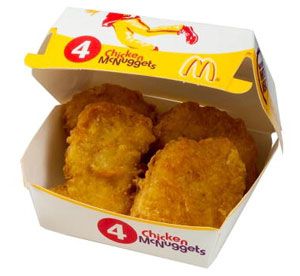 Not the best choice, 4 pc. chicken nuggets from McD's. My husband asked me if I wanted something, I said NO, but here is what I got, and I was so rushed and busy I ate them.

Afternoon snack: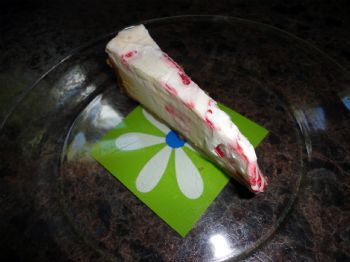 I was hungry later because the chicken nuggets weren't very filling or nutritional, so I had a half slice of cheesecake from Aldi (this is a great trick if you really want something rich but don't want all the calories).

Later I was still hungry and instead of eating the other half of the cheesecake like I wanted to, I made myself a nutritious, protein-filled snack. Peanut butter toast on whole grain with milk.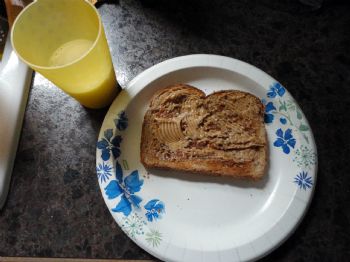 Dinner:

My Ya-Ya Black Bean soup! Recipe link is below.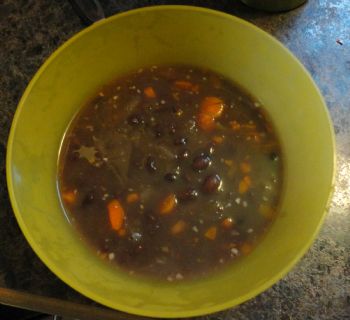 recipes.sparkpeople.com/recipe-detai
l.asp?recipe=227761

Dessert:

A sundae with light cookie-dough ice cream and one Oreo cookie.






TOTAL: 1,432 calories. I was within my range at the lower end.





Friday, September 30, 2011
WEDNESDAY:

Breakfast: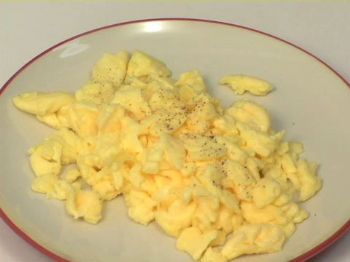 1 cup scrambled eggs

Morning Snack: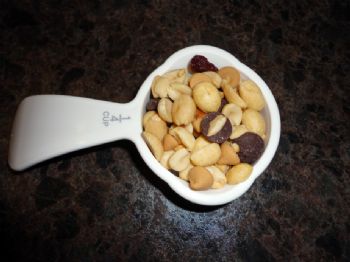 1/4 cup of Trader Joe's amazing trail mix, I think it's called "Indulge"

Lunch: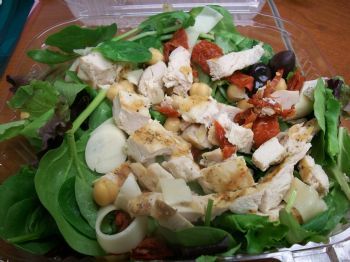 An awesome salad from deli at work with grilled chicken and lots of good stuff.

Afternoon Snacks:

2 Hershey minis



Greek yogurt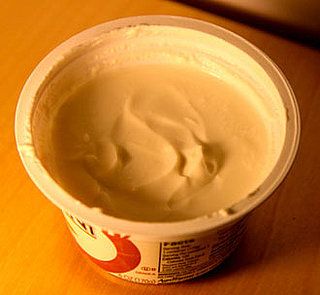 Dinner: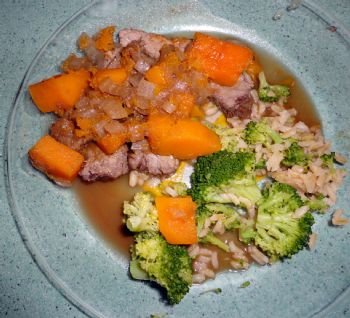 My husband made an amazing pot roast with butternut squash in our crockpot.
Added a bit of brown rice and broccoli to it on the side.

Dessert: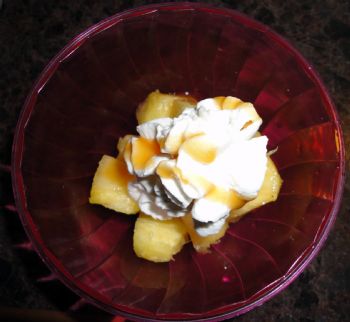 Fresh pineapple with a dollop of whipped cream and caramel sauce.

Later my hubby had some Edy's Dibs and I had a few, I would say 5 - the whole CONTAINER is a serving at something like 350 cals, so I coulnted it as 130 cals.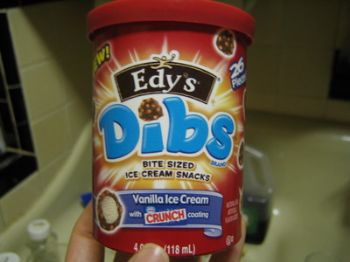 TOTALS: Stayed within my range, 1,651 calories. Stayed within range for fat and got enough protein in.

~~~~~~~~~~~~~~~~~~~

DAY 2 – THURSDAY

Breakfast:

Had two eggs with coffee while I read the book recommended by Deanna, "You Are Your Own Gym". My daughter Lucy made me a waffle and put a bit of Smart Balance margarine and agave nectar on it. (I took a picture of her waffle as I ate mine before remembering to take a pic).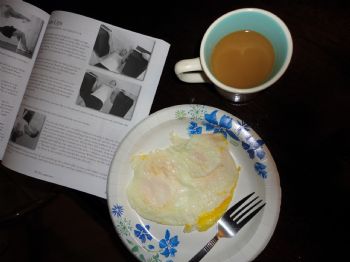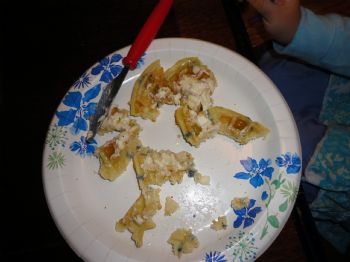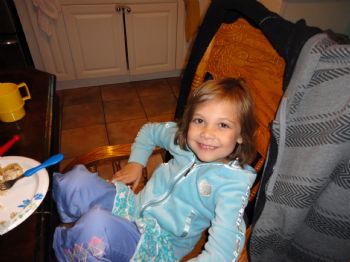 Snack:

A banana and some yummy cashews (low sodium) from TJ's. I portion out 1/4 cup when I get the bag home because or else I would have 3-4 servings thinking it was only 1.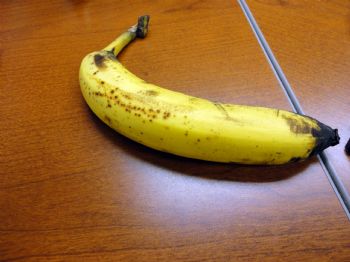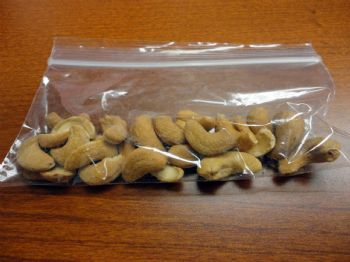 Lunch:

A ham and cheese with avocado wrap along with a side salad which I added some string cheese to and avocado as well.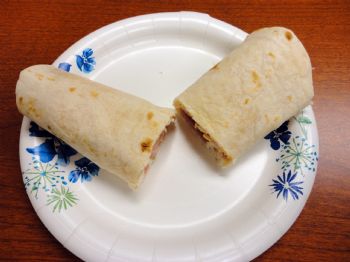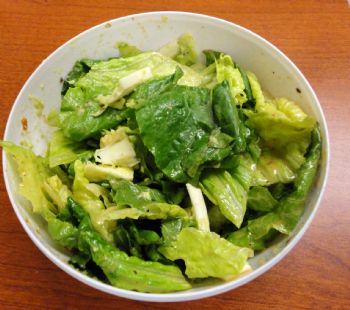 Afternoon snacks: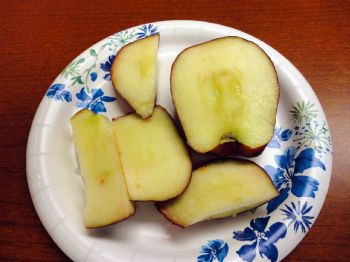 An apple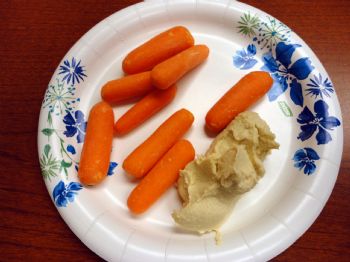 Baby carrots with hummus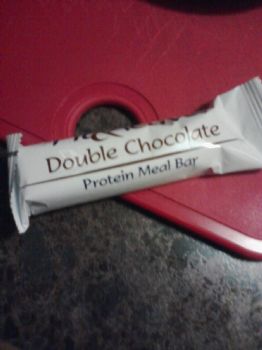 Protein bar (I was SO hungry!)

Dinner:

Whole wheat angel hair pasta, 3/4 cup, with just 1 tbsp. of spaghetti sauce and with roasted garlic. Had one meatball on the side.




Evening snack:

Bowl of homemade popcorn (movie night):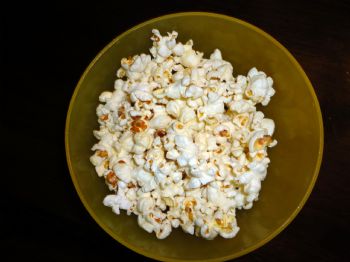 TOTALS: Calories: 1,809, about 100 over my range. I was really hungry today, nothing seemed to satisfy me! I had plenty of protein...not sure what's going on. Only had a few hundred left for dinner and went over calories by about 100.






Wednesday, September 28, 2011
Last year I ran the 5k of the Susan G. Komen Race for the Cure. This year I planned to run the 10k. My plan was to beat my 10k time from my first 10k. However, that was not in the cards. What happened? I got sick. Then I got sicker. I ended up not running at all for weeks. The only running I did was a mile here and there. A week away from the race I decided to switch from the 10k to the 5k.

I felt bad about this because I didn't want to let myself, or anyone else, down. I didn't want to second guess my capabilities. Could I have run the 10k? Probably. But after a month of not running I didn't really want to find out that day. I have (knock on wood) never had a running injury and I never want to. I know my body and I didn't want to push it that day.

Last year I raised $200 for the cause, and this year I wanted to double that as I had planned on doubling my distance. I ended up tripling my donation amount, raising over $600 for the Susan G. Komen Foundation, most of that money staying locally in Chicago to help those who have the disease and the rest going to fund research. Does it mean any less that I only ran 3.1 miles vs. 6.2? I don't think so. Was my mother-in-law, who lost her life to breast cancer, any less in my thoughts? No.

I had to let my pride take a backseat to what really was the important thing on this day.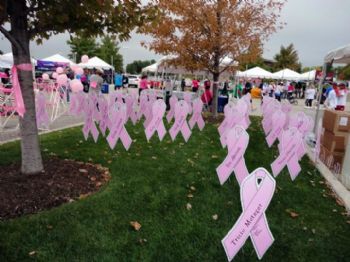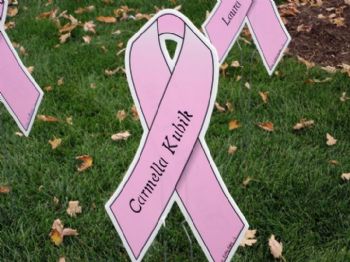 I wanted to honor those who have lost their lives. This was NOT about me. Just looking out at all of the ribbons honoring those who have gone before and fought the good fight but lost it….well, me running less that I had wanted to doesn't really matter anymore.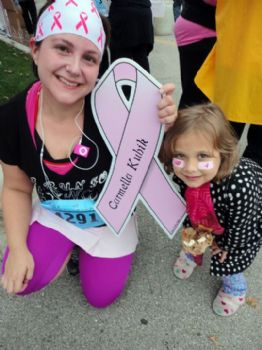 My husband made the most amazing shirt to honor his mother and all the angels we've lost to cancer much too soon. Too many to count. It said "Running for our angels" on the front and had angel wings on the back.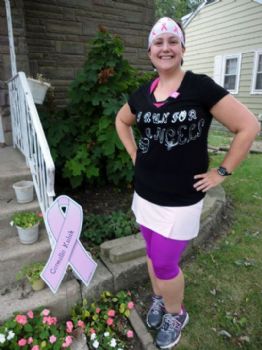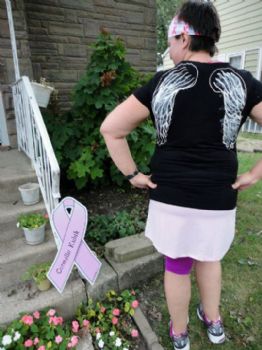 We got to the race later than I would have liked, I rushed to the fundraising tent to give my additional cash donations I had received and then got some free goodies and rushed to find my family before the race. This year the race seemed like it had doubled or tripled in capacity, which is awesome.

Lucy and I put on some New Balance stickers on our face to raise awareness for breast cancer. My youngest, Marlo, would have nothing to do with it, lol.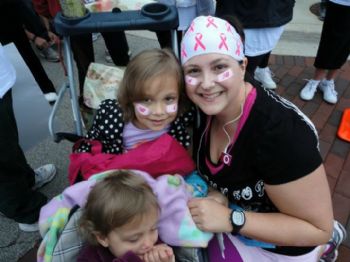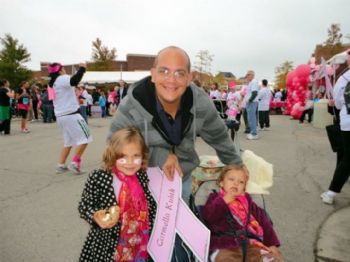 My husband with our girls.

Then I got into line and we warmed up with some stretches. I have no idea where I am in this crowd, but I'm there somewhere :)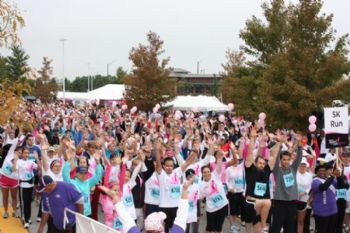 And then we were off!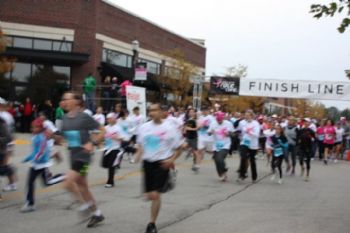 I remembered where I was at physically and mentally last year. Last year I was signed up to run the 5k alone, and was scared to death. Last year I called my sister at 10 p.m. the night before the race and begged her to run it with me. (She did – she is awesome like that). Last year I barely made it across the finish line, I was dying halfway through.

This year, I ran it alone (same awesome sister just gave birth to my beautiful niece, Stella). I was not afraid, I have run several times since then alone, an 8k and a 10k along with 5ks.

This year, the shirt I had custom-made last year to honor my husband's mom, didn't fit me. It was so big I couldn't run in it.

This year, it was EASY for me. At the halfway point I was like, already? This year I beat my own time, finishing the race in 35 minutes, 29 seconds.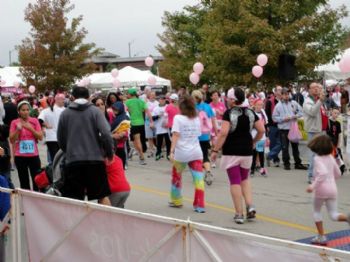 After crossing the finish line. I think my legs actually look "skinny" here!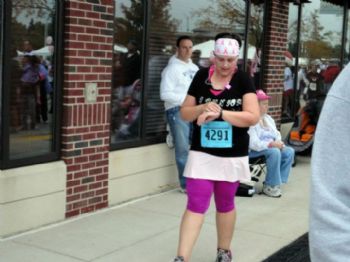 Checking my time on my Garmin.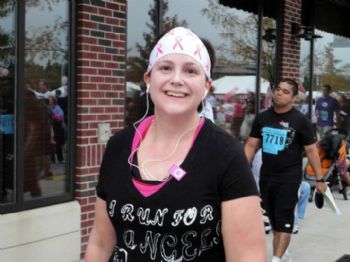 After finishing!

This year, I made myself proud.








Sunday, September 18, 2011
I would like to first TIFFYFANNY for inspiring me - she ran a 5k with her 6 yr. old daughter. I have a 5 yr. old daughter, Lucy, and would love to run a race with her. In the past she's indicated interest, so I've signed her up for the free kids' dashes they have during races, but each time she faltered and ended up not running. The whistle would scare her, or she would be afraid to leave my side. My daughter is an amazing girl, and sometimes she gets shy. She's a lot like me, actually. When she was first learning to talk she would whisper in her darkened bedroom words she was sounding out. I only knew because of the baby monitor, but I knew what she was doing. She wanted to be sure that when she said a word, it would come out correctly. My daughter was a perfectionist - like her mother.

She is a thinker and likes to know every aspect of something before it happens. Lately she had been asking if she could run a race with me. That plus the inspiration provided by TIFFANYFANNY was like a spark ignited. If she were to run a race WITH me, perhaps she wouldn't get scared. When I saw a Groupon for the Race the Pier, which is a 1-mile race, I thought it was perfect.

Since I know she's like me, we went for practice runs. On the last run Friday night we did a mile in about 20 minutes, running and walking. Here are some pictures from that last trial run.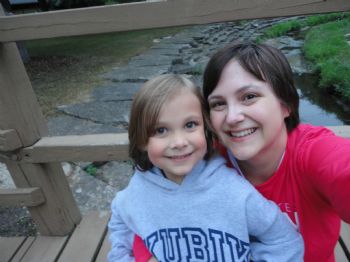 She was so proud of herself after we finished. Just look at her face.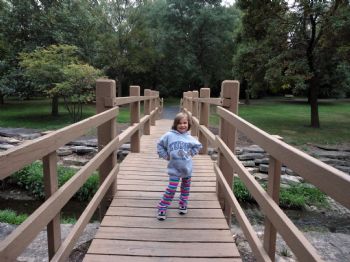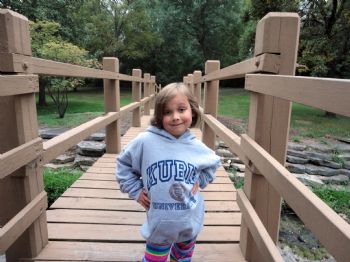 On the way home from that last run, she said from the backseat of the car, in a soft voice, "I don't think I can do it."

I looked back at her and said "What do you mean? You just did it. You did it and that's all we are going to do Sunday, the same thing we did today." I saw in the rear view mirror that she sort of smiled to herself. I went on, "There are no rules, we stop and start when you say. We run and walk when you say, and we can do this. All we need to do is finish." Now she has a full smile on her face, so I add "And I don't want to hear any more of this "I can't do it nonsense, you CAN and you DID!"

After a nice cup of hot cocoa and a good nights' sleep and a day off, she is feeling good. She is excited for the race. We get up early today, we need to get downtown by 7:30 a.m. Not the easiest thing with a 5 and 2 yr. old, but we do it.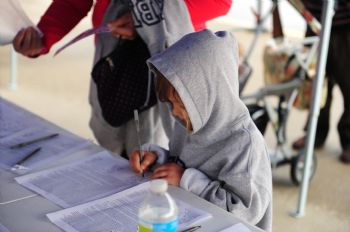 Lucy signing in

The race worked out perfectly for us because there were 5 heats before ours, and so we got to see them all go, and hear the loud blowhorn, so Lucy was comfortable with it all. The only bad part is it was a rainy morning and it was getting worse with each heat.

We took some pictures as we waited.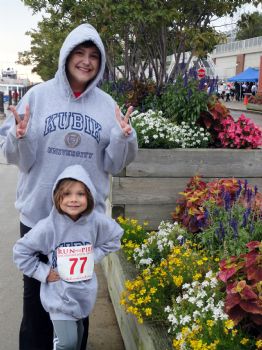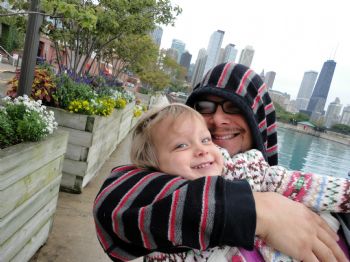 Our cheering squad, my husband Jim and our daughter Marlo.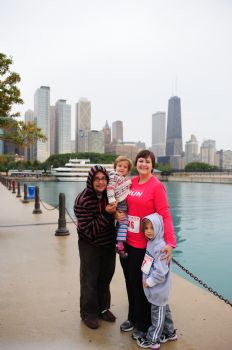 The professional picture taken of us.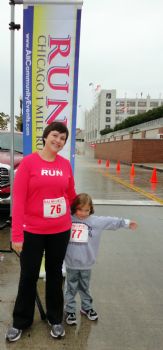 Finally it was our turn to line up. Lucy holds my hand.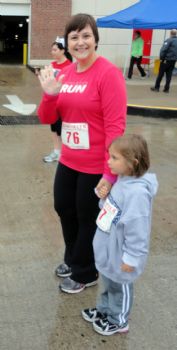 And we're off!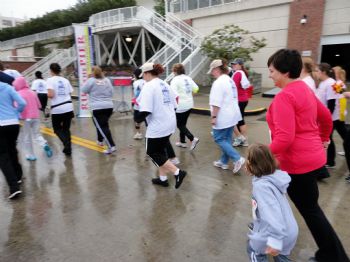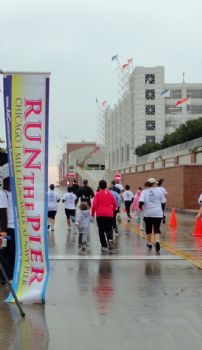 After about 5 minutes in, Lucy looked at me and said "Ok, can we stop now?" I looked at her and said "The only way to finish is to go through, we can do this." And so I tell her that we can walk now. The rain is pouring down and I make sure her hood is up over her head. We are still holding hands and we talk about how beautiful Lake Michigan looks, and I tell her how this is really amazing to have the road blocked off, no tourists, it's like we have the Pier to ourselves. It was very cool.

A few minutes in, Lucy wants to run again. So we run. Then we walk, and run and go like that for a while. Then we turn the curve and there's people cheering and ringing bells, it's the halfway mark. Lucy is excited, but I can tell the rain is getting to her.

One of the stories we like is the Little Engine that could. I ask her what does the little engine say as it thinks it can't get up the hill? And she says, "I think I can, I think I can." So I tell her let's say that right now, I think it might help.

And do you know what? I believe it did.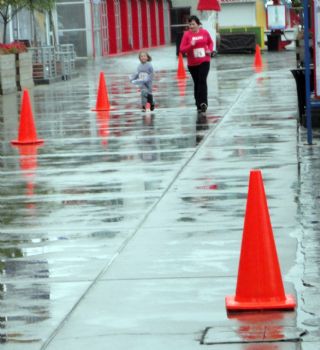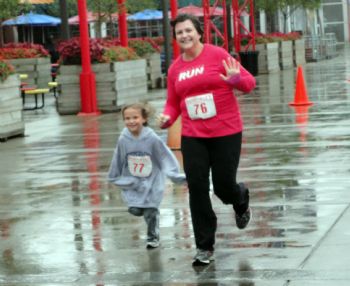 As we headed toward the finish line people that weren't even involved in the race were calling out Lucy's number, "Number 77! Number 77, go, go!" She looked at them wondering how can you know me? It was so cute.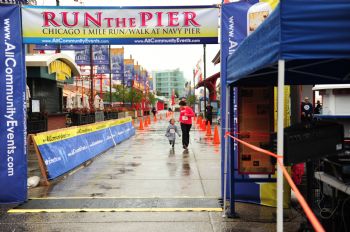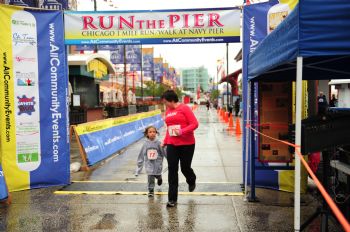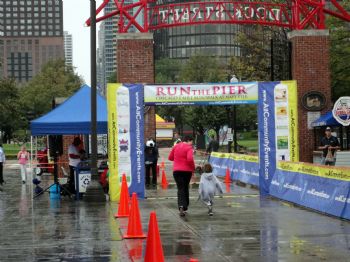 And as we crossed the finish line there was a group of the runners who went before all cheering for us, it was so awesome!! The announcer said our names as we crossed, too, Lucy and Kathy! It was very cool. One of the benefits of a smaller race.

I hugged Lucy after we finished.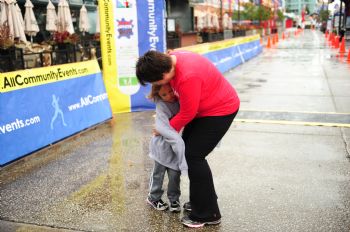 We finished at about 19 minutes, I believe, and it was the best feeling to cross the finish line with her. I never knew how proud that would make me. And to see her own pride was an even better feeling. It was an awesome day. And I am one proud Mama.

I don't often wonder what kind of influence I would have on her had I not lost this weight. I don't like to think about that. I like to just look forward and as I make positive choices it influences her own life and her own choices, too. I just love her so much, and want to continue to try to be the best, healthiest, mom I can be for my girls.

As I tucked Lucy in tonight, she asked "Did we win? The race, did we win?" I smiled at her and said "Honey, we sure did."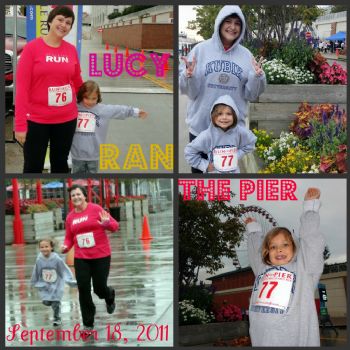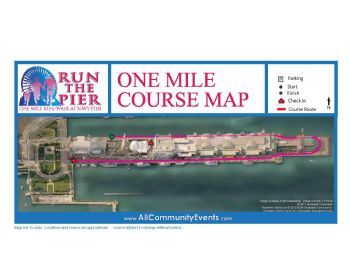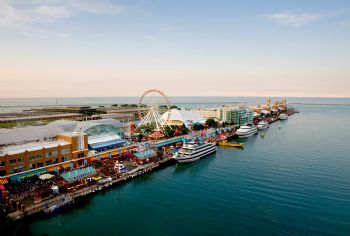 First Page
1
2
3
4
5
6
7
8
9
10
11
12
13
14
15
16 17 18 19 20 21 22 23 24 25 26 27 28 29 30 31 32 33 34 35 36 37 38 39 40 41 42 43 44 45 46 47 48 49 50 51 52 53 Last Page

Get An Email Alert Each Time LOTUSFLOWER Posts