| | |
| --- | --- |
| | LOTUSFLOWER's Recent Blog Entries |



Friday, August 26, 2011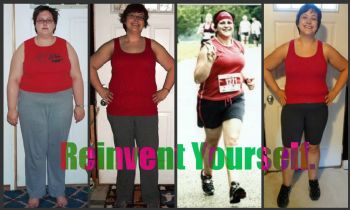 Today is my birthday.

I am 37 years old.

For the past ten years I was morbidly obese.

My late 20s felt more like my 50s because I had NO energy. Now at 37 I feel younger than I did at 25 even. I feel full of hope and life.

As of today I have lost exactly 99 lbs. I now have a permanent residence in that magical place called Onederland.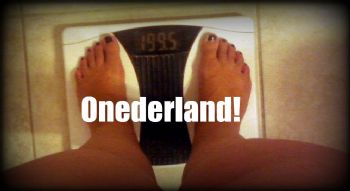 And I intend to stay.

To celebrate this loss, this victory, I am going to list 99 things that I can do now, that I could not do before in my previous life, or reasons why I continue to do this, or even things I have learned. I love the 80s song "99 Red Balloons" and I am viewing each point as one of the pounds that I have released into the sky, never to be seen again.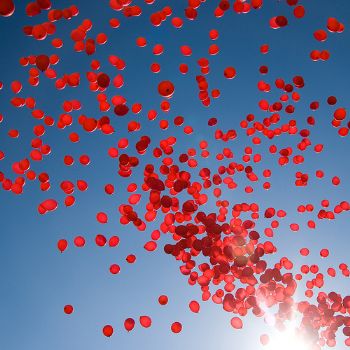 BECAUSE…

1. I used to not be able to walk 1 mile...now I can run one mile, two miles, three miles, 6 miles and MORE!



Having trouble walking

2. I can walk up the stairs without running out of breath.

3. I can shop in the juniors section if I want to.

4. I can do a plank!

5. I can get on a bike and ride it without falling over.

6. I can pick up BOTH of my girls (one is 5 and past the toddler age).

7. I have lost 7 pants sizes, 8 jeans sizes, 6 shirt sizes, and 5 cup sizes.

8. I have run 6 5ks.

9. I have run 1 8k.

10. I have run 1 10k.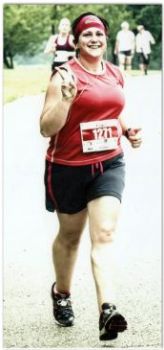 11. I have signed up to run another 10k and another 5k this year.

12. I am a yoga lover.

13. I look in the mirror naked and like what I see.

14. I have more energy.

15. I dropped over 10 BMI points

16. I have received 4 popular blog awards on Spark, thus inspiring others.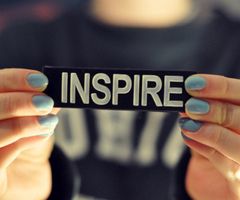 17. I have more strength.

18. I have more confidence.

19. I embrace my imperfections.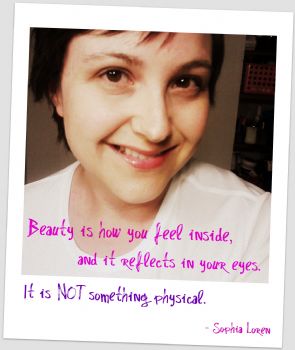 20. Because it gets to the point where junk food just doesn't taste good or feel good anymore.

21. Because now I have more running shoes, cross-training shoes and walking shoes than work shoes in my closet.

22. I don't have to wait for a sale coupon at Lane Bryant to afford clothes. I can shop in any little old store I WANT to!

23. I inspire MYSELF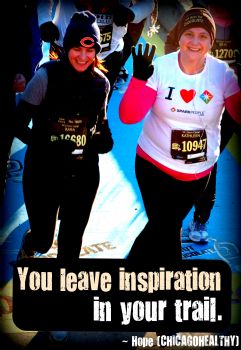 24. I like veggies now.

25. I love the feeling of cold sweat on my body after a run.

26. I love my sore legs.

27. Because the next 10K I'm running I ordered a Medium shirt.

28. Because I no longer want to be able to wear clothes that fit on my sister who was 9 months pregnant with twins.

29. Because I don't want to wear maternity clothes when I am not pregnant.

30. I want to inspire people.

31. Because if I can do it, anyone can.

32. I've gotten closer to God.

33. Rediscovering that I like nature.

34. Feeling (and looking) 10 years younger.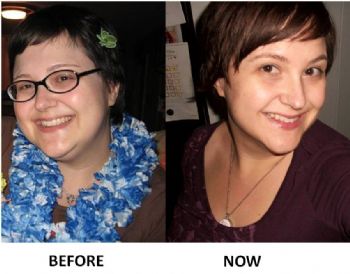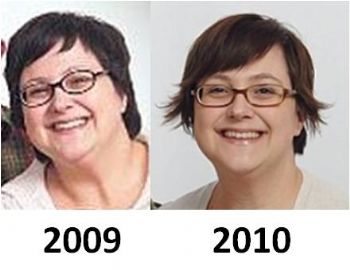 35. I can have sex without my clothes on.

36. I average over 1,000 fitness minutes per month.

37. I average running 60 miles per month.

38. Because I can run a 5k at lunch now and it is easy for me.

39. I trained for and ran a 10k, setting a PR.

40. I now go on fitness dates with friends – running dates are my favorite.

41. Because I want to run a sub 30 minute 5k!

42. A neighborhood kid has a crush on me – for real!

43. I now change in the ladies' locker room out in the open, I don't hide behind the curtain like I usually do.

44. I wasn't afraid to take a picture of me in my bathing suit.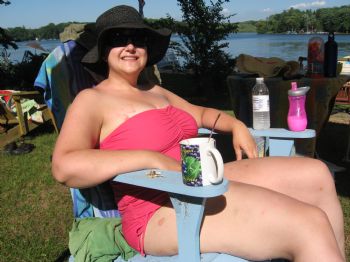 45. I will fight for my workout time, I protect it and cherish it.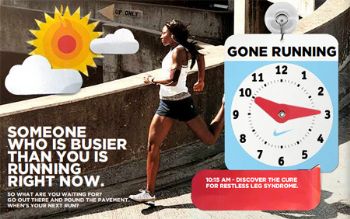 46. I do it for my daughters.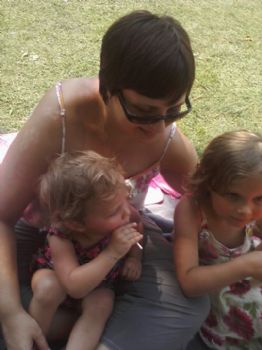 47. I am learning to live in my (new) skin.

48. I had to ditch my old belt and use my hubby's – he was always smaller than me, now I can wear his belt!

49. I turn down pizza, pie and peach cobbler at the office.

50. Because I've got SUN. Love my Sunny Gals!!




51. I am worth it.

52. I give away clothes to Goodwill on a bi-weekly basis.

53. I drove my car in my bathing suit!

54. I walked my dog in my bathing suit!




55. I now wear a running skirt.

56. I went on vacation and planned healthy meals and got workouts in.

57. A regular size beach towel fits around my waist!

58. Instead of my typical thermal pjs (yes even in the summer) my new fave is undies and a t.

59. I love touching my stomach.

60. The Starbucks barista hit on me. Twice.

61. I used to dress up for life...now I play in it.

62. I love the heat now.

63. My husband thought my jeans were his because they've gotten so small.

64. I like the space I take up now.

65. I ran a mile with my daughter.

66. I ran a mile with my daughter alongside her bike.

67. Being able to sit cross legged and be comfortable.

68. People seriously don't recognize me, including people I've known for years and my old swimming instructor.

69. I made a personal size Amy's Kitchen Pizza last for 3 days…it is 3 servings, but in my past life I would have eaten the whole thing…

70. I had three guys wait and hold the elevator for me – even though they were the closest to it! NEVER has that ever happened to me before.

71. Things that seem insurmountable usually are. If I think of this weight loss journey as a huge mountain to climb, it will never happen. Same with a run – if I go out just wanting to be done, or over with, and just want the fuzzy feelings afterward, that's going to make it harder on me. Enjoying the journey is one of the biggest takeaways for me.

72. When plans change, sometimes it's for the best. Go with the flow.

73. I am so thankful for my new life…

74. I worked out for 10 days in a row for 20 minutes or more. Streaker!

75. I reach for carrots instead of chips with dip.

76. We now make healthy meals as a family.

77. I love my curves.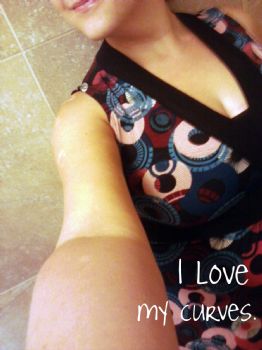 78. I felt sexy dressing up as a pin-up for my husband's 40th birthday surprise party.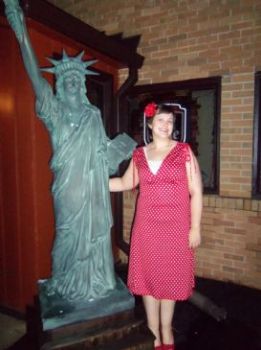 79. This journey is not a quick-fix solution. I am worth the time invested in myself and not one minute is wasted on my health.

80. Because I used to look like this: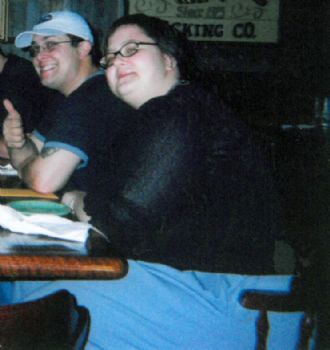 81. For my husband (the same man who is in the picture above with me and stood by me through it all) I love you!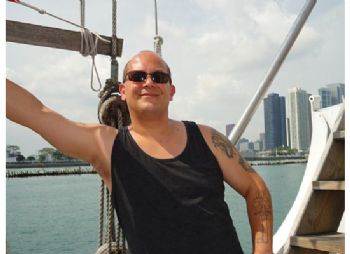 82. My wedding ring (and lingerie) fits after 10 years of NOT fitting.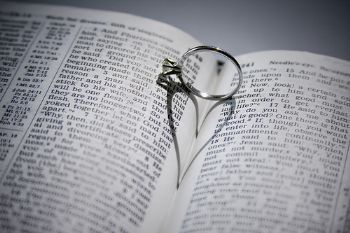 83. My V02 score went from being off the chart (worse than "very poor" ) to GOOD

84. My Real Age test used to say I was 10 years older than my actual age. NOW it says that my "real age" is 33 years old. I'll take it!

85. I now smile in every picture.

86. I've gone from couch potato to joyful runner.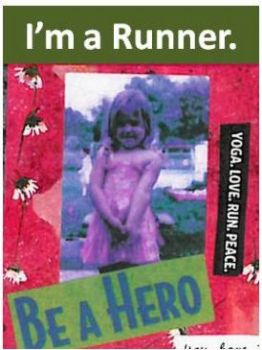 87. I've nearly lost the equivalent of a 2 month old horse.

88. I've gained new life.

89. I racked up over 20,001 fitness minutes (or about 333 hours).

90. I AM a runner.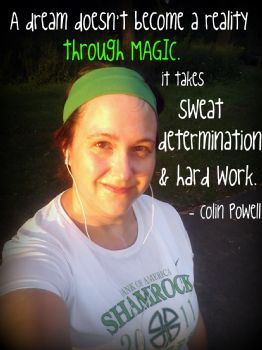 91. I'm dreaming dreams I never thought possible before. Running a half marathon? Writing a novel? The options are endless.

92. I now have joy.

93. I have faith.

94. I love myself.

95. I dressed up as Marilyn Monroe for Halloween last year and this year I plan to dress as Sally Jupiter from the Watchmen.




96. I've been called "The Incredible Shrinking Woman".

97. My daughter Lucy said she wants to be strong like me.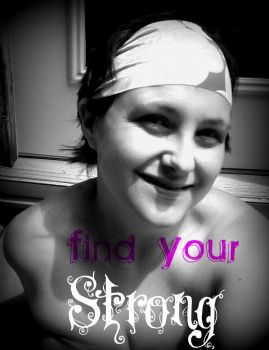 98. My husband is proud of me.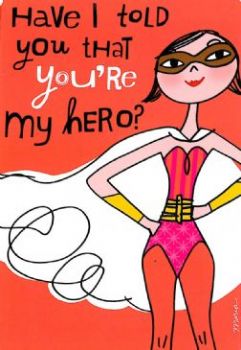 (Card Jim gave me)

99. In oh, so many ways than one. I love my new life. Thank you, Lord.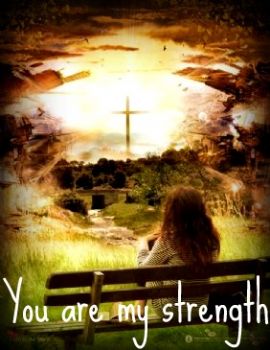 Ninety-nine dreams I have had
Every one a red balloon
Now it's all over and I'm standin' pretty
In this dust that was a city

If I could find a souvenir
Just to prove the world was here
And here is a red balloon
I think of you and let it go

~ Lyrics from "99 Red Balloons"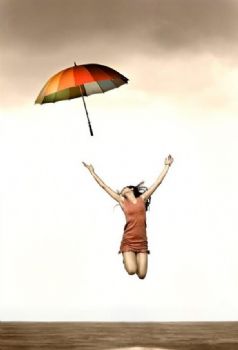 For those that might want to know more about why and how I do this, here are links to previous blogs I've written. Thanks for all of your support!!

Link to blog on WHY I do this:

www.sparkpeople.com/mypage_public_jo
urnal_individual.asp?blog_id=4212530

Link to blog on HOW I do this:

www.sparkpeople.com/mypage_public_jo
urnal_individual.asp?blog_id=4257887





Monday, August 22, 2011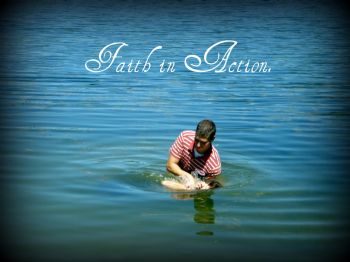 "Baptism is a process of birth, through which a new dimension of life opens out."

~ Peter Seewald, God and the World

Yesterday I was baptized in Silver Lake at our church picnic. Being born and raised Catholic I was also baptized when I was a baby. A believer's baptism is more of a public expression of faith, symbolically representative of the inner conversion of the person being baptized.

It was in November 2008 that I called out to God during the darkest time of my life. My baptism was an outward gesture of what my heart already knows - that I am His.

For those of you, my close friends and family, who didn't realize how depressed I was back then, all I can say is that I can put on a good front of being happy, and also I am, by nature a happy person and even depression and darkness can't hold the soul down for long. It was with you all that I was the happiest, the best times I can remember, so naturally I would be happy around you. But once alone at home and just getting out of bed was hard. Once my first daughter was born I did it because, well, because I had to, and I did want to for her, I wanted to not be this person that on the inside was sad all the time. But how happy can someone be when they are morbidly obese and weigh 300 lbs.?

Also I don't want anyone to feel badly that they may not have known that it was this bad for me. Like I said, I hid it well.

Here is more or less what I said before I was immersed in the water:

Three years ago I was sad, depressed and in a dark place.
A pit, you could say.
I weighed almost 300 lbs.
I had no energy.
I had no hope.
Then I called out to a God I had forgotten. I called out for help.
And He answered.

Since then He has molded and transformed my life into something I never could have imagined.
Something I never could have done on my own.

I've lost nearly 100 lbs. – almost half of myself physically.
I now have two beautiful daughters and an amazing husband.
I am full of energy and joy.
I am a completely different person.
But these are all things that you can see.
What you can't see is the transformation inside.
But I hope to show that through my actions and my life.

Today I want to symbolize with action my love and acceptance of Jesus Christ into my life.

Afterward we sang the Doxology:

Praise God, from Whom all blessings flow;
Praise Him, all creatures here below;
Praise Him above, ye Heavenly Host;
Praise Father, Son, and Holy Ghost. Amen.

Here are some pictures: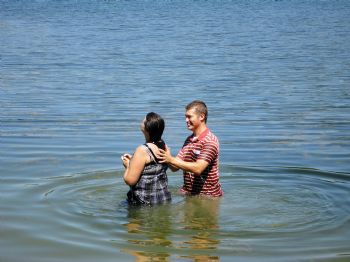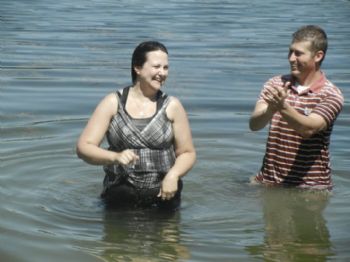 Finally this email came in my inbox yesterday before going to the baptism and I thought it was so appropriate that I'm reposting here:

There are many "RE" words that are packed with hope and encouragement. The word REpurpose is often used today to remind us that many things once discarded, considered useless, and put aside for the trash heap, can be brought back, become useful once again, have value, and take on new meaning.

In the Scriptures we find some wonderful "RE" words that can keep hope and encouragement alive and thriving in our hearts.

REdeemed
I am the LORD...I will redeem you with a stretched out arm, and with great judgments. Exodus 6:6

REstored
'For I will restore health to you and heal you of your wounds,' says the Lord. Jeremiah 30:17

REnewed
But they that wait upon the LORD shall renew their strength; they shall mount up with wings as eagles... Isaiah 40:31

- Roy Lessin, DaySpring co-founder and writer





Saturday, August 20, 2011
MAIN CHALLENGE:
Listen to two different heath, fitness, or nutrition podcasts this week. Blog about why you enjoy them and what you learned from them for 30 points.

Well I listened to lots of podcasts to fulfill the challenge this week, and like they say, sometimes you have to kiss a lot of frogs before you find Prince Charming :) Most were just tools to advertise other products that were being sold - all to "enhance" your life, and some were just people that like to hear themselves talk and felt too self-indulgent for me.

The most notable ones that didn't make the cut are:

MORNING COACH

I've always liked the idea of a "life coach", and this podcast sounded like a perfect little podcast to start your day. Wrong.

This guy has a LOT of energy. This episode (his thousandth and something) talks about when you seek a self-help guru, or read a book, there are all different systems, so you get a different "system" with each book. So you're kind of playing ping-pong between them all, and end up confused. That's why he created this podcast.

Of course, before 2 minutes was up he was selling his membership of his website, his community, his personal coaching….

This week's topic was decision making. Well, this is perfect timing for me as I'm making a lot of BIG decisions lately: life insurance, investments, doctors….

He did say ONE thing that I found helpful.

He said that if you go to make a decision, you need to have a clear state of mind. When you are angry it's not the time to make a decision. In traffic? Not the time. Watching the news? Not the time. You need to clear your mind first (for me this goes into my spirituality and how I try to clear my mind and meditate, pray, read the bible) although it isn't always easy to do that.

Now this is where it gets weird.

He said we "shine" because we are in a good state (cheesy and I don't quite know what that means)

He was still talking about how you should become a member of his site after 20 minutes in. I would not listen again. While I heard something that I sort of knew already, this podcast was just a sales pitch. This was a FAIL.

***

THIS RUNNING LIFE

This guy lost a bunch of weight, became a vegan and is now a marathoner. This was his 31st podcast, recapping his San Francisco marathon. I expected to find a runner talking about his life, and some inspiration.

This was a wash….before he went into his race report there was about five minutes of him and his wife talking about making cocoa ….I don't have time for this! Stopped listening.

***
This next one is in my "no" list because I wouldn't listen to it again...but there were some tidbits of helpful information inbetween her selling things.

FitGirl (www.allinoneworkout.com) with Kira Langolf

Episode #101

· Dead lifts for tight thighs

· Nutrition guides

· Obstacles and how to eliminate them

Right away touted her fitness community, Club Fit, which has many levels of membership, bronze, which is free and then silver and gold which you pay for.

With Spark I can't see why people would pay for such a community when Spark is so awesome.

Anyway…

The first 5 and a half minutes was her selling things….

But after that..

She gave tips on doing the dead lift…a little boring for me…but I wanted to get to the part about overcoming obstacles…on my iPod I can't fast forward..

For those that do the dead lifts she suggests starting with lighter weights if you are struggling with form, form is more important. And you are supposed to feel it a bit in your back, but to protect your back make sure it's as straight as possible.

NUTRITION

Again she said she has tools to help define good nutrition…

A drastic reduction in calories will mess up your metabolism, it needs to be "revved" up all the time. Not everyone's metabolism is the same. We all need the right amount of protein, carbs and fat. She said it's not all about calories in and calories out. You need the right types of calories and by keeping track of this (which you can do on Spark) then it will become habit.

Female 44 and height 5.5 – 130 lbs. For this person to maintain weight it would be 1595 calories, just to MAINTAIN, she put in sedentary…

For the same person, exercising 4 days a week – VERY ACTIVE that goes up to almost 2300 calories to MAINTAIN.

She said that if you are exercising that much you can eat 1800 – 2000 calories and STILL lose weight.

BUT if you are working out that much and eating only 1200 calories you are starving your body and once that happens you starve the muscle and then you're in the diet mode.

She said most people go way too low in calories and mess up the metabolism. Once that happens takes a long time for the metabolism to get back to normal. You will need to repair your metabolism and

Go to the nutrient calculator, you can sign up to the bronze membership, which is FREE to get that calculator.

Sedentary is sitting on the couch, doing nothing.

Then see where you are in real life and the numbers you should be aiming for.

Note: I went online and it said I need 2540 cals. Per day with moderately active.. (56g. fat per day, 222 g protein per day, 254 g. carb per day)

2283 lightly active (50g. fat per day, 199 g. protein per day, 228 carbs per day)

1992 sedentary

Spark has me at 1400 – 1750 with burning 1500 cals. Per week to lose 1.3 lb. per week….

So I wondered if I was too low...

SO AFTER READING THIS I went to the Mayo Clinic calculator and it said that I need 2000 calories to maintain weight per day for an active person. 1850 for somewhat active and 1650 for inactive.

Note: The above calculations are based on a ratio of 20% daily calories from fat, 35% from proteins and 40% from carbs. This is the best ratio for retaining and creating lean muscle, while dropping body fat. Yes, this only adds to 95%. The remaining 5% is sugar alcohols and not actually needed.

http://fitnessmakeover.com/clubfit/2010/
02/what-are-your-nutrients/

By the way, none of these calculators take into account your metabolism.

OBSTACLES

We all have obstacles but she said we need to realize that some of them are self-inflicted: negative self talk, procrastination, etc., if you are aware that any of these are happending to you, once you are aware of it then you can do something to change it. With procrastination ask yourself what's going to happen, usually nothing bad..you'll feel better once you do it.

Inaction/indecision. This can be paralyzing, and can keep you from doing the things you are supposed to do.

***

20 MIN YOGA SESSION

I was excited about this, but it's not a video, she just talks you through and I am not familiar enough with yoga to know what to do w/out seeing someone..


PODCASTS THAT MADE THE CUT.


JILLIAN MICHAELS
http://jillianmichaelsradioshow.com/

Never Fear Protein & Knowing CPR
Released Aug 12, 2011

The summary from the website:

We need a "complete protein". So how do we get it? Then Jillian touches on how incredibly important it is to be able to administer CPR. And by request...more calls. Jillian takes caller questions on diet, fitness, nutrition inspiration and overall wellness.

The topic was protein. It was interesting to hear that we should be eating more protein than we are, Spark's guide is something like 60g - 150g, so I'm going to definitely watch this nutritent.

I didn't really love the banter between Jillian and her sidekick, a little annoying, a bit self-indulgent. Kind of boring.

Only 56 g. of protein a day recommended currently. New studies are coming out that say we need more protein.

For protein powders she recommended whey protein powder, for vegans hemp. She recommends against soy (very processed).

She said don't sacrifice protein when reducing calories. You want to maintain your muscle while losing weight. You don't want to lose muscle while you lose weight. You need to maintain your resistance training while losing weight.

The hour after working out, the "golden hour" this is the prime time to take in protein. The recommendation is about 20g. of protein around your workout time.

Now they are saying 10g. (30 min. before) before the workout, and 10g. after. (w/in 30 min. after)

If you eat a protein rich breakfast, you consume a total of 200 calories less per day.

Then it went into how to do CPR, but I think this is something you really need to take a class in…

At this point I don't know if I like this podcast yet.

Then came the callers.

One woman called in and was hurt by her friend's death and at first I felt that Jillian was hard on her, (I have only seen the first season of Biggest Loser, so I forgot how "hard" Jillian can be). And I also think her yelling is a reflection of her passion for these people, she truly cares about them underneath that hard surface.

Jillian's point to this woman, inbetween her yelling at her, was that she needs to find meaning in her friend's loss….she heard her child in the background and asked if she was a mom..and was her friend a mom…to see her friend's death as a warning and how would she feel to leave her kid alone…that you should give tragedys a meaning for happening. (this woman eats badly and smokes, and her friend did, too).

That if her friend just dies to "die" , it was a true tragedy and it was for nothing. And has no meaning.

When she said that it's Hard, Jillian says "SO and WHAT'S YOUR POINT. (from here on out Jillian's words are in ALL CAPS because she was YELLING lol)

DON'T TRY, TRYING IS PLANNING TO FAIL. (Ok, I think Yoda said this?)

WAS CHILDBIRTH HARD?

Yes.

WAS LOSING YOUR FRIEND HARD?

Yes.

OK, SO WHAT?

HAVING TO DO THINGS THAT ARE HARD IS A PART OF LIFE.

ARE YOU STRONG ENOUGH TO ACCOMPLISH SOMETHING THAT IS HARD.

Yes (the woman is barely whispering, does not sound convincing at all)

I DON'T GIVE A SH*T IF IT'S HARD

BEING A MOM – THAT'S HARD

MAKING A LIVING – THAT'S HARD

I'M SURE YOU'VE DONE A LOT OF THINGS IN YOUR LIFE THAT HAVE BEEN HARD. IF YOU WANT TO CONTINUE TO LIVE IN THIS DIRECTION YOU'VE SEEN WHERE IT GOES – DEATH, 6 FT. UNDER…..

This is where this dialogue really touched me emotionally and it's funny, I didn't expect it to….

Most of you know that my own kids are one of my #1 motivators to lose weight.

I immediately thought of them, and of my family, and of where I used to be and how it has been hard to be almost near my goal, but so worth it. I think of my mom who is obese and has been most of my life, and how I want a change for her...

YOU SHOULD LET GO AND MAKE A DECISION TO CHANGE.

USE THOSE THINGS UNTIL YOU BELIEVE THAT YOU ARE WORTH HAPPINESS, THAT YOU DESERVE HAPPINESS…

DO IT FOR THE KID NOW, (AND CALLED THE WOMAN CO-DEPENDENT) AND THEN SHE WOUULD WANT MORE AND KNOW SHE CAN ACHIEVE MORE, BUT FOR NOW TO DO IT FOR THE LITTLE GIRL….

DON'T TELL ME IT'S HARD, LIFE IS HARD, BUT WHAT IS THE ALTERNATIVE? DO YOU THINK DYING IS HARD, DO YOU THINK ORPHANING YOUR CHILD IS HARD?

Afterer the call was over, she said "I needed to go hard on her."

She is also going to check up on this woman and send her free DVDs and enroll her in the website. I thought that was very cool of her.

***

NUTRITION DIVA – QUICK AND DIRTY TIPS FOR EATING WELL

http://nutritiondiva.quickanddirtytips.c
om/

This is nice because the transcript is online, so I just copied and pasted it. It was very helpful and interesting and something I'll listen to often. As a writer I love Grammar Girl and this is a sister podcast. What's even better? NO advertisements! Also I learned something new about yogurt, it needs to say "contains live active cultures" to have the good flora. Some yogurts don't have that.

by Monica Reinagel, M.S., L.D./N.

This week I received not two, not three, but four emails from listeners with questions about frozen yogurt and ice cream. Obviously, it's a topic I've been neglecting! Today, I'll try to tackle all your questions, including whether or not frozen yogurt contains beneficial bacteria, what all those chemicals are doing in low-fat frozen desserts, and which ones might be the healthiest.

Does Freezing Kill the Beneficial Bacteria in Yogurt?

Grammar Girl has been using her ice cream maker to make frozen yogurt this summer. But she's wondering if freezing the yogurt might affect the things that make yogurt so good for you. Kelly had the same question about making smoothies with yogurt and frozen fruit.

As you might remember from my episode on Fermented and Cultured Foods (#4), yogurt contains friendly bacteria that help keep your digestive system healthy. But these friendly flora are only helpful if they're alive when you eat them. That's why you should look for the words "Contains live and active cultures" on any yogurt package to be sure you're getting the good stuff.

The good news is that freezing does not kill beneficial bacteria. In fact, it preserves them in a state of suspended animation until you eat them, at which point they warm up and resume their regular helpful activities, like fending off harmful bacteria, aiding with digestion, and producing certain vitamins. So, Kelly, you'll get all the benefits of the yogurt in your frozen-fruit smoothies.

Does Frozen Yogurt Contain Live Cultures?

But I couldn't answer Grammar Girl's question about frozen yogurt for sure without seeing her recipe. Although it might seem an odd way to make a frozen dessert, many recipes start out by heating up milk, adding other ingredients, and then chilling the mixture before adding it to the ice cream maker. The bacteria in yogurt will die if they get any hotter than about 112 degrees F.

In Grammar Girl's recipe, you heat up milk and sugar until it boils. Then you stir in the yogurt and some berries that you've pureed in the blender and chilled. If the yogurt is added to boiling milk, the beneficial bacteria will probably be destroyed. Grammar Girl suggested that if she adds the chilled berries first, it would cool the milk down enough that the bacteria in the yogurt would survive. She's exactly right. As long as the mixture is cooler than 112 degrees F when the yogurt is added, she should be fine.

The problem with frozen yogurt you buy at the grocery store is that it's heat-processed which destroys any beneficial bacteria in the finished product.

And that's the problem with frozen yogurt you buy at the grocery or ice cream store. It has to contain a certain amount of actual yogurt in order to be labeled frozen yogurt. But if it's heat-processed--and I'd assume that most commercial frozen yogurt is--you're not going to get any beneficial bacteria in the finished product.

Most Frozen Yogurt Does Not Contain Live Cultures

If you can find frozen yogurt that's specifically labeled with the words "Contains live and active cultures," however, you've hit the jackpot. Or, you can make your own! I'll include Grammar Girl's recipe for Fat Free Blackberry Frozen Yogurt in this week's Nutrition Diva email tips. But, Grammar Girl warns that her frozen yogurt bears very little resemblance to the frozen yogurt you buy in the store.

"It freezes hard as a rock," she says, "but so does every other recipe I've tried. I'm still experimenting to try to make it a better texture." I think I have some ideas. Grammar Girl's Blackberry Frozen Yogurt uses skim milk and nonfat plain yogurt, plus berries and sweeteners. Adding a little fat by using 1% or 2% milk instead of skim and low-fat yogurt instead of fat-free would probably improve the texture quite a bit--and might also allow her to reduce the amount of sweetener to boot. So, she might even be able to improve the texture without increasing the total calories.

Smooth, Creamy, and Fat Free: How Do They Do It?

Fats are a natural part of many foods, including most dairy products. When you take them away, the flavor and texture suffers. So how do manufacturers make low-fat and fat-free frozen desserts so smooth and creamy?

Food engineers have been amazingly resourceful about finding ways to fake the texture and flavor of fat. Although it's quaint to think that it's simply a matter of churning it twice, that has nothing to do with it. In fact, they use all sorts of emulsifiers, binders, and thickeners to mimic the texture and taste of higher fat products.

That may not be quite as bad as it sounds. Most of these additives are derived from foods like soybeans, eggs, and corn. But it's not exactly the ice cream Grandma used to make, is it? Then again, it's a heck of a lot lower in fat and calories than Grandma's, too, which means we can eat it in vast quantities, right?

See, that's where it all goes off the tracks. Obviously, if it's got half the calories but you eat twice as much, you're breaking even. And if you're polishing off an entire carton every night, well…maybe Grandma was onto something.

Is A Little Fat So Bad?

Which brings me to Amanda's question. She's been standing around in the frozen foods aisle reading labels lately. "I found a variety [of ice cream] made with only natural ingredients," she writes, "and while it was low in fat, it contained saturated fat. Another brand contained no fat (and therefore no saturated fat) but it contained maltodextrin, which I have heard negative things about. What would be the better choice for my overall health?"

If it were me, Amanda, I'd probably choose the ice cream with the small amount of saturated fat over the one with all the distinctly un-Grandma-like ingredients. Not only is a small amount of saturated fat not going to kill you, but it will probably taste a whole lot better. Just be sure to keep an eye on the serving size and, of course, no dessert until you eat your vegetables!

Visit nutritiondiva.quickanddirtytips.com for a transcript of this episode, along with links to more information on yogurt and frozen desserts and some recipes for making your own. And, if you'd like to try Grammar Girl's Blackberry Frozen Yogurt , be sure you're signed up to get my weekly email tips.

***
Girlfriends Bible Study – How to Stay Fit for the Fight

www.rockchurch.com/messages/category
/girlfriends/

I believe that spirituality is part of a healthy lifestyls, and this podcast I found is amazing! One I have subscribed to. It was about staying "fit" in a different way mentally. The one I listened to is called "God's Word on Life's Challenges". It was SO POWERFUL for me, right now I've been going through some of life's challenges, and this was so timely for me.

The woman said that you need to be ready for the fight before it happens or Satan can just come and mess up your world. She said something funny, "You've got to be doing something right if the devil is after you." LOL!

She said something really powerful That it is not what we think about that is sin, but only when we take ACTION it turns to sin, so it's the devil's lie that we aren't good people, or Christians, to think a certain thing we shouldn't . We need to take that thought captive to Christ.

When we take thoughts captive, we are bringing them to the obedience of Christ. Doing this will give us peace and shield our minds.

Here is some scripture that she read:

Lamentations 3:25-30 (The Message)

25 God proves to be good to the man who passionately waits, to the woman who diligently seeks. 26 It's a good thing to quietly hope, quietly hope for help from God. 27 It's a good thing when you're young to stick it out through the hard times. 28 When life is heavy and hard to take, go off by yourself. Enter the silence. 29 Bow in prayer. Don't ask questions: Wait for hope to appear. 30 Don't run from trouble. Take it full-face. The "worst" is never the worst.





Thursday, August 18, 2011
Instead of sleeping in this morning I…

RAN!

It's been too long since I last ran. It's been 12 days to be exact. My last run was my first 10k. After a big race I usually take a week off to regroup, to rest, to do other activities. This time one week turned into two. I started to feel fluffy, lazy, and like my "old self" – the self that I do not want to see anytime soon (if ever). I was feeling down. I was feeling tired. I usually don't drink wine very often, maybe once a month or twice socially. But lately I have been so stressed that I found myself turning to wine at night, leading to overeating. I was seeing a pattern that I didn't like starting to emerge.

I think for me after a big athletic accomplishment I think – what's next? I hit a PR on my 10k, I ran the fastest I have and the longest distance. That can intimidate my inner athlete. It can shut me down. Perfectionism sets in and if I can't do it FULL OUT then why do it? That's crazy thinking though. I think well, my next run has to be fabulous. But you know what? It doesn't have to be. My next run could be sloppy, I decided last night after finishing off my 2nd and a half glass of wine and bowl of popcorn. My next run, I thought, could be tomorrow morning. Early. I looked at the clock. It was late. So I made a deal with myself. I would set two alarms for the morning. One to wake me up an hour earlier, at 5:30 a.m., and the other for my normal time. If I absolutely couldn't get up for that first alarm, I would forgive myself. And my plan wouldn't be to run 6.2 miles, or even a mile. My plan was to just get my a$$ out the DOOR.

I think a part of me didn't really think I would get up early. I didn't set my running clothes out as I normally would. Shoot, my shoes and gym bag were even in my car trunk. And yet I woke up minutes before that first alarm even sounded. My body was ready for this and I'm sure impatient with the mind games my head wanted to play. It was on. I got out of bed, silently grabbed blindly in the dark in my drawers for something suitable to wear. Confession? I didn't even wear undies on this run – I simply couldn't find ones without lace or frill in the dark and I'm not going to give myself and undie grundie while running. No thank you. Oh, and note to self - Bondi Bands really DO work - I used a cheapo band that kept falling off and didn't do anything to wick my sweat.

As I'm walking out the door in just my socks (my shoes are in the trunk, remember?) I silently ask myself – are you really going to do this? It felt wonderful out. A slight breeze in the air. The forecast said 80s. I felt like doing it. I have missed it. So I manage to leave our driveway without waking the girls up and I go. I don't really have a plan, but I know I want to make it to the pond, it is gorgeous there in the morning. So I run. I also don't care how fast I'm running or if I have to take walk breaks. I'm not going to feel bad about a darn thing. It's all good. I'm out there and I'm doing it. I see a woman running up the street, she looks like a marathoner. We wave. I see two more women riding bides that look pretty serious, too. We wave. I think – wow, I could have missed all of this by sleeping right now.

I am feeling a bit fluffy, my tummy is bouncing more than it typically is, probably from all the cheese curds and cupcakes I ate over the weekend. But I am happy. And I DON'T CARE. I am doing this for the pure love of it and who cares about anything else other than my breath in my ears, my feet on the sidewalk and the breeze in my hair. It's amazing.
I make it to the pond and I am really sweating now. Here are some pictures I took of the beauty I found this morning.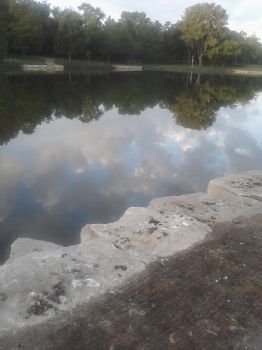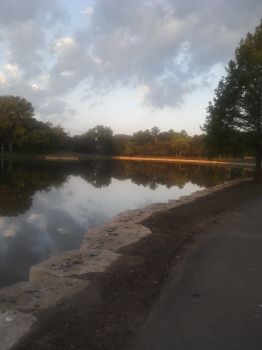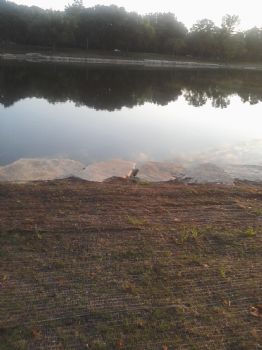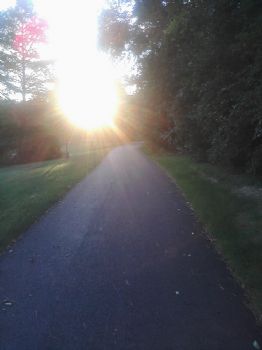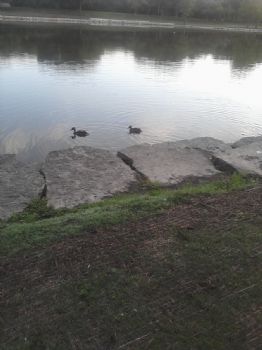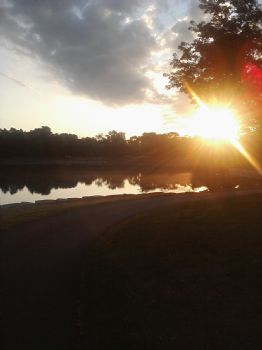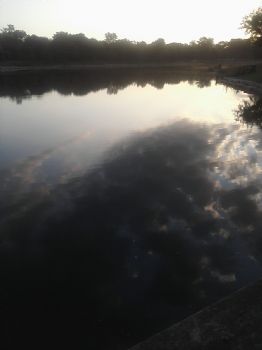 And here is, as Yoovie would say, my "sweaty proof".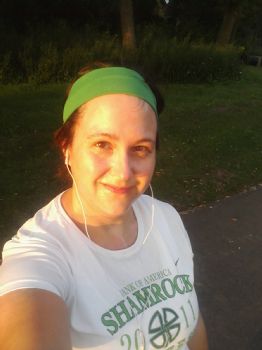 On the way home I picked a dandelion for Lucy and she made a wish this morning.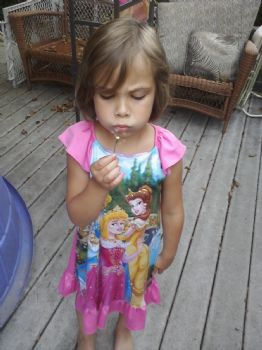 I ended up running 4.25 miles this morning, but I would have been happy with 1. Or even a half a mile. Because I got out there.

My wish for all of you? To get out there, to just do it, and while your only competition IS yourself, that doesn't mean you always have to BEAT yourself. (Or beat yourself up for not being perfect). What do you want to do? What have you been putting off? It's never too late, as Nike says, just get out there, and JUST DO IT.

So go ahead, compete with your inner athlete. That's healthy enough. Just don't let it beat you, and instead, in the infamous words of Charlie Sheen....be "WINNING!""





Monday, August 08, 2011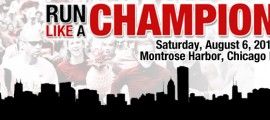 I was nervous for my first 10k (6.2 miles). Since the 10k start time was at 8 a.m. it made sense to stay at my sister's place in Chicago. My hubby was going be at Lollapalooza all weekend, so it would just be me and the girls. I packed the night before and on Friday my nerves were Jell-O. I left work early to get into the city at a reasonable time.

My sister Kara and her boyfriend, Jan made the most amazing dinner. Chicken and veggie kebobs with delicious pasta salad. For the kids they made mac & cheese. It was all so yummy. Then we watched Rango and had some popcorn that I made.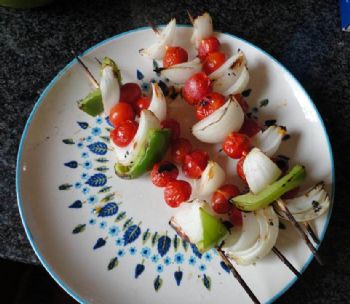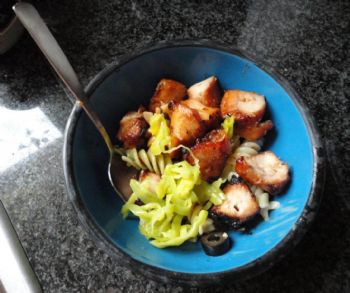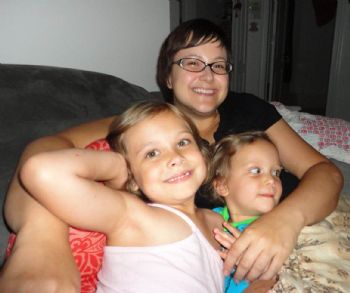 Watching Rango

My daughter Lucy made me the sweetest picture of me running in the race.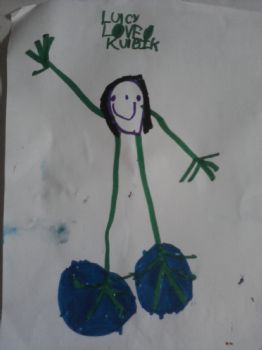 We didn't go to bed until about 10 p.m., and little did I know that I would get almost NO sleep that night. My 5 yr. old, Lucy, wanted to sleep with my sister and her bf in their bed. I had imagined her and Marlo sleeping on the two twin air mattresses we had set up in my sister's office, but instead I slept with Marlo, my 2 hr. old, in the office on a twin mattress. I wanted to leave her after she fell asleep and go sleep on the couch instead as my back doesn't really respond well to air mattresses, but the minute I moved, rolled over, coughed, anything, Marlo woke up and cried. The rest of the time she was constantly rubbing my face the way you would swat a fly. Let's just say I got almost ZERO sleep. Once I did fall asleep, somewhere around 3 a.m., I had a dream that I overslept and then I couldn't find my cell phone once I woke up to see what time it was and light was starting to come in the window and I was sure I had in reality overslept. Marlo had hidden my phone under the air mattress cushion. Once I finally found it it was 4:45 a.m. My alarm was set for 5:30, so I figured I would get up then.

As soon as I got up, Marlo screamed. My sister came to the rescue and held her while I showered and got ready to go. I had a bowl of Grapenuts and a banana – no coffee – I typically have 2 cups a day but can't drink any the morning of a race. I am feeling mighty tired about now. Also Lucy woke up when I did, so she is underfoot. I am realizing just how lucky I am to have my husband in my life, I felt like a single mom this weekend and it is really hard work. (Kudos to all the single moms out there, you are amazing women!!!) Now after the night I had, let me tell you, I did not feel like running. But no way was I going to miss it.

Jan drove me to Montrose Harbor, where the race start was. On the way there it starts to rain. Not just rain, but torrential downpour! I had looked at the weather the day before and the forecast said rain in the afternoon, not the morning. I was not prepared. I enjoy running in the rain, but I've never run in such a downpour. I took shelter underneath a bait shop across the street, along with a bunch of other people.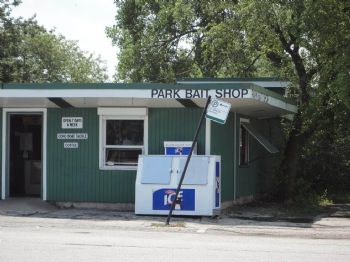 The bait shop after the race

I texted Jenn (KITHKINCAID) and she was en route to the start line. While I waited there was a group of about 10 girls in a bachelorette party who were contemplating not running the race. They wanted pictures to prove that they were crazy enough to run in such rain, so I happily obliged and took two photos of them – one where they were all smiling, and one where they all had frowny faces. It was funny. Then I hear my name being called and it's Jenn! I'm so happy to see a face I know, I give her a hug and we head toward the porta-potties and then onto gear check. I am soaked at this point. My shoes are wet, my socks are wet. I text my friend Blaize (DANCINGEARTHMOM) and say something along the lines of "I can't believe I have to run in this sh*t." She sent me an encouraging word back, and on her 10k she had the same thing happen. I tell Jenn about my lack of sleep and she reminded me that I do well on little sleep - I had forgotten that before another race (Hot Chocolate or Shuffle) that Marlo had been up all night crying from teething.

Jenn and I check our gear and find a tree to stretch out. The path is already flooding with water. I think that the beginning of the race can be summed up in four words of wisdom that were on Jenn's Bondi Band – "Suck it up Cupcake".

This is a smaller race so people weren't lined up according to pace. At the start it was kind of a free-for-all. As we began Jenn told me to have a good race and we were off!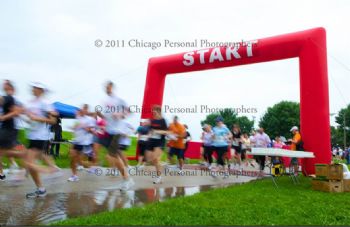 Photo Copyright Chicago Personal Photographers

There was a sea of people and the road was so flooded I ran up on the grass. I lost sight of Jenn right away. I was too focused on the ground ahead of me and trying to avoid the huge puddles of water. I looked out at Lake Michigan and it was still beautiful even though it was cloudy and foggy. My typical suburban runs aren't as scenic so I tried to take it all in. Also, the miraculous thing was that the rain stopped almost immediately as we started running. Bonus! But I still was not used to running with cold, soaking wet clothes on or shoes. My main goal was just to finish. I had stuffed my iPod in the back pocket of my running skirt and so I was not able to change songs like I typically do. This was freeing in a way, though. I just got into my zone and made a deal with myself that I would not look at my Garmin until about halfway through. My Garmin is also known to not be 100% accurate (I think because I don't have the GPS version), so I don't want it to tell me I'm a mile ahead of what I am.

Right away, even before one mile had passed there was a 3 mile marker – I think that was either for the 5k, or a reverse sign, for on the way back, so I knew then that I had to ignore all signs because a.) I get easily confused and b.) They couldn't be trusted. I think I hear my name being called and it's probably Hope (CHICAGOHEALTHY), running past me on the other side - it's nice to have someone cheering you on! Then I run on a bit more and it's the turnaround point right around the 2 mile point. I'm still not looking at the Garmin. Then I hear my name and it's Jenn! Just seeing her inspires me, so now I am pumped. I feel like I'm almost halfway through. In my training runs I broke the 10k into 3 segments: beginning, middle and end (pretty simple, huh?). I felt like I was nearing the middle, but I didn't focus on each mile individually like I did with the 8k, or like I do with 5ks. The 10k is a different beast to tackle. My tactic was to zone out and run. That's it. Now there's a man who is near me and keeps sprinting really quick and then walking, sprinting and walking. That doesn't bother me so much as the fact that when he sprints he always seems to bump my arm, and that is a little annoying. After the third time I am thinking there must be some sort of race etiquette he is breaking – he has plenty of room, no need to bump me, lol. But I just keep running ("Just keep swimming, just keep swimming" – in the infamous words of Dori the fish from Finding Nemo).

I feel a tap on my left shoulder and it's Jenn! We run together for a bit, maybe almost a mile, no words spoken between us, but there is a nice camaraderie that I love. I can hear myself breathing and her breathing. It feels very Zen, if that makes any sense at all, during a run, lol. We come across a huge puddle and run onto the grass to avoid it. I feel like I'm running faster than my pace is, so I slow it down a bit and Jenn moves ahead, I can see her running ahead of me and that becomes a focus point. I am so proud of her, and I feel this welling up in my heart that words can't really explain. I'm proud of her and I'm proud of me. This is a first for both of us, the 10k distance.

Then I look at my Garmin and it says something like 4 miles. I get back into my zone and run. I get it in my head that I'm just going to be running for a bit longer and that keeps me moving. I see Jenn at another turnaround point and that helps me, too. I fist pump her as I pass her and I say something, but I don't remember what…maybe just a simple "woo hoo".

My feet are starting to hurt, but I don't want to stop. At the last water station I do grab a cup of water but run with it as I try to down it. It feels good.

I see a photographer and I give him a peace sign in honor of my friend Blaize, she has encouraged me so much to run this distance and always made me feel like I could do it – even when I told her I didn't think I could.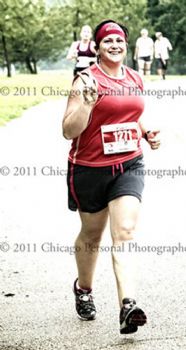 Photo Copyright Chicago Personal Photographers

The moments up to the end feel very long. That last mile was the hardest, and because my Garmin is unreliable it was doing what I feared most, telling me I was about .75 miles further than I was. Everything is a bit of a blur. I keep looking up ahead for the finish line.

Finally it is up ahead. I run and run and try to sprint but just really want to make it there and be done with it. I see Jenn waiting for me at the finish line, I wave to her and then give another peace sign to the camera. I am done!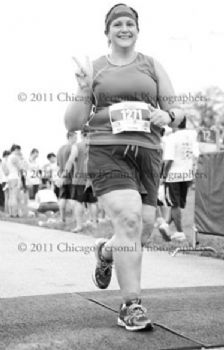 Photo Copyright Chicago Personal Photographers

I finished and RAN a 10K!!!! I am so thrilled!!! I give Jenn a sweaty hug and we go to grab our gear and then get some eggs and sausage, of which I could only eat about half, but I did also get a yummy mini muffin from Corner Bakery – cheese streusel, yum!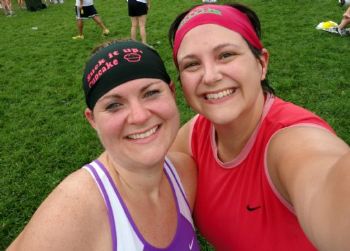 Jenn and I post-race.

Then we get our pint glasses and go to the beer line and meet up with Hope and her running partner. The beer was delicious! We sat and talked and watched people get their awards.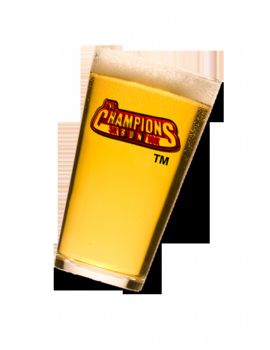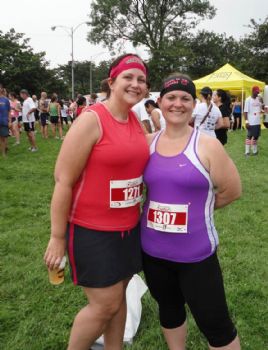 Me and Jenn for the "no beer" picture (although I'm not very good at hiding my beer)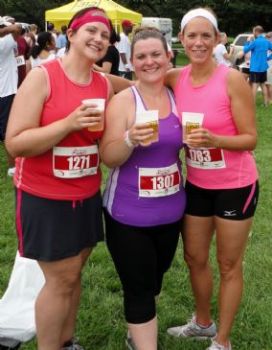 Me, Jenn and Hope celebrating with our 312 brew :)



Hope and her running partner

Then we all went our separate ways and Jan, Kara and the girls picked me up. We decided to have a lunch down on the beach and grabbed some hot dogs from a food stand.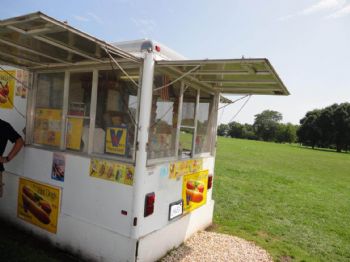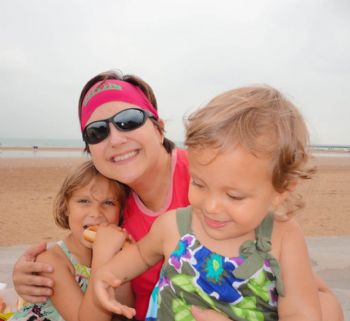 Me and the girls post race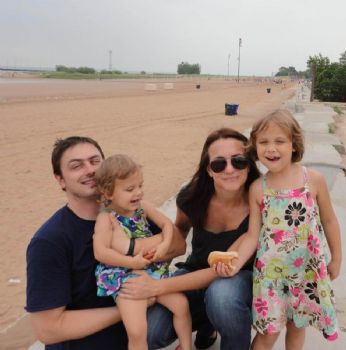 The girls with Kara and Jan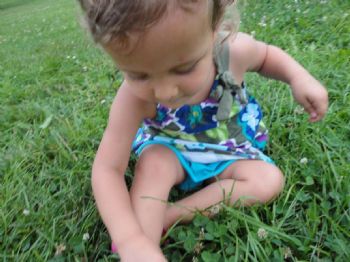 Marlo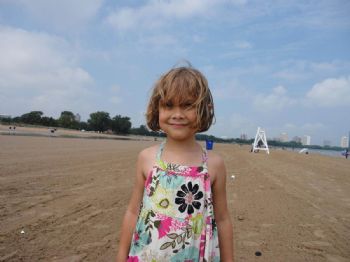 Lucy

The girls went into the water, Marlo flung herself in a puddle of not-so-clean water, and after running around after a 2 yr. old after running the 10k I was ready to call it a day.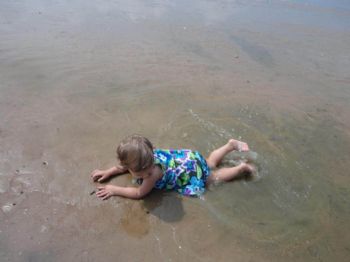 We went back to my sister's place and Jan made me a wonderful cup of cappuccino, it was better than any coffee shop I've had.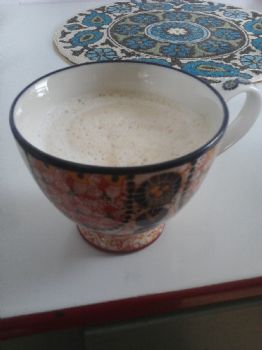 They drive us back to our home in the 'burbs, I put the girls down for a much needed nap and celebrated with a couple of glasses of wine and a game of Scrabble with Kara and Jan. All in all, a perfect day!

Thank you all of my Spark friends for your support, and thank you God for the strength to run this race! My official time was one hour and 13 seconds. I had anticipated finishing in one hour and 20 minutes or more, so I am thrilled that I finished this race in the time that I did.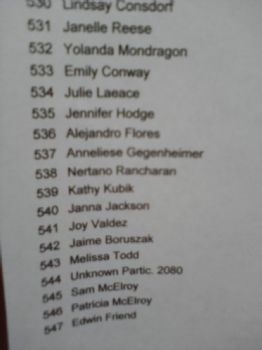 My name on the finisher's list!

Finishing this race gave me the belief that perhaps one day I can (and will) run a half marathon.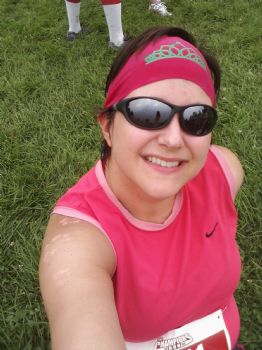 p.s. Note to self - remember this...





First Page
1
2
3
4
5
6
7
8
9
10
11
12
13
14
15
16
17
18
19 20 21 22 23 24 25 26 27 28 29 30 31 32 33 34 35 36 37 38 39 40 41 42 43 44 45 46 47 48 49 50 51 52 53 54 55 Last Page

Get An Email Alert Each Time LOTUSFLOWER Posts