| | |
| --- | --- |
| | LOTUSFLOWER's Recent Blog Entries |


Monday, September 20, 2010
A year ago my ideal weekend would include lots of couch time, lots of fried foods, and lots of drinking. Perhaps a nap...or two.

The way I have changed not only physically, but mentally as well is just a true testimony to the things that are possible when you decide to make a change. And also the things possible through Christ, as He is truly the one who gives me my strength.

This weekend was chock-full with FUN and MOVEMENT! It started off Saturday night with a girl's night out at a local dance studio where belly dancing was the main event. It was a 2 hr. class of shaking our bellies and truly sweating in a sexy way :) My sister Kris and I went and I meant to take a picture of us in our coin skirts, but I forgot...perhaps it was the two bellinis that are to blame for that.

Then Sunday night I headed to the city with my cousin Kim and my sister Kris for the Party in Pink! Zumbathon at my friend Jenn's (KITHKINCAID)'s dance studio. Now she is a good spark friend of mine but we hadn't met yet. She is the person who inspired me to try Zumba, and so it was truly awesome to finally meet her in person AND zumba with her! I also realized that my Zumba class is nowhere near as intense as hers, I think I'm in the beginner's Zumba, or as Jenn so rightly said "No, you're just in Zumba in the Suburbs". LOL, so true! She rocked it and danced her butt off, and while I had a few missteps, I had a lot of fun. Thanks for a great time Jenn!!! You are an amazing, inspiring person and it was so nice to meet you and I'm looking forward to running with you in the Hot Chocolate 5k! You look Awesome by the way, my friend!!!!!!

I burned so many calories this weekend, and yes, my eating wasn't the GREATEST (I did have a taco party to attend Sunday as well), and I had a FEW drinks, BUT I tracked it all, and I think I came out even. Actually I still had a deficit for both days, Sat. I had a calorie differential of -345, and Sunday I had one of -172. And I had a ton of fun, so it was all worth it!

Here are some pictures of me with Jenn from last night. The first picture was accidentally taken as a video, but I was able to convert it into a picture :)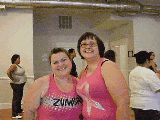 Before Zumba- me (right), Jenn (left)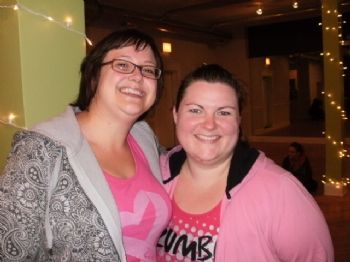 After Zumba - me (left), Jenn (right)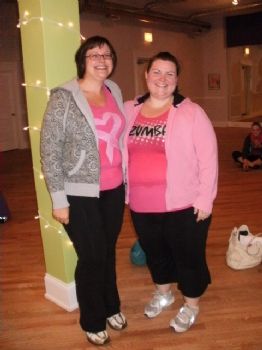 After Zumba - body shot me (left), Jenn (right)





Monday, September 13, 2010
I just checked my "Fun Goals" and my next goal is to reach 88 lbs. lost and dress up like Marilyn Monroe for Halloween. I have 6 weeks to reach this goal. That is about 2 lbs. a week, plus 1 pound. The end is in sight, I think I can do this! No, I CAN do this! (I think I can, I think I can, I think I can).

I am going to be ON MY GAME the next 6 weeks and I am determined to make that fun goal a reality!

And 13 IS my lucky number. That's the date I was married, and I LOVE scary movies. So the number 13 just makes me giggle.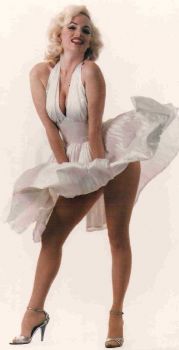 "The body is meant to be seen, not all covered up."

~ Marilyn Monroe









Wednesday, September 01, 2010
Start weight: 230
End weight: 228
Weight lost: 2 lbs.
Weight lost since the beginning of the year: 29.5 lbs.
Total weight lost: 70 lbs.

I reached over 70 lbs. total LOST!!!!



Measurements: (not measuring today due to TOM)

Grade for the month: A for effort, C for weight loss.

Fitness accomplishments:



I graduated from C25K!!!


I ran my 2nd 5k and ran THE WHOLE THING!


I reached 1,000 fitness minutes!!! (Actually 1,210 but whoís counting?)


I reached my YEARLY fitness goal early; I set it out at the beginning of the year as 5,935 fitness minutes and reached 6,630 fitness minutes in August. Now my goal next year will be twice as much Ė 12,000! Based on 1,000 fitness minutes per month. Itís cool/crazy how much more you can do when you put your mind and body to it! (ďYou can do it, put your back into it.Ē I ~ Ice Cube)



I didnít lose the 8 lbs. I wanted to in August. In fact, instead of my typical 4 lb. loss, I only lost 2 lbs. I am trying not to let this frustrate me.

But I'm not gonna lie...it hurts.



I did follow my plan to lose 8 lbs., my body just wasnít on the same page with me. I did some awesome work in August and stayed within my calorie range. I tweaked some things on Spark, lowering my calorie range and Iím looking for a large loss in September.

Non-scale victories:


Being able to wear a size LARGE pant and size LARGE shirt during my Elvis 5k run


Fitting in a run on a hard day and closing down the gym


My awesome Threadless Tee that my husband bought me for Christmas finally FITS!!


I bought myself a Goddess dress for my birthday!


I held a Luau for my birthday just so that I could wear a tank top!


I seriously didnít recognize myself in the mirror at my gym. I had put my contacts in and was in a new top (that didnít fit me before) and had to do a double take!


Iím starting to like how I look naked.


Turned down a gooey slice of TURTLE PIE and opted instead for my very sensible rice pudding snack pack.


Joined a new awesome team that is motivating me! Love the Sunny Gals!


Starting to see a more defined tummy and therefore seeing my cute belly button.


My new(er) pair of sexy panties were falling down! Need to go lingerie shopping again!


My size 18 jeans are starting to fall down, I need to wear a belt now!


I had to tie a knot on the side of my XL t-shirt for the 3k Fun Walk it was SO HUGE on me! Guess Iím officially a Large! Iíve come a long way from being a 2XL!!


Being able to fit into these awesomely cute pink workout pants that I bought 3 yrs. ago and still had the tags on them. Size XL, but they were made small. They were an impulse off the rack buy because they were so cute. Now they fit!!



Running a sprint with my daughter, Lucy. I never would have done this a year ago.


Turned down a pre-made ice cream cone (again) from my husband. Talked to him about how yes, sometimes I have an ice cream cone, but only if itís planned and in my calorie range for that day.


Starting to find healthier alternatives, for example instead of shredded cheese on tacos (turkey tacos vs. beef) I add shredded carrots. They add color plus crunch!


My wedding ring, that finally fit me last month, is now LOOSE!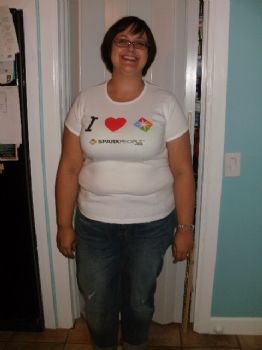 Me in my 70 lb. reward Spark shirt.
(Now I just have to tackle those love handles!)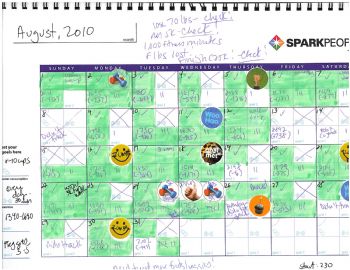 My August Spark calendar, green means I did good!







Monday, August 30, 2010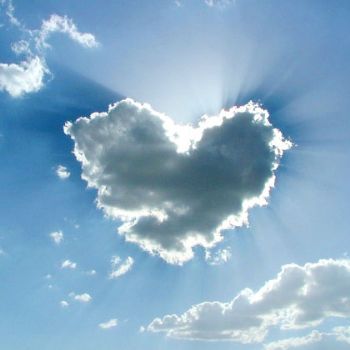 Yesterday in church the Pastor talked about how being a Christian means that we don't look to serve ourselves anymore, but rather to focus on others and to serve others. This really struck a chord with me. He said that by filling ourselves up all the time with material things we will never truly be full. But that by serving others, our cup is always full.

As Christians, we are directed to serve (I Pt. 4:10) and this is one of the ways we worship God (I Pt. 4:11, Rom 12:1). When each of us does our part and uses our God-given gifts, we help to build up the local church and the larger Christian community (Eph. 4:12, Eph. 4:16).

I want to apply that concept to my rewards. Currently I'm at 70 lbs. down. My next rewards include a portable DVD player, a night out, a makeover, a party. Can you say self involved?

So I am going to switch it up. I'm going to reward others instead of myself. In doing so my reward will be tenfold. It will be the gift of giving back. That will be my makeover. In the process of doing this I will not only change physically on the outside, but also on the inside, I will learn to have a heart more for others than myself. A giving heart.

I would still like to take a trip with my family hiking in the fall. I think I'll still do that. And I will need new clothes along the way. But do I need the other material things? Nah, I don't think so. I'm going to look forward to helping others as I travel on this journey. I've discovered so much about myself along the way and about God. I can't wait to learn more through this mission of mine. Of God's.


OLD REWARDS:

253 = 45lbs - NEW CLOTHES - DONE!
248 = 50lbs - HEART RATE MONITOR - DONE!
243 = 55lbs - FACIAL - DONE!
238 = 60lbs - NEW BIBLE (GLITTER PINK) - DONE!
233 = 65lbs - PEDICURE - DONE!
228 = 70lbs - BREAST CANCER & SP SHIRT - DONE!
223 = 75lbs - BOOK
218 = 80lbs - DATE NIGHT! SUSHI & SAKE!
213 = 85lbs - NIGHT OUT W/ GIRLS/MARTINIS (WEDDING WEIGHT)
208 = 90lbs - WRITING GETAWAY - JUST ME, A HOTEL AND A POOL
203 = 95lbs - PORTABLE DVD PLAYER FOR WORKOUTS
198 = 100lbs - ONEDERLAND!! BIG PARTY AT HOUSE
188 = 110lbs- MAKEOVER
178 = 120lbs MINE AND JIM'S 12 YR. ANNIVERSARY, GO AWAY GO AWAY ON A HIKING TRIP W/ FAMILY (STARVED ROCK)!!
~~~~~~~~~~~~~~~~~~~~~~~

REWARD REVAMPED!

223 = 75lbs - DONATE TO SUSAN G. KOMEN BREAST CANCER RACE
218 = 80lbs - VOLUNTEER AT HELPING END HUNGER
213 = 85lbs - BAKE COOKIES FOR ADVOCATE HOSPICE PATIENTS
208 = 90lbs - HANDS ON WORK AT "SCARCE", PROVIDING CRAYONS TO CHILDREN W/ DISABILITIES THAT THEY ARE ABLE TO MANIPULATE.
203 = 95lbs - VOLUNTEER AT THE FAMILY SHELTER SERVICE RETAIL STORE
198 = 100lbs - CLEAN UP THE PARKS
188 = 110lbs - VOLUNTEER IN THE OFFICE FOR MUSCULAR DYSTROPHY
178 = 120lbs - DONATE $120 ($1 for every pound lost) to FAMILY SHELTER SERVICE

"Each one should use whatever gift he has received to serve others, faithfully administering God's grace in its various forms." ~ I Peter 4:10

"...to prepare God's people for works of service, so that the body of Christ may be built up..." ~ Ephesians 4:12

"For we are God's masterpiece. He has created us anew in Christ Jesus, so we can do the good things he planned for us long ago." ~ Ephesians 2:10, NLT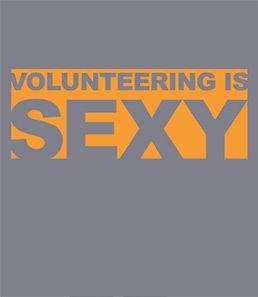 Thursday, August 26, 2010
Today I am celebrating being one year older.






Normally this might be a cause for being sad. One more year has passed, I am getting older, and with that comes more wrinkles, less energy and more hair dye.

HoweverÖ.

This is not the case.

Not for me.

I am 36 now and feel BETTER than I did at 26.



At 26 I weighed in at 298. Once I saw that number on the scale I stayed away from the scale for a long time. Who knows it I went over 300 lbs. It doesnít matter. Not now.

At 26 I was depressed, I was tired, I had no passion, no direction in life. I lived by my past and my past said that THIS was the girl I had become. THIS was my destiny. I had a husband who was devoted and loved me Ė no matter what my size or what the number on the scale said. Life was good. Right?

At 26 I had no kids. I lived like a hermit, staying indoors whenever possible. I could totally relate to those people who are seriously afraid to leave their homes. I actually envied them this disease because it was a valid reason to stay indoors, and had I truly suffered from this disease I would be medicated.

I had seen therapists, counselors for my depression Ė they all recommended drugs. Drugs that I tried and may work for some, but in my case made me feel, well, not like myself. Not that myself was great, but it was better than feeling NOTHING.

I tried every diet known to man. Weight Watchers, Nutrisystem, Jenny Craig, diet pills, diet scams, fad diets. I once ate nothing but chicken soup for a week and another time starved myself to try to cleanse my system. I even visited a Chinese healer and took pills he gave me that looked like rat poo. I have no idea what they were, but at least they gave me energy. When I was younger I was anorexic and bulimic and messed up my metabolism and body with nothing but Slim-Fast and pretzels for two years of my life. Sure, I looked good. I looked sick, but I could fit into size 6 jeans no problem.

Fast forward four years. I am pregnant with my first child, a daughter. I know now that things need to change. I canít give her anything, any love, if I donít love myself. And I needed to face the fact that I didnít love myself. I began to eat healthy, began to work out. My daughter changed my life. She saved my life, actually. I discovered Sparkpeople and all the great tools and starting sparkiní Ė slowly, but surely.

Then three years later I have another daughter. I was motivated and driven and determined to be a good mother to these precious girls. I began to LOVE working out and eating right. I began to FEEL GOOD about myself. I began to love more, love myself, my husband, my daughters. I embraced Christ into my life and felt his love.

So today, 10 years from the worst darkness of my life, I see the light. I see that hope that Iíve always heard is at the end of the tunnel. Iíve lost 70 lbs. and have 50 lbs. more to lose to reach my goal weight. And I know Iíll get there. No rush, but by my next wedding anniversary would be nice. And that girl from long ago? WellÖ

THIS is the girl I was supposed to be. I can see her emerging from within. THIS was Godís plan for me all along, I just needed to believe it. And you know what? I kind of like THIS girl, this strong, inspiring, motivating, determined and kind girl. THIS girl has amazed me with what she can do. Running 2 5ks when previously she had never left the couch, never even liked going outside in the summer as a child to play. THIS girl who has shed 70 lbs. of her former self, breaking through any stigma of being morbidly obese. THIS girl who didnít listen to doctorsí recommendations to perhaps get bariatric surgery because the amount of weight I had to lose was just TOO MUCH.

I ended my last day as a 35 yr. old with a run. Today I started the day off getting up early with my baby, now 1 yr. old, and danced.

And I canít think of any better way to start the day. Or the year.

So to sum the story up, this is a story about a girl who was once a fat girl, who knew nothing of the girl she would become. Then, she met HOPE.

Thank you everyone, for your support. If you are where I was, please know that there IS hope for you too. There is enough hope to go around.





10 YEARS IN PICTURES:




Me and my husband on my birthday 10 yrs. ago vs. today.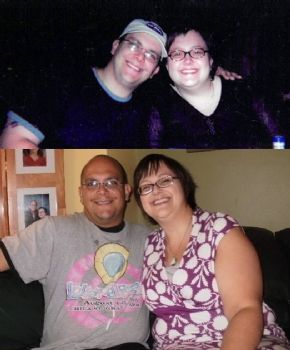 A different view: me and my husband on my birthday 10 yrs. ago vs. today.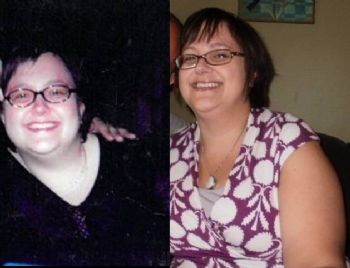 The Girl I would become (298 on the left, 228 on the right - 70 lbs. down)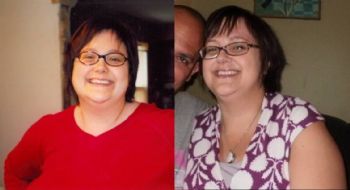 The Girl I would become (298 on the left, 228 on the right - 70 lbs. down)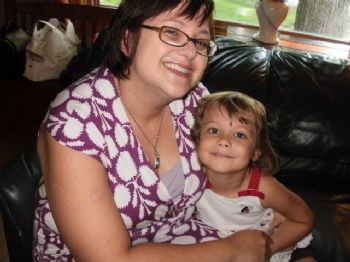 Me this morning with my daughter, Lucy, now 4. The girl who changed my life. OR rather, helped ME change my life.



First Page
1
2
3
4
5
6
7
8
9
10
11
12
13
14
15
16
17
18
19
20
21
22
23
24
25
26
27
28
29
30
31
32
33
34
35
36
37 38 39 40 41 42 43 44 45 46 47 48 49 50 51 52 53 54 Last Page

Get An Email Alert Each Time LOTUSFLOWER Posts