| | |
| --- | --- |
| | LOTUSFLOWER's Recent Blog Entries |



Thursday, August 26, 2010
Today I am celebrating being one year older.






Normally this might be a cause for being sad. One more year has passed, I am getting older, and with that comes more wrinkles, less energy and more hair dye.

However….

This is not the case.

Not for me.

I am 36 now and feel BETTER than I did at 26.



At 26 I weighed in at 298. Once I saw that number on the scale I stayed away from the scale for a long time. Who knows it I went over 300 lbs. It doesn't matter. Not now.

At 26 I was depressed, I was tired, I had no passion, no direction in life. I lived by my past and my past said that THIS was the girl I had become. THIS was my destiny. I had a husband who was devoted and loved me – no matter what my size or what the number on the scale said. Life was good. Right?

At 26 I had no kids. I lived like a hermit, staying indoors whenever possible. I could totally relate to those people who are seriously afraid to leave their homes. I actually envied them this disease because it was a valid reason to stay indoors, and had I truly suffered from this disease I would be medicated.

I had seen therapists, counselors for my depression – they all recommended drugs. Drugs that I tried and may work for some, but in my case made me feel, well, not like myself. Not that myself was great, but it was better than feeling NOTHING.

I tried every diet known to man. Weight Watchers, Nutrisystem, Jenny Craig, diet pills, diet scams, fad diets. I once ate nothing but chicken soup for a week and another time starved myself to try to cleanse my system. I even visited a Chinese healer and took pills he gave me that looked like rat poo. I have no idea what they were, but at least they gave me energy. When I was younger I was anorexic and bulimic and messed up my metabolism and body with nothing but Slim-Fast and pretzels for two years of my life. Sure, I looked good. I looked sick, but I could fit into size 6 jeans no problem.

Fast forward four years. I am pregnant with my first child, a daughter. I know now that things need to change. I can't give her anything, any love, if I don't love myself. And I needed to face the fact that I didn't love myself. I began to eat healthy, began to work out. My daughter changed my life. She saved my life, actually. I discovered Sparkpeople and all the great tools and starting sparkin' – slowly, but surely.

Then three years later I have another daughter. I was motivated and driven and determined to be a good mother to these precious girls. I began to LOVE working out and eating right. I began to FEEL GOOD about myself. I began to love more, love myself, my husband, my daughters. I embraced Christ into my life and felt his love.

So today, 10 years from the worst darkness of my life, I see the light. I see that hope that I've always heard is at the end of the tunnel. I've lost 70 lbs. and have 50 lbs. more to lose to reach my goal weight. And I know I'll get there. No rush, but by my next wedding anniversary would be nice. And that girl from long ago? Well…

THIS is the girl I was supposed to be. I can see her emerging from within. THIS was God's plan for me all along, I just needed to believe it. And you know what? I kind of like THIS girl, this strong, inspiring, motivating, determined and kind girl. THIS girl has amazed me with what she can do. Running 2 5ks when previously she had never left the couch, never even liked going outside in the summer as a child to play. THIS girl who has shed 70 lbs. of her former self, breaking through any stigma of being morbidly obese. THIS girl who didn't listen to doctors' recommendations to perhaps get bariatric surgery because the amount of weight I had to lose was just TOO MUCH.

I ended my last day as a 35 yr. old with a run. Today I started the day off getting up early with my baby, now 1 yr. old, and danced.

And I can't think of any better way to start the day. Or the year.

So to sum the story up, this is a story about a girl who was once a fat girl, who knew nothing of the girl she would become. Then, she met HOPE.

Thank you everyone, for your support. If you are where I was, please know that there IS hope for you too. There is enough hope to go around.





10 YEARS IN PICTURES:




Me and my husband on my birthday 10 yrs. ago vs. today.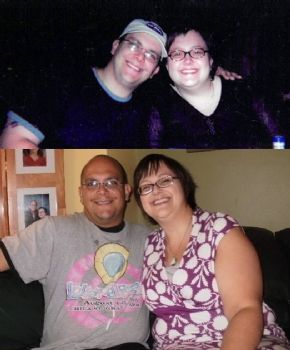 A different view: me and my husband on my birthday 10 yrs. ago vs. today.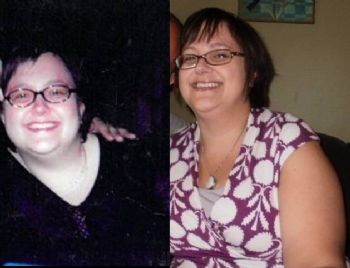 The Girl I would become (298 on the left, 228 on the right - 70 lbs. down)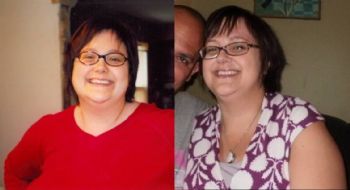 The Girl I would become (298 on the left, 228 on the right - 70 lbs. down)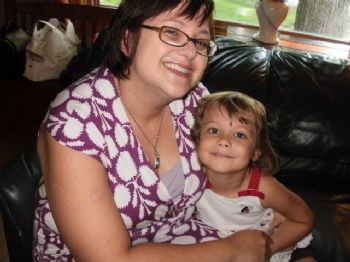 Me this morning with my daughter, Lucy, now 4. The girl who changed my life. OR rather, helped ME change my life.





Monday, August 23, 2010
I had a great weekend; it was full of healthy things.

It started on Friday night. I was invited to go to a chocolate party at my neighbor's house, but I had worked late and just wanted to get home to see my family. So I told her I couldn't make it, which was a healthy choice for me (usually I would go anyway even though I was tired and missing the family). Plus I avoided all of that chocolate.




Then on Saturday I headed to the city with my daughter, Lucy. I met up with a girlfriend of mine, La Tannya on the train, then met two of my sisters, Kara and Kris, and my cousin Kim in Millennium Park in Chicago for ZUMBA! It was so much fun! I've never worked out like that in a crowd and outside.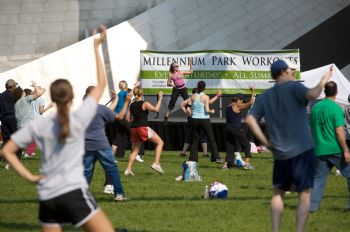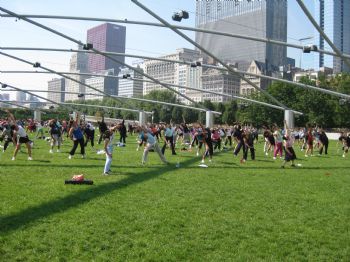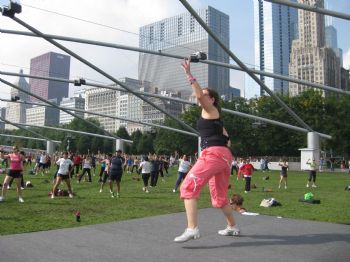 It was a BLAST! It was very humid out, but it had rained earlier that morning so it wasn't TOO hot. I got everyone into Zumba and now they want to find a class and La Tannya, who was already into Zumba, is considering becoming an instructor (she would rock at this!). She also agreed to running the Hot Chocolate 5k with me, I sent her the Couch to 5k information.

After Zumba we went out to lunch and I ordered the Killarney salad, but with grilled chicken. La Tannya ordered it with crispy and we both got chicken on the side so that we could mix and match and it wouldn't be too unhealthy for either of us. It's all about healthy choices!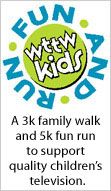 Sunday my family and I headed again to the city to Lincoln Park Zoo for the WTTW 3k Fun Walk. It was a lot of fun, I logged in 12,000 steps, burned over 500 calories and spent quality time with my family. When I signed up for the walk, I ordered an XL shirt. Boy, was this shirt too big on me! I had to tie a knot in the side of it just so that it wasn't swimming on me. I am officially in a Large size shirt!

Lucy and I did a sprint sponsored by Fleet Feet. Jim and the girls did it, too. I would not have done this a year ago. I would have looked at the sprint area that was set up and said "no thanks". I let her win and she was so excited that she was faster than Mommy!



Me and Lucy running to the finish line!



Jim and Marlo

Come to think of it, I wouldn't have done either the Zumba or the 3k last year. I would have wanted to stay indoors in the air conditioning. I was very depressed at almost 300 lbs. As a child I would stay inside all summer long, watching TV and eating Cheetos and chunks of cheese. I never worked out, I never played like the other kids did. Now that I'm a parent to two daughters, one of my main motivations is to be able to PLAY with them. And the reality of it is, they are teaching ME how to play. I never knew how to do it. But I'm learning now.

I can't tell you how much it means to me that I can actually PLAY with my daughters now. I can actually run. I am finally LIVING.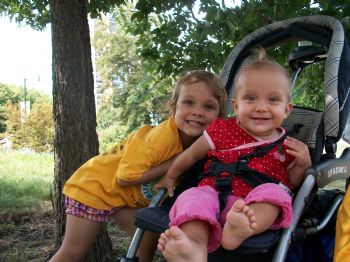 My two gorgeous daughters!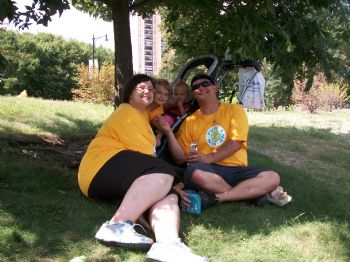 My family






Thursday, August 12, 2010
I received this email from Women's Healh Magazine this morning and wanted to share it. As I can't share the entire article per copyright law, I've summarized it below and have provided the link to the full article as well.

www.womenshealthmag.com/fitness/star
t-running?cm_mmc=Newsletter-_-2010_Aug
_12-_-Dose-_-readon

Why Run?
by Amy Van Deusen

It'll help you stress less, fight cancer, and boost your bones. Here's why you should hit the road

1. It's so easy
2. Yet so hard
3. Your knees will thank you
4. You'll stress less
5. It can prevent disease
6. You'll probably live longer

1. It's so easy

True, some high-tech gear will make your run more fun, but really, all you need is a good pair of shoes, and a supportive sports bra. It couldn't be simpler.

And everyone knows how to run. You may not have perfect form yet, but you already know how to place one foot in front of the other and settle into a comfortable pace.

2. Yet so hard

No other exercise matches running for its ability to soak that sports bra. The stair-stepper, bike, and other gym staples work you hard, but running blasts the most calories: In a study done by the Medical College of Wisconsin and the VA Medical Center, the treadmill (used at a "hard" exertion level) torched an average of 705-865 calories in an hour. The stair-stepper (637-746), rower (606-739), cross-country ski machine (595-678) and stationary bike (498-604) were all lower in overall caloric burn.

3. Your knees will thank you

Contrary to what your mom says, running doesn't wreck your joints. Osteoarthritis (the most common type of arthritis), occurs when joint-cushioning cartilage starts to break down. The biggest osteoarthritis risk factor besides age? Body weight. A National Health and Nutrition Examination Survey found that obese women had nearly four times the risk of knee osteoarthritis than non-obese women; for men, it was five times the risk. Runners are much more likely to be at a normal weight than members of the sedentary population, significantly decreasing their risk of osteoarthritis.

4. You'll stress less

Runners can provide tons of anecdotes about the stress-busting powers of their regular jog. "Nothing beats that feeling when you settle into a strong stride with a powerful rhythm," says Brooke Stevens, a four-time NYC marathoner, "The tension in my neck, back, and shoulders starts to loosen up, and I can think more clearly too."

5. It can prevent disease

Most experts agree that regular exercise reduces the risk of many kinds of cancer, including some of the scariest: colon, breast, endometrial, and lung. One recent study in the British Journal of Cancer calculated that the "most active" (e.g. walked briskly 5-6 hours/week) people were 24 percent less likely to develop colon cancer than the "least active" people (e.g. 30 minutes of walking/week). In a study by the National Cancer Institute, women of a normal weight who reported the highest levels of "vigorous activity" (running, tennis, aerobics) had about a 30 percent lower risk of breast cancer when compared with women who did no vigorous activity. Becoming a regular runner may help you cancer-proof your life.

6. You'll probably live longer

In perhaps the most surprising study done on the health benefits of running, a team at the Stanford University School of Medicine studied 538 runners and 423 healthy non-runners from 1984 until 2005. All of the subjects were over 50 and were asked to take a disability questionnaire each year measuring simple tasks like cutting meat, shampooing hair, and opening a milk carton.






Friday, August 06, 2010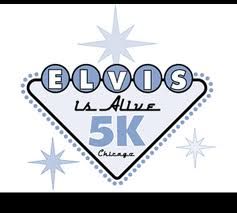 Last night I RAN, let me say that again, I RAN my second 5k, and this time I didn't stop at all - my first one I had to walk for a minute, but this time I ran it all, and the awesome part of that is that my best friend came into town to run it with me, and it was her FIRST 5k, and she RAN the whole thing too!!!

I am SO very proud of us!!! It gives me chills just even thinking about it!!!

This was the 13th Annual Elvis Is Alive 5K, which is a non-competitive event and takes place on Chicago's lakefront. The race benefits Girls On the Run, a non-profit prevention program that encourages preteen girls to develop self-respect and healthy lifestyles through running.

After getting fully dressed in our Elvis attire, which my best friend sewed that day, and our iron-on "E" letters, we took the train into the city. We then took a cab from the train station, but with President Obama in town the traffic was so bad that we hopped out of the cab and walked/ran to Grant Park so we wouldn't be late.

We started off in the front of the pack - normally only the fastest runners start off in the front corral, but if you were dressed head to toe as Elvis, as we were, you could get the honorary place at the front. I have to admit, I was scared to be up front. I am a slow runner, and I knew the people would blow past me, and the fast runners were ready right behind the Elvises! But my best friend Cheri wanted to be up front (better chances of getting on the evening news, lol) so I did it. It wasn't as scary as I thought, everyone was very nice and we kept our pace. It was a perfect night for a run, lately the Chicago weather has been very humid but it cooled down a bit and there was a nice breeze. The run was along the lakefront, so the view was gorgeous. I didn't think I would finish without walking as the other 5k I did was in the morning and so it wasn't as hot out, and this time I WAS dressed as Elvis, but I did it! I ran the whole thing with my best friend at my side! How cool is THAT!!!

My sister, Kris, and her boyfriend Ben ran it too and my sister made us all capes to wear. She also pinched my butt as she passed me, and her boyfriend didn't pass me until the end, so that made me feel like I was sort of in shape :)

This was a fun run, so it wasn't timed, but my finish time was right about 40 minutes, about what I did last time. I am so proud!!! There were a LOT of people walking, more than I've ever seen, and I think it might have been the heat, but we kept on going! People cheered us along the way saying "Go Elvis!" Cheri was even dancing AS she was running toward the end, and she didn't want it to end, she was having so much fun.

There was a great after party with peanut butter and banana bagels and Goose Island beer. I danced my butt off, and pushed "start" on my HRM and burned 250 calories dancing alone! We also entered the Elvis contest, and while we didn't win, we got lots of cheers.

Also I ordered an XL shirt in my race packet as I signed up a few months ago, and it is WAY too big! I'm now officially a Large!

Then since we had time we walked back to the train station, a workout in itself as well!

I had so much fun and am so thankful to my best friend Cheri for coming into town to run this race with me, and for my sister Kris for inspiring me to run. I am hoping to make a trip out to Kansas City to run a 5k out there with Cheri!

I thank the Lord for giving me the strength to finish and thank all of my Spark friends for your continued love and support!!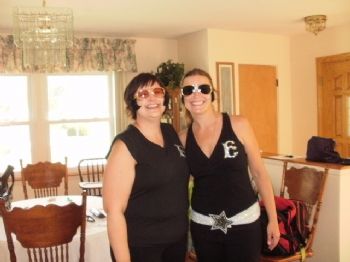 Before the race (I'm on the left)



Us practicing our moves beforehand (I'm on the left)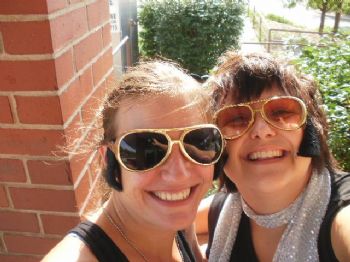 Waiting for the train (I'm on the right)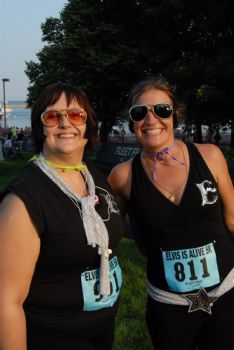 Right before heading onto the start corral!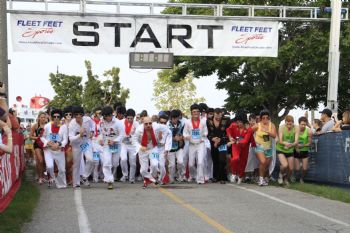 Elvis has LEFT the building!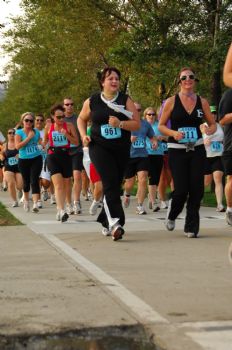 Running with the Elvises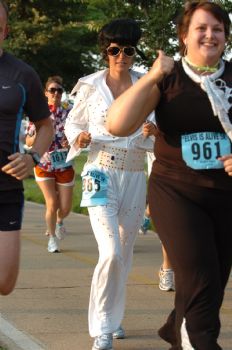 Running with the Elvises



Running along the Chicago lakefront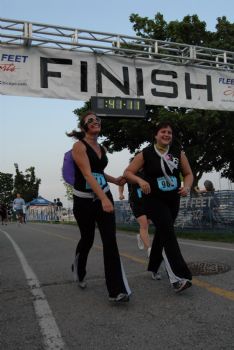 The finish line!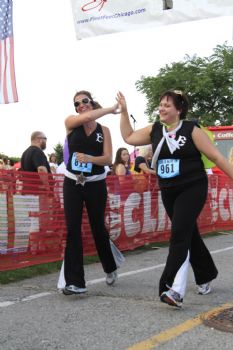 High five!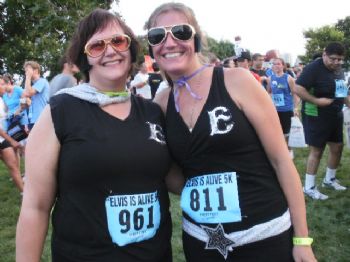 After the race (I'm on the left)



After the race with Elvis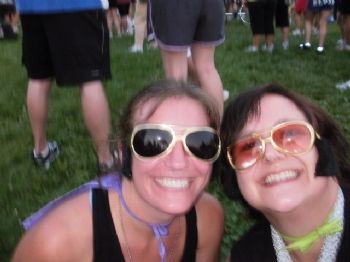 After the race drinking our beers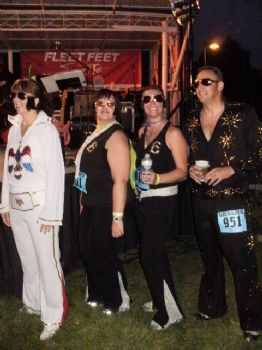 Entered in the Elvis costume contest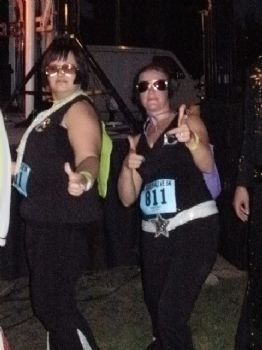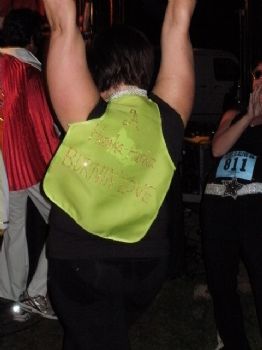 Me with my cape on, trying to get the crowd to cheer (and my arms don't look too bad here!)






Monday, August 02, 2010
I joined a spark team whose goal it is to lose 8 lbs. in August. Since I average one measly pound a week, I thought this would be a great challenge to try to double my weight loss, especially since it's my birthday month!





Starting weight: 230
Goal weight: 222
8/4 Goal: 228 (70 lbs. GONE!)
8/11 Goal: 226
8/18 Goal: 224
8/25 Goal: 223 (25% of total body weight, 75 lbs. total)
9/1 Goal: 222



DIET:


Staying in the SP range for me. 1410 - 1760 cal. daily


Tracking all food, even on the weekends.


Getting all my freggies in.



MOTIVATIONAL:
*Blog daily accountability blogs
*Visit motivational spark pages for inspiration. Read inspiring blogs

Fun Goals:

ELVIS RUN - Lose 70 lbs. (228)

BDAY LUAU BASH: Lose 75 lbs. and wear a tube top and look good! (223)

Fitness:



Work out EVERY day for 20 minutes


Finish C25K Training


Run 2nd 5K


Finish 15 days of the 30 Day Shred, alternating days.


Reach 1,000 Fitness Minutes

8/1 – Heavy cleaning – 60 min. cardio - DONE!
8/2 – 30 Day Shred (Day 1) - DONE!
8/3 – C25K training (W9D2)
8/4 – 30 Day Shred (Day 2)
8/5 – 2nd 5K
8/6 – Run/30 Day Shred (Day 3)
8/7 – Strength class
8/8 – C25K training (W9D3) – Finish!
8/9 - Zumba
8/10 - 30 Day Shred (Day 4)
8/11 - Run
8/12 - 30 Day Shred (Day 5)
8/13 – Run/30 Day Shred (Day 6)
8/14 - Strength class
8/15 - 30 Day Shred (Day 7)
8/16 - Zumba
8/17 - 30 Day Shred (Day 8)
8/18 - Run
8/19 - 30 Day Shred (Day 9)
8/20 – Run/30 Day Shred (Day 10)
8/21 – Workout in the Park!
8/22 - 30 Day Shred (Day 11)
8/23 - Zumba
8/24 - 30 Day Shred (Day 12)
8/25 - Run
8/26 – Birthday workout of choice! (yoga?)
8/27 – Run/30 Day Shred (Day 13)
8/28 - Strength class
8/29- 30 Day Shred (Day 14)
8/30 - Zumba
8/31 - 30 Day Shred (Day 15)



REWARDS

Fitness Goals:



Work out EVERY day for 20 minutes – Sushi night with hubby!


Run 2nd 5K – running this with my best friend is reward enough!


Finish C25K/Reward: workout top from the shop at my gym


Finish ½ of the 30 Day Shred Reward: Date Night out at the movies - no kids


Reach 1,000 Fitness Minutes: new book

Weight Goal:


Lose 8 pounds/Reward: Hair makeover! New consultation and hair cut




First Page
1
2
3
4
5
6
7
8
9
10
11
12
13
14
15
16
17
18
19
20
21
22
23
24
25
26
27
28
29
30
31
32
33
34
35
36
37
38
39
40 41 42 43 44 45 46 47 48 49 50 51 52 53 54 55 56 Last Page

Get An Email Alert Each Time LOTUSFLOWER Posts