| | |
| --- | --- |
| | LOTUSFLOWER's Recent Blog Entries |


Thursday, January 28, 2010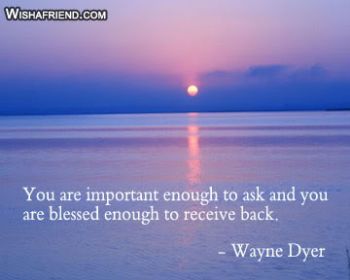 I joined back in January 3 years ago weighing in at almost 300 lbs. and very, very depressed. I had just given birth to my daughter 6 months previous and while I had lost most of the baby weight Ė 30 lbs. of the 40 I had gained Ė I had not been able to lose that last 10 lbs., and more importantly, I was considered morbidly obese and needed to lose weight beyond that. Especially since we wanted to have more children and it had been difficult to be overweight and pregnant. I didnít know where to turn and I clearly remember that feeling of desperation I had and most of all, hopelessness. I really didnít think I could lose the weight. But it was a last ditch effort to try.

That first year I wasnít really committed, and looking back I think that my attitude had everything to do with it. My heart wasnít in it. I had tried everything else before, why would this work, why would this change happen to me. Most of all, I know I felt like I didnít deserve this change. The problem wasÖI didnít love myself. I lost and gained the same 5 lbs. that year, but I think inside my mind and body started gearing up for what was to come.

Then the second year I was on again, off again, again, not really committed, but I did manage to lose about 10-15 lbs.

My third year I had just found out we were expecting another child. I did not want to gain 40 lbs. like I did with my first daughter. The doctors all advised me to only gain 15 lbs. I didnít know how I would be able to do that! I met with a nutritionist and she said it would be really difficult not to gain more than 40 because my body had already done it, and would want to go back to that same place. She gave me a plan and I used SparkPeople to track all of my food and also began doing prenatal exercises at my gym and tracking that in Spark. I also joined teams and began to feel like part of a community.

As a result of SparkPeople I did only gain those 15 lbs. during my second pregnancy. I also learned to LOVE exercise and began to miss it when I wasnít exercising. Those

I have come a long way since first joining three years ago. I now love myself fully, completely and accept myself as I am. I am losing this weight for me and have the right motivation (to be a healthy wife and mom). My heart is fully invested in this process and most importantly, I know I can do it!

Hereís what Iíve accomplished during my time at Spark:

Went from a depressed couch potato to an exercise lover!
Accumulated 10,606 fitness minutes
Walked 442 miles total in 2008/2009 (58 miles in January alone so far)
Walked a 5K a year
Participated in a mini-triathlon
Finished a boot camp that has 20% drop-out rate
Became a Spark Motivator
Was asked to help co-lead one of my favorite Spark teams
My wedding ring now fits me!
My husband can put his arms around me
Went down at least 2 clothing sizes
Lost inches
Inspired others to start leading healthier lives
Made myself proud
Felt like an athlete
Felt strong

I still have a way to go. My goal is to reach my goal weight by Halloween 2010. Thatís a total of 120 lbs. down. Iíve lost over 45 lbs. so far. I hope to reach Onederland by my birthday in August.

I know that this journey isnít over. Once I reach goal weight I will work at maintaining and being in the best shape I can be. I canít wait to see the person that I am underneath all of this. I know that I am strong, confident, and have a loyal heart. Now I am applying that to myself and showing myself the love that I show to others. I pray daily for the strength to make it through one more day, and those days will add up to months, those months will add up to a year, and by the end of 2010 I will wake up one morning, look into the mirror, and see the person that God meant for me to be.








Monday, January 25, 2010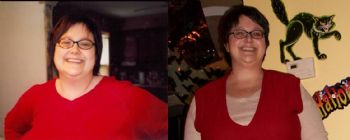 www.triblocal.com/Westmont/Detail_Vi
ew/view.html?type=stories&action=detai
l&sub_id=136855

I wrote this for my local paper to inspire others and encourage people to join my health club. I plan on writing an article on Spark and how SparkPeople has helped me soon as well.

I went shopping online as my reward for 45 lbs. gone, and can't wait to get my stuff!!!!

I'll keep you posted.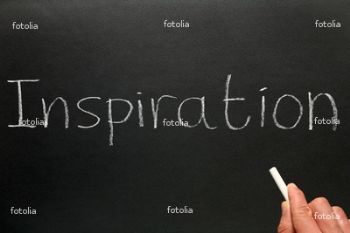 Wednesday, January 20, 2010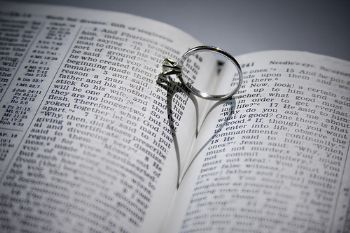 There are a few things on my weight loss journey that I use as progress markers, similar to mile markers along a stretch of highway, these are similar markings that let me know I'm on the right track, I'm nearing my destination - I'm making progress. It's important to have such markers in a world filled with numbers. The scale is important, it does tell you an exact number of what you weigh, but it is not the only important measure.

Other measures are levels of happiness, energy and quality of life. Other markers include how things fit - that pair of jeans that have been silently waiting in your closet, ready for the new you. Or that pair of shoes that your feet have outgrown, swollen. For me it's all of those things, but also one very important item. My wedding ring.

I have always had a weight problem, but it was pretty much "under control" when I got married to my true love. However, after being married for only a year, being loved unconditionally, something I was not used to, I began to overeat. I gained so much weight that first year, I can't tell you how much, but I can tell you that a few years into the marriage I had gained 100 lbs.

My wedding ring didn't fit me anymore, hadn't fit me for a long time. It was a gorgeous vintage set with mine-cut diamonds that sparkled like nothing else. Do you know they don't even have mine-cut diamonds anymore? They can't find them or mine them, that's how precious and unique they are.

Much like those mine-cut diamonds the love I have is rare and unique. I have been married for ten wonderful years. The journey hasn't always been easy. Much like this weight loss journey it had its own hills and valleys. But we have thrived under the Lord's care.

This morning I tried on the ring, not expecting it to fit. In the past the band of white gold wouldn't even fit over my knuckle. I didn't expect it to go further, but it did. I didn't expect it to fit around my finger, but it did. Now I can wear the circle that symbolizes that love around my finger. I haven't been able to wear this ring in over 8 years.

I have my family to thank for their support and my friends, especially my Spark friends who understand this journey better than anyone else. But most of all, I have the Lord to thank. I pray to Him daily, at first thinking that my "little weight issue" was too small for Him. Why would He care? Then I began to realize, through reading the bible and being a part of study groups, just how much He cares. Nothing is too small or too big for Him.

Not only do I honor my progress by blogging about such things, but God honors my progress as well by supporting me an encouraging me, as my friends and family do. I congratulate myself for all that I have accomplished, but I know that I could not do this alone. In my heart it is here in the silence that God whispers words of encouragement to me. I can just hear Him:

"As you continue your journey, I will be with you - to guide you, to comfort you, to support you, to laugh with you, to love you through it all."

"When we cry, 'Abba! Father!' it is that very Spirit bearing witness with our spirit that we are children of God."
~ Romans 8:15-16





Tuesday, January 19, 2010
I received this in my email today and wanted to pass it along. God bless all of you!!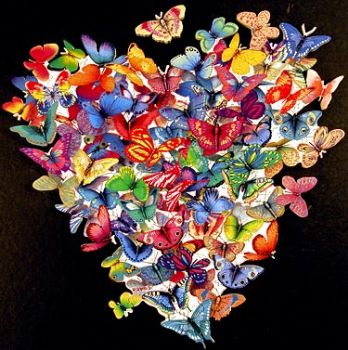 I grew up in the 40's/50's with practical parents...a mother, God love her, who washed aluminum foil after she cooked in it, then reused it (She was the original recycle queen, before they had a name for it.)...a father who was happier getting old shoes fixed than buying new ones.

Their marriage was good, their dreams focused, their best friends lived barely a wave away.

I can see them now...Dad in trousers, tee shirt and a hat and Mom in a house dress, lawn mower in one hand, and dish-towel in the other. It was the time for fixing things...a curtain rod, the kitchen radio, screen door, the oven door, the hem in a dress...things we keep.

It was a way of life, and sometimes it made me crazy...all that re-fixing, eating, renewing...I wanted just once to be wasteful. Waste meant affluence. Throwing things away meant you knew there'd always be more.

But then my mother died, and on that clear summer's night, in the warmth of the hospital room, I was struck with the pain of learning that sometimes there isn't any more.

Sometimes, what we care about most gets all used up and goes away...never to return. So, while we have it, its best we love it...and care for it...and fix it when it's broken...and heal it when it's sick.

This is true for marriage...and old cars...and children with bad report cards...and dogs with bad hips...and aging parents and grandparents. We keep them because they are worth it, because we are worth it. Some things we keep, like a best friend that moved away or a classmate we grew up with....

There are just some things that make life important, like people we know who are special...and so, we keep them close.

I received this from someone who thinks I am a 'keeper', so I've sent it to the people I think of in the same way...Now it's your turn to send this to those people that are "keepers" in your life. Good friends are like stars...You don't always see them, but you know they are always there. Keep them close.

TEN THINGS GOD WON'T ASK ON THAT DAY...

1...God won't ask what kind of car you drove. He'll ask how many people you drove who didn't have transportation.

2...God won't ask the square footage of your house. He'll ask how many people you welcomed into your home.

3...God won't ask about the clothes you had in your closet. He'll ask how many you helped to clothe.

4...God won't ask what your highest salary was. He'll ask if you compromised your character to obtain it.

5...God won't ask what your job title was.. He'll ask if you performed your job to the best of your ability.

6....God won't ask how many friends you had. He'll ask how many people to whom you were a friend.

7...God won't ask in what neighborhood you lived. He'll ask how you treated your neighbors.

8....God won't ask about the color of your skin. He'll ask about the content of your character.

9....God won't ask why it took you so long to seek Salvation. He'll lovingly take you to your mansion in Heaven, and not to the gates of Hell.

10...God won't have to ask how many people you forwarded this to. He already knows your decision.






Saturday, January 09, 2010
Today I gathered all of my clothes that are too big and piled them up to donate to a local resale shop where 100% of the proceeds go to a local women's shelter. Just look at this pile!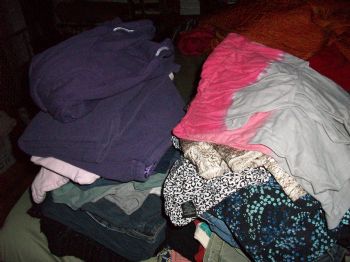 The pile filled an entire huge IKEA bag! It was a workout just bringing it into the shop! I feel so much lighter in more ways than one. I have cleared out my drawers, donated to a good cause, and am saying goodbye to sizes 24 and 26.

Goodbye, it's been fun. I loved you at that size, I did. But it's time to move on and become the person you know you can be. Become that role model you want to be for your daughters. Embrace the spirit inside of you. Thank you, Lord, for giving me the strength to continue on this journey.

For anyone reading this who has seen the scale tip at 300 lbs. and hasn't seen a way out, I want to let you know that there is. It is inside of you - the strength, the will, God is a part of all of us and when you let Him in, He can't help but make you shine.

Spreading the Spark and Blessings,

Kathy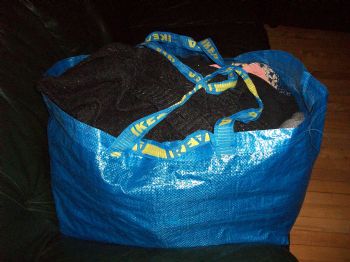 First Page
1
2
3
4
5
6
7
8
9
10
11
12
13
14
15
16
17
18
19
20
21
22
23
24
25
26
27
28
29
30
31
32
33
34
35
36
37
38
39
40
41
42
43
44 45 46 47 48 49 50 51 52 53 Last Page

Get An Email Alert Each Time LOTUSFLOWER Posts