| | |
| --- | --- |
| | LOSINGJESS's Recent Blog Entries |


Wednesday, June 09, 2010
well I have been off track for a few days and have been neglecting my food blog for even longer... but yesterday I stayed on track and stayed right in the middle of my calorie range. :-)

...................

Breakfast: 1 cup special k red berries, 1/2 cup 2% milk........ 1 small banana, 1 tbls smuckers natural peanut butter, a few sliced almonds - 407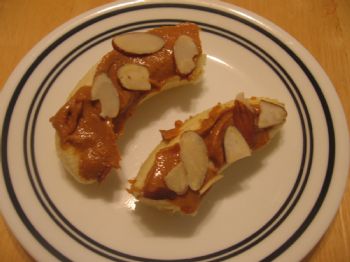 Lunch: 1 PB&J sandwich / made with double fiber bread..... 3/4 med apple.... 1/2 cup 2% milk - 335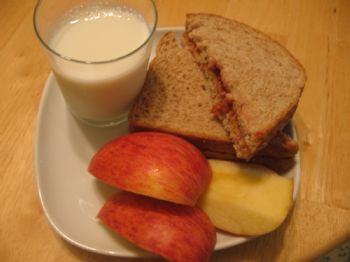 Snack: caramel corn rice cake, 1 tbls blueberry cream cheese- 95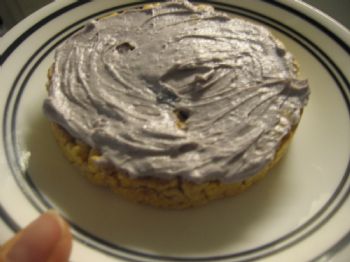 Dinner: Small salad w/ cucumber, peppers, tomato, carrots, bacon bits & ranch....... lasagna rotini made w/ whole wheat rotini, ricotta, mozzarella & ragu garden combination sauce.... 1/2 cup green beans - 386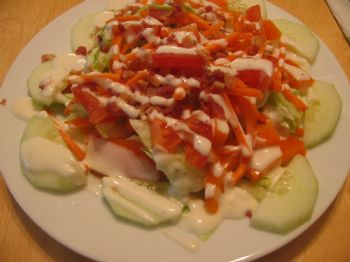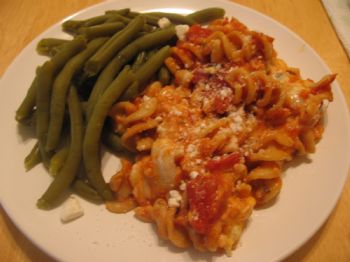 Snack: 1/2 cup sliced strawberries, splenda, 1/2 cup blueberry frozen yogurt - 124



Snack: 2 servings mashed cauliflower ( made by steaming fresh cauliflower and blending it in a blender with margarine, milk, reduced fat grated parmesan cheese & salt/pepper.) - 274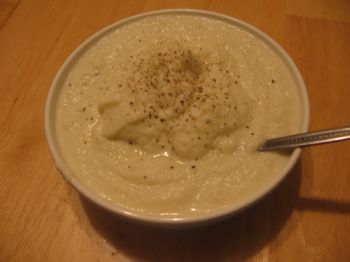 Total Calories Eaten: 1642





Tuesday, June 08, 2010
well I have been struggling the last few days. I will start out good by tracking my food or taking pictures of what I eat and then by the end of the day Im not keeping track at all and Im pretty sure that I have been going over my calories.

This morning I desided to take a peek at the scale to see where I am and I was up by a few pounds. Some of that could be accounted to water weight because its that time of the month but I think its partly due to eating over my caloires and not working out the last few days.

I geuss after the 5k I was like... "ahhh I can relax a little".... and I relaxed a little too much. I have had a few days off now though and its time to get back on track. So Im going to get a workout in, work really hard to track my food today and try to take pictures as well. Im sure the people who read my food blogs have noticed I havent really been posting in a while.... I geuss I have just felt kinda burnt out on it. It really does keep me on track though so I am going to try and keep up with it.

Well Im gonna go and try to plan out what Im going to eat out today. That usually helps too.

~ Jess





Friday, June 04, 2010
Well today was the day. I woke up at like 5:30 this morning, even though the alarm was set for 6:00. My 5k was not till 7pm but I had to get up early to go to a meeting at my sons new elementary school.

The day dragged by waiting for 5:30 (the time we were leaving to go) to roll around.
I left the baby with my sister and me and my husband and my 5 year old son went up to the park where they were having the 5k. I was so nervous for some reason with all of these silly thoughts going through my head "what if the track is not marked and I get lost?" "what if a thunderstorm rolls through?" " what if Im last?" :-(

I wanted to seriously turn around and go home and just lie and tell everyone I ran it. lol.... Is that horrible or what. I dident though, of course. I got my packet with my little shoe strip and my Tshirt and a few other goodies.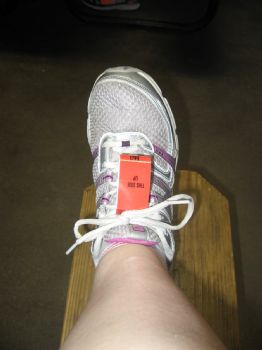 speaking of shirts, I wore my new spark people Tshirt to the race. I Ordered it a few weeks ago but had to return it because the 2X I bought was too big. They said to order bigger, but I ended up ordering too big. It took a while after I sent it back to get it but it came before the race, so I got to give spark some free advertising lol... this lady came up to me before the race started and was telling me about how a friend of hers was one of the people who helped create the site and how she still works for spark people. She thought it was really cool that I was wearing the shirt.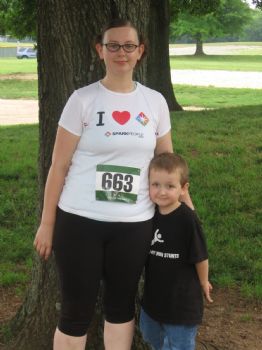 Anywhoo the race was almost 40 minutes late starting because there was people that were a bit slow running the 2 mile race they had before the 5k. But eventually we got to go. I ended up running longer than I said I was going to starting out... everyone is right about the other people and the excitement really driving you forward.... eventually I had to walk though. I did alot less walking than I thought I would have though. I figured as long as I could see people in front of me and there were still people behind me I was good. My main goal was to not be last and my secondary goal was to come in at around 45:00 which I think would be a respectable time for my first 5k. I found 2 or 3 other people who were keeping about the same pace as me and who were also doing walking and then running segments and just tried to stay at about the same pace as them.... It worked out pretty well.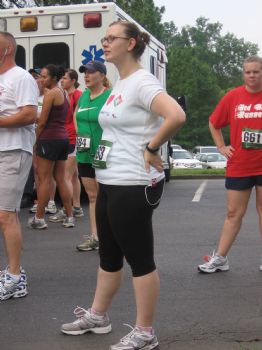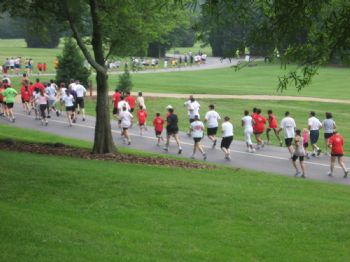 I was surprised to find that at points durring the race I would see my husband and my son cheering me on from the side of the track. They would walk accross the park ahead of me so they could catch me and cheer me on. My son cheered so loud and was so excited.... He said, "Go faster mommy, your winning!" ....... He was just awesome. Before I started the race he gave me a flower and told me it was a magic fire flower and it would make me go faster, so I put it in my hair. :-)



At each mile marker they had a person with a stop watch telling everyone thier time. At mile one I was at 12:00 ...... At mile two I was at 25:00.... Then durring the last mile I ended up with a horrible side stich, Prob because I was pushing myself alot harder than I ever pushed myself durring my training workouts. I almost cried at one point it hurt so much... This guy who I think herd me kinda cry out a bit turned around and smiled at me and gave me the thumbs up, I geuss saying... you can do it. That was nice.



I walked most of the last mile but was able to jog through the finish line at 40:47..... That may not impress some but I am so proud of myself... My husband and son were so proud of me too, which really felt good. My son told me I won the race and told me that when he gets bigger he is going to run and win a race just like me. The look on his face and hearing the things he said made me feel like a won.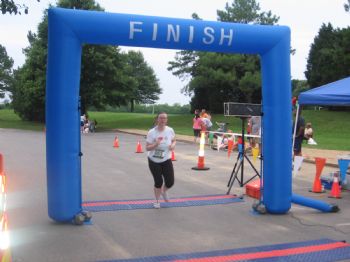 I dident do bad though, there were two pages of people who came in after me and I was actually about 6th or 7th place in my age group. Not bad IMO.

Afterwards I got to sit down with my family and they had refreshments for everyone, which I needed badly because I was a hot mess after the race.... My head looked like a cherry and I was pouring sweat. I dont think I have ever worked that hard durring a workout or sweated that much.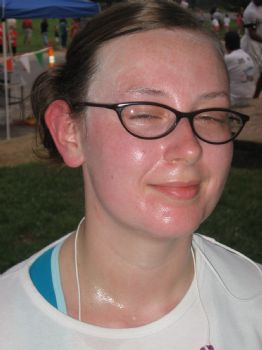 I figured that a slice or two of pizza wasent gonna kill me so I ate that and a few oranges and grapes and then shared the rest with hubby and my son.


(WOW I look really tiny here... Its so weird ... I just had to add that lol...)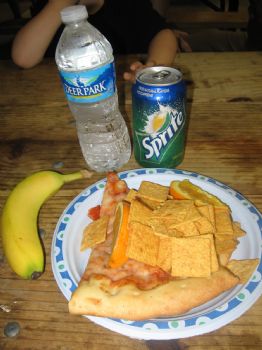 Overall I had alot of fun and It was a really rewarding expereience and Im very proud of myself. I can see why they use races as kinda a rite of passage on the biggest loser. It makes you feel so great about yourself and in a metaphorical stand point losing weight is like a race, because you have to pace yourself so you have enough left in you to pass over the finish line... and it feels really great when you do.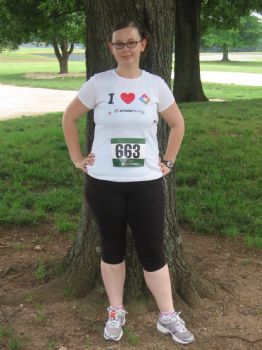 Thanks to all my spark friends who have been cheering me on durring my C25K program.... I totaly herd you cheering for me as I crossed the finish line!

~ Jess





Wednesday, June 02, 2010
Breakfast: 1 cup fiber one caremel delight, 1/2 cup almond milk - 210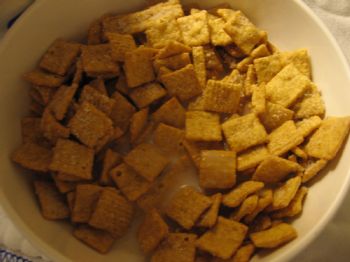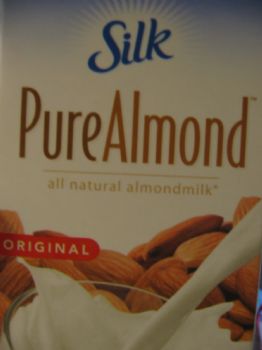 Lunch: veggie chicken gyro (made with flatout wrap & morningstar chicken strips)..... 1 cup light yoplait yogurt, 1 med. apple. - 360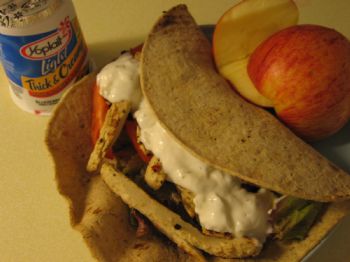 Snack: 1/2 super pretzle.... 1 tbls honey mustard dressing - 145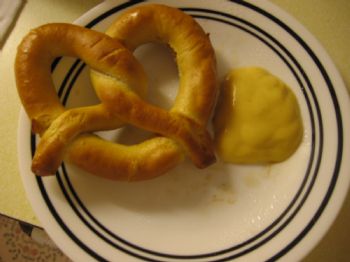 Dinner: 2 tacos made with lean ground beef, lettuce,1/4 avocado, salsa & light sour cream...... tomato, honey mustard dressing .......... 1/2 cup uncle bens santa fe ready rice......... 1/2 cup corn. - 619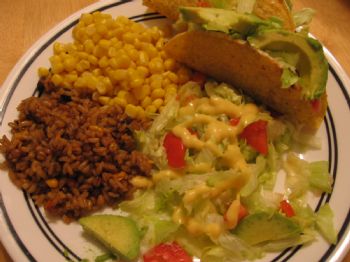 Snack: 1/2 slice angel food cake..... 1/2 cup strawberries...... 1 serving light cool whip - 88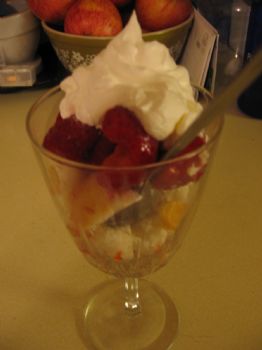 Snack: 2 wasa wheat crackers...... 2 tbls hummus - 204



Total Calories Eaten: 1627






Tuesday, June 01, 2010
Well I havent posted a food blog in a few days. I have been away from home at my inlaws and just really havent felt like it. I have stayed pretty much on track though... I may have been over a few hundred calories on friday and saturday .... and then on sunday I actually ended up a few hundred under my calorie range. Yesterday i did ok, I wouldent say great because Im not too happy with the fact that I started dipping sugar wafers into cool whip after dinner. I caught myself after a few though and put them away and then did not eat anything after that so I stayed within my calorie range for the day.

snack: (had to eat something before going out to jog) 1/3 serving almonds - 53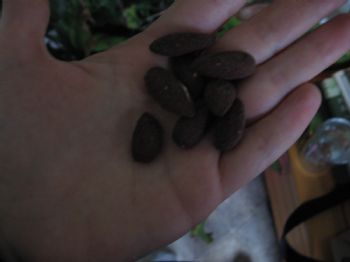 Breakfast - 1 cup oatmeal, 1/2 tbls brown sugar, 2 tbls whole milk - 225
(NO PIC)

Lunch - 12 grilled shrimp, 1 boca burger on wheat hotdog bun w/ tsp ketchup, lettuce & tomato, 1/2 cup baked beans, 1.5 servings broccoli salad, 1/6 grilled pineapple, 1/2 serving angel food cake, 1 serving light whipped cream, 1/2 cup strawberries, 1/2 tsp sugar. - 743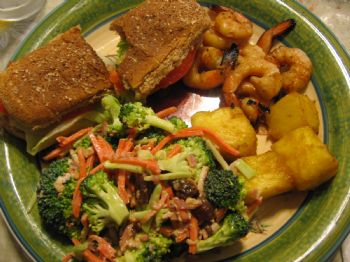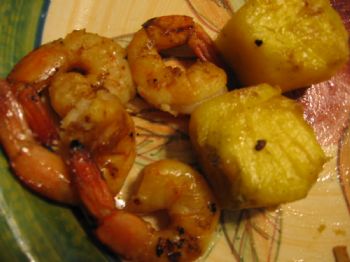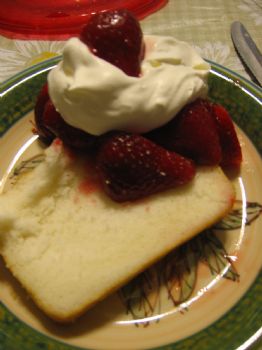 Dinner: 1 cup whole wheat pasta, 1/4 cup peas, 1/2 serving tomato pesto, 1 link turkey sausage, sauteed sliced onion, 1 tbls parmesan cheese...... steam fresh lightly sauced broccoli, cauliflower & carrots in cheese sauce - 477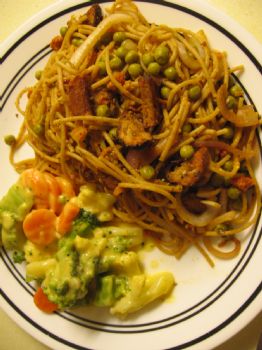 Random Munching - 1 serving sugar wafer cookies, 1 serving light cool whip - 195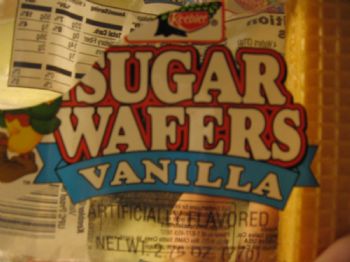 Total calories ~ 1693



First Page
1
2
3
4
5
6
7
8
9
10
11
12
13
14
15
16
17
18
19
20
21
22
23
24
25
26
27
28
29
30
31
32 33 34 35 36 37 38 39 40 41 42 43 44 45 46 47 48 49 50 51 52 53 54 55 56 57 58 59 60 61 Last Page

Get An Email Alert Each Time LOSINGJESS Posts