Saturday, May 24, 2008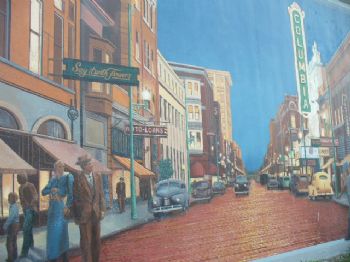 I had a wonderful 37th birthday. My twin sister took me out of town as my present. We went to Paducah, Kentucky. When we got there last night, we went to the mall. There was a good sale, and I got another pair of capri pants that I can go walking in. I bought her a pair of walking shorts as a present. Maybe it will inspire her to use that health club membership that she bought at a charity auction a month or so ago. After shopping, we had dinner on me at the Red Lobster. I had the baked talopia with veggies in a pouch... delicious... and a baked potato and side salad.

Our reason for choosing Paducah (besides that it was close) was to go to the Lowertown Arts and Music Festival. We saw beautiful sculptures, paintings, prints, photos, jewelry, glass work, and more. Last night, we went down and enjoyed the live bands and a funnel cake (okay, I cheated. But, it was only about a quarter of the whole thing; and I walked off the calories for sure.)

The hotel we stayed at was right on the river, about a 15 minute walk from the festival. We took a walk this morning down the flood wall which they have had painted with fantastic murals (one of which is attached). The architecture is stunning. I love taking pictures of old buildings. Walking back down to the festival, we were passing by the Museum of the American Quilter's Society. A couple walked up to us and gave us two free passes. So, we made an unexpected museum tour. The work that goes into those quilts is absolutely amazing. Some of the miniatures were more beautiful than the big quilts. I wish that we could have taken some pictures; but of course, that was not allowed.

After that, we went on down to the Lowertown and had lunch at the festival. She got a polish sausage, I got a BBQ, and we split them. I liked my BBQ better. ;-) Unfortunately, the veggies were few. We visited more booths that we didn't have time to get to last night. I still cannot believe the beautiful work that was on display. This one guy takes photos of the planets using a homemade telescope. He's been featured in national magazines. I wish I could have afforded some of his work, but $hundreds$ isn't in my budget. I did get some photos of different media from a lady who came up from Florida for the show. They'll be Christmas presents for my sisters & hubbies and dad & step-mom.

While I missed my kids & DH, it was nice to have a day without having to worry if the 8 yo is touching something she isn't supposed to or worrying if the 3 yo is running down the street. We just took our own sweet time and had a wonderful birthday... just the two of us.