| | |
| --- | --- |
| | LONKEN's Recent Blog Entries |


Tuesday, May 13, 2008
Wow! That's all I can say... WOW!

I started taking my measurements when I stopped losing weight on the scale. I knew my clothes were fitting looser, but I didn't realize I had lost so much.

In just the last month I have lost 1 inch from my waist and 1.5 inches from my hips. I couldn't believe it. I measured 3 times just to make sure.

The scale hasn't moved, so I guess all that walking has been building muscle. I hope I can get more walking time this summer when the kids are out of school.




Wednesday, May 07, 2008
Well, I've changed my profile picture. It was the scarf set I made, but who wants to look at that in the middle of Spring?! lol So, I've made my profile picture one of me. ;-)

Our church is about to undergo a big change, and I'm right in the middle of it. We are in huge need of an activities building. We are running out of space in our fellowship area, so much that we overflow into classrooms when we have our birthday bash (eating, of course) each month. We have had to redo the way we have classes for the kids, because we don't have enough classroom space. Just this Sunday, we met with our financial campaign consultants; and I was asked to be the Administrative Team Leader by members of the Building Committee for which I am the secretary. I'm in for a lot of work this summer.

Be praying for us, especially considering the financial times we are living in. Thanx




Sunday, May 04, 2008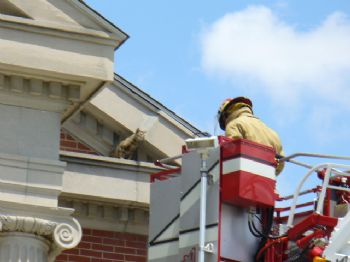 Our church's Friend and Family day was today. The preacher promised an extra special day today, and we got it. One of the kids noticed a cat had gotten up on the eave of our church. They got an adult to call the police who called the fire department. They brought out a ladder truck to come and "rescue" the cat. The owner who lives next door to the church said that the cat has done this before and got down without the aide of the fire department. Well, it made for an exciting day.





Monday, April 28, 2008
It's amazing the difference this new roof is making. The guys finished it mid-morning on Friday, and later that night it came quite a shower... well, more like a downpour with all the lightening and thunder. My husband went up and checked for leaks (as requested by the roofer "Just to Make Sure"). He remarked at how unusually quiet it was up there. (I'd been sending him up for the last two months to check for new leaks.) He also made the comment that it felt much drier, too. When the roofer came on Sunday to collect the final payment, my husband told him the same thing. He said it was due to the better ventilation that this metal roofing system provides. So.... my advice to any of you wanting to get a new roof, consider metal. I think it is well worth the extra cost. This is the second house we have put a metal roof on, and we really like them.




Wednesday, April 23, 2008
Many of you may remember from my posts on the message boards that we had a storm come through here that left us with some real bad damage in late February. We totally lost our shed, and many of the shingles came off our roof. We got temporary repairs done and waited for the insurance's roof adjuster. (They had already sent someone about the shed, but she couldn't do the roof.) I finally got tired of waiting, took pictures, got estimates, and went the insurance office myself.

Well... finally, eight weeks later we are getting our new roof. It took 2 weeks to get the insurance money and get the contractor here to sign a contract. He had so many jobs, and the weather just wasn't being nice. When I walked out the door this morning to go for my walk, he and his team were outside waiting for us to wake up. My husband, bless is heart, had just got out of the bed.

So by tomorrow night, I should have a completely new metal roof. Yeah! No more shingles to blow off the house and cause yet another leak.

On another note...
I posted 4 new pics to my gallery today. One is a picture of an old pair of my pants and the newest pair that I just bought. I can really see a big difference in my clothes even if I don't see it on the scales. The other pictures are of some of the knitting work that I have been doing the last few months.


First Page
1
2
3
4
5
6
7
8
9
10
11
12
13
14
15
16
17
18
19
20
21
22
23
24
25
26
27
28
29 30 31 Last Page

Get An Email Alert Each Time LONKEN Posts