Tuesday, March 24, 2009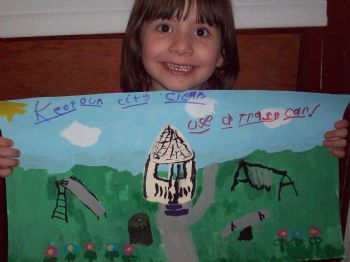 Our city's "City Beautiful" committee is having a contest to correspond with Earth Day. The question the poster has to answer is "What would you do to keep our city clean?" So, both my girls came up with their ideas.

My little one wanted to paint a picture of the local park near our house. it has a pretty gazebo in the center of it. So, I asked how we could help keep the city clean at the park and she said, "Use a trash can!" Thus her theme. I drew a picture on a separate piece of paper and then she relayed that over to a poster with a little prompting on where to put the brush.

My older one has learned to draw a disappearing road in the "Art Says It" class at church, so everything she draws now has a disappearing road. Again, I asked what that has to do with keeping our city clean. Her response was all the trash that people throw out of their car windows. So, she came up with the idea to put flowers on one side of the road and trash on the other.

I hope they both do well in the contest. I'm proud of them even if they don't win. In fact, we recycle everything we can. I put a shampoo bottle in the trash in the bathroom on Sunday and my little one promptly removed it demanding that it go in recycling because it had the recycle triangle. That's my girl!