| | |
| --- | --- |
| | LONIMARIE's Recent Blog Entries |


Saturday, January 31, 2009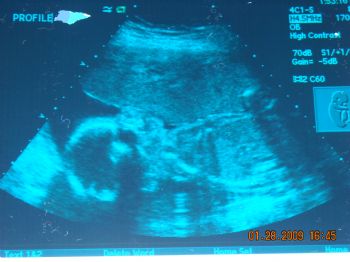 This was the week of the ultrasound. Everything went well, nothing too incredibly facinating to report. Including the fact that we still don't know the sex of the baby.

Your baby continues to grow and develop inside of you. Measuring 13 1/2 inches long, he weighs approximately 1 1.2 lbs! In the coming weeks your baby will continue to grow and mature a fast rate, gaining some baby fat, and filling out his long, lean frame.

As he gains weight, his skin begins to become less wrinkled and he begins to look more and more like a newborn. Also, his skin is finally gaining some color. His hands are fully developed by this week, fingerprints and all! And at 25 weeks, the structure of the spine is beginning to form.


Your baby is improving her breathing skills - inhaling and exhaling amniotic fluid and working out its breathing techniques. These breathing exercises are only carried out when baby is sleeping and not during its awake moments. Studies show that the only time fetus breathes in and out is during REM sleep. If delivered now your baby has a chance at survival. With new treatment methods such as ventilators, monitors and medications, a baby born this early can survive. Since it will be very small weighing less than 2 pounds, it will probably stay in an incubator at the hospital for several months to avoid all possible infections and complications.






Sunday, January 25, 2009
Your baby continues to grow and develop inside of you. She is now about the size of an ear of corn; measuring 12 inches long and weighing a little over 1 pound. In the coming weeks, your baby will continue to grow and mature a fast rate, gaining about 6 ounces of weight a week.

Her brain is growing rapidly and her taste buds are developing. She is pretty lean at 24 weeks, but she'll soon be putting on some "baby fat" to fill out her frame and her wrinkled skin. She has begun to develop white blood cells. These cells are responsible for fighting off disease and infection.

Her lungs develop branches this week and her inner ear is completely developed. In fact, she has basic control over all of her senses: hearing, touch, taste, smell, and vision!

According to research there are 124 million neural connections in each pinhead-sized piece of brain tissue inside the brain of a 6 month old fetus. That makes one very smart baby growing inside of you.

Upside down? Right side up. Your baby's inner ear is now fully formed and his sense of balance, as he floats in the amniotic fluid, is more refined. Also, his lungs are developing to produce that music to Mom's ear—his first cry!


He will continue to gain weight in muscles, developing organs and the deposit of brown fat. The purpose of the brown fat is to retain body heat. Newborns are notoriously bad at regulating body temperature at first. This is particularly a problem for a baby born early. Changes are occurring in lung development so that some babies are able to survive (with intensive care services). Surviving babies may have disabilities and require long-term intensive care. A good estimate is that a baby born now would usually stay in the NICU until their official due date.

Your baby is totally unaffected by the Braxton Hicks contractions (a usually painless tightening of the uterus not affiliated with labor) you may be having as well.






Wednesday, January 07, 2009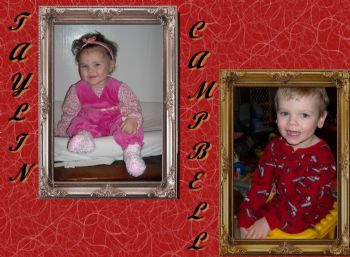 Nothing too eventful happened this week, so this blog will just be an update on the pregnancy.

Your baby continues to grow and develop inside of you. He is now about the size of a mango, measuring 11 inches long and weighing about 1 pound. In the coming weeks your baby will continue to grow and mature a fast rate, gaining about 6 ounces of weight a week.The body of your baby is getting plumper but his skin is still fairly wrinkled due to the lack of subcutaneous fat. His skin is still wrinkled, but the pigments that will give his skin color are currently being deposited.

By week 23, the blood vessels in his lungs, important for breathing outside the womb, are developing. His lips are becoming more distinct, and his eyes continue to develop, though they still lack color. Also, by this week, the bones in his middle ear start to harden.

He's starting to drink the amniotic fluid he's floating in, and his digestive system is mature enough to absorb nutrients. And not only is your baby starting to drink and taste, but all of his sensory systems are maturing as well. Your baby's face and body is looking more and more like those of an infant, the bones of his inner ear are beginning to harden and his pancreas is developing (the pancreas is very important in the production of insulin). Your baby's fingernails are almost fully formed and the lanugo (fine hair) that covers his body is getting darker. Your baby continues to grow in preparation for the journey of birth. You baby is now more than 11 inches long and weighs over a pound.

Coming Soon: Week 24





Saturday, January 03, 2009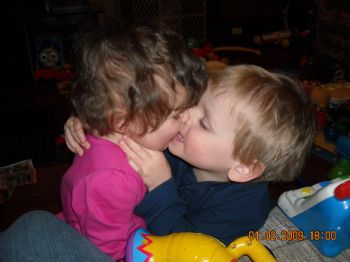 Yes, I know that picture depicts that brother and sister get along so well, but looks can be deceiving. Maybe about 65% of the time they get along, and Campbell willingly shares a toy or gives something to Taylin, but the rest of the time...it's survival of the fittest and somedays, I don't think I will make it out alive. Our recent quarrel is over a ball popper that mom in law so graciously gave to Taylin for Christmas (it makes a lot of noise, I don't recommend talking on the phone while it is in use)...the only problem is that Campbell thinks it's his, and will do anything to get it.

On to a different topic, we finally have our living room back, as the Christmas tree and decorations came down yesterday! Even on modified bedrest I managed to get the toys into their new homes...took me most of the night, but it was an accomplishment to say the least. Speaking of bedrest, here we are at 22 weeks:

Your baby now weighs about 12 oz (350g) and is over 7 inches long (19cm). Baby continues to grow, eyelids and eyebrows are developed, and nails are also visible. Her eyes have developed, but her irises still lack color. Even though her irises will have color by the time she is born (usually blue), you won't know her permanent eye color until she is at least 9 months old. Most parents wait until their child's first birthday to determine what their permanent color will be. The baby is getting bigger and continues to practice for life outside the uterus.

The hair on your baby's head is continuing to grow as his brain begins a rapid growth process. The fetus has fully formed fingerprints and loud noise can wake up the baby. He may begin kicking and turning around, too. Your baby's heartbeat can be heard with a stethoscope. His nose is taking on a more defined shape as cartilage (the soft bone) appears. If you baby is a boy, the testes have begun to descend from the pelvis into the scrotum. Your baby is approximately 30-32 cm (12.2 inches) and weighs about one pound.

The amniotic fluid is replenished on a daily basis; in fact about a third of the fluid is exchanged every hour. Your baby swallows the fluid and some of this fluid is absorbed back into your body via the umbilical cord and placenta. The rest is simply urinated back into the amniotic fluid. Baby uses its 'bathwater' as its drinking water. While some of its nutrients are provided by the amniotic fluid, bulk of the nutrients comes from the placenta.

By week 22, her pancreas, a key player in hormone production, is developing steadily. Her skin may appear wrinkled at this point, but in the coming weeks, she will be gaining enough weight to fill it out. In addition, your baby's liver is busy breaking down bilirubin, a substance formed by the breakdown of hemoglobin in blood cells. Because a baby's liver can only break down a limited amount of bilirubin, the excess is passed on to you through the placenta to filter from your liver.

Although she's filling out, her body still appears wrinkled because she lacks a significant layer of fat beneath her skin.

This week nerve endings become functional enough so that your baby can feel! She may experiment with this new sense of touch by stroking her face or feeling other body parts to see how they move. You may feel your baby stretching her muscles by pushing against the muscular wall of your uterus with her feet or head.

Coming next week: Week 23





Wednesday, December 31, 2008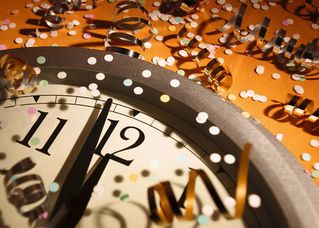 When the clock strikes midnight a new year will be upon us and we will say goodbye to this year forever. For some that is a blessing, as they may have had a rough year, while for others it will be a sad occasion, since 2008 was so wonderful for them. For me, I am at an impass...2008 wasn't the greatest year ever for me, but it did give me the 1st birthday of my daughter, as well as the news of being pregnant again. It also was the year I dropped 35lbs before I had to put weightloss on the back burner. So when midnight comes I will kiss my husband and say goodbye to 2008 and hello to 2009. Something else happening at midnight is, I will be 22 weeks along, so as of now, this blog is where I am at in the pregnancy.


Your baby is now just over 7¼ inches long from crown to rump (18cm); the size of a banana. Baby weighs just over 10½ oz (300g), still a featherweight. Your baby continues to grow and develop inside of you. He now measures 7 inches long and can weigh up to 10 ounces. In the coming weeks your baby will continue to grow and mature at a fast rate and will focus on gaining weight rather than growing in length. Baby will double in length but weight-wise there will be about a 12-fold increase. There is a slowdown in growth but different organ systems within the baby are maturing. By this time the fetal digestive system is able to swallow amniotic fluid; after swallowing, the fetus absorbs much of the water and the rest of the fluid is passed into the large bowel. Researchers believe swallowing amniotic fluid may help in growth and development of the digestive system; it also helps the digestive system to function after birth. Evidence indicates babies at full term may swallow large amounts of fluid as much as 17 oz or 500ml in a 24-hour period. Essential nutrients are passed to the baby from the amniotic fluid.

The hair on his scalp is more visible, and by week 21 he has probably developed eyelashes and eyebrows!

He is waking and sleeping in regular intervals, which you might be able to tell from his movements. He is also swallowing amniotic fluid to help his digestive system mature for life in the "outside world". His intestines also start slowly relaxing and contracting this week.

Notice any small, repetitive movements in your abdomen? Those might be his first case of the hiccups! Usually, these movements occur for a few minutes at a time. As your baby grows larger, these movements will feel stronger. And remember, all babies are different, some hiccup multiple times a day, and others, only once in awhile.

Your baby is still pretty active and continues to move all over in the amniotic fluid. However, towards the end of this trimester the baby will begin to settle, usually in a head down position. Your baby is beginning to show evidence of eyebrows and eyelashes and the hair on his scalp is much more visible. He wakes and sleeps in regular intervals, similar to what a newborn would do. This may be apparent to you by his movement patterns. He regularly ingests and absorbs large quantities of the amniotic fluid and excretes urine.

Next week: Week 22



First Page
1
2
3
4
5
6
7 8 9 10 11 12 Last Page

Get An Email Alert Each Time LONIMARIE Posts