| | |
| --- | --- |
| | LOCALOCA's Recent Blog Entries |


Tuesday, February 12, 2013
I dont usually post these for the world to see, but i figured WHY NOT! I like to make I WILL statements, things that i will do to keep myself on track. Im starting slow, so not all of them are in effect yet, but im working on it. Ive been going slow, and doing only a couple at a time, and then adding more the next week. So i dont overwhelm myself with it all, and i know that some of them are low, but i will change then when i work up to better habits. I like writing these and posting them, so i can keep myself on track and work my way back to healthy habits.

I WILL.....

- Drink a MINIMUM of 10 glasses of water a day, more is better.
- Take my PCOS medicine everyday, it is good for my body.
- Take my Vitamin everyday, it is also good for my body.

- Track all of my calories, EVERYDAY! No Exceptions.
- Eat within my calories everyday! (I am allowed a cheat day/ meal on weigh days only)
- Weigh in every Tuesday morning, and take a cheat day or meal that day.
- Not eat my emotions, i will figure out why im having them and deal with that instead.
- Make my lunch to take to work the night before, so i dont forget it and get something unhealthy from the vending machine.
- Not let my Crave Monster win anymore.

- Do Stregnth Training a MINIMUM of 2 times a week. At least one arms and one legs.
- Go to the Gym after work a MINIMUM of 2 times a week.
- Do Cardio a MINIMUM of 2 times a week for a duration of at least 30 minutes each.
- Not let my Laze Monster win anymore.

- Not give up! I can do this!!
- Not be negative if i have a bad week, just gotta get back up and KEEP GOING!
- MAKE IT THIS TIME!






Wednesday, January 16, 2013
I'm Back! I havent been around for a while, and it shows. I have gained back pretty much everything i had lost in the past. UGH! I'm tired of being tired, and miserable all the time. I'm tired of my feet hurting, and my back hurting, and my joints and of my clothes not fitting me anymore, and Black Stretch Pants are TOTALLY SEXY! I need to document what it feels like, so i can go back to this one day when i am feeling like giving up and REMEMBER how much it sucks to feel like this. I am 27 years old, i shouldnt be waddling around the store at work. Yes i said Waddle, because when my feet hurt .. about halfway through my shift.. i start to waddle. So i decided it was about time to stop whining about it, and start doing something about it again.

I went back and looked at all my old meal plans and exercise routines. Sh!t, that looks daunting. There is no way that i can go back to what i was doing at my lowest weight. SO why even bother.... Then i realized that i had to b!tchslap that thought down. NO! It might be daunting, it might be hard, it might suck sometimes... but its going to be so worth it! So i decided to wipe the slate clean and start over, and use my old plans as the simple fact that i HAVE done it before, and i CAN do it again. I'm going start slow, this week i am solely concentrating on tracking my food, no matter what it is. And i am going to drink 14 cups of water a day.

Which brings me to my Title. I am currently sitting here, staring at my last 3 cups of water that i need to drink today. I had forgotten how much it sucks to go from not drinking enough water and being dehydrated to being fully hydrated and your body craving that much liquid. I feel like if i move i am going to Slosh! I remember this from before, this alone is a great motivator to not have to start over EVER AGAIN!

.....

I'm down to 2 cups now, have you ever noticed that water just stops tasting good after a while. I'm to that point. And i dont like Mio and juice flavored stuff in my water. I'm seriously beginning to question how i liked water in the past. Did i not have taste buds back then?

......

1 cup to go... I think i can, I think i can, i think i can!!! I dont WANT to.. but i THINK I CAN!

.........

THANK GOD! Its gone! i got my 14 cups in today... and tomorrow i get to start over again. I need to pace myself better throughout the day. I honestly feel like if you held me up to your ear.. you would hear the Ocean. I am sloshing big time! But i know that water is so good for your body, and your health. So even though I'm hating it right now... Its Awesome! Gotta love those small victory baby steps! Day 1 - Goals Accomplished! WOOHOO!





Thursday, March 15, 2012
For those of you that dont know, my gaurdianshipped son is MExican and American Indian. I am 2nd Generation Scottish (or in other words, im REALY white. lol) I can THINK about going outside without sunblock and get a sunburn.

Anyways, Me and K (who will be 4 in July) were at the store tonight and there was this Hispanic couple that kept looking at K and then looking around the store, over and over. I was watching them because they seemed to be paying to much attention to my son.

Finally the woman (who didnt speak much english) came over and asked me if K was mine. I told her yes, and she went over and started speaking spanish to him. This scared him and he ran over to me and held my hand. I explained to her that he didnt speak spanish. I didnt go on to explain this but, K only started speaking at all less than a year ago. he was so badly neglected that his speech was extremely delayed, and i have been taking him to speech specialists and he started preschool to help him. He does talk alot now, but not up to typical 3 year old standards.

This woman flipped out, and when and was ranting at the man that she was with in Spanish. Now i am not fluent in spanish, but i know enough to know that she was calling me horrible names "Chancha Puta" (Fat Pig Whore) and that she was obviously not happy that K couldnt speak spanish and that he had a white Mom.

Ok, so its better for him to be with bio mom? Who is a big time druggie alcoholic, who tried to kill him. Who couldnt be bothered to buy formula, even though she got wic and jsut gave him cow milk or water to drink. Who drugged him with baby meds so he would sleep all the time, so she wouldnt have to deal with him. Who would leave him alone in the house at 8 months of age so she could go party. Who would hit him because he cried. Who neglected him so badly that he didnt know his name or even how to SMILE when i got him at 8 months. But she is the right color to raise him RIGHT

With me K is happy and healthy and well taken care of and Loved! He can feel safe in his house, and is just the sweetest most loving child. I love him more than anything, and i make sure that he knows it, and that he is well taken care of. I would do anything for him, he is my son. Even if i didnt give birth to him. But apperently im the wrong color to do it right.

I jsut hate it when people think that they know what is best for others without even knowing what is going on in their lives. It just made me so angry how furious it made this woman. It isnt any of her business, and im not even sure of K would be alive right now if he was still with bio mom. I usually try to just slough off any comments that i hear but this woman tonite really struck a nerve.

Thank you for listening to me Rant, and if i offended anyone i am truely sorry. I do not mean any disrespect to anyone, i am just ranting about and against K's biological mom and the woman at the store tonite.

Me and MY Baby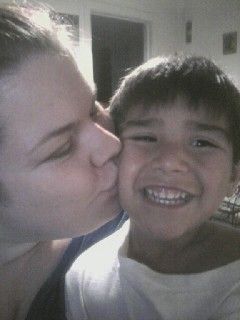 Wednesday, March 14, 2012
I just dont understand scales, or my body for that matter. I lost 12lbs the week before, i was really excited. I go to weigh in this week, after doing exactly the same thing that i did last week.

I am up 5lbs, but i lost about 2 total inches all over. Since last week. WHAT THE HELL!?!?

I feel amazing, my clothes are alot looser, my inches are down... and i GAINED 5lbs? Even my personal trainer counldnt explain that one to me. ITs not water weight because otherwise the inches wouldve gone up too.

Ugh!

Although i did lose 5lbs of pure fat since i started the Move it to Lose it program at my gym. TOday was my last weighin, and i was down 7lbs from the beginning (darn gain this week)... but 5 of it was fat. So i guess thats a win?

No real point to this blog, other than to rant about not understanding my body and the scale.





Friday, March 09, 2012
I have remember the small victories. I get caught up in what is going on the right now of my journey (exactly what the scale says at this moment in time) and the finish line (a fitter, healthier, lighter me) and i tend to forget all the small things that i have accomplished along the way. To enjoy the view along the journey.

Today i have been spring cleaning my apartment. And i got my clothes out from 3 years ago when i was at my lowest weight. I had tried them on last summer, towards the end and i was able to wear a couple of the pants, but not all of them. I tried them on, and they all fit! I have a whole new wardrobe for summer now (ok so its been around for a few years but i havent been able to wear them.)

I also found my before jeans, and tried them on.. They fell off!! I'm definitely not a size 30 anymore, I'm more of a 24! IT just really brought it home to me that even though i had a rough few months, i am still down 66lbs from where i was last May. That is a Victory.

I remember when i was to scared to walk to the park a couple blocks away, because i wasn't sure i would have the energy to get home. And now i go for 2 - 3 mile walks anywhere i want to. I remember when i couldnt find clothes that fit me in my town, i had to drive 3 hours to go to the big girl specialty stores to find things that fit me, now I'm buying stuff off the rack locally.

I am no where near done, and i know that i still might have times where i take step backwards, But now i know that i can recover from those times. ITs not the end of the world that i ate fast food everyday for a week. IT doesnt mean that my journey is over. I have the skills now to pick myself back up and keep pushing forward.

"Progress .. Not Perfection... Is what is REALLY Important!"



1 2 3 4 5 6 7 8 Last Page

Get An Email Alert Each Time LOCALOCA Posts