| | |
| --- | --- |
| | LOBOSMOMMA's Recent Blog Entries |


Tuesday, April 15, 2014
I'm not sure if I'm more nervous or more anxious. Maybe it's both equally. I haven't had a formal job interview in quite some time, yet tomorrow, I have a big one.

At the end of February, I applied online for a Communications Officer for a local law enforcement agency. Not long after, I got an email inviting me to take a test for the position. I was told the test would take approximately 3.5 hours, and THAT made me nervous. I had absolutely NO idea what kind of rigorous testing would require that much time. While the testing was quite rigorous, it wasn't too bad. We had to take a typing test, of sorts, before being allowed to continue to the rest of the testing. There were 8 of us, and only 4 were allowed to continue. We only needed to score 70% on the remainder, and I scored 89%. The testing was a combination of things. Most of it was a simulation of calls one might receive working in a 911 call center. We had to listen to the call and enter information before the call ended, and in the meantime a call would beep in and we had to decide within a few seconds, which of 4 departments to dispatch. The hardest part for me was getting VIN information entered correctly when other calls were beeping in. Anyways.... I passed it all.

We were then sent down to the HR department to turn in some documents and to sign a paper allowing them to start a background check on us. The HR guy told us he'd be calling us once that came back and getting us in and getting us working. I'm thinking that will take a few weeks being as how it's for the police department. Well, I got a call after only a week to schedule an interview. I do currently have a security clearance through my current job, so maybe that helped? I'm not sure. Or maybe, they do the more thorough check after the interview. I did some research yesterday and it looks like it may vary by agency. I noticed a lot of them do polygraph and all that as well. All the same stuff as if you were to become and actual police officer. I'm not really worried about all that though.

Why am I anxious? Well, my current job I got because I knew someone I used to work with who worked where I used to work. Basically I sent her my resume and she is a supervisor who passed it on to her supervisor and that was that. I just had to fill out paperwork. A few jobs before that were a bit informal. Then prior to that was the same job I have now, just through a different company, but was straight out of the Army and kind of the same deal. I just met with the guy doing the hiring one day when I was still in uniform. He was here visiting his contractors and someone mentioned I was getting out so he asked me if I had a job yet. So that was that again. Prior to the Army was another series of informal jobs.

It has been years before then that I had my last formal interview. Like a few years out of high school years since my last formal interview! And I've seen where a lot of these interviews are in front of a panel of people. That I've never had. I know I'm going to be so nervous! And I'm anxious too. I'm really looking forward to this job. I think I'll really like it. Plus it's full time, permanent, with benefits. I enjoy my current job, but it's contract, and the contract is about to end. At this time they don't think it's getting renewed, and if not then I'm out of work come the end of June. So yeah, I'm anxious!

Wish me luck!




Wednesday, April 09, 2014
Today has not been a good day. It's one of those days where Migraine has taken over. I'm on meds for them, and they are helping, but I'm still getting the occasional migraine. It just seems like the ones that slip through now are much worse. I'm not sure which is better: Getting migraines almost daily, or getting them maybe once a week, with them being worse. Ugh. I'm being treated by a VA doctor. He's done all he can for me and has put in a request for me to see a neurologist with the VA. Good news and bad news there. Good news is maybe I'll find more relief. Bad news is I'll have to go to the Charleston VA center to see him or her. That's a good 2 to 2.5 hour drive for me. And I have no idea when my appointment will be just yet. Right now I'm just ready to get off work, go home, and crawl back into bed. I barely made it to work today as it is. Overall I've been better though, so I guess I should be grateful. But the way I'm feeling today it's hard to see past that. Ah but I am grateful for finally having not only 1 but 2 supervisors who understand how debilitating migraine can be! Now if I sucked at my job, they might not be so understanding. LOL





Saturday, January 25, 2014
I have a confession. I was craving a candy bar yesterday. Like really craving one. I stopped by the gas station on the way home from work to get gas, but didn't go inside. I got home and looked inside the cabinets. I found a box of chocolates the hubby's grandparents gave us for Christmas. I admit it, I gave in. BUT I'm happy to confess that I ate one, yes ONE small square, and put the box back. I closed it up and put it back on the top shelf. I'm so proud of myself!





Tuesday, January 14, 2014
I haven't been checking in here lately, but I'm still hanging in there. I'm happy to say I've been soda free since the last week of October! Woohoo! I'm still working on increasing my water intake and decreasing my sweet tea intake, but it's a start! I'm also still slowly cutting back on how much sugar I add to my sweet tea. I've tried using splenda, but it just doesn't work for me. So hubby and I will just gradually cut back until we can take it almost unsweet. He's a skinny guy, but we've both gotten to where we don't buy any junk food when we do the grocery shopping anymore either. On a rare occasion we might get a candy bar or bag of chips, but we try not to keep it in the house anymore at least. We're getting there. And I've been doing a pretty good job avoiding the vending machine just outside my office door most days.

I'm also starting to feel much better now that I'm up to my full dose of my Topamax my doctor wanted me on for my migraines. I've had very few of them since being to the full dose, as opposed to getting them almost daily. I'm on a few other medications too, so all that combined has really helped me get back to me again. I feel it helping me get some energy back too. So hopefully in no time I'll be back at my Wii again getting my sweat on! LOL All I'm doing now is I try and take a walk on my lunch break at work when the weather isn't bad.

My goal for this year is to lose 25 pounds by the end of summer, and 50 by the end of the year. That's pretty obtainable, right?





Wednesday, November 27, 2013
I was browsing my list of pages I follow on Facebook that I have grouped as 'Pretty Stuff', and one of those pages had posted a photo that I really liked. Now, I don't follow any pages pertaining to weight loss but I don't recall offhand which page it was from. I like some quite sarcastic pages so it may have come from one of those. Anywho, I liked it and found it quite motivational, and thought I would share it with my Spark friends. Enjoy!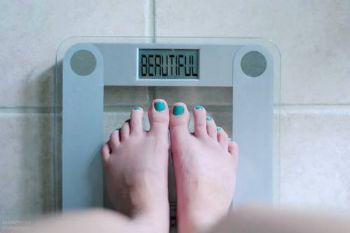 First Page
1
2 3 4 5 Last Page

Get An Email Alert Each Time LOBOSMOMMA Posts