| | |
| --- | --- |
| | LMSTONE's Recent Blog Entries |


Wednesday, February 08, 2012
been crazy busy round here and just havent had time to blog my food, sorry guys, hopefully tomorrow i will get back at it again!! hopefully!!




Saturday, January 21, 2012
Dinner tonight was YUUUMMMMY after a fantastic burn at the Y!!
Tonight I made Coconut, mango, papaya crusted tilapia (bought at local grocery store in meat dept.) with that I made wild rice pilaf and a nice big salad with lettuce, cabbage, carrot, bell pepper, green onion, tomato, cuccumber and topped with a little bit of avacado and some swiss cheese ( i had one ounce of swiss cheese, some on top of my rice, some in my salad) and i put about a table spoon of oak hill farms vidalia onion dressing on it. I think that is everything I had , LOL I think i may top it off with a skinny cow treat from the freezer since i am low on my calories tonight!!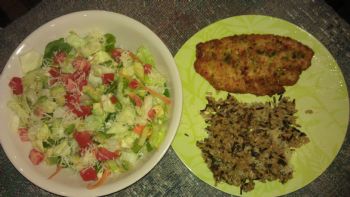 Saturday, January 21, 2012
Today was a late night at the Y so we stopped by subway. I had turkey melt on Italian herb and cheese with all the veggies except tomatoes, for some reason I do not Like them on any sandwich even though I love tomatoes! I add no sauce or dressings. I wanted some chocolate so for dessert I had 100 calorie snack pack of M&Ms

Tomorrow is tilapia....





Thursday, January 19, 2012
Wow dinner was yummy tonight!!! since our grill is covered in a foot of snow we used the george foreman for dinner today!
tonights dinner was about 900 calories so kinda high tonight BUT the rest of my day was low and it was soo tasty.
homemade hamburger made with 93/7 beef, 2 lbs mixed with 1/4 cup diced onion, hamberger seasoning to taste, little liquid smoke, 2 eggs, cooked to well done on the george foreman.
put that on a sandwich slenders bun
carmalized onion cheese (from a cheese shop)
home made guacamole (2 avacado, onion, garlic pepper, sea salt, roma tomato)
lettuce and tomato and homemade dill pickles to top

then had just generic store bought tater tots, 8 per serving @150 cal.

I also had and extra roma tomato on the side
for dessert we had homemade juice cicles from the juice we squeezed yesterday

*please not the 900 calorie count does not include the 100 calorie juice cicle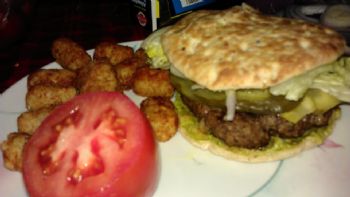 Thursday, January 19, 2012
Thought I would start a blog of dinners i make
tonight i took boneless skinless chicken breast, cut into cubes, maranaded in teriaki pineapple sauce and chinese hot garlic sauce, then made kebabs with that, onion, bell pepper and pineapple. Put them on a cooling rack over a bake pan with water in it, then covered it all with foil, baked in oven @350 for about 40 min then 15-20 uncovered.

on top that we had a HUGE salad, with lettuce, spinach, red cabbage, tomato, cuccumber, carrot then topped with french fried onions, raw sunflower seeds and dressing of choice!!!

yum yum yum and for little calories... THEN TO TOP IT OFF
for dessert we had fresh juice slushies...
I used my jack lalane juicer and juiced oranges, grapefruit, apple, pear, pineapple and carrots. i put some in a small 6 oz cup at the start of the prep for dinner and by the time we were done eating we had a wonderful 100 calorie slushy!!!
HAPPY EATING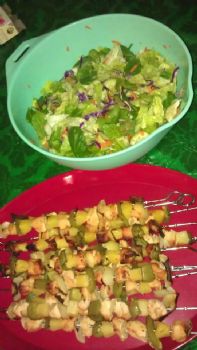 1

Get An Email Alert Each Time LMSTONE Posts