| | |
| --- | --- |
| | LIVINGDEAD_GIRL's Recent Blog Entries |


Wednesday, May 21, 2014
Breakfast: Cottage cheese with peaches
Called for: 1 cup low-fat cottage cheese with 1/2 cup canned peaches. Toast 1 slice whole grain bread with 1 tsp butter and all fruit jam

What I did: Used 1 cup 2% cottage cheese and cut up 1 peach instead of using canned peaches. Forgot all about the toast....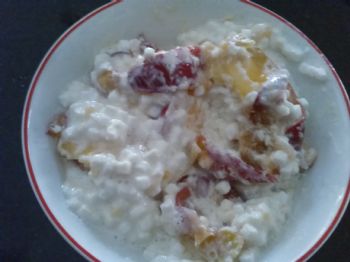 Lunch: Souped-up veggie soup
Called for: 1 serving vegetable soup and boost with chopped herbs, pesto, hummus or ricotta cheese and server with a whole grain roll.

What I did: Re-heated up a serving of homemade tomato soup and put in 1 tbsp of homemade pesto, served with a frozen whole wheat roll I had made months ago. I love batch cooking that are freezer friendly!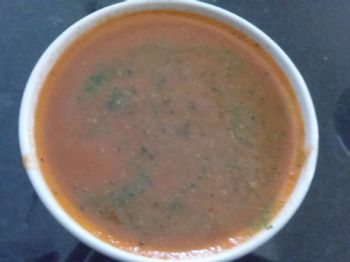 Dinner: Maple glazed salmon with couscous
Called for: 1/2 cup couscous, 1/2 tsp maple syrup and soy sauce, 4 oz salmon fillet and 1 cup asparagus

What I did: Got almost 5 oz salmon fillet, topped with the maple and soy glaze, used 1 cup of green beans that I have instead of spending more money on asparagus while the green beans run the risk going bad before I get to use them, and re-heated a cup of couscous that probably started out as 1/4-1/2 cup dry couscous.
This was so simple and so easy and so quick to make! Salmon came out PERFECTLY! Who knew all I needed to do was cook for 10 minutes at 375, also used fresh salmon instead of frozen.....that also might of had a hand in things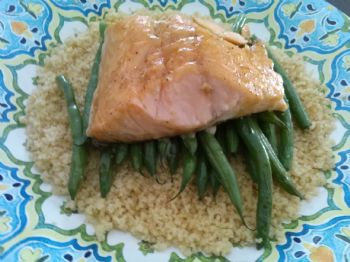 Snack: Toasted a slice of sprouted grain bread and spread on 1 tbsp of organic concord grape jelly







Wednesday, May 21, 2014
Breakfast: Pear-fect english muffin
Called for: 1 toasted whole grain english muffin with 1 tbsp almond butter and 1 sliced pear and milk

What I did: Used a sprouted grain english muffin, ended up using 2 tbsp of Earth Balance coconut oil peanut butter and sliced a pear, think I had a large cup of coffee for the beverage.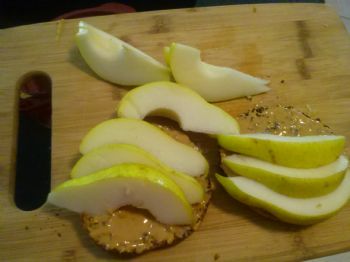 Lunch: Creamy BLT pasta salad
Called for: 1 cup whole wheat pasta, 1/2 cup cherry tomatoes, 1 cup romaine, 2 tbsp red onion, 2 slices chopped bacon, 1 tbsp ranch dressing and 1 tbsp greek yogurt

What I did: Well I misread the cup of pasta and ended up cooking 1 ounce of dry whole wheat penne. Cannot find cherry tomatoes anywhere, did they stop selling them? So I used grape tomatoes that I sliced. Used a shallot that I sliced and sauteed in a skillet that I had cooked the bacon in, then added the tomatoes sliced in half to the skillet. For the "dressing" I used 2 tbsp greek yogurt with 1/2 tsp of dry ranch mix* that I had made. Oh and also used the romaine lettuce the meal called for. Looks like I also used an antioxidant blend of frozen veggies.....weird, I must of seriously misread when I was cooking lunch.
Found a great recipe online how to make your own ranch mix instead of buying the super processed and loaded with sodium and preservatives at the store www.heandsheeatclean.com/2013/05/cle
an-eat-recipe-make-your-own-ranch.html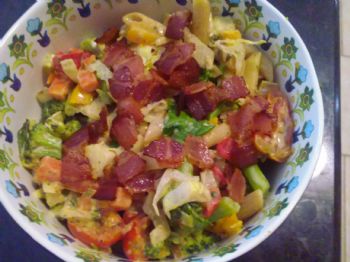 Dinner: Lean & green pasta bowl
Called for: 1 package antioxidant blend frozen veggies, 1 oz whole grain pasta, 3 oz chicken, 1 tbsp pesto and parmesan cheese

What I did: Cooked 1 oz of whole wheat spaghetti, combined with 3 oz of chicken, healthy vision frozen veggie blend, some homemade pesto I had made with parsley and walnuts and 1 tbsp fresh grated parmesan cheese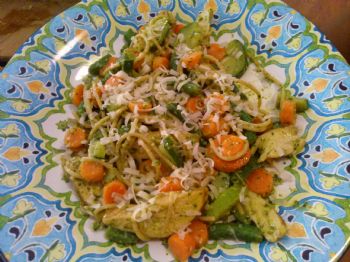 Snack: Cut up a carrot and used 4 tbsp homemade hummus, was still hungry and popped 1/2 cup popcorn kernels, was naughty and topped it with 2 tbsp of unsalted butter. But don't plan on doing that again, not for a while at least.





Wednesday, May 21, 2014
Starting Week 2 of the 30 Day Challenge, woot!

Breakfast: Greek breakfast scramble
Called for: 1/4 cup onions and peppers, oregano, 1 egg and 1 egg white; 1 small tomato, 1 oz feta cheese and 1 slice whole grain toast

What I did: For the bread, used sprouted grain. Kept everything the same except I used extra onion and green bell pepper.




Lunch: Tofu and veggie stir fry
Called for: 1 package antioxidant blend frozen veggies, 1/2 cup cooked brown rice, 3 oz firm tofu and 1 tsp toasted sesame seeds

What I did: Kept everything the same, toasted my own sesame seeds and used pre-cubed fim tofu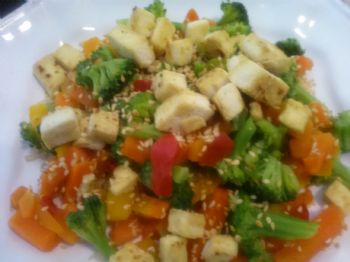 Dinner: Winner, winner chicken dinner
Called for: 1 package antioxidant blend frozen veggies, 1/2 cup cooked brown rice, 3 oz chicken, 2 tbsp basil and lime juice

What I did: Used the healthy vision blend instead, kept the brown rice and chicken; chiffoned a few leaves of basil and squeezed a lime all over the plate of food.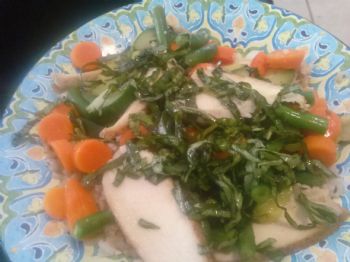 Snack: Cut up a carrot and used 4 tbsp of homemade hummus.





Wednesday, May 21, 2014
Breakfast: Berries and cream french toast
Called for: combine 1 egg white with 2 tbsp milk, 1 tbsp orange juice and 1/2 tsp cinnamon, use 2 sliced bread. Combine 1 tbsp orange juice with 1 tbsp low fat cream cheese and 1 tsp powdered sugar; 1/2 cup raspberries.

What I did: Basically kept everything it called for, used whole wheat sprouted grain bread and organic neufchatel cheese. This was so good, the perfect breakfast to start a Saturday or Sunday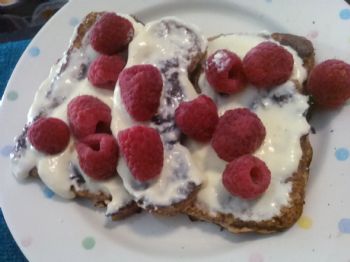 Lunch: Portobello pepperoni pizzas
Called for: 2 portabella mushroom caps, 1/2 tsp italian herbs, 1/2 marinara sauce, 1/4 cup mozzarella cheese and 4 slices pepperoni

What I did: I only used 1/4 cup canned tomato sauce and instead of 1/2 tsp herbs I used a few leaves of basil per mushroom cap; everything else I left the same.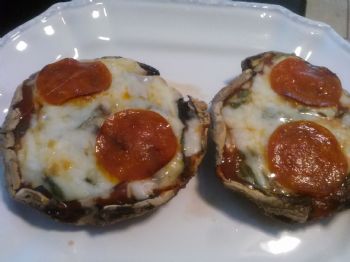 Dinner: Hot chicken sub melt
Called for: 1/2 bell pepper, 1/2 onion, 1 sliced banana pepper, olive oil, 3 oz chicken, 1 slice provolone cheese and 1 hoagie roll.

What I did: Omitted the banana pepper, all I remember is the one time when I was little tried one of my Dad's jarred banana peppers and it was so hot and spicy I ran so fast completely bypassed the main bathroom to my parents bathroom and just guzzled cup after cup after cup of water. Got whole wheat hoagie rolls from the bakery of Publix, local southern grocery store chain. Everything else kept the same.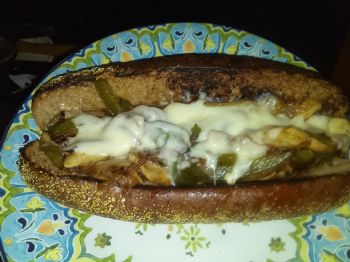 Snack: Half a cup of 2% cottage cheese with a cup of sliced strawberries.





Saturday, May 17, 2014
Breakfast: Rise and shine breakfast sandwich
Called for: 2 slices bread, 1 cooked egg, 1 slice ham, and 2 slice cheese

What I did: I made an over easy egg, used sprouted grain whole wheat bread, used ham and cheddar cheese and also added a slice of tomato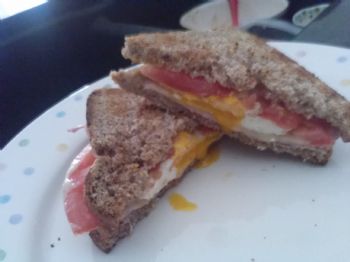 Lunch: Grownup grilled cheese and tomato basil soup
Called for: butter on 2 slices bread, then jam or dijon mustard on the other side of the bread, 1 slice provolone; a serving of "prepared" tomato soup and 1tbsp of chopped basil.

What I did: I used organic dijon mustard on 2 slices of sprouted grain whole wheat bread, provolone, instead of butter I used organic coconut oil which turned out so good and no saturate fat! Also I had made my own tomato soup and got 4 servings out of it, so warmed a serving up and chiffoned a tbsp of basil that I sprinkled in the soup. OMG the tomato soup was so good, was it better because I made it? Or was it better because I MADE it! And especially when I dipped the grilled cheese into the soup, yum, nom nom nom so gooooood.




Dinner: BBQ pork 'n veggies
Called for: 1 package Heart blend frozen veggies, 3 oz pork and 2 tbsp bbq sauce

What I did: Heated up 3 oz left over, and the rest of, pork and mixed with 2 tbsp honey bbq sauce. Couldn't find the healthy heart blend when I was at the store so I used the antioxident blend of frozen veggies that have.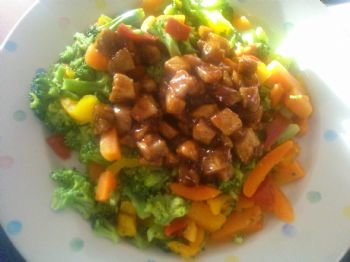 Snack: Wasn't really that hungry tonight but felt I should have something, I had the urge to eat but not the hunger to eat, does that make sense? Anyway toasted up a slice of sprouted grain wheat bread and spread on an ounce of goat cheese. Seriously why the hell use cream cheese? Goat cheese! It's so yummy and a great replacement for cream cheese. Oh! oh! oh! Just had a great idea, a goat cheese cheesecake!!!!!!! Hmmmm I might have to look into this...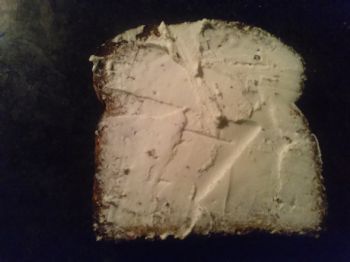 1 2 3 4 5 6 7 8 9 10 Last Page

Get An Email Alert Each Time LIVINGDEAD_GIRL Posts