Monday, July 21, 2014
I had an early salad lunch today because I was meeting my friend Karen at the blood donor centre during her lunch break. I call my salad 'Green Couscous salad' and it is 1 portion of couscous (60g dry weight) cooked and then with lemon juice, fresh coriander, avocado, raw courgette and some green pepper added with seasoning. I ate it with a spoonful of tzatziki as well as I was worried it might be a bit plain and dry otherwise.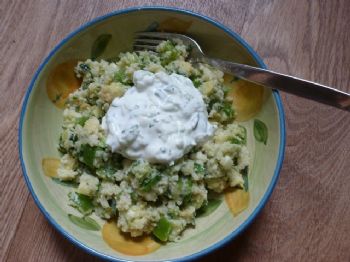 Giving blood was a new experience for me. I had tried to do this years ago (1996 according to their records) and had failed the iron test. After that I'd not been able to for a while because of getting piercings in my ears as well as a couple of tattoos and travelling to exciting countries like India. Now, however, its been a long time since all of that and I felt I wanted to try again. I was sorry for Karen as she often gives blood but got turned down this time because she's got an appointment at the out-patients this week and they have to be careful until after she's seen the doctor. However, I was deemed good to go (no iron problem this time!) and led through to be hooked up to the needle.

I am not good with needles so was really proud of myself for managing to do this without feeling faint. I did feel a bit weird, but that was more being a bit scared and finding the whole experience a bit odd. Now I've done it once I know I could do it again.