Tuesday, July 08, 2014
This morning is something of a catch up. Firstly, this is really Day 9 but I didn't have time to blog at all yesterday, so I will record my daily salad for today later. Secondly, I didn't manage to post photos from the last couple of salad's I had at my parents that my Mum made for me. So, I will sort out the latter first:

This was the 'Jewelled Quinoa' my mother made on Saturday night: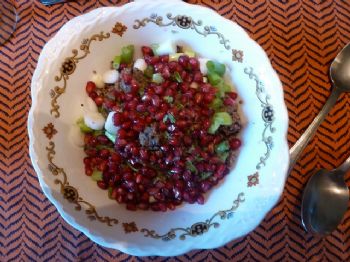 And this was the 'Green Lentil and kidney bean' salad she made for me at lunchtime on Sunday: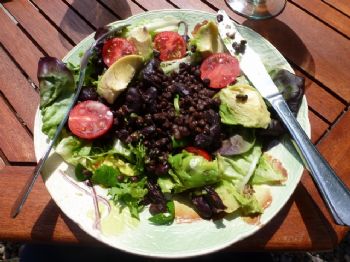 Both were very good. I think my favourite was the 'Jewelled Quinoa' because it went so well with the salmon and broccoli. Also - it had a great vinaigrette which I'll need to ask my mother how to make.

Now to catch up on yesterday:
I met some friends who are over from New Zealand. They have a lovely boy of 6 (nearly 7) and a two month old baby girl. We went to the Botanic Gardens for lunch and a stroll. Lunch became a three course affair (oops) but I DID have my salad!

The starter was delicate little profiteroles with a cheese filling, poached pears and salad leaves: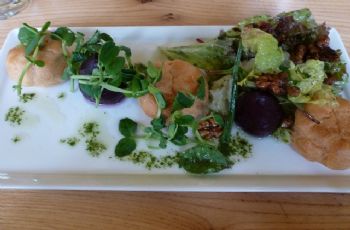 My main course was a 'Goats Cheese and Beetroot' salad and was very tasty. It was topped by one large slice of grilled goats cheese and had roasted beetroot slices mixed through salad leaves with giant capers. Unfortunately, I forgot to photograph that. Sorry.

I'm afraid all this goodness was slightly undone by my pudding (a chocolate and coffee bavarois) but at least the helpings were all small and I didn't eat my cream.

The only other problem was that when I got home my husband texted to say we were going round to our friend Sarah's for another friend's leaving party. I ate pretty small quantities I must say, being still stuffed from lunch! On the whole not one of my best days...