| | |
| --- | --- |
| | LILBLOSSOM's Recent Blog Entries |



Saturday, August 07, 2010
So, a few weeks back I watched "Sugar: The Bitter Truth" on youtube. It's by Dr. Robert Lustig. It's a long and complicated watch, but very interesting. Since then, I've slowly cut down on added sugars in my food. I have also had to temporarily cut out dairy, due to a scan for allergies. I didn't have any allergies, but that has made it that much easier for me to cut down on a lot of calories. I'm trying to stay fairly dairy free. Other than that, I eat normally. I try to listen to my body when I am hungry and when I am thirsty. I only eat something if I REALLY want it. No more eating because I'm bored or tired. The latter has been hard, due to my health issues, but 95% of the time I have done it. Oh, and I stay away from artificial sweeteners. I'd rather eat something full fat, than added sugar or artificial sweetener.

And what has that lead to? Well, I have like NO cravings. At all. Ever. Seriously, I kid you not. I was hungry today, and getting a few groceries at Meijer, and I smelled what seemed like hot cookies. I sniffed, thought: Oh, that smells nice. And then nothing. NOTHING! I had no craving to go get a pack of cookies! Or something else sweet! IT WAS AWESOME!

And yes, at that moment, I polished my angelic halo a little bit. :oD Even now, I'm just happy that those horrible, horrible cravings for sweets and salty stuff, seems to have disappeared. I even had cookies yesterday, from my husbands workplace, I picked up two, and after the first one, I had had enough. It was just so horribly sweet to me. I tried eating the other one (clean your plate mentality) and I thought: Why? It doesn't even TASTE good. Put it down and toss it. And I did. And I didn't feel bad at all.

I'd like to say: I feel awesome! I feel great!

Heck, I AM GREAT! :oD




Wednesday, July 21, 2010
First off, I'm angry at myself for getting in this state! Second, at Fit TV. I recorded a show called "Weight Loss workout" or something along those lines. I figured, hey, half an hour, geared at people who are un-fit. WRONG! I admit, what the lady did, it really had my muscles going, but I kept getting increasingly frustrated with the fact that I couldn't do ANY exercise remotely close to how she did it. And she didn't tell you how to do it if you weren't able to do it her way. I just had to turn the woman off, before I yelled at her. God, I hope my spark people work out DVD comes soon.

I will keep the recording though, so I can do that workout once I tone up some and lose some belly fat. Because I want the satisfaction of "beating" her and being able to delete that show and not feel guilty!






Sunday, July 18, 2010
Whittled down my calorie count today. That feels nice.

And now I'm heading to bed, to get my 7 hours of zzzz's that the emotional eaters says I should get. Though, I'll be short one hour tonight... :o/

Night ya'll!




Saturday, July 17, 2010
So, today I filled out my motivational page. In the process I had to find some pictures of myself or someone else that could work as motivation.



The first picture that popped into my head, was a picture of me that I had showed to my husband when we were last moving. I was 15, I had in a three month period lost approx. 60 lbs. (Not by dieting, I just got very busy) I felt soooo great when it was taken. The gray shirt I was wearing was sent by my cousin from Norway, and the pants I was wearing were so big, that I had to have a belt on. It was an old belt, from my "chubby" period. I had made a new notch on it. If not, the pants would fall off me.

The reason I wanted to pick this picture, was because when I showed it to my husband, he didn't even recognize me. That shocked me, because I didn't feel I had changed THAT much. But I guess I had. On that picture, I was truly happy...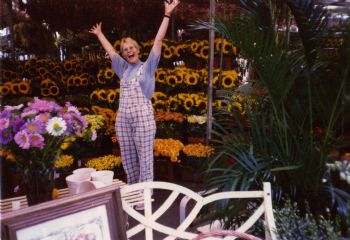 The second one, is of me behind a bunch of sunflowers. My mother LOVES sunflowers, and this was taken especially for her. The pants were unfortunate, and added a lot of weight, but I assure you, I was only 152 lbs on that picture. This is also her favorite picture of me, which is kind of sad. Because that was 15 years ago...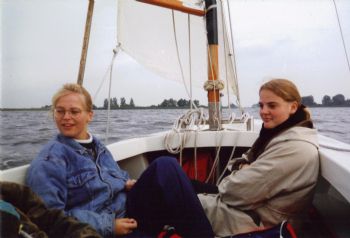 The one of me and my friend on the boat is very special to me too. I was doing my 4th year of HAVO (high school) for a second time around. The girl on the photo was one of a few friends I had. I have never had many friends, and my friend management skills is pretty lacking. Something I'm noticing now... Anyway, the jeans jacket that I am wearing, I had begged and pleaded with my parents about 3 years prior to buy me. At the time, however, I could not get it to close. As you can see on the picture, it generously closes and still has room for a woolen sweater underneath. That's what 60 lbs can do for you, I guess.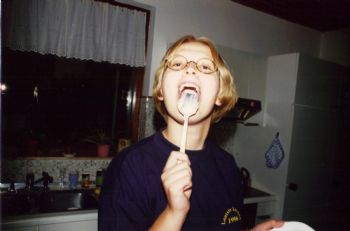 The last one is me, at the night of my graduation from high school, eating whipped cream off a spoon. I didn't have to worry about my weight. I was still around 155 lbs. I had graduated with very good grades, and it was celebrated with a lot of good food. (We had pommes noisettes with baby back ribs and chocolate mousse with whipped cream, yes I still remember) I guess that is how my family works: Everything is celebrated with food. If you're sad, eat something, it'll make you feel better. If you're bored, have something to eat to pass time. Though, the latter wasn't often allowed in my mum's house.

So yeah... It all makes me very sad in a way too, because there are no pictures of me in my mid twenties. The period where I started putting weight back on. Why did I put on weight? Well, the death of my first "best friend" since I was 14, surely didn't help. (My previous one moved back to Australia). I had also lost contact with my friends from high school, which hurt me very badly, emotionally. I felt lost at the colleges I went to. But, after my friends death, my parents had a hard time talking with me about it. His mother, whom I hardly knew, had an urge to talk to me, over and over and over about him... And I felt stuck. I wanted to talk to someone who could help me, and not make me relive it over and over again... I probably should have gotten counseling, but I got Magnms and coca cola instead. Magnums apparently have the same calorie count as a pack of butter. Per. I ate 2-4 a day. Plus 2 liters of coke. Oh yeah... healthy.

So, I started getting chubby. I then continued to struggle with my college education, I had a mentor tell me to, and I quote: Complete my education, but never become a teacher. I was very hurt, and took it to heart. Ofcourse, she praised the girl I was with through the roof. Oddly enough, I had another mentor tell me: I had a knack for teaching, and that I had improved immensely at my placement. But, I just heard the bad stuff. I still can't look at a vacuum cleaner hose without thinking about that... I hold on to negative stuff waaaay too much.

Anyway, then I started playing EverQuest and met my (now) ex there. I dropped out of college and moved to Great Britain to be with him. It just went downhill from there. And continued until I met my husband. I got my act together, and started dieting and exercising. I lost approx 50 lbs.

Then we moved from the US to Norway, and for 2 years it all went downhill again. I ate (tons of) chocolate, I didn't exercise and I had an extremely stressful job. Then I got pregnant, and all I could focus on was how the birth wasn't anything like I had hoped it would be. And how breastfeeding wasn't working. My son did not have patience to suck on a breast where no food was coming out. (Don't blame him there) It still bothers me today, over a year later, that I never got the hang of breastfeeding.

This is getting to become an incredibly long blog post... But it seems to motivate me. I want to become 100% happy with myself and my life again. I am the only person who can complete this goal. Now, where the heck is my husbands bonus, so I can go out and buy myself an exercise bike? I even know the make and brand I want...



1 2 Last Page

Get An Email Alert Each Time LILBLOSSOM Posts