| | |
| --- | --- |
| | LESLIES537's Recent Blog Entries |


Wednesday, February 02, 2011
Well the blizzard hit us hard! My driveway had some huge drifts and it was up to my waist in some places! I tried shoveling, but the wind kept blowing it back in my face and there was SO much of it! It wore me out just to do a patch! I was snowed in and didn't mind at all!



That is, until the boss wanted me to come in! Ugh!



The main roads were fine but it was the neighborhoods that were a mess. Good ole' Dad came and saved the day, though! It wasn't until after noon that he arrived, but he brought his trusty snow blower and cleared my driveway in no time!

Here is a picture of when they first got here. My dad made a path for my mom first....it was funny and oh, so cute!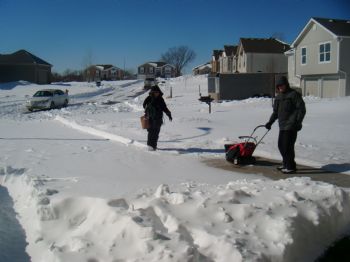 (in her satchel is some chicken noodle casserole!)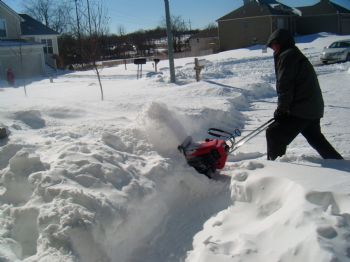 My parents are SO awesome!!! =)

My daughter just couldn't wait to help! She even ventured over to the neighbor's drive to give him a hand.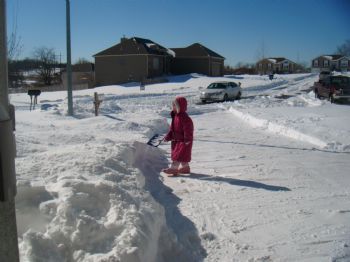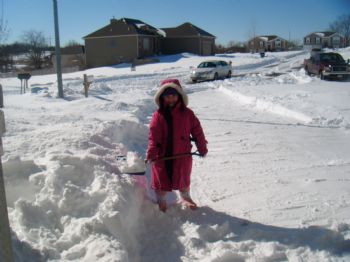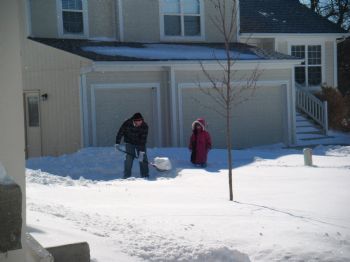 My poor little boy woke up sick today, though. I just had to snap some pictures. Kids are so pathetically cute when they are sick!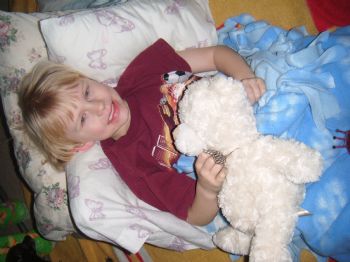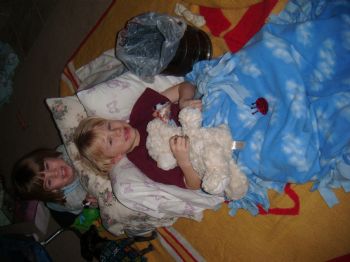 My furbaby couldn't miss the photo op. He is my 3rd child, lol...really though!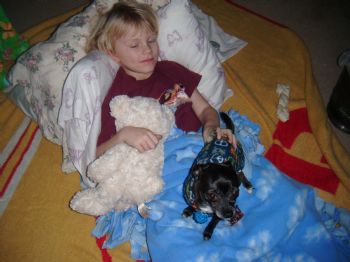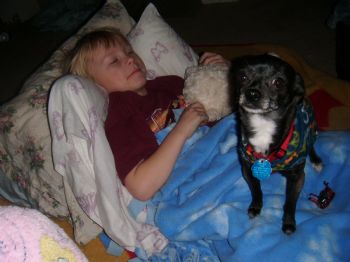 I ended up working for only a few hours while my parents stayed at my house with the kiddos. They enjoyed spending some time together while the boss's practically kissed my feet for coming in. Maybe it's a good time to bring up a raise ;) lol. It was nice to get out of the house, even if it was just a few hours. Kids are cuddled up on the floor on that nice little pallet you see in the pics. I think it's about time for me to join them and snuggle for a bit. Good night!







Tuesday, February 01, 2011
Thanks to the blizzard outside, I'm stuck at home and loving it. I called in to work today and I'm staying inside where it's warm and safe! Boss may not have been too happy but nowadays, if I don't feel safe on the roads I don't drive at all. Better safe than sorry! So now I have a full day to do nothing! YESSSS!

Ok, so maybe there's some things I can find to do...but one good thing is that my house is totally clean. Normally I'd be feeling like I needed to be doing some cleaning, but with everything done, I don't. So nice! I just hope I can keep my house this way! I've joined the website Flylady.com and really love it. It's giving me tips on how to clean my house and is breaking it down into baby steps. We all know how important those are, don't we!?

I've also been enjoying my new Fitbit! It's this little pedometer type thing that I wear on my belt or in my pocket, and it counts how many steps I've taken, the miles I've traveled, how many calories I'm burning through out the day, and my activity level. It even tracks my sleep!! It will give me a sleep efficiency score based on how long I was asleep, how long it took me to fall asleep, and how many times I awoke in the night. All of the data it collects is uploaded to a website where it tracks everything for you, charts it, analyzes it, and can even compare it to other users. It really is a cool little gadget. What made it even more cool was that it was free! Yep, FREE! I used my Visa reward points that I had been saving and used them all on this. Cha-ching...score one for the good guys!! You can learn more about it at www.fitbit.com

So according to yesterday's stats, I walked 5,585 steps, traveled 2.4 miles and burned 2,107 calories! My sleep efficiency score was 89%, it took me 8 minutes to fall asleep, I was in bed for 6 hours and 28 mins, and my actual sleep time was 5 hours and 40 minutes. Cool, huh?!!

If any of you guys are already users, maybe we can be friends on there! I know there's a social networking aspect to the site too, I just haven't gotten started on that yet. I AM tracking my food though! *gasp* LOL For me, this is a biggie! I did it for awhile, but after I learned how many calories were in my favorite foods, I pretty much knew what my caloric intake was and would keep a running total in my head. It helps that I'm good with numbers, too. But with this site, if you log your food it will keep a more accurate count on everything and will calculate your calorie deficit for the day. I just love technology!

Well, that's about all of the exciting news for me for the day. I hope everyone stays safe and warm!

Daydreaming of ----->







Thursday, January 27, 2011
First off, thank you for your votes on yesterdayís blog. I know I donít have to prove anything to anybody but I felt compelled to. Thereís a big part of me that cares TOO much about what others think of me. I know this is something I need to work on and Iím trying!

It was almost as if the person had said, ďI donít believe you.Ē And immediately I went, ďIíll prove it!Ē He negated my feelings and especially all of the hard work Iíve done. I think it was his way of making an excuse like, ďPeople donít really lose substantial amounts of weight, they just resize their pictures.Ē Ok buddy, go on and make your excuses. Itís not ME youíre hurting, itís YOURSELF!

Iím not saying this because Iím still worked up about itÖitís more so because Iím a little embarrassed that I let this guy get to me. I hear people say things that can be perceived negatively nearly every day and most of the time I can just brush it off. For example, ďYou donít need to lose any more weight, youíll fly away!Ē Umm, ok first off, there ainít no way this arse of mine is blowing away! LOL Secondly, Iím not going to stop losing weight to make YOU feel better about yourself! My weight is perfectly healthy and by saying that, you are basically telling me, stop what youíre doing. Iím living HEALTHY and thereís nothing wrong with that! I know my BMI and I know I am just under the overweight mark. I am FAR from blowing away or being sickly and Iím taking care of myself more so than ever before, why stop this?!!

So here and now, Iím announcing what my ticker has already reflected for the past couple of weeks. Iím going to lose more weight and get this, I donít care what any nay-sayerís say! My ideal weight, (according to BMI, height, age, weight, so onÖ) is 137 pounds. We all know Iím far from ďidealĒ lol, but Iím going for it! I'll be perfectly happy if I don't lose another pound, but why not shoot for the stars and reach for the moon?!! I can do thisÖnay-sayers, just WATCH ME!















Wednesday, January 26, 2011
I just wanted to prove something here to the lovely person who accused me of resizing my before image.


This is the uncropped version.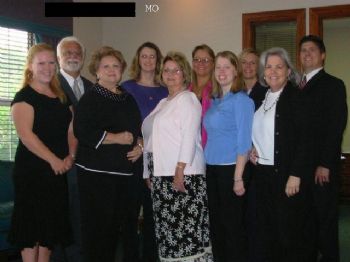 And now the cropped version...





And now the cropped version next to an after pic.




Now you tell me, did I resize it?!! Yeah, THAT'S what I thought!



*takes a bow*





Tuesday, January 25, 2011
Today, instead of doing my usual routine of going out to lunch and spending an hour in my car, I did something different. Something Iíve not done before but have been thinking about for a long time; something that no one even noticed I did. Exercise!!



I went to an empty office downstairs, closed the door and started the timer. First I did a minute of jumping jacks, and then it was into push-ups and sit-ups, then squats and lunges. I did some punches while holding a squat position and then repeated everything again.





Then I proceeded to put my lunch in the microwave and as it heated up I used the counter as my fitness timer and started running in place. It said to cook for 4 minutes and then let cool for 1 minute. So I ran for 4 minutes and considered the extra minute of cooling my cool down time too!




So just after 15 minutes of my break, my mini work out was done and I felt rejuvenated for the day. I felt more awake, more alert, and ready to take on the rest of the day!




Is there any extra time in YOUR day that you could use to fit in just a few minutes of exercise??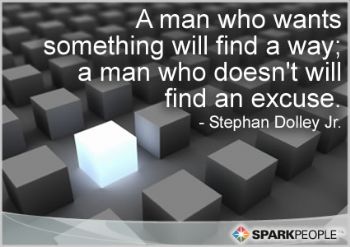 First Page
1
2
3
4
5
6
7
8
9
10
11
12
13
14
15
16
17
18
19
20
21 22 23 24 25 26 27 28 29 30 31 32 33 34 35 36 37 38 39 40 41 42 43 Last Page

Get An Email Alert Each Time LESLIES537 Posts