| | |
| --- | --- |
| | LESLIES537's Recent Blog Entries |


Friday, December 31, 2010












And for a minute there I thought no one would remember my birthday! Silly me! You guys are WAAYYY too awesome for that! Thank you SOOO much for all of my wonderful birthday wishes! Have I told you lately how much YOU ROCK?!!

My kids are super excited about it being my birthday. My son was the 1st to wake up this morning so that he could make sure to turn on the Christmas/"Birthday" lights for me and wish me a happy birthday! It's so sweet to hear your kid say, "Have a wonderful birfday, Mommy!"

So in honor of my 'birfday' I'm going to make a list of "woo-hoos" to celebrate! Why? Cuz it's my birfday and I can! LOL

1. I got 2 pairs of MEDIUM pajama pants for Christmas and by golly, THEY FIT! WOO HOO!

2. I got my first bruise on my hip bone the other day because it actually sticks out a bit now! I was like, OUCH, WHOA.. COOL! LOL I'm so proud of my first hip-bone injury! WOO HOO!

3. I actually have a STERNUM! I think I've been able to feel it before but the other day as I undressed in front of the mirror I was like, "What's that line on my chest?! I felt it and examined it and by golly, I have a sternum TOO….that SHOWS! WOO HOO! Lol

4. I finally bought myself a reward I've been wanting---a HOT pair of jeans with beads and cute finishings on the booty…and guess what?! They're size 8! I was completely satisfied in my size 12's, which USED to be my skinny pants size. But now…size 12's are my fat pants! That's insanely awesome!! SIZE EIGHTS BABBYYY! WOO HOO!

AND…I got the best gifts for Christmas and my birthday! When my parents asked me what I wanted I said anything in the fitness aisle at Target or Walmart…that aisle is like heaven to me, lol! I got a yoga ball, a yoga mat, and a Wii Fit!!! AWESOME!

2011…you better watch out, I'm gonna OWN YOU!

















Wednesday, December 29, 2010
My heart is heavy today knowing that Shannon (TANSHAN1) has lost her battle with cancer. I've been reading over her page and just can't get over how inspiring she was. I became friends with her shortly after I came to Spark and loved her from the second I found her page. She lived like she was living, NOT like she was dying. She had a passion for life and was an awesome leader of The DONE Being the Fat Girl team. Her presence here on Spark touched hundreds of people and has inpsired the lives of many. She said that it "was all about the ATTITUDE" and she couldn't have been more right. Her awesome attitude was contagious, and still is! A lot of you already know her, but for those of you who didn't, stop by her page and check it out. You will leave there a better person.


I'm going to copy and paste the Spark email that I was sent by one of Shannon's best friends:

I think it would be grand if everyone that will, will send out a thoughtful card to Shannon's family. An outpouring of love is what this family needs right now.
There will be a memorial service, (they have not made the arrangements yet). Shannon told me that she wanted to be cremated. I am sure that they will respect her wishes.

Shannon was very close to her Father & sister Melinda.
Please keep them in you thoughts & prayers,

Her address is:
Shannon Buck
270 Baffle Lane
Bismarck, AR 71929

Her Father's name is Bruce Buck if you address it to him in "C/O" he will open it. Also, her older sister's name is Melinda Smith if you would like to "C/O" her.

RIP Shannon --May you be as influential in heaven as you were on earth.

Heaven DONE got another angel today.

Here is a link to her page and an amazing blog of hers:




www.sparkpeople.com/mypage.asp?id=TA
NSHAN1

www.sparkpeople.com/mypage_public_jo
urnal_individual.asp?blog_id=3515643





Sunday, December 26, 2010
Santa was here!!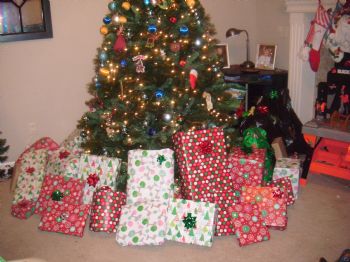 ...and he brought lots of toys and goodies on his sleigh!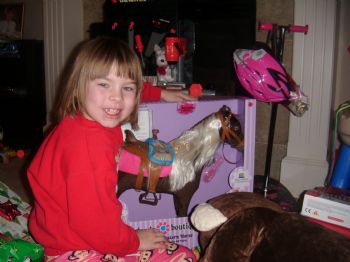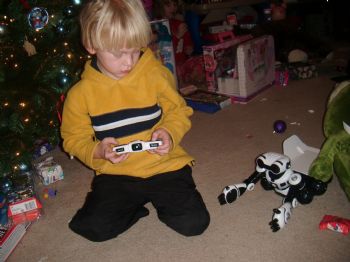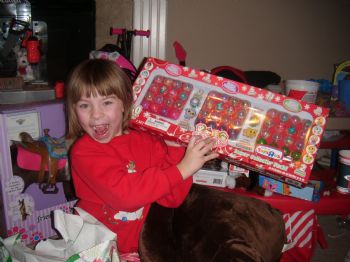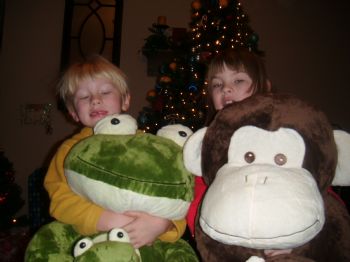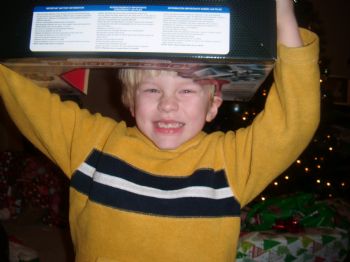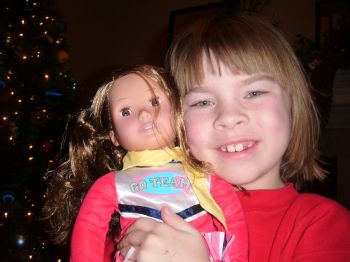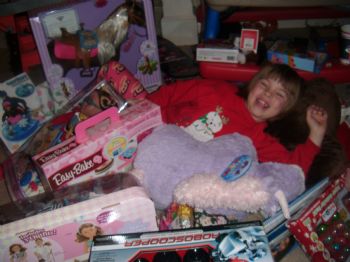 Here's Montana and AnnaBelle (Chris's kids) sporting new clothes and the new hat I got her. They really liked their gifts too!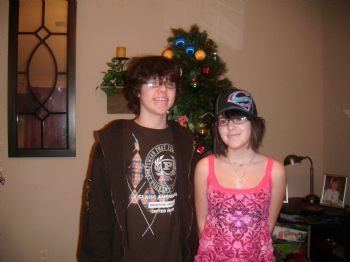 I really tried to go all out this year for Christmas. We even did lights on the house and had Christmas decorations galore! My kids told me that this was the best Christmas ever...which is really what I was going for. My heart smiled.




I hope Santa was good to you guys too! I've missed you and will get caught up on my Sparking when I go back to work tomorrow...just don't tell the boss!






Wednesday, December 22, 2010
First off, thank you for all of the hugs, prayers, and overall support on part 1 of this blog. It's because of the encouragement of this community that I feel comfortable enough to share my story and in turn, heal from doing so. It truly means a lot to me.

There's going to be no big moral to this story or theme to this blog, it's just me putting it out there because I feel like I didn't finish my story. I'd like to think it's going to be inspiring in some way, but it's just about me getting it out of my head and into writing.

So...it had turned from a totally normal day into the biggest nightmare of my life. I was in shock, understandably so. I won't describe the part about seeing him there in the hospital after they asked if had I wanted to. That is one memory that I cannot rehash and really don't need to. But afterwards, probably within the hour...although time seemed to have stood still then and I really have no clue as to exactly how long, but sooner than I expected....the chaplain said that we needed to start thinking about cremation or burial. That question totally threw me off guard. What threw me more off guard was that his mom turned and looked at ME to answer! We had only been together for THREE years and she was asking me to make a decision like this?? Don't get me wrong, I loved this man more than anything in the world. He was my soul mate and we were going to spend the rest of our lives together, but really?!? I thought about it for a minute and said, "Well, I know he wouldn't want us to spend alot of money on him." Everyone seemed to agree but I guess the real decision didn't have to be made right there and then. They just needed to know so that they could embalm him. They ended up taking him to get an autopsy, although it was pretty obvious he had a heart attack...since he didn't have a real doctor they could not state a cause of death without one.

This had been the first of many decisions that I ended up having to make. His mom couldn't handle planning anything so it all ended up on me. I figured this out pretty much when his mom looked to me to make the cremation decision but for sure on the next day, or maybe it was the day after that...but whenever it was that we met with the funeral director for the first time. I figured that Chris would've wanted it this way anyways so I took on that role with pride. I wanted to do everything right, and everything that he would've wanted me to do.

It started with the funeral. And everything that that entails...music, obituary, flowers, pictures to collage and frame...everything. My family was a huge help and ended up doing most of the little things. I ended up doing his hair though. He was a perfectionist when it came to his "do", lol...and I didn't want the mortician messing it up. I prayed for strength before I did it and talked to him the whole time. I could hear what he would say to me in my head. I think I was somewhat out of my body to be able to handle such a thing without even crying. It was just what had become my job...and by God I was going to do it right.

The funeral went smoothly, well as smoothly as can be expected. There were LOTS of people that showed up. Chris was a very outgoing person and had made alot of friends. The friends he made he kept and he'd make more throughout the years. I think they all showed. It was a wonderful outpouring of support.

The one decision that his mother made was to hold off on the burial of the ashes until it was warmer and better weather. Okay fine with me. I had just gone through all of the planning on the funeral and if she wanted to take care of something, then thank goodness. Well...three months later it still hadn't happened. The therapist that I saw one time said that it needed to be done as soon as possible. Until it was, I would not get the closure that I needed. I called and called his mother, and after days of being put off I knew I had to plan this too. So I picked a date and said be there or be square...(well not really, but basically lol) It ended up pouring rain the whole time and we had to stand under umbrellas. I didn't care at all, I just wanted to get the closure and get it out of the way. In a way it was humorous....kinda like Chris saying, you waited all this time for better weather eh?...well you didn't know I could control it now! lol I've always believed that it's like the angels crying when it rains as they bury someone. It was like a sign from Chris that said I'm here for you and I'm going to do what YOU want..cuz obviously you're the boss down there. :) hehe

Then there was the decision to put some in an urn, and what kind of urn, and who would keep it, and what would we do with the ashes. Well, my decision...again....was to bury some of them, (done), wear some around my neck in a necklace, (sooo not creepy by the way. No one can even tell this necklace contains ashes. And, I get to keep him close to my heart this way :), and the rest were going to be spread in the ocean. I had had an epiphany and remembered a conversation with Chris awhile back where he had said just to spread his ashes in the ocean or in a national park. Preferrably the ocean. As soon as I remembered that I booked my flight. I knew a friend in Florida and she unselfishly offered me a place to stay. I took a week off of work and flew there all by myself...well, not really...I had his urn. Which was weird carrying on the plane by the way. I had to get a note from the funeral home that it contained ashes and it had to be in a certain box. They still had to open the box and make sure it was what it was because I guess the exray couldn't see through it. I mean cmon people, I'm not a terrorist here, it's just some ashes, can me move on now? Anyways, off to Florida Chris and I went.

Taking this trip was one of the most healing things I could've done. It was so empowering to be able to do such a thing all by myself. If I could handle this, I could handle living on my own. I said my goodbyes once again as I did what I set out to do. I wrote his name in the sand and I prayed for his presence to make me strong. He sure followed through, because I didn't shed a tear. I even threw away that urn with authority like, I'm done. I'm done with holding you inside, keeping you to myself, and bearing all of this weight upon myself, be free, be free Leslie. Move on to the next chapter in your life and stop worrying about planning. You are done now. You've fulfilled his wishes, it's time to "do you."

So with that, the healing began. That was my final closure, not the funeral, not the burial, but the spreading of his ashes. I started appreciating life to the fullest and carrying a whole new attitude.

I now appreciate that I have to wake up to that annoying, noisy, obnoxious alarm clock because I know that some people didn't get the chance to this morning. I don't mind doing the laundry because I'm thankful we have clothes to wear and bodies to clothe. I don't mind working a crappy paying job because I know there's more to life than money. I don't mind doing dishes because I'm thankful we have food to eat and bodies to nourish. In short, I don't sweat the small stuff. Life is too short to. There's a bigger picture here. I have a whole new perspective on things and I've become a better person because of what I've had to go through. Just think of where I was a year ago and where I am now. The best is yet to come...I have to believe that. I DO believe that....because I will not have it any other way.





Wednesday, December 22, 2010
This date, December 22nd, is when my beloved boyfriend and the only man my children knew as their daddy, passed away two years ago. It started off like any other day, well actually he had gotten up before I had to help prepare a cheeseball I was bringing to work. Usually he would've slept in since he didn't have to work, (Outside concrete labor), but instead he got up early and made sure the dish was ready. (he was awesome like that :) He handed it to me and we kissed goodbye, said I love you, and out the door I went.

My lunch hour rolled around and I called him as soon as I was on break to tell him that his chocolate-chip cheeseball was a hit and that everybody wanted the recipe. He got a good kick out of that and jokingly said he doesn't give out his recipes. I talked it out of him, told him I was gonna grab a bite to eat and that I'd call him in a little bit. We said I love you again and said goodbye. 30 minutes later he called back. He sounded horrible and said that he needed to call an ambulance. I said do it, and I'm on my way. What hurts? "Chest pains." K, on my way.

I drove like a bat out of hell the whole way home. I made a 20 minute drive into a 10 minute one. The ambulance beat me, thank God. When I rushed up the stairs there must've been a dozen paramedics working on him. They had the table pushed back by the Christmas tree and Chris was laying on the couch. I couldn't get to him, but the minute I got to the top of the steps he looked backwards to see if I was there. He looked awful. He was holding his chest and his legs were wreathing in pain. His eyes would look around but the pain was so intense that I think he was only half-way there.

The paramedic got the heart reading and said they needed to get to the hospital now. They weren't being panicky for Chris's sake, but I knew it wasn't good. The paramedics started to clear out and I was finally able to get close to him. I immediately grabbed his hand and squeezed it hard. He opened his eyes and looked at me for a second....but he didn't squeeze back. Quickly I went and brushed his brow...he was clammy and sweaty. This was not good. I told him I loved him. That's all I could say. Then he was quickly moved to a backboard and brought down the steps. I stood there at the top and as he was carried down and our eyes locked. He looked terrified. Half-way down the stairs I was able to blurt out, "I'll be right behind the ambulance. See you at the hospital." As soon as they got him in the ambulance he suffered from what we would find out to be his 3rd heart attack in a row, the massive one that stopped his heart for good.

I had no idea as I followed the ambulance and frantically called his mom to meet us at the hospital. Once we got there, we were escorted to a small room. The first person to join us was a chaplain. About 15 minutes passed and finally a doctor came in to update us. He told us that he didn't know if we knew this or not, but Chris's heart stopped beating in the ambulance. They were doing everything that they could right now to revive it.

The next hour was the longest hour of my life. I paced the room and prayed harder than I'd ever prayed before. I watched that clock and would look at it every minute it seemed. As time kept going by with no word from a doctor, I prayed even harder. An hour later another chaplain came in. Then two doctors followed a few minutes after. They told us that they thought his heart had been pretty weak and that it was not able to be revived. He had died. I immediately dropped to the floor. His mom started yelling, and all I could do was keep saying no. The doctor would look back and repeat yes.

The whole next week is a blurr. My soul felt like it had dropped out of me. I couldn't sleep, I couldn't eat, and I'd throw up several times a day due to anxiety. I lost 20 lbs in 3 weeks just due to lack of nutrition. I was a complete and utter mess.

But through the help of God, family and friends, I survived. I made it through the next year taking it day by day, hour by hour, and even minute by minute in the beginning. I knew that God wouldn't put me through more than I could handle, and I was right. Time doesn't heal all wounds, but it does help. I'm encouraged to know that he would want nothing more than for me to be happy and have done my best to move on with my life. It's still hard at times, but I am stronger now than I ever have been before. I'm not the same woman I was before, I'm a better one.

On this day of remembrance, I just want to encourage one thing. Reach out and tell your loved ones how much they mean to you by simply saying, "I love you." Whether it's your mom or dad, husband or wife, son or daughter, friend or colleage, tell them. I know it sounds cliche to say but it's so true---tomorrow it may be too late! I am SO THANKFUL that I was able to tell Chris that I loved him THREE times the day he died. This has turned out to be something that I'm forever grateful for. So don't wait another minute, tell your loved ones how much they mean to you and squeeze them a little tighter tonight. It may be the last time you'll get to.

~RIP Christopher ~

"The Broken Chain"

"We little knew that day, God was going to call your name.
In life we loved you dearly, in death we do the same.
You did not go alone, for part of us went with you, the day God called you home.
You left us beautiful memories, your love is still our guide;
Tho' we cannot see you, you're always at our side.
Our family chain is broken, nothing seems the same, but God calls us one by one, the chain will link again."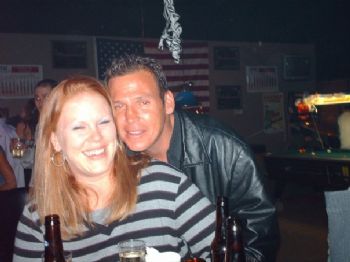 I love you, Chris.



First Page
1
2
3
4
5
6
7
8
9
10
11
12
13
14
15
16
17
18
19
20
21
22
23 24 25 26 27 28 29 30 31 32 33 34 35 36 37 38 39 40 41 42 Last Page

Get An Email Alert Each Time LESLIES537 Posts