| | |
| --- | --- |
| | LESLIES537's Recent Blog Entries |


Wednesday, December 08, 2010
I was just going to blog about how I wasn't going to let this my Christmas cheer be affected by grief this year. Then the pharmacy calls and asks for Chris and proceeds to tell me that his prescription is ready for pickup. Do what?? HOW DOES THIS EVEN HAPPEN? How does a doctor, of whom he didn't even go to, call in a prescription for a dead person? It was his date of birth and everything!?! WHAT THE...? I'm shaking with disgust right now.

All I want to do is enjoy my holidays and not be reminded of the tragedy that turned my whole world upside down almost two years ago. It's not helping that the anniversary of his death was just 3 days before Christmas. AND, it doesn't help that he was going to make me the happiest woman in the world on Christmas day by proposing to me.

What does help you ask? The support and encouragement of my dear Sparkfriends. So if you don't mind I'd like to ask that you might say a little prayer for me. Please God, show me that the holidays can be filled with joy and love. Amen and thank YOU.








Monday, December 06, 2010
Had an AWESOME time this weekend and at the concert. Shinedown was absolutely amazing. I've seen them twice before but this show had a different atmosphere and energy to it. It was all acoustic and they called it their "Anything and Everything" tour because we could ask them anything and they would tell us everything. They took questions from the audience and after every song the lead singer would give a commentary. He would introduce each song by telling us how it came about and what inspired them to write it. He was honest and completely inspiring. Not often does a band who has sold over 400 million records step down from their pedestal and give back to their fans like this. I was awe-struck and engrossed in every minute of their performance. It was by far the best concert I've ever been to! And I was even sober! lol JK! Really, it was so flippin awesome...and they even played OUR SONG! Neither one of those times I had seen them before had they played it...but this time they did! AND...it was the 2nd song in their encore so the anticipation had made it that much more exciting. Then...they followed it up with the song that has provided me with more comfort and hope than anything has this last 2 years...the song "Second Chance." It was just meant to be. To top it all off, they played a cover song by the band Foo Fighters. This song in particular had special meaning to me already and I had no clue they were going to play it, or shall I say, that Chris was going to play it. This song was something that symbolized the moment I decided to let myself love again...the time I had decided that it's okay to date someone and that I was ready. I don't see signs that often but when I do, I cannot ignore them! Chris's presence was all over that concert and I believe that he sent me his approval once again. It's an indescribably awesome feeling.

The kids had a great time too and enjoyed meeting the boyfriend for the first time. This was big for us...well for me anyways. To introduce them to another man that I'm sharing my heart with was and is a big deal. With his approval though, I know I'm doing all of the right things. Though my heart told me before, I've again been shown and proven it again.

All in all, it was an amazing time! Plus, we got into town early enough to enjoy a couple of attractions. We drove to a close-by town which is a big tourist attraction here in MO, (Branson), and AnnaBelle had never been there before so she was snappin' pictures left and right, lol, it was cute. We went to a wax museum and I had a little fun with the camera. This is me being silly....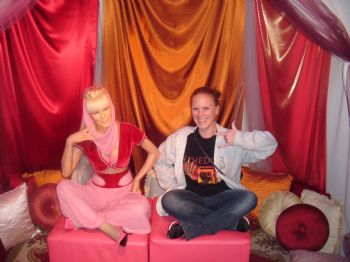 Me and Hef....hubba hubba




And me and Forrest...(my girlfriend and I laughed so hard at this one our tummies hurt!)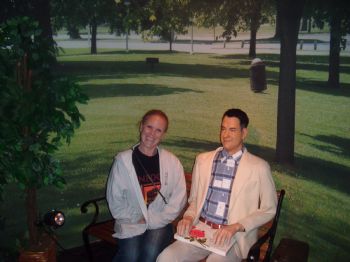 Here's a couple from the concert. Wish I had a better zoom but you didn't have to be close-up to feel their energy!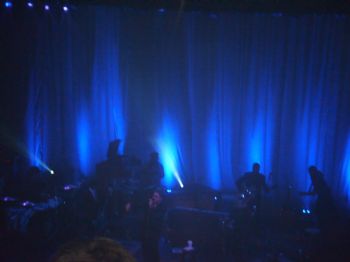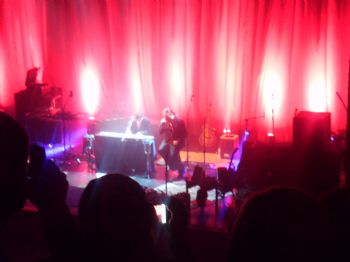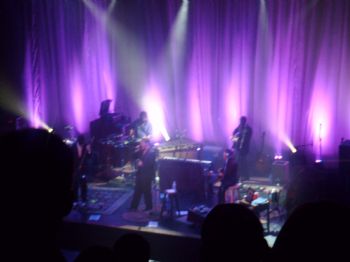 It was truly an experience I will NEVER forget!

Anyways, thanks for reading! Talk to y'all later! XOXO

Oh, and here's a link to that song I was talking about...Second Chance


www.youtube.com/watch?v=H25ORRgLxdA





Friday, December 03, 2010
This has been quite the week! I reached goal weight, became a Spark motivator, AND had a blog voted MPB! I'm still getting comments left and am a bit overwhelmed by all of the responses! I've gotten over 400 comments already and they are still rolling in! WOW! There is NO DOUBT that this Spark Community is filled with wonderful, supportive, and positive people. I LOVE IT! I wish I could respond to everyone but there's just not enough hours in the day for that. Sometime I'll be able to sit down and read through them all but it seems they come in so quick I can never get caught up! lol I'm sooo not complaining though. I love the responses and think it's awesome that people are taking the time to congratulate me. I feel so loved!




This weekend should be a fun one and I'm really excited about it. I'm taking the step kids to a Shinedown concert. They are thrilled! This band became their favorite after I chose one of their songs to play at their dad's service. The song was "Simple Man", the acoustic version. Funny story--their mom said that the next day after the service she woke up to the kids blasting this song in their room. She thought, "Uh, oh! Meltdown time, I better check on them!" But when she did they told her that they looove this song now. Shinedown became their favorite band and I think their music has brought them some comfort through this whole ordeal. When I heard that Shinedown was coming to town I thought that this would be a perfect thing for us to do together. Well, they sold out in 20 minutes but I did get tickets for their show the next night in a city that's about 3 1/2 hours away. So it's road trip time! Wahoo! I think this is even better b/c we'll get that whole time in the car to chat and do some bonding.

So if I'm not on Spark much this weekend that would be why! I'm out rockin w/ the kids while their dad smiles down on us and says, "I'm so glad you are together."



Have a wonderful weekend my besties!








Wednesday, December 01, 2010
I just wanted to take a quick second to tell you how much this recognition means to me! Not only have I reached my goal weight but I've been nominated as being a SparkPeople Motivator!!!! I secretly set this as a goal of mine and honestly, reaching this goal has been even better than reaching my goal weight! Yesterday I was on cloud nine, but today I'm on cloud like 231! lol To know that my blog and my success is motivating people around the WORLD, well, it's AWESOME! It's an incredible feeling! I even cried tears of joy and self-pride! This has got to be one of the best days of my LIFE! So from the bottom of my heart....I THANK YOU, each and every one of you, for blessing my life and making me the happiest Spark girl in the universe!!
















Tuesday, November 30, 2010
I woke up feeling a little lighter today so I decided to brave the scale. I knew I had been close to goal weight but thought for sure I had ruined my chances of reaching it this week after all of the Thanksgiving yumminess. After I stepped on the scale I had to rub my eyes and and pick my jaw back off the ground! COULD IT BE??!! 150.4 BAM, GOAL WEIGHT! WAAHHOOOO!!!!



HAPPY DANCE TIME!!



I DID IT! I actually did it! I lost 40 pounds!!!!! I met my goal! That goal that seemed out of reach; That one that I thought was never possible...Well, IT WAS! I REACHED MY GOAL WEIGHT with Spark People!! Woooo hooo!










So now for the fun part! Here are the "before" pictures that I've managed to get together. I'm the one on the right in the first picture.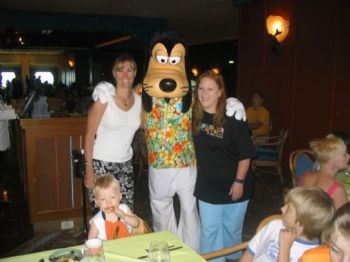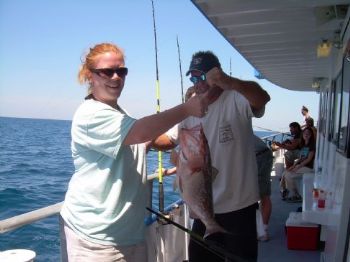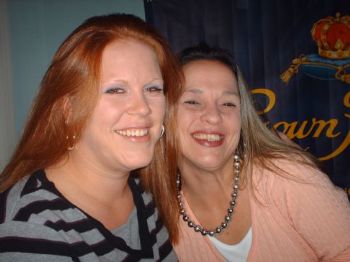 And now for the "after"!!!!!!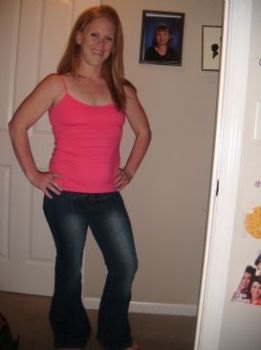 My daughter had to take part in the action! My 6 year old did pretty well taking this one!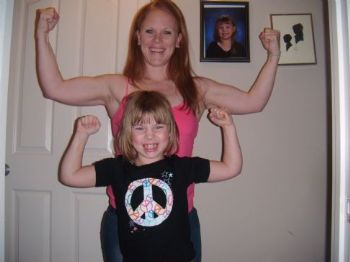 These are my OLD pants!!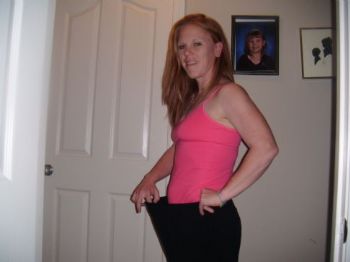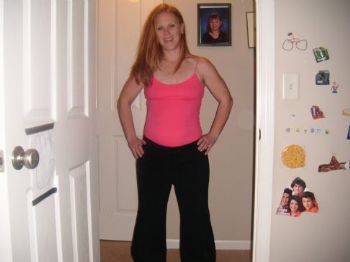 BYE BYE 40 pounds!! You're out the door, to da curb, GONE FOR GOOD!!





First Page
1
2
3
4
5
6
7
8
9
10
11
12
13
14
15
16
17
18
19
20
21
22
23
24
25 26 27 28 29 30 31 32 33 34 35 36 37 38 39 40 41 42 Last Page

Get An Email Alert Each Time LESLIES537 Posts