| | |
| --- | --- |
| | LESLIES537's Recent Blog Entries |


Friday, November 05, 2010
I FINALLY updated my info on my Spark page. I still need to work on my "goals" and "my program" but I got the main stuff updated. It was really needing it. What do you think??

-Reclaiming My Life!


Hi, I'm Leslie! I joined Spark People after a new year's resolution to 'Reclaim My Life.' I had gained a lot of weight from emotional eating and was extremely depressed from losing my hubby-to-be to a sudden heart attack. I decided that I needed to make a change not only for me but for my children. They deserved a happy and healthy mom who wasn't consumed by depression and grief. It was apparent that the best way to help my children through their grieving process was to address mine first and set an example for them. Monkey see, monkey do!

I found Spark People and the rest is history! This community has shown me support and encouragement like I never imagined was possible. It has inspired me to become the best that I can be; mind, body and soul. I'm now a confident and HAPPY person who ENJOYS life! I have seen remarkable changes in my children and truly believe that this is a reflection of MY happiness and my direct efforts to better myself. I'm forever grateful for all of the love and support that my Spark Friends have provided. I strive to pay it forward the best I can and inspire others as they have inspired me. I LOVE SPARK PEOPLE!

"Dream as if you'll live forever, live as if you'll die tomorrow." ~unknown author

"And in the end, it's not the years in your life that count. It's the life in your years." ~Abraham Lincoln

"You don't get to choose how you're going to die. Or when. You can only decide how you're going to live. Now." ~Joan Baez


Edit: Okay so I changed it again...that's me, the indecisive one! lol Atleast I have this blog so that if I want to change it back I just have to copy and paste it! =)






Thursday, November 04, 2010
I came to a realization that there is one huge non-scale victory that I've neglected to share! The office Culligan water consumption! You see, when I started my journey with Spark I immediately picked up the habit of drinking at least 8 glasses of water a day. Every day I walk to that water jug and fill up my water bottle 3 times and sometimes more. Once I lost a considerable amount of weight I noticed that one by one, my co-workers were starting to make more frequent trips to the water jug! I now have several other ladies who carry around their water bottles and visit that water jug religiously!

At the beginning of the year we would only order 3 water jugs to make it through an entire month. After I began my water chugging it got upped to 5 water jugs a month. As people starting drinking more we even ran out of jugs! That was a first!! We used to have jugs that would collect so much dust that I literally would have to check them to make sure that they hadn't expired! And now we're running out?! Wow! So this last month the boss told me to up the order to 10 WATER JUGS!! Really?!! SWEET!

I did a little math and figured out that I drink at nearly 4 jugs of Culligan water a month! That's 3 gallons a week for a grand total of 12 gallons a month! My good habits have worn off on others not because I was preaching to them or telling them what to do but because I set a good example for them. How awesome is that?!!

What examples are YOU setting for others?


















Sunday, October 31, 2010
This weeks goals were to complete a motivational collage and to exercise 3 times. I'm happy to report...



I even stepped it up and tried Level 2 on Jillian's 30 Day Shred!



AND...When my kids asked to play tag they were surprised to hear me say, "Okay!" There we went, running circles around the house for a 1/2 hour, giggling and having a blast! My son even commented, "Look at mommy run!" LOL They're not used to me getting up and being so active with them! I LOVE being able to exercise and have fun with my kiddos at the same time!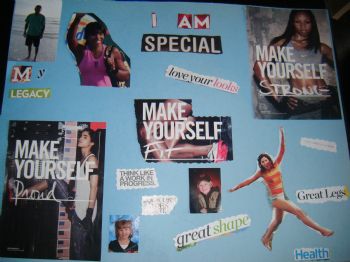 Thursday, October 28, 2010
'Tis better to have loved and lost
Than never to have loved at all.
~Alfred Lord Tennyson

Love is never lost, it's only to be found over and over again. Finding and experiencing love teaches us to have faith in ourselves and others. It builds our character and defines our individuality. Love fills our lives like a beautiful garden fills our soul. Without ever experiencing the joy of love, we would never be able to expand our capacity to love in a healthy and lasting way. We may feel heartache sometimes, but a little rain will make our garden of love thrive and flourish in our future conquests.

All the joy, happiness, compassion, empathy we feel derives out of love. All the fear, pain, and heartache we feel sometimes originates from love also. If you never had loved or cared for this person, you would have never got to experience all of these emotions. Life is about experiences. both good and bad. Thats how we learn and grow to become wiser. Wisdom is priceless. Knowledge brings ways to build upon the idea that love can conquer all in any situation.

You may in life lose a love that you thought would be there till the end of time, but you never would have had the chance to learn that this may not be the right path to your true happiness. Life's journey may lead you in many directions for just the simple fact of teaching you little lessons and ways to cope with larger losses in life. Life can bring you down really fast sometimes, just so it can bring you right back to the top.

Love is a gift and you should never turn down the opportunity to learn something new about yourself. All your losses will eventually turn into rewards. You will gain a new understanding of the way love can transform your thoughts and feelings. How quick you or someone else can change their mind about pursing a relationship can alter the outcome of your destiny.

Every step a person takes in life is made with an unknown outcome. Every person we come in contact with is teaching us some kind of lesson. Pay attention!! It's happening for a reason. Their mere existence in your life is telling a story. Love lost will be love gained in the long run. Everything you learn through lost loves is building a foundation and preparing you for the next love of your life. We just need to have faith that through whatever losses we may encounter, our love inside will guide us to our perfect destination.

By author Emily Whitlow





Wednesday, October 27, 2010
I had to make a trip to the emergency room yesterday. I got a call from the school nurse saying that my daughter had fallen on the playground and her foot was hurt, swollen, and may need to be x-rayed. Like any mother, I rushed out of work in a panic. I sped the whole way to pick her up and rushed her in the ER like a mob of mad men were chasing me. It ended up just being a sprain but the Dr. said that a fracture could still show up in 3-4 days when the swelling goes down. Iím to follow up with her regular Dr. if she does not improve by then. She was told to rest for 24 hours but after that she wanted her to begin to put weight on it. My daughter is such a trooper and was very brave through out the whole ordeal. Thank God for no broken bones!

The whole rushing her to the ER and going to that hospital was like a trip down memory lane. Speeding down the same path I did while I rushed to my boyfriends side nearly 2 years ago, then taking her to the same hospital and even passing that same room where I bellowed the loudest, most heart wrenching cry of my life, throwing myself onto his lifeless body which had just held me mere hours ago. Yeah, it was hard. Nothing I couldnít handle though. Just drudged up some memories and therefore made him heavy on my mind.

Then I get to work today and hear that a customer of ours had a heart attack. I gasped at first. Then my coworker proceeded to tell me that he was fine, he had survived. They put a stint in and he is recovering nicely. I shouldíve been relieved but I just felt spiteful. How come he lived through a heart attack and my loved one didnít? How come this older man with no children was given a second chance while my 38 year old fiancť with 4 kids was not? How come I have to explain to my children how Jesus can rise from the dead but their father cannot?

Iím being selfish and stubborn and I know it. I just still canít understand why God gives other people who seem less deserving second chances and why the good have to die young.






First Page
1
2
3
4
5
6
7
8
9
10
11
12
13
14
15
16
17
18
19
20
21
22
23
24
25
26
27
28 29 30 31 32 33 34 35 36 37 38 39 40 41 42 43 Last Page

Get An Email Alert Each Time LESLIES537 Posts