| | |
| --- | --- |
| | LESALIESTEELE's Recent Blog Entries |


Tuesday, December 20, 2011
"...you didn't train hard enough!"


Push-up Variations will never be easy. This is what I decided today as I held my body in the air, stomach tucked in, shoulders burning... and watched a drop of sweat hit the floor. They will never be easy, you know why? Because when the 6 i can do get easy, then i will do 7. When 7 becomes simple, I will do 8. I'm not doing it to make it easy, I'm dropping down onto that wood floor to become stronger, I'm busting my rear at the gym so that I can be proud of myself. Being healthy will become a habit, but it will never be easy for me.

I see too many people who have their eyes set on one prize. The number on the scale. Now, do not get me wrong, i do weigh myself... and the number is very important to me! However, I watched a very good friend of mine drop 65 lbs, and at the end of her weight loss journey, and the beginning of mine, i could do more push-ups than her. She had focused solely on losing weight, and not on building her strength, she focused solely on eating what she had to for however long she needed to, to lose the extra weight.

For me, I cannot wait until the day the scale shows 150lbs. BUT, i also cannot wait until the day I can complete a pull-up. For the day I complete my first 5K... (and run the whole time.) For the day I can go through my entire Tone-n-Tighten class and not stop once.

This is my testimony to all of you who believe that lifting weights is for the crazy body builder. Guess what? You, no matter what weight, no matter what strength level, are a body builder. Lifting will become an addiction, you can build muscle while increasing your cardio... and to add to it, you burn more calories while sedentary if you have lean muscle mass, than you do if you are focusing solely on cardio. "Burn more calories while i'm sleeping?" You say.. YES YES YES!!! Its pretty darn amazing. I kinda was super excited when i heard that news! Boom! There goes that chocolate kiss i ate earlier ;P

Here's another benefit to lifting. On those weeks when you wake up in the morning excited to step on the scale because you have been working hard, you get on... and there's no change! Instead of going to your freezer, dishing out some Rocky Road, and plopping down to watch endless reruns of Bones, you can then look in the mirror and say, "wait a second, when i cross my arms, there's not that roll of flab on my elbows"..."my shoulders have definition"..."my wrist seems smaller" Those small changes have kept me more motivated lately than the number on the scale. I take pride in standing in front of the mirror and flexing my arms, and you should too!

I saw a quote a couple days ago that said "don't stop when you're tired, stop when you're done." If you're like me, you have to repeat this to yourself over and over, (and over!) again when working out. Today, at about push-up/plank variation number 5 i was pretty damn convinced that my arms were going to fall off. They were gonna give out, I was going to face plant, and they'd have to call my emergency contact to come peel me off the floor. I then whispered this to myself... It was hard but i completed one more variation... I was tired, my arms were tired, my abs, my legs, my brain was tired from the little mini pep talks i give myself... but i was NOT done. I had 6 to do, i was physically (barely) capable of doing 6, and i was not going to be done until i did all 6. Do not let your brain give out before your body does, stop when you're D.O.N.E... you have the rest of your life to be tired.

Ahhhhhh there was my venting/ranting/rambling for the evening. Thanks for listening! And.. since i know you are all going "Hey lady, got some pics?" Here they are! 6 lbs down since my last blog, more muscle definition ;) lifting pays off!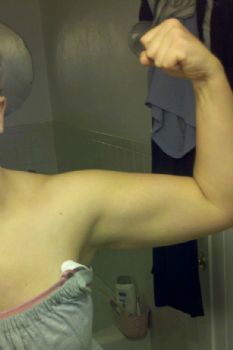 Hello shoulders! I knew you were down there somewhere!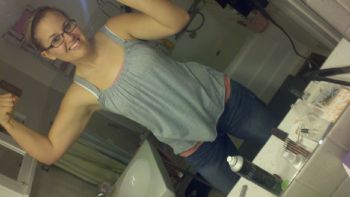 because, i don't mind my own reflection so much anymore!


long, lost shirt. It fits.... again! :)






Thursday, December 01, 2011
This is my first blog, even though I've been a "sparker" for 2 months now. I've always liked writing, I have just been wondering what to write about...for that long! I wanted to INSPIRE you. IMPRESS you. ENCOURAGE you. But here's the deal... my thought process has been: " I'm not at my 50lbs gone, 5k ran, size 7 jean inspiring part of my life yet. I'm not to my killer calves, rockin' shoulders, impressing part of life yet.I'm not at the 'I know exactly what you need and what you've been through,' encouraging part of my life yet."

And that's when I realized. When that time comes, I might be those things for you... a little bit. But mostly, the people i'm going to impress when i get to that point are the people who have never been through weight loss, they look at the end result, and are inspired, impressed, encouraged. While, my fellow sparkers, look at the journey. You know each struggle, each feat. You know how big of a deal it is for my collarbone to finally be surfacing, for my legs not to shake after 5 lunges, for my jeans to "seem" looser, even though they may not be. you know the pain.

So here's the thing. I ran 1.5 minutes today at 6.5mph... stopped and WASN'T out of breath. I did 3 complete (not girly) pushups after holding myself in a plank for 1 minute. After every fitness class this week I have stayed after at the gym and pushed myself even harder. I walked away from the most delicious looking cinnamon rolls this morning. I completed 1 minute of situps on a decline bench and actually SMILED afterwards. So, even if you are not inspired, impressed, encouraged... I am all those things to myself now.

I try not to "toot my own horn" but lately... i've done some bragging. I got down on the kitchen floor earlier to show my father the plank/scorpion set i have been working towards. I challenge my boyfriend to arm wrestle (i lose, but still!) and I love to inform my family the day i move up a pound with dumbbells. I am confident in myself for the first time in a LONG time. I'm not where I want to be, but where i'm at is okay too. I am working towards a place I want to be, but that doesn't mean that i can't enjoy the journey there. SO, here i come size 14 jeans.... here i come 8lb dumbbells, and here i come 5K....


Also, I've noticed that it's hard for the people who see me everyday to notice the weight loss. They're there with me everyday and my weight practically crawls (as sluggishly as it can) downwards. My mother knows my numbers because i tell her, and every once in a while tells me that there definitely is 'less' of me... so i decided to pull up some pictures so that YOU can see the difference.

I hope you enjoyed my first blog! :)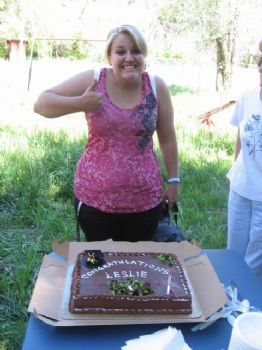 ---This is me, May 2010... right after i graduated high school (205lbs)
(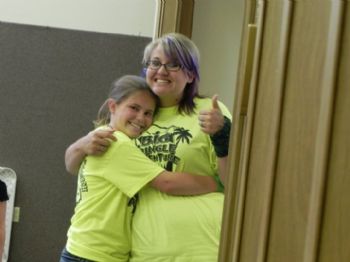 ----This is me June 2011 (208lbs)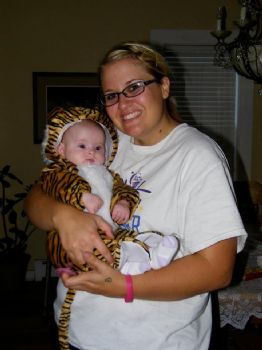 ----Halloween 2011 (195lbs)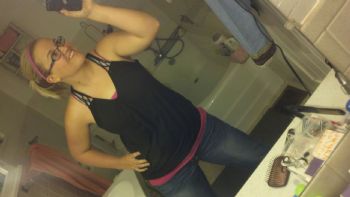 ---(excuse my messy bathroom) 2 days ago (192lbs)






1

Get An Email Alert Each Time LESALIESTEELE Posts