| | |
| --- | --- |
| | LDRICHEL's Recent Blog Entries |


Tuesday, November 13, 2012
Hey, loyal SparkFriends!

Thank you so very much for checking in with me and leaving me such kind and wonderful messages. I apologize for dropping off the face of the SparkPlanet. Yes, I've been out of town with work and things have been busy. In addition, I'm dealing with some pretty big changes in my life that have left me on a rather difficult emotional roller coaster over the past couple of weeks.

I can't go into detail right now (but I will be able to eventually...patience). I will just say this: I'm on track with training. Took a 2-mile bike ride with my 7 year-old on Sunday because it was 70 degrees in Indiana in November...WHAT?! She actually taught herself to ride a 2-wheeler JUST so she could ride bikes with Mama on the trail. Such a precious little girl!

Yesterday, I had my first swim in quite some time (since just after the half marathon). It was EXACTLY what I needed!!! It just felt so wonderful and natural and I could have stayed in that lane all day...but, alas, had to head to work at some point. I feel like swimming brings me to a place of tranquility...even moreso than running. I posted a FB status yesterday that said, "Something about putting on the suit and getting in the water causes all the fear, shame and despair to just fall away, even if only for half an hour. *SIGH* This is my therapy."

That was actually a lie, though...cuz I am seeing a new therapist for a first visit this afternoon. Haha. Hey...we all need help. And, with what I'm dealing with now...I need some real emotional help...someone just for ME! There is no shame in that, friends. Best part is...I'm only $130 from my deductible, so after this first session, it's pretty much free. That was a sweet little gift from God. I had no clue I was that close on my deductible!

This morning, I had my very first 6:30am spinning class. It was wonderful. And...truthfully, another chance to zone out and just forget the world. So, you see...I'm using my training as an emotional and mental escape. It's time dedicated just for me...time where I can just stop worrying and crying for awhile. Time to build what is strong inside of me...physically, mentally, and emotionally. THIS is what fitness is about! Forget the stupid scale! It keeps me sane!!!!

My Prep Phase of my training year is in full swing and that means 5 hours training per week until December, when the hours increase a bit. I've rigged it so I'm getting some swimming, spinning, and weight training in. My body will be so thankful after a few weeks of this. I'm very thrilled about this.

Plus...the schedule and regularity of it all is going to help me through all that is going on in my life.

I'm so glad I started when I did...so that I'd be addicted to health at this point, when everything is hitting the fan. Why? Because, if I would have been a "newbie", all of this would have been one huge excuse for me to give up. But, instead...being somewhat "seasoned" with working out and making healthy choices, it is one of the key things that will pull me through.

I don't know about you guys...but I think that's pretty amazing.






Monday, November 05, 2012
My dear friend, SNEVIL1, just got into the 140s for weight. I made an off-hand comment that she is at my goal weight and I still feel like I have SO far to go. She looks and feels amazing and I'm so proud of her.

She's a math teacher and she had a quick response to my comment, which completely made my entire day. WOW. Thanks for the perspective, friend.

Thought I'd pass it along to all of you as well. You guys are making miracles happen every day, you know.

"Don't think about how far you have to go... think about how far you have come. You are a runner! You ran a freaking half marathon!

Let me hit you with some math.... in 2011 1.6 million people completed a half marathon. It is the most popular running event in the US. However, there are 314,712,000 people in the USA (as of Oct 1, 2012). That means that only 0.508% of the population has done what you have done. LESS THAN ONE PERCENT of the people in the US have accomplished what you have accomplished.

However, you may be thinking- Sara, you are being dramatic. What about babies? Ok fine... about 20% of the population is between the ages of 0-14. So that means there are 251769600 people in the US that are 15 and older. That still means only 0.636% of people 15 and older have done a half marathon. Still less than 1%.

Say you want to be really picky and exclude older people (even though we know a lot of older people run). We will be so picky to say that we are only going to include people 15-64 years old. 67% of the population is in this age group. That means that 210857040 people are between 15 and 64. That still means that only 0.759% of people in this group have done a half marathon. STILL LESS THAN 1%.

You are incredible! Look back at your old pictures and see how far you have come. You are an athlete. You have accomplished goals. You are fierce. You are doing things you never thought possible and have overcome so many obstacles. Yes, you have farther that you want to go... but you are now part of the elite. No one can take that away from you!"








Saturday, November 03, 2012
I did absolutely NO workouts this week. I mean, that was a planned thing. I'd anticipated a full two weeks rest after my half marathon after this rather grueling season of injury and healing and re-injury.

I never imagined how it would feel, though. I hear stories of marathoners who get antsy during taper periods before a race. I never knew why they'd hate a taper...I mean, it's a nice excuse to relax! What's not to love?!

Oy...it's awful. Just awful. And here's another thing. I have learned that it's WAY more difficult for me to keep my eating habits in check when I'm not doing some sort of planned physical activity throughout the week. Granted, I did a hell of a lot of emotional eating this week (serious stuff going down here) and I understand why that has happened. But, it's a lot easier to stay on track when my food is truly fuel for my training. Lesson learned.

I feel so gross. Like I lost so much fitness this week. I know that's absurd and it doesn't fade THAT quickly...but, man...I don't really want to take a break this long again. It was not a smart move for me. Now I have that sluggish feeling that will make it difficult for me to get started again on Monday....even though I'm chomping at the bit, at the same time, to get back into my "normal life". Weird.

So, training schedule has got me doing 5 hours per week for the next month. I've got that scheduled as 2 one-hour spinning classes, 4 days of 30 mins swimming and 2 30-minute strength training sessions per week. THAT'LL be a BIG CHANGE. Haha. Absolutely can't wait. Can you imagine how much better and more energized I'll feel after 2 weeks of that????

Wrench in the works is that I have to travel to Denver next week so I'm "losing" 4 days of my "normal" training. Honestly, I think I'm just gonna pack some Jillian Michaels DVDs in my suitcase, slap them on my laptop a few times next week and call it a day. I'll get a great workout in on Monday morning (fly out on Tuesday) and plan on having an extra long workout on Saturday and something on Sunday. I think I can get 5 hours in that way. It won't be "the usual", but I'll still be getting it done.

Wish me luck. So much harder to motivate when I'm out of town!!! Was so spoiled in Austin with that gorgeous Hilton saltwater pool!





Wednesday, October 31, 2012
So, I've been talking a bit about my next year's training plan, which spans 52 weeks and takes into account several different phases of training throughout the year (Prep, Base, Build and Race Phases). A lot of you have been surprised that I would plan so far out. And some have had questions about this.

I did not come up with this training plan on my own. Not at all! This is a plan carefully researched and laid out by triathlete, Joe Friel, in his book "The Triathlete's Training Bible".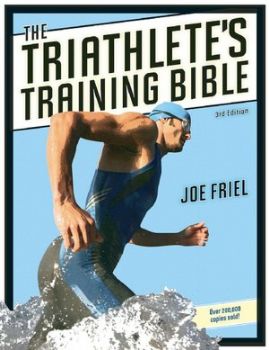 If you are at all interested in triathlon, this book will take you through every aspect of the sport that you can possibly imagine. And Joe devotes two entire chapters to meticulously laying out HOW to set up a 52-week training program (tailoring it to your own personal lifestyle and training limitations). I simply went through the chapters step by step and this is the training plan I have designed (I'm sure you can't see details...but you CAN see that it is well thought out and lays a great foundation for a racing season).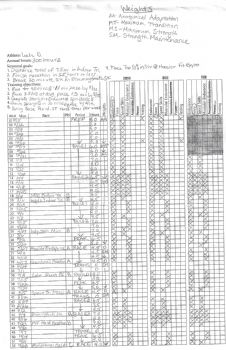 Once you get past the complication of laying it all out, it's really quite simple. Each week has a number of hours assigned to it. You simply train for that number of hours. There are smaller areas of focus (i.e. endurance, muscular strength, etc). But, as a beginning triathlete, I choose to focus on getting the training done....that's most important. My ONE AND ONLY focus this year is going to be ENDURANCE. If I CAN add the extras, great. If not, I'm not going to worry about it this year.

Anyway, I'm very excited to start this plan next week. As I've said before, my Prep and Base phases will consist solely of weights/strength, spinning and swimming. Basically, I'm looking to drop some serious weight before I jump back into run training.

I'm sure there will be a lot of bumps and bruises as I work through this first season. But, at least I have a specific and detailed plan, which I can replicate next year and tweak to perfection.

Have I mentioned I'm SO excited??????





Sunday, October 28, 2012
Hey Sparkies.

So I haven't been around much the past week or so. I had a terribly busy week at work...just got back from Austin and now getting ready to turn right around and head to Denver in a week for another conference.

In addition, I've had some pretty rough stuff going on in my personal world. It's the kind of thing that has been lurking for years, but suddenly attacks out of what seems like nowhere and leaves you for dead. And you're kind of left shell shocked and basically putting every last bit of effort into doing the basic things like...you know...breathing. And going to work and stuff. So, I've been off the grid. Sorry for that.

Hope y'all are doing well. Make good choices this week.



First Page
1
2
3
4
5
6
7
8
9
10
11
12
13
14
15
16 17 18 19 20 21 22 23 24 25 26 27 28 29 30 31 32 33 34 35 36 37 38 39 40 41 42 43 44 45 46 47 48 49 50 51 52 53 54 55 56 57 58 59 60 61 62 63 64 65 Last Page

Get An Email Alert Each Time LDRICHEL Posts