| | |
| --- | --- |
| | LDRICHEL's Recent Blog Entries |


Sunday, October 21, 2012
FRIDAY, OCTOBER 19

Sitting here in the Atlanta airport, headed back to Indianapolis, I can look back upon the previous week and judge it to be a smashing success – not only for our Kuali community, but also for myself personally. Aside from questions about my triathlon training, the question I am asked most often is "what exactly do you do?" This is always hard for me to answer in a succinct way – not because I am so knowledgeable in the technical aspects of my business, but because the organization I work for is something quite special…and like no other model I've ever seen before. If you usually read my blogs for workout inspiration, you might be bored with this one. I thought about apologizing…but, unfortunately for you, I don't apologize for anything I am passionate about.

As someone untrained on the technical side of software development (I majored in Communication), I understand the necessity to explain the basics for those new to the Kuali Community. Without the basic building blocks, you won't understand a word of this blog.

So, let me lay it out for you. I work for the Kuali Foundation. Contrary to how the name sounds, our work has nothing to do with koala bears…sad to say. Kuali is a community of universities and commercial organizations that collaborate and work together with pooled resources (both money and software developers) to create software specifically for higher education. If you've ever worked in a higher education environment, you know how different it is from the corporate world. In fact, most university workers I speak with have chosen to leave the corporate world for a university setting. Because it's THAT different!

Currently, there are 8 Kuali software projects in varying stages of development and sustainment. Some of these include an HR system, a Research and Grants Administration system, a Financial system, and more – again, all of these specifically built to meet the incredibly diverse needs of a university/college environment.

I work for the Kuali Foundation, the non-profit legal entity that handles all the licensing, administrative, coordination and financial needs of all 8 software projects. Each project has their own governing structure, funds, Board of Directors, functional and technical councils and coders. The Foundation is made up of 4 employees [my boss (the Executive Director of the Foundation), myself, an Accountant, and an Infrastructure Specialist]. That's it.

Together, we (the Fab Four) handle all the "business" of the projects. Things like Membership Agreements, Invoicing, Reimbursements, Communication, Event Planning, and so much more that you really don't want to read about. I am the Fiscal & Administrative Manager (and pretty much personal assistant to the Executive Director, who answers to the Kuali Foundation Board). I serve as agenda and minutes keeper for several of the project boards and handle most of the administration for the Foundation and a small part of the accounting.

As a community that collaborates on software development, most of our meetings are virtual via conference call or Skype. Kuali recognizes the importance of working together face to face, though, and therefore, holds two events per year for face-to-face meeting: Kuali Days and the Kuali Community Workshop.

Kuali Days is an outward-focused event, designed to share information on all of the projects with institutions looking for an affordable, valuable software solution for their campus. After the actual "Kuali Days" (2-3 days), we have internal community meetings (Project Boards, Development Teams & Councils). It's a LONG week of sessions and meetings and networking. It is exhausting. And it is invaluable for team building and vision casting within our organization.

In order to explain why this week was so special, you need to know what went down for me last year at Kuali Days 2011 in Indianapolis, IN. I had only been on staff for 3 months. At that point, I was still very unfamiliar with the software projects and felt lost in a sea of acronyms and geek speak. I didn't know anyone, which made socializing difficult (and socializing is such a huge part of these conferences). Because of my position within the Foundation, I felt a bit lost at Kuali Days. On the one hand, there were all these project team get-togethers and dinners…but I wasn't part of a project team. You'd think I'd hang out with my boss all the time, but she kind of runs in higher class circles than I do at these things…so I wasn't really a good fit there either. (Special Note: She would never say that this is the case…and, with her good heart, she would always welcome me as an integral part of the organization.) The perceived lack of importance was completely MY issue last year. In summary, it was a very long and very lonely week for me.

Still, in the midst of this new paradigm of "lonely in a crowd", I was drinking from a firehose in terms of learning about all the software projects and how they operate. As I sat in those presentations and meetings, I was floored by the level of intelligence displayed from every single one of my colleagues. It occurred to me, "Holy cow. I work with GENIUSES!" Not just one or two, but HUNDREDS!!!! This look at my colleagues was so eye opening for me and so inspiring. And they weren't just super smart, they were all SO KIND and friendly and down-to-earth. You know how you have a few people you really like at work and the rest are just so-so? Well, it's the opposite with Kuali. I like them all! There really is a COMMUNITY feel…like we are a strange, nerdy, wonderful family. There is a real sense of "we're all in this together".

When I felt this vibe from the people in the community, I was hooked. I "drank the Kuali Kool-Aid", as they say. It was last year when I realized that I had finally found my forever career. I decided that this was a place I could stay for the long haul…no more looking around the next corner for the next job in the next industry. This is a place where I feel inspired and passionate about the growth we'll see in the years to come. That is a feeling that I can't wholly express. It was quite a significant moment in my career and it is this feeling that keeps me going through those inevitable awful days at work.

Going into this year's Kuali Days, I had fears that dated back to last year. Mainly, fears of networking (you know, we all have to start somewhere and this networking thing is so new for me) and feeling insignificant or lost/out of place in the pool of genius. Essentially, it was a confidence issue if I'm being straight up honest. Going into this Kuali Days, I wanted to grow in the area of networking and to have a purpose for being there besides just taking notes for the Board Meetings. In the months leading up to this conference, I pieced together a plan of action and continued to try to figure out what my purpose would be at Kuali Days.

I volunteered to be a Newcomer Ambassador. I did this with some level of anxiety. As I've said before, I have no technical knowledge to bring to the table. At all. It was during this Newcomer Reception that I realized that, because of my position in the Foundation, I know almost everyone. As such, I could help the Newcomers get connected easily with their assigned Ambassador. And my assigned newcomers would get no technical help from me, but I could most certainly put them in touch with the key person in their project of interest. This is when it clicked for me – my niche in Kuali is to be a Connector between the Foundation and Projects, and to represent the Foundation out among the projects. When I think back, I realize that my boss told me this in my initial interview. But something just didn't click until this week.

Once I finally recognized and understood what my function was, I took off with flying colors. I sent a text to my boss that said, "I've been networking my a*s off (literally…when you focus on people and listening, you don't have time to stuff your face). The pleasant surprise is: I LOVE it! I love representing this amazing organization and who knew I'd actually be good at it?" She replied with a simple, "Me."



Because our community is growing in such tremendous ways and so many of the projects are at such critical and exciting points in their development, I can't help but be thrilled to see what the future holds for Kuali. In addition, having a renewed perspective on my place within the organization makes me want to do more than I've ever done to please this community and help everyone connect and get plugged in, in much the same way I have been able to get connected. What an exciting time for all of us! The air at this Kuali Days was electric! I certainly never would have thought my "dream job" would have anything to do with IT. I feel rather blessed to have somehow stumbled upon this unique community and look forward to discovering more layers of this organization.

Hi. My name is Leah and I love my job.





Sunday, October 14, 2012
They are not kidding when they say "Keep Austin Weird". I have to admit, guys, it's rough not to stare at a person (or multiple persons) that have piercings literally covering their ENTIRE faces! And, yet, you wonder....isn't that WHY they do that? So people will look? I don't know. I am just a Midwestern nice girl who doesn't want to be rude. And yet I want to stare so badly...

So, as you've gathered, I made it to Austin. Yesterday was Airport Day and it wasn't the funnest. I mean, I love to travel. I really do. But, something about airport air and airport food and turbulence and kids throwing up behind me in line and sharing a shuttle with a group of sweaty software developers leaves me just feeling sick. I was so bummed that my headache did not go away last night so I could watch my friends finish their IronMan World Champion race. Stupid Hawaii. Stupid 5 hour time difference.

The good news is...I slept for 8 hours uninterrupted and it was GLORIOUS!!!! Had breakfast with my team this morning and now have a couple hours of me time. I went for my first swim in this beautiful 45-ft saltwater lap pool (with jacuzzi attached, of course - this IS the Hilton!)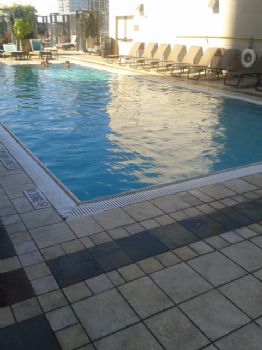 Of course, I met a nice fellow triathlete in the pool. We did laps together for awhile and chatted it up in the hot tub. He is from Canada and is here for Austin City Limits Music Fest. He's been doing tris for 2 years and, like me (and so many others I keep meeting), he taught himself to swim from YouTube! Ha!

The pool is on a rooftop deck outside and, at night, there is an absolutely gorgeous view of the Austin skyline. I'll snap a photo tonight (after yesterday's airport adventure, my cell was so low on battery, I couldn't quite get a pic). During the day, though...I'm gonna go ahead and admit...the city (at least right around this area) is not attractive or pretty at all. I've heard it's beautiful up by UT Austin, though. But I haven't been up that way. And I won't be...until at least Wednesday. Back to back meetings from now until Wednesday.

Just going to get ready now and I have one meeting this afternoon (a short 3-hour one), so that's not too bad. Maybe since I don't have Airport Sickness anymore, I might go out with some folks tonight. We'll see.

More to come, friends...Kuali Days is just getting started and it's going to be a GREAT one! I can feel it in my bones!





Thursday, October 11, 2012
I've never done this before on my blog, but I thought today was a good day to bring back an old blog I wrote back in July.

In just about a week, I'll be one sleep away from my first half marathon. And, just in case you jumped on the LDRICHEL bandwagon late, it's important to me that everyone knows WHY I am doing this race...and who it's dedicated to.

Here is a link to a blog I wrote about an inspiring friend, who WILL be at that race when I cross the finish line. I hope to go straight over to her and sit right in her lap!

www.sparkpeople.com/mypage_public_jo
urnal_individual.asp?blog_id=4968535

We made some shirts...and, of course, I'll be wearing one. Here is the awesome design that my best college buddy (who will also be attending) came up with: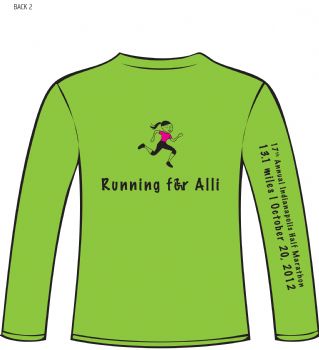 Had a little snafu with the printers...so the design will be on a gray shirt (not green) and actually, my tek shirt for the race is pink. Perfect for this month...AND the fact that I'm a Sweat Pink Ambassador now. Ha! It'll match my shoelaces!

I'm getting pretty excited. But, first...to tackle my Austin business trip. Excited about that too!






Wednesday, October 10, 2012
So, today was weird. If you know me well, you might know that I have a thing where my body kind of naturally wakes up between 3am & 4am every morning. I generally lay there wide awake for a bit and then fall back asleep.

This morning, I woke up at 4am and my mind started racing. I started to worry about things and the stress of this next week or so started to creep in...and, well, I was AWAKE. I had originally planned on going to the Y to swim at 7am this morning. But, I switched up my routine and decided to just get up and go. Doors open at 5am and I figured I could maybe sneak an extra 1/2 hour on the elliptical (because it's less crowded so early). There's a 30 minute limit.





In case you wondered, there IS a line of people waiting outside the YMCA at 4:45am waiting for the doors to open. I counted 14. Geez....FREAKS.





Got in, got on the elliptical. Did my hour. All done before 6am. I was feeling GREAT! At the same time, I was driving away and thought, "It feels like I didn't even work out. It feels like it didn't even count."





That's when Inner Jillian (IJ) shouted at me, "LIKE IT DOESN'T EVEN COUNT????? Wait a second...wait. Remember the first time you used the elliptical?"

ME: Yeah.

IJ: How long did you last that first time?

ME: Uhh...5 minutes.

IJ: Yeah...you're right. Doesn't even count. Psssh.





Well, you know...the day went on and work happened, etc etc etc. Legs started to feel this morning's workout eventually. Feeling awful stiff now. Definitely going to eat my words now! Haha. Definitely counted!!!!





And around 3pm, as I was doing the most awful tedious website proofing work (click a link, document the result....read EVERY single word of a 50 page website and scan for typos...omg....it's AWFUL!!!!!), I started to feel pretty darn exhausted.





It was then that I second-guessed my choice to get up at 4am! Haha.

Luckily, my little boy JUST came by and said he is getting sleepy and is ready for bed (it's only 7:45 and he had a nap today!) THANK GOD!!! I am more than happy to take him to bed (and get to go to sleep early).





Plus....you know...I wanna be in the pool no later than 6am tomorrow.









Monday, October 08, 2012
This week, I feel like this...




Maybe you didn't get that metaphor. Here's another: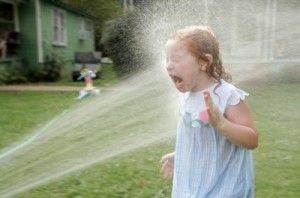 Still confused? Here's a likeness of me: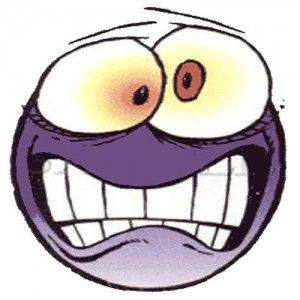 My bad, that doesn't look like me. This is a little closer: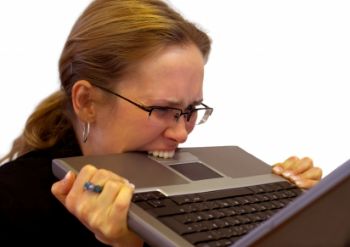 My only hope comes from realizing that, on Friday afternoon, I get to be here doing this:




AAAAAAH, one solitary moment of bliss. Then....this: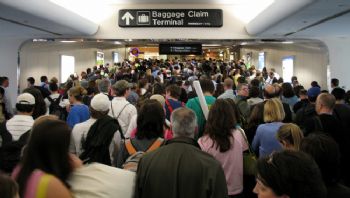 All so I can arrive and work my butt off for a week here:





But...you know what's awesome? After that's done, I get to do this: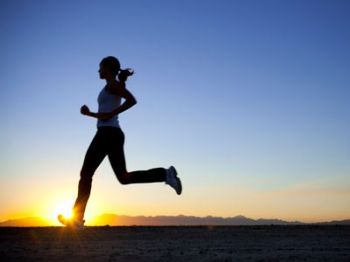 Along 13.1 miles of this:




And then I'll get to collect this: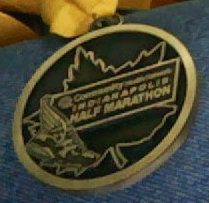 Then, a party with close friends and family to celebrate. Could there BE a better way to cap off the busiest weeks of my professional year? I think not!



First Page
1
2
3
4
5
6
7
8
9
10
11
12
13
14
15
16 17 18 19 20 21 22 23 24 25 26 27 28 29 30 31 32 33 34 35 36 37 38 39 40 41 42 43 44 45 46 47 48 49 50 51 52 53 54 55 56 57 58 59 60 61 62 63 Last Page

Get An Email Alert Each Time LDRICHEL Posts