| | |
| --- | --- |
| | LDRICHEL's Recent Blog Entries |



Monday, October 01, 2012
For the past two days, I've been working late into the night on my Training Goals and Plan for the entire coming year. I figure, once I finish this half marathon, I'll take two weeks of complete rest for recovery. But then, November 1st is a great time to begin serious training and weight loss for the coming race season, which, for me, will begin in March 2013.

I've been following a very detailed process in setting up this training plan and I found it in "The Triathlete's Training Bible". There is SO much that goes into this that I never thought of, you guys! But I love that it walks you step by step through each week of the year and helps you assign total hours to each week for workouts. It practically sets it up so you CAN'T overtrain. I really needed that kind of help and those kind of limits.

The first thing I had to do was decide on my races for next year. Only then could I determine how my training should be focused and should ebb and flow throughout the year. So, I chose 10 races (two 5ks, a 10k, two half marathons, a full marathon, two 1-hour indoor triathlons and one sprint triathlon) - spaced out enough, of course, so I could avoid fatigue. If you really are desperate to know which races, I've posted them on my SparkPage.

It seems insane to plan this far in advance...but, if you think about how you need a certain number of weeks to build strength, endurance and speed before any given race, then recovery time as well and then you think that there are a total of 52 weeks in the year...and I've chosen 10 races that are pretty much packed into a 9-month time frame....you start to understand how short a year actually is!

I figured, while I'm at it (and while some of the races I just did are fresh in my mind), I should probably put together a budget too. If I know how much I need, I can just set aside a large chunk of my tax refund and have it be a race fund. No more scrounging for hotel money at the last second, you know?

I included every expense I could possibly think of in this budget (all race registration fees, any travel costs like gas and hotels, food for away races, extra spending at expos, 3 months of unlimited spinning in the winter Prep and Base Training phases, and a joint supplement that a personal trainer friend of mine has been begging me to try - she swears it will heal my tendinitis). All this...and I need to purchase a proper road bike for my triathlons. I am certain the bike I have now does not correctly fit me. Plus, it's a men's bike. Haha. Obviously, that's a big chunk of my budget (about $1500) and it's just a one time purchase. But...my grand total estimate came out to.....

DRUM ROLL

$5700 - for an entire year of racing and training

This is all individual costs and does not take into account any race coupons, roommates in hotel rooms at away races, etc. Also, I travel for my job twice a year and I rack up some pretty nice air and hotel reward points...so I'm certain that will alleviate some of these costs.

So, leaving out the bike...let's go with an estimate of $4,000. Isn't that an UNGODLY amount for a hobby?

Well...let's change tracks for a second. My good buddy, Michelle, bought me the cutest shirt for my birthday. I tried it on and put on my "skinny" jeans and happened to walk by the mirror this morning. I thought, "Hey, this makes me look nice." But then I did a little search through some old photos and I was literally floored at the difference between then and now.

My running buddy and I have talked about how our bodies are changing and, even if we don't believe it or see it ourselves, they are shrinking. I have had SO many comments lately and do you know what I think to myself while I thank the person who is gushing over my transformation???? "It's just the outfit that is an illusion. I still look the same. This person knows I've been working out so they are just saying that to try to make me feel good. I don't look that different."

And it's not even just with other people. My own mind refuses to move forward and acknowledge my size reality. I still get confused and feel like I need to order a 2XL shirt because the XL won't fit me. I have been wearing XL for quite some time now and have not worn a 2XL in months....but I can't seem to let go of that idea that I'll never lose weight.

But when I saw this photo...finally, guys....finally, I believe that I am changing.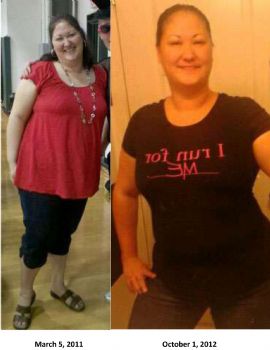 That girl on the left was shrinking from that camera. And look how she was hiding herself under baggy clothes. The one on the right has nowhere to hide the flab. There can't be any trick lighting when the shirt is that tight. And I'll tell you something...my ass looked pretty awesome today too...but I couldn't get a good pic for ya. Sorry. The girl on the right is kinda sassy, isn't she? She is beginning to believe that she *might* be desirable and that people might actually look at her twice, rather than completely ignoring her.

How much is that woman on the right worth in dollars? How much would the woman on the left spend on diabetes or heart disease in a few short years if she didn't shape up and get with the program? How many years of life would she miss and what is the financial value of seeing her grandkids grow up? Can you put a price on her confidence and comfort in her own skin?

Is she worth $4,000/year and a whole hell of a lot of hard physical work in the gym and out on the trails?

Are you?






Sunday, September 30, 2012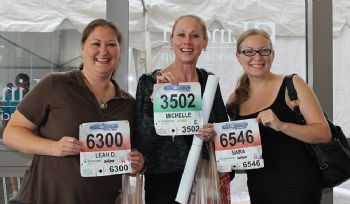 So, the race I've been waiting for for months finally occurred yesterday. The Fort4Fitness 10k. Not only was it my longest race ever (so far), but I had plans to meet up with SparkFriends that I have been chatting with, texting and e-mailing for months, but have never met in person. We came from almost every direction to get to Fort Wayne. From the North: RUNFOR3POINT1 (Brighton, MI). From the East - SNEVIL1 (Baltimore, MD) and SPARKL3 (Columbus, OH). And from the South - myself (Bloomington, IN) and ABSOLUTZER0 (Little Rock, AR).

Friday night, arrived at the hotel to greet Michelle (RUNFOR3POINT1), Laura (SPARKL3) and Sara (SNEVIL1). We all arrived around the same time...well, actually, Michelle and Laura did. But someone had to be late because they stopped for a Big Mac on the way and subsequently felt sick. I have no idea who would do such a horrific, non-Spark like thing!!!! Haha. Believe me, guys...I never heard the end of it! L.O.L. Sara arrived a little after me and we all took off to go check out the Expo and "health fair".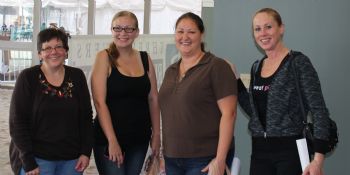 Ummm...expo was not the shiz...let's just say that. Really kind of a letdown, but it didn't matter to us. We got some free stuff and it was fun just being together...absolutely beautiful day and we had a ton of laughs.




You can bet we made fun of Michelle all weekend for "ONLY" running the 4-mile race while the rest of us ran the 10k. But, alas, who had the last laugh? Probably Michelle when, several hours after the race, a very cranky Leah stormed out of the bathroom whining, "Waaah, I fuc*king hate running! Why do I do this to myself????" And Nick subsequently burst out laughing and said, "Your blog is going to say that running is all sunshine and rainbows, though." Well, there. I'm nothing if not honest, friends. Haha.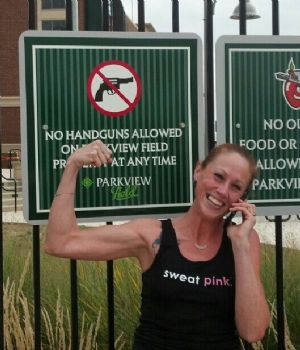 After the expo, we chilled at the hotel sports bar and the girls got some grub while I drank an iced tea. No, not because of Big Mac guilt...but because I was not going to waste money at a chain restaurant when the race was giving us a pasta dinner for $3.75. I mean, come on now! Sadly, Laura had to head back after dinner. I still can't believe that lovely lady drove all the way out JUST to see us and to attend a crappy expo. Ha!

Nick (ABSOLUTZER0) didn't arrive until very late because crazy man drove a full 12 hours in one day! Wow!

Race morning was less than enthusiastic in our room. I think Michelle woke up about 25 minutes before her race. I thought we'd have to force her out of bed. The 10k started at 9am and her race started at 7:30am (tee hee). Of course, speed demon was done before we even GOT down to the starting line...35 mins 47 secs. Geez. She rocks! She hated running when she met me. I have now fully assimilated her. Well...maybe not fully...she has yet to tackle 10k. But...SHE WILL. Mwahahahaha.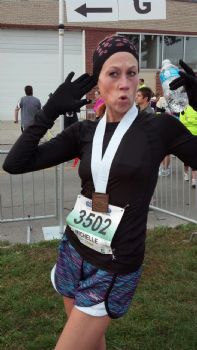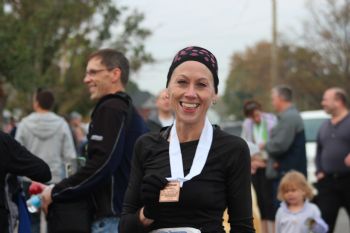 And what better motivation could a person get before a super scary race than being cheered on by one of their running heroes? I can't tell you what a boost it was to have this guy there!




It was great knowing that Sara was running with me and that we are about the same pace. We figured we'd run the whole thing together. I almost left my ipod in the room b/c I rarely use one when I have a running buddy (truth is, I haven't used one for running in months), but I brought it...just in case. Before the cannon even went off to start the race, I was having ankle problems. Popping and pain. This was making me VERY nervous so I was a *little* cranky prior to the start.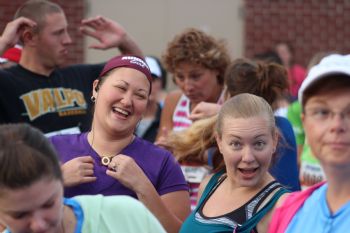 Race started and I was seriously worried. Ran the first mile with Sara. Girl was on fire and I was just praying the pain would go away. I tried to keep up with her, but once I hit Mile 1, I decided to take it easy and walk for .25 miles. After that, I didn't see Sara until I finished. But it was OK. I was really glad I'd brought music, though. It was literally the only thing that pulled me through some patches. The crowds were really great in Fort Wayne and the community was so supportive.

Though the expo was lacking, the race was WONDERFUL! And I would just like to personally thank the city of Fort Wayne for stationing uniformed National Guard all along the course for my viewing enjoyment. What lovely scenery in the Fort. *sigh* The churches all came out and cheered on the runners...it was really uplifting. The weather was gorgeous.

The first 3.1 miles for me were pretty tough. I was no longer in pain after 1.25 miles, as my ankle stiffness had worked its way out and my body was feeling great. But, mentally...the distance was looming in my mind and I just kept doubting myself. Then, I'd immediately counter with, "Leah, you have to do this or you won't be able to do a half marathon in 3 weeks. Be strong!" At the 5k mark, the half marathon runners merged with the 10k and, you know...from there, my spirit was really lifted. I was so encouraged and inspired to see them and then to be a part of them and run next to them...it really helped me find that second wind and dig deep to keep going. In fact, once the halfers joined us...I think I only walked one or two times, for a very short period and then just to fuel quickly. I was able to keep running the rest of the race. In total, I probably walked about 1.5 miles total out of the 6.2 miles.

The best part of the race was the finish. Not because I was tired, but because you got to run into the minor league baseball stadium there and I was not expecting what I found there. The stands were packed with fans, they were showing all the runners coming in on the JumboTron and you had to run the entire outside of the field to get to the Finish Line. The crowds were cheering and it seems cheesy, but it was just a really special moment and I thought, "I am really proud of myself." I thought about how I will feel when I finish my half marathon and I can't even imagine it. I can't begin to imagine how it would compare to this finish.

I was telling Sara after the race, "You know...you say, 'I'm gonna run a 10k' and it sounds like nothing...especially when you are so used to being around runners." But, really...6.2 miles is A LONG WAY. It's NOT EASY AT ALL. It's actually REALLY HARD. We were both SO proud of ourselves for finding inside ourselves the ability to finish. We had both gone in with very little mileage (me due to injury and her due to busyness of everyday life). We both have our first half marathon looming (mine in 3 weeks and hers in 2 weeks). It was a really special moment for us.

We had both hoped to finish under or around 1 hr 30 minutes. Sara finished in 1 hr 17 mins 14 seconds and I came in shortly after her at 1 hr 22 mins 49 secs. We were both so happy with those results!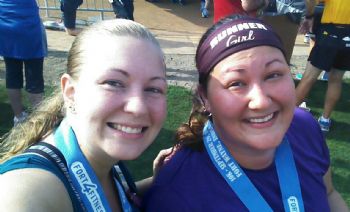 After the race, I caught up with my running buddy, Sarah (the one I picked up on the trail with a note!) This was her first half marathon and I'm SO proud of her!!!! We will run the half marathon together in 3 weeks as well.




Also met up with my assistant, Katherine, who I had pressured to sign up for F4F (she signed up for the half with very little training and she did great!)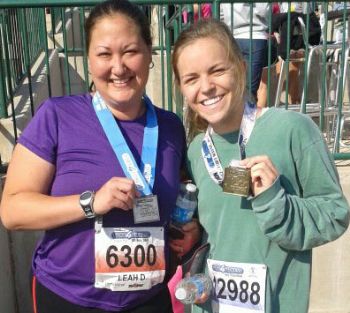 SUCH a great race! And it really helped give me more confidence for the half that's coming up. I had some initial soreness in my ankle (expected) and also some tenderness in my left knee (unexpected). Iced quite a lot after the race and rested up a lot. Then, we went to dinner at a hibachi grill, which was really quite entertaining (at least for Sara and I).

Spent the rest of the evening watching "Big Bang Theory" and snoozing. Perfect.

It was a wonderful weekend. I feel closer to my Sparkies than ever and I'm really just thankful I got to experience all of it. I'm absolutely trembling with anticipation for the half...it will definitely be the pinnacle of my year and I wish I could run it tomorrow! OK...maybe not. This body is still PRETTY sore...and needs some recovery time. Maybe no workouts this week except swimming mid-week. I'd like to try 10 miles next weekend....but we'll see.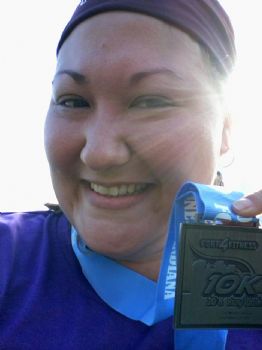 Friday, September 28, 2012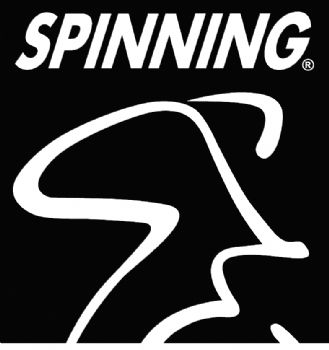 Yesterday, I took my first spinning class. So, listen...here's how it all went down, folks.

Last Saturday, our city had a Wellness Palooza (super cool...I LOVE to see cities really focused on health, but that's beside the point) and I stopped by the Urban Cycle booth. Apparently, they are the ONLY spin studio in Bloomington, IN. This is so strange, considering Bloomington is a Mecca for cyclists. Ever seen "Breaking Away"? Yeah...that's HERE. Literally. Filmed in Bloomington. Indiana University has Little 500 every year, which is a huge bike race and it's a pretty big deal.

Anyhow, I met one of the spin instructors at the booth and he was so passionate about his class and so kind to us (like we'd been friends for years) and not at all judgmental or snobby. And suddenly it hit me that he was the perfect man for a dear friend of mine! I texted my friend immediately and said, "I found the perfect man for you."

After some Facebook magic, I managed to alert the instructor to the fact that I'd be bringing my friend with me to class on Thursday, while simultaneously getting my friend to pay for me to attend the class. Ha! Genius.

Yesterday, my buddy picked me up and we were off. We were both very nervous...obviously, friend was more nervous than me. Instructor was very professional (and very cute, btw). Friend was super impressed. I sincerely hope it works out for them because they really seemed to hit it off (we stayed after for about 10 minutes just chatting).

OK, the class. *SIGH* The class. It was like nothing I ever experienced before. SWEAT. Let's just say my wicking shirt never wicked so much! Holy MOTHER, that was hard! But also fun! I think??? There were a lot of special moves, like jumps and 3rd position, that my body simply isn't ready for yet (I didn't know it was possible for quads to burn that way!) but I never quit. Not once.

My bike kept on wobbling during the standing portion. I assumed it was because I was the heaviest one in the class, so the bike couldn't handle my weight. I told Instructor about it afterwards and he said, "NO NO NO! This bike is not stable! I'm so sorry!!! I should have noticed that! I feel terrible!" OK, well...that made me feel better. Haha.

When all was said and done, we burned 1,000 calories in one hour. Ok, hold up here....we need to repeat that. WE BURNED 1,000 CALORIES IN ONE HOUR!!!!! A THOUSAND!!!!!!! Are you freakin' kidding me?!?! Friends, I have found a way to train for tri during the winter and lose weight! Ding ding ding! I TOLD you it was possible!!!!!

So, I'll be shelling out $99 soon to buy an unlimited monthly pass. And, although the class times are not the *most* convenient for my schedule, I will find a way to go about 3 times per week. I'll add some swimming to my weekly routine and some weights at home and I think we're good to go for a few months. I think it best to give the old body a rest from running after my half marathon and stay off my ankle, drop some pounds and let it heal all the way.

One downside...nether region is super sore today. Might be TMI, but it feels like I had marathon sex all night and it's the saddest feeling in the world to realize that the pain is NOT from that! Haha. Maybe spring a few extra bucks for some padded bike shorts? Yeah...I think so.






Wednesday, September 26, 2012
Well, I'm now 5 chapters in to "The Triathlete's Training Bible" and I still stand by my review that it is one of the most helpful books I've ever read and it could not possibly come at a better time for me. Biggest lesson so far: It's time to start using my head and training smarter.

I am now on Day 4 of no exercise at all. Surprisingly, I still hope to meet my 2,000 September Fitness Minutes goal. Truthfully, I've been doing very little moving in general the past few days, as I'm working on some hardcore recovery from my ankle issues this past weekend, as well as healing from a sustained period of about a month of what I now recognize as over-training.

Found a great quote this morning:

"During the hard training phase, never be afraid to take a day off. If your legs are feeling unduly stiff and sore, rest. If you're at all sluggish, rest.
Whenever you're in doubt, rest."
--Bruce Fordyce, nine-time Comrades Marathon champion from South Africa

Right now, my body feels wonderful! If it could talk, it would be thanking me with tears for the rest that I've given it.

I do have a workout class scheduled for tomorrow, which is my first ever spinning class. I'm pretty excited for that class...and also terrified. Haha. I'm sure it will be an interesting blog recap for you at least!

My ankle feels great! I wouldn't run on it today...or tomorrow, for that matter. But I feel confident that it will be OK for running the race on Saturday. This makes me so happy!

To avoid disappointment, though, I fully expect my tendinitis to flare up after that race (as it has with every long run for the past month) and I'm willing to give it as long as it needs after this race to heal up.

In terms of training for my half marathon, I am going to play it by ear. I was advised to try a 10-mile run at least once in the weeks leading up to the race. It just depends on my ankle and how it feels. I've resigned myself to the fact that I might not be able to get 10 miles in before my half. And that's OK. I still believe I can finish the race on October 20th and, well, my ONLY goal for that race is crossing the finish line.

I've also been eating to hunger at this point, with no worries about losing any pounds. I've tracked my food but not always stayed within my SP calorie range. I really am not worried about that right now. I'm more worried about balancing my carbs and protein and trying to find a calorie threshhold that makes my body feel energized. I have got to stop being hung up about numbers and do what feels right for my body. If my daily intake ends up being 2200 calories per day (with as many healthy and whole choices as possible, obviously...this is not a free-for-all), then so be it. I have not yet found a place where I feel satisfied or energized. This is troubling, but I know I will work it out with time.

I intend to go back to consistent workouts next week, but won't be working out every single day like I was before. I am going to consciously build in rest days. It doesn't mean I won't be working harder...I'll just be working smarter.

I've also come to a decision regarding the weight loss vs. training debate. It comes down to this one question: What makes me happiest? (aka: What do you WANT?)

You know...losing weight would be so awesome. Strike that...WILL be so awesome. But I LOVE what I'm doing with swimming, biking and running. The three disciplines fit so well together and they are so good for the body. I read in my Triathlon Training Bible that running, biking and swimming work almost every single muscle in your entire body!

Each of the disciplines does something different for me (running brings that endorphin high, swimming brings a deep calm and tranquility and biking builds my strength). I can't drop any of them and be happy. I want them all. So...I'm taking them all. But...I will systematically and precisely rotate my training to focus on specific elements of improvement in each discipline while generally maintaining fitness in the other two. This way, I won't just blow all my energy on all three and burn out.

What this means is...I've had to look really deep into myself and be OK with the idea that doing this will bring me joy and I have to be OK with the number on the scale, no matter what that is (or isn't).

But here's the beautiful part of all this...I really do believe I can have it all. Call me a dreamer if you will...but I actually think it is possible to train and see my body change...but in a much different way than I imagined.

I asked my spinning instructor about this because he has PROMISED I'd lose weight if I bought an unlimited pass and came to spinning 4 days/week. (I mean...it IS a perfect winter workout when I can't cycle outside!) He said this and I thought it was really helpful:

"I am not an expert in exercise science. I specialize in Dietetics, but what Dietetics did teach me is that if you workout heavily (anaerobically), you will gain muscle, which, in turn, will increase your basal metabolic rate. Thus, your body will need to utilize its energy stores (usually fat) for energy. With that said, your weight may stay the exact same, but your fat percentage can and will change, if a routine is adhered to.

With that said, please do throw away your scale. Instead, stick to a good routine that combines aerobic training (like spinning) with anaerobic training (resistance training). Your clothes will fit much better and, in fact, this is a better check to FAT loss than a scale, as muscle is much more dense than fat."

So, there you have it. Things I already knew...presented to me in a different way and I finally believe it.

And, if you think about it, how long can a body possibly cling to its fat when said body is burning 5,000 calories per week consistently and being fed healthy and whole foods as fuel over a period of years? At some point, that fat will be gone. Will it be as quickly as I might like? Probably not. But, from where I stand right now...I don't even care.

The other day when my friend asked me what I want, I told her I wanted to weigh less. She didn't believe me. She thought there was more. She countered with this question: "If you could do Ironman at this weight, would you be happy with that?" Well...OF COURSE! Who WOULDN'T be happy with just FINISHING Ironman????

Well, there's my answer. And it was right there in front of my face all along. Sheesh.






Tuesday, September 25, 2012
So, I finally picked up "The Triathlete's Training Bible" by Joe Friel (which has been sitting on my night stand for a few weeks now). Truth be told, I hadn't even glanced at it because I felt a) overwhelmed by the wealth of information within b) a little bit unworthy to call myself a real triathlete and read a real book about training for said sport and c) a little prideful that I already had a good workout plan and system going for me. I reasoned I could pick up that book when race season comes around again and I actually need specific tips on certain aspects of racing.

After my annoying dizziness episode and two days of headache, I decided that enough was enough. I obviously have miscalculated something and I NEED help figuring out how to balance my training with my diet. Also, I need to know the truth about where weight loss fits into all of this...and, sadly, I have heard from more than one very credible source that it doesn't.

The book starts out with a quote that is pretty darn appropriate right now for me.

"Many dedicated endurance athletes don't need to be told what to do - they need to be told what not to do." - Scott Tinley, Professional Triathlete

I only got through one chapter before my eyes refused to open again. But, I will tell you right now that this first chapter (Chapter 1 Smart Training) touched on every single issue I've been having lately. It was as if the author had been watching my past month of effort and knew exactly what to correct. Crazy! It kind of makes me think I'm not the first overzealous brand new triathlete to hit the circuit and that brings me a small level of comfort. Haha.

In general, the entire first chapter discussed the fact that multisport training is like a puzzle, with the swim, bike and run training being the individual pieces (along with diet, rest and recovery and a few other pieces)....and the athlete's ultimate racing goals/desires being the overall picture. Just as you wouldn't attempt a 5,000 piece puzzle willy nilly without a specific plan of attack, you can't expect to train for triathlon without a detailed and focused plan.

The key to this chapter was that a training philosophy of emphasizing the least amount of the most specific training brings continual improvement. There was also quite a bit of information about moderation and rest.

Even with the details all worked out, an athlete must always keep the big picture in mind and stay focused on what they are working toward. So...what am I working toward? It hit me that this is what my friend meant at lunch the other day...what do I WANT?

Clearly, I am at a point where I need to make a choice between whether I want to focus on losing weight or focus on training. But I can't do both and expect my body to be at it's peak performance. I hate to admit this (but it's certainly no surprise to anyone) but my eyes were finally opened to the fact that I've been overtraining. I hate that. It's not like tons of my friends haven't been telling me this and I haven't been ignoring them completely. I don't know why it's so embarrassing to admit, but it just is. Also, I really love what I'm doing...so it's kind of tough to think about limiting or pulling back. But, there again, it's the BIG PICTURE that needs to be in my mind if I'm going to do this right.

Choosing between training and weight loss is something I have been avoiding...because I just didn't want to face this truth. I don't want to make that choice. However, it's a choice between two healthy options - lose weight or train for tri. I mean...that's a pretty sweet dilemma to have, as far as dilemmas go. Let's keep things in perspective here! My dilemma USED to be 3 Hard Shell Taco Supremes or a Mexican Pizza? And we all know the answer to that one, right? ALL OF THEM. Haha.

Seriously, though...you expect training to be hard work. You expect weight loss to be hard work. But you don't expect the hard work to come in the form of forcing yourself to exercise less or making a choice between two healthy options to find the MOST healthy for your own body.

So, I'm taking some rest time...because my body really needs some recovery time. I have ONE workout planned for this week...a spinning class on Thursday night that my friend already paid for so I'm going. For the rest of the week, I'm laying low, babying this ankle, eating as much as my body tells me it needs and sleeping as much as I can. As for my 10k this Saturday, we'll see how my ankle feels. If I can't run it, I'll walk it. If I can't walk it, I'll quit. A 10k race is not worth losing any momentum I could use toward my half marathon in 3 weeks. Although I realize this may be stupid, I AM running my half. It's the pinnacle of everything I've done this entire season and I will not quit that. Call me a stubborn ass, but that's just the choice I've made. I don't expect a fast time at all. And I'm fine with walking most of the half if I need to as well. But I will finish that one. If it takes me 5 hours, I will do it.

We all make our own choices. Some are wise. Some are risks. With everything, there's a balance. A balance of fitness and rest. A balance of smart and stupid. A balance of safety and risk. And we're all learning every day where that balance is for our own bodies.

Even facing difficult choices, I am so happy with where I am at right now. I wouldn't trade this new life for anything. In comparison to where I was last year, this is like paradise. To actually CARE about my body and think about what is best for it is kind of a new thing for me. All beginnings are rocky. But there will be a smooth path eventually. I have to believe that right now. It's really the only thing that keeps me moving.



First Page
1
2
3
4
5
6
7
8
9
10
11
12
13
14
15
16
17
18
19 20 21 22 23 24 25 26 27 28 29 30 31 32 33 34 35 36 37 38 39 40 41 42 43 44 45 46 47 48 49 50 51 52 53 54 55 56 57 58 59 60 61 62 63 64 65 Last Page

Get An Email Alert Each Time LDRICHEL Posts