| | |
| --- | --- |
| | LDRICHEL's Recent Blog Entries |


Friday, October 05, 2012
I had another rough start this morning. Alarm sounded and I had about a 5-minute inner battle about whether to go back to sleep or get up and work out, as planned. I reasoned, "I worked out yesterday, so I'm good. I can sleep a bit more today." But then thought, "Yeah, but you felt so awesome after yesterday's workout. Why wouldn't you want that again?"

Somehow, I got up and went. Swimming again. You might as well get used to it...I have planned the next 52 weeks of training and the Prep/Base phase is going to consist almost exclusively of bike/spinning, swim and weight training. No weight bearing for this chick until February.

Got in the pool and, once again, didn't want to do my swim. AGAIN, it took me TWENTY lengths to even want to be there.

But today...today...would be a special day. (The best part about regular workouts is that you never know when these days will come around. It's ALWAYS a surprise when you hit a breakthrough.)

Today, I planned on my typical 30 lengths in 30 minutes. Was right on schedule. As I've mentioned before, my biggest issue is breathing. I frequently stop to rest (usually every two lengths). The most I've ever gone without stopping is 4 lengths.

This morning, I thought to myself, "Leah...just relax and stop tensing up your body. If you think about it, your body feels just fine. There are no rules...you can breathe as much as you want. Who is stopping you? This stopping every 2-4 lengths is 100% mental. You can beat this right now."

At 20 lengths, I had 10 more to go...just 5 full laps. The most continuous laps I've swam is 2. I challenged myself to swim my last 5 laps/10 lengths without stopping. Slow and easy, Leah. Slow and easy. This is a "cool down".

So, I did it.

Yep. But I didn't just do 10 lengths. I still had 3 minutes left after 10 lengths. So I did 4 more lengths. (That's my personal best - 34 lengths - the past two workouts in the pool, I've done 34. My personal best has become everyday normal!)

So, yeah...swam 14 lengths without stopping.












Thursday, October 04, 2012
OK, we've ALL seen this motivational poster...




Admit it...the first time you saw it, you were all, "TOTALLY TRUE!!!! I LOVE THAT SO MUCH!"

Then you saw it a few hundred more times...to the point where you no longer get excited when you see it and you probably just vomited in your mouth a little when you saw it here on my blog. Be honest. Hey...I feel the same way about all motivational quotes that seem to make the rounds over and over.

But sometimes seasons come where you can see things in a fresh light. I've made no efforts to hide the fact in the past that I struggle with depression. It's a lovely little ailment that my Mum was kind enough to pass down to me when I was just a wee little lass (i.e. official medical term is "dysthymia").

Anyway, I've been in a bit of a slump since my race last week. As for diet, I have been in a slump since before the race. My food choices have just been awful since last Friday.

Because the 10k was so hard on my left knee, I have not attempted any workouts this week either. When you add up a horrible diet and no workouts and the low level depression that I normally feel at all times, it's kind of a recipe for emotional disaster. It seems crazy even to me that a slump of just 4 days can have such a profound impact on a person, but here is where depression is a tricky little son of a gun.

Guys, I literally had this thought yesterday: "Maybe this IS all just a phase. Maybe I should just give up. I don't feel like doing anything. I've lost my momentum and maybe I should just run this half and be done for good."

EXCUSE ME????? WHAT?????!!!!!

Luckily, I also have an inner Jillian Michaels, who immediately flared up and gave me quite a talking to - complete with bleeped out words. I'll spare you the actual dialogue because I'm sure you can imagine. It was somewhat more animated than this, but held the same basic message: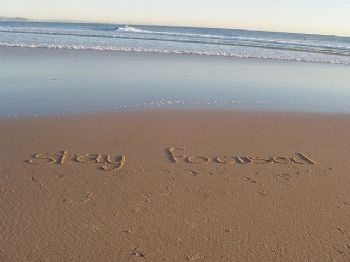 So, what do you do when you hit a slump and you don't have the DESIRE to change?

1. Get your workout stuff ready. Pack the gym bag and put it by your stuff and put your workout clothes right next to your bed.

2. Set your stupid alarm clock way earlier than you want to set it.

3. When the alarm clock goes off, get your ass out of bed and get dressed. Walk out the door.

4. Drive to your exercise destination. Even if, like me this morning, you are complaining and upset the entire way.

5. Get in the stupid pool (tailored to my particular workout this morning). Forget about HOW MUCH you DO NOT want to do this.

6. Start swimming.

7. Keep swimming. Might as well...you're already in there...and it's only 30 minutes. (FYI...it took me 20 lengths to actually feel like being in the pool was maybe a good choice for this morning...TWENTY!)

8. Do it for half an hour. Stop bitching.

That's it, folks.

And here is where the miracle is delivered. The change in my heart, mind and emotions was absolutely astounding this morning. I felt amazing physically and like I was given a fresh start with my diet. More than that, I actually WANTED healthy food after that workout! The two really go go hand in hand.

I immediately thought of the poster that had annoyed me so many times and realized the truth of those words. It is only after a slump so deep and dark that I can appreciate those words and truly understand them.

Last night, I fell asleep thinking to myself, "Someone needs to save me and pull me out of this." Well, guess what...I didn't need anyone to do it for me. I just needed to make a decision to get out there and do what I know is right. And it changed everything.





Wednesday, October 03, 2012
Today is quite a day. I have so many emotions and strong words floating through my brain. Some bad news from my aunt's oncologist, plus a gray nastiness outside my window and, well...I don't trust myself to put words on a screen that will then be blasted to the masses. Knowing my luck, my blog would make the SparkMail and then I'd just have a LOT to answer for.

So, right now...I am zipping my lip. Here are some motivational pics that explain where I'm at (which is ALL OVER THE PLACE).

Oh, I guess since I'm posting motivational pics, I probably WILL make the SparkMail since that appears to be all it takes anymore these days. Doh! My bad...let one slide. WHOOPS.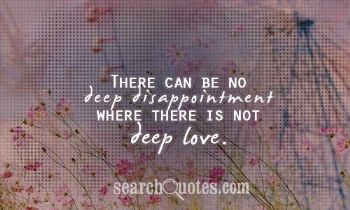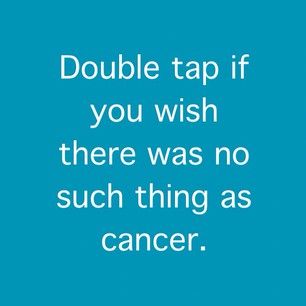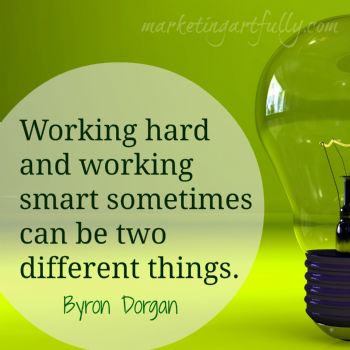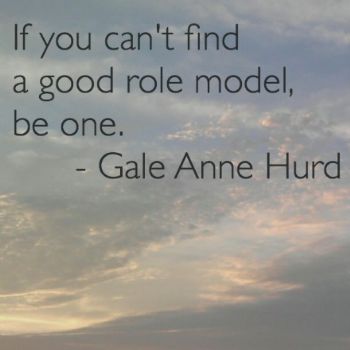 Le Sigh.






Tuesday, October 02, 2012
Just caught this clip on Facebook...looks like it's making the rounds. But if you haven't seen it yet...I thought it was just perfect for SparkPeople.

What a strong woman. We can all learn from this beautiful lady!

www.blogher.com/national-bullying-mo
nth-news-anchor-responds-fat-shaming-e
mail-air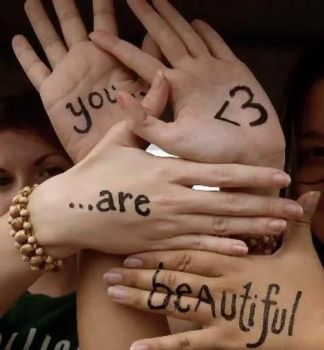 Monday, October 01, 2012
For the past two days, I've been working late into the night on my Training Goals and Plan for the entire coming year. I figure, once I finish this half marathon, I'll take two weeks of complete rest for recovery. But then, November 1st is a great time to begin serious training and weight loss for the coming race season, which, for me, will begin in March 2013.

I've been following a very detailed process in setting up this training plan and I found it in "The Triathlete's Training Bible". There is SO much that goes into this that I never thought of, you guys! But I love that it walks you step by step through each week of the year and helps you assign total hours to each week for workouts. It practically sets it up so you CAN'T overtrain. I really needed that kind of help and those kind of limits.

The first thing I had to do was decide on my races for next year. Only then could I determine how my training should be focused and should ebb and flow throughout the year. So, I chose 10 races (two 5ks, a 10k, two half marathons, a full marathon, two 1-hour indoor triathlons and one sprint triathlon) - spaced out enough, of course, so I could avoid fatigue. If you really are desperate to know which races, I've posted them on my SparkPage.

It seems insane to plan this far in advance...but, if you think about how you need a certain number of weeks to build strength, endurance and speed before any given race, then recovery time as well and then you think that there are a total of 52 weeks in the year...and I've chosen 10 races that are pretty much packed into a 9-month time frame....you start to understand how short a year actually is!

I figured, while I'm at it (and while some of the races I just did are fresh in my mind), I should probably put together a budget too. If I know how much I need, I can just set aside a large chunk of my tax refund and have it be a race fund. No more scrounging for hotel money at the last second, you know?

I included every expense I could possibly think of in this budget (all race registration fees, any travel costs like gas and hotels, food for away races, extra spending at expos, 3 months of unlimited spinning in the winter Prep and Base Training phases, and a joint supplement that a personal trainer friend of mine has been begging me to try - she swears it will heal my tendinitis). All this...and I need to purchase a proper road bike for my triathlons. I am certain the bike I have now does not correctly fit me. Plus, it's a men's bike. Haha. Obviously, that's a big chunk of my budget (about $1500) and it's just a one time purchase. But...my grand total estimate came out to.....

DRUM ROLL

$5700 - for an entire year of racing and training

This is all individual costs and does not take into account any race coupons, roommates in hotel rooms at away races, etc. Also, I travel for my job twice a year and I rack up some pretty nice air and hotel reward points...so I'm certain that will alleviate some of these costs.

So, leaving out the bike...let's go with an estimate of $4,000. Isn't that an UNGODLY amount for a hobby?

Well...let's change tracks for a second. My good buddy, Michelle, bought me the cutest shirt for my birthday. I tried it on and put on my "skinny" jeans and happened to walk by the mirror this morning. I thought, "Hey, this makes me look nice." But then I did a little search through some old photos and I was literally floored at the difference between then and now.

My running buddy and I have talked about how our bodies are changing and, even if we don't believe it or see it ourselves, they are shrinking. I have had SO many comments lately and do you know what I think to myself while I thank the person who is gushing over my transformation???? "It's just the outfit that is an illusion. I still look the same. This person knows I've been working out so they are just saying that to try to make me feel good. I don't look that different."

And it's not even just with other people. My own mind refuses to move forward and acknowledge my size reality. I still get confused and feel like I need to order a 2XL shirt because the XL won't fit me. I have been wearing XL for quite some time now and have not worn a 2XL in months....but I can't seem to let go of that idea that I'll never lose weight.

But when I saw this photo...finally, guys....finally, I believe that I am changing.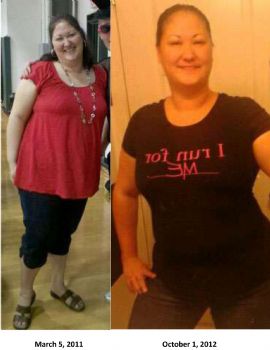 That girl on the left was shrinking from that camera. And look how she was hiding herself under baggy clothes. The one on the right has nowhere to hide the flab. There can't be any trick lighting when the shirt is that tight. And I'll tell you something...my ass looked pretty awesome today too...but I couldn't get a good pic for ya. Sorry. The girl on the right is kinda sassy, isn't she? She is beginning to believe that she *might* be desirable and that people might actually look at her twice, rather than completely ignoring her.

How much is that woman on the right worth in dollars? How much would the woman on the left spend on diabetes or heart disease in a few short years if she didn't shape up and get with the program? How many years of life would she miss and what is the financial value of seeing her grandkids grow up? Can you put a price on her confidence and comfort in her own skin?

Is she worth $4,000/year and a whole hell of a lot of hard physical work in the gym and out on the trails?

Are you?



First Page
1
2
3
4
5
6
7
8
9
10
11
12
13
14
15
16
17
18 19 20 21 22 23 24 25 26 27 28 29 30 31 32 33 34 35 36 37 38 39 40 41 42 43 44 45 46 47 48 49 50 51 52 53 54 55 56 57 58 59 60 61 62 63 64 Last Page

Get An Email Alert Each Time LDRICHEL Posts