| | |
| --- | --- |
| | LDRICHEL's Recent Blog Entries |


Sunday, September 09, 2012
I've noticed a couple strange side effects of my time off from running, in the form of addictions that just seemed to slide away when I began to cross-train with swimming. I didn't even realize these until one day, I just thought, "Hey...I usually do this and I don't anymore. Huh."

I don't offer any explanation whatsoever about why these things seemed to fall away while I was in the boot, off the roads and in the water. It just sort of happened. It seems odd. So I thought it'd be cool to mention them.

1. Coffee

I was a coffee ADDICT, you guys. I would drink one cup of coffee with creamer every single morning. EVERY. SINGLE. MORNING. It had gotten to the point that I was literally SAD and depressed and felt awful during the day if I hadn't had my coffee.

One day, I had a cup of coffee and I felt really sick. This is not unusual...it has always bothered my tummy...but I usually just ignored that. But, for some reason, that time it REALLY bothered my tummy. It was during my protein shake phase and I wondered if all the protein was just changing my stomach or something? Anyway, I tried it again once about a week later and felt sick.

The most amazing thing is...I haven't even WANTED it. You know, you give something up because it makes you feel sick (like McDonald's or Coke) and you still have a huge YEARNING for it, right? Well, no. Not with coffee. It's like one day I just woke up and I was done with it. Isn't that WEIRD?

2. Music

Not music in general. LOL. Music while I'm running. I didn't notice this until last week, when I was going on my second "real" run and I didn't even think to take my iPod with me. I started to think about it while I was running and I realized I just didn't WANT music. I am pretty sure this is because I did so much pool work while my ankle healed and I never had music then. And when I bike, it doesn't occur to me to take my iPod (and, truthfully, I like to hear what's going on around me when I'm going that fast...still not totally comfortable on the bike). So, I guess I'm just used to no music.

Yesterday, I ran an entire race with no music and I actually really loved it. I used to rely SO heavily on that music to get me through a run. No more. I don't NEED it. I'm not saying I won't ever listen to music on a run again. Who knows? But...for now...I kind of like my inner monologue. I'm very entertaining, you know. LOL.

And...it gives me time to really try to connect with God. And I think that makes running even more special. Truth be told, there's a lot of stuff going down in my life right now and I am looking to capitalize on every single moment I can possibly get alone with the Big Guy. We've got STUFF to do, you know??? I can't have music interrupting those chances.

3. Television

OK, this is not just from my injury time. I've noticed this since May, when I really started running. Not only was I beginning to skip TV time with my hubby because I had to get up at 5:30am to run, but I also just wasn't interested in sitting there for hours when I could be reading a cool new book on running or reading a magazine on running. And, I'm not a total freak. I do read OTHER things! Haha. I've been wanting to read SO MANY books...and I just haven't had time with work and mommy stuff. So my only time is in the evening after the kids go to bed...that one special hour or so before I can't keep my eyes open any longer. You know what...if it's between TV and a great book, I'm so going off by myself to devour that book.

I was addicted to more shows than I can count. I was literally really emotionally invested in the plots and characters. I made one change in my life (getting more active) and it's like it all just fell to the ground and died. I couldn't care less about TV anymore. It was actually hard for me to watch the Olympics because I just wanted to go out and do stuff all the time...I didn't want to be chained to the TV. And...yet I did. Haha. Olympic addiction did NOT go away!!!

Anyway, just some strange things I've been noticing. Did any of you notice any addictions just fall away easily once you started your health journey???? I'm curious if I'm the only one.






Saturday, September 08, 2012


See these girls? They're my girls. My group. My Bloomington "people". Some of the group has known each other for a long time. Some were strangers to the group, but knew one of the girls, so they tagged along for dinner and drinks one night. There are a few others not in this exact photo. We have so much fun together when we gather that we decided to schedule a monthly GNO (Girls' Night Out) so we can be together, eat delicious food and drink cocktails. Incidentally, none of us ever leave those outings without side stitches from laughing so hard. They bring me inexplicable joy. And, most of the group happens to be runners.

So, we've all been entering a lot of the same races and meeting up beforehand and afterwards. Today, we ran the toughest course any of us has ever run. There were quite a few hills.

Rewind a bit. Last night (this morning?), my son woke me up at 3am. My mind started to race and I couldn't fall back asleep until 4am. Once I finally fell asleep, I was plagued with awful nightmares. My alarm went off at 6:30am and I woke up to some disturbing e-mail. My allergies were going nuts and my eyes were burning and itching. I was exhausted and sad. I was just in a FUNK. I wasn't even sure I wanted to run the race.

But, my girls arrived. I was still cranky, but it was nice to see them. I felt like there were so many bad omens before this race that I was worried it was not going to be my day.

The race started and I was struggling a bit. Not really physically...just mentally. I kept wishing I was in bed. But, as I kept running, I was keeping an eye on my pace...making sure I was running steady and not going too fast. I was in pretty good shape at Mile 1. Getting to Mile 2 felt a bit rougher, but literally, as I was coming up on the Mile 2 sign, I felt my body go into the zone. Suddenly, I felt lighter and running was easy and I haven't felt that for SO long!!! I couldn't stop smiling!!! Literally, I had the dumbest dopey grin on my face! I wanted to shout, "THIS FEELS AWESOME!"

Then...right then...in the last mile...the mother of all hills. I was running for a good while. I thought, "No prob. I'm in the zone...this'll be a piece of cake!" Well...that thing just didn't get smaller! I did end up walking...for about 20 seconds. But, then I could see the top...so I pushed harder.

Well, the best part was...after the hill, it went downhill and took you straight to the stretch that would go to the finish line. I just kept telling myself, "Don't you dare stop!" In that last .4 miles or so, I probably ran my fastest pace ever and it wasn't a labor or painful at all. I just felt...POWER. I could not WAIT to cross that finish line because, even though I hadn't looked at my time, I could just FEEL it.

Came around the last corner and I could have died, you guys!!! I finished in 39 minutes 35 seconds. I had just been joking with the girls before the race about my ultimate goal being a 40 minute 5k and how I'd be barfing at the Finish if that actually happened! Haha.

WOW. THAT was an amazing morning. I feel so thankful. So powerful. So healthy. Strong. Like the possibilities are endless. That fear I had regarding the half marathon? Gone. Any nervousness for my 10k in a few weeks? None.

This was the absolute best comeback I could have ever imagined. And sharing it with friends made it all the more sweet.

By the way, every single person in our group PR'd today. How's that for motivating one another? BEST DAY EVER.






Thursday, September 06, 2012
You know how I started running? Couch to 5k. When I started, I could barely run for a whole minute. It was SO hard. Over time, and with a commitment to get out of bed at 5:30am AT LEAST 3 times a week (usually 4-5 times), I saw my body change and felt things get easier. After 3 months of this CONSISTENT work, I could run for half an hour - no problem!!! Even though it was at a snail's pace and I still weighed (and still do) 225 lbs.

But sitting out for 7 weeks changed that. It's no secret that I kept my fitness up for the entire period when I was in the boot. But, just because I am generally fit does not mean I magically kept my ability to run straight through for half an hour without stopping.

Rather, I feel as if I'm starting over...not from the beginning, necessarily. Because I can run longer than a minute...but maybe from where I was, say, 1-2 months in. The most I can do right now is 5 minutes.

I have a 5k race on Saturday, which I signed up for LONG before my injury. I have had ONE run of any substance since I returned to running. I used to think of a 5k as a mere blip. "Simple! Not even something I need to worry about! Just a fun little hour of my life!" Well...that was arrogance. Plain and simple. And I honestly believe that part of my injury was God ever so gently calling me out on this spirit of arrogance. A 5k is not an easy, Sunday jog. It's a pretty good distance! There's nothing EASY about it!

Forgive me if I'm wandering a bit, but this journey of health and fitness can't just be about how strong *I* am and how much work *I* put into my sport or how accomplished *I've* become or how many races *I* have completed. If that is all that it's about, it's just sad....and empty. It needs to be about more than that.

I've been wrestling with this idea for some time now. WHY AM I DOING THIS? To prove something to someone? To myself? To show off? To get skinny? To find an identity? To impress my friends? To switch one addiction for another? I don't want to work so hard at something in my life for such vain pursuits.

If I'm going to give my time, my energy, my MONEY, and my family's time to this training and this dream of running, triathlon, Ironman...I better have some reasons that align with my core beliefs and values. Or it's all for naught.

So, thinking on these things...the following are my reasons for pursuing this life of health/fitness/competition:

1. My own fitness journey has always signaled to me that God is able to make NEW life out of anything that we believe is dead and gone. Every day that I am able to get up and run or swim or bike or hike or ANYTHING is, and should always be recognized as, a gift to me.

I lived through an injury so severe, any sane person would live in fear for the rest of their life and never again attempt anything active, in an effort to guard against re-injury.

With the help of a great Bible Study leader and some pretty supportive family members, I dared to believe that I was strong enough to jog 20 feet on the trail one day. And when I jogged for that 10 seconds, my daughter rejoiced. That was the moment I believed that I COULD. And I just kept going. And every time I feel that runner's high, I thank God for bringing me BACK TO LIFE.

2. I want to set an example for my immediate family, for my friends and for others. It's not a "look at me and how great I am" kind of thing. Rather, it's a "look how terribly far gone I was and how cruel I was to myself and my body. And look at where I am today. Miracles are possible. Health IS possible."

I know we hear it all the time, but it's because it's true: If I can do it, you CAN do it. And aren't we all here to share the load together? Don't we need a little inspiration to get that first swift kick in the butt right in the beginning? Yes. I did. And so do all of us.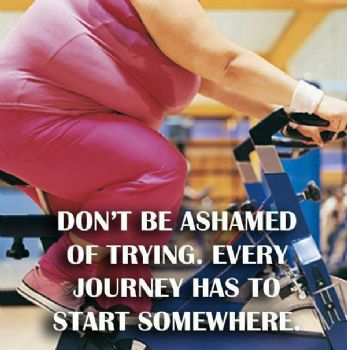 3. I didn't have this goal in the beginning, but as this thing has taken off and grown, it's become more than I ever could have imagined. So, my third goal is to touch people's lives. Because people MATTER.

Not just with blogs going out to the masses. I want to INTENTIONALLY look for SPECIFIC ways I can touch specific people's lives - to come alongside them and give them a word of encouragement or hope or support.

When I began to "wake up" to this new life of health, I began to see so much beauty in myself that I had never acknowledged before. The best part is, I can see that in everyone else now too! If it weren't so creepy, I'd just love to tell everyone I meet that they are so ridiculously beautiful. And that has nothing at all to do with figure or physique. It has everything to do with their VALUE as a human being. We are all WORTH fighting for.

4. Finally, I want healthy fruit. I'm not talking about pears or grapes, although I do want those. I'm talking about this:

"But the fruit of the Spirit is love, joy, peace, patience, kindness, goodness, faithfulness, gentleness and self-control." - Galatians 5:22-23

I happen to be a person of faith. And I believe that, to truly live what I say I believe, I need help from a power higher than myself. For me, this is the Holy Spirit. And His fruit is listed above.

It stuns me to read these verses in light of what running and endurance sports have produced in my life thus far.

Love - Well, I love myself. Is that worth noting?

Joy - Oh yeah!

Peace - Can't beat that feeling of peace after a good run.

Patience - Well, I have a lot more patience with my kids after a run and, in part, I have to have patience with my own body and not push it past its limits.

Kindness - Seeing my own weaknesses helps me to be more understanding towards the weaknesses of others. And a good training program WILL show you alllll your weaknesses.

Goodness - Welllll....jury's still out on that one! ;)

Faithfulness - Try to run a 26.2 mile marathon without it, friend.

Gentleness - Ask my husband if I've been more gentle since I began this lifestyle.

Self-Control - Are you kidding me??? We've hit the mother load here! 5:30am sucks...I'm just saying. And don't you KNOW how much I LOOOOVE Taco Bell?

There is so much potential in competition and sports to become so self-focused. And I just don't want to be *that* girl. I don't want my healthy diet or my fitness pursuits to define me and give me my identity. I want to have a solid identity FIRST and then have everything else in my entire life flow out of that.

So, I'm going to switch out my Vision Collage with the list above. I feel like it's a lot healthier motivation for me going forward. Training will only get harder and longer and more difficult. Time will be less available for other things and I don't want to miss out on the good that can come from all my hard work and slowly evolve into a person who is simply spinning her wheels, only to wake up one day and say, "Wait...I feel empty. Why am I doing this?"





Wednesday, September 05, 2012
Got my lazy butt out of bed at 6am this morning so I could get the YMCA as soon as they opened up for Adult Open Swim. I really didn't want to go, so I had to bribe myself. "If I go swim for 1/2 hour now, I can get a skinny Pumpkin Spice Latte at Starbucks on my way in to work." Well, somehow that tactic (and putting on my bathing suit) worked!

I got there and STILL didn't want to swim, but I figured, "Well, I'm here. Might as well get to it!" I ended up swimming for half an hour and getting 32 lengths in. That was the plan. I did learn that I've been calculating my swim distances all wrong, because I thought one length was 50m but it is actually 25m. No wonder! Haha. I am not so good at the maths. Anyway, today I did 800 meters (or 32 lengths). An official Sprint Tri is 750 meters. I did that in 28 minutes. Pretty much the same time I've been getting all along. But, I'm pretty happy with it.

Still having breathing issues. Not as bad as before, I guess. I have to keep telling myself, "Leah, no one is trying to steal your air. All you have to do is lift your head and get some. It's just right there above the top of the water. Plenty of it! Just LIFT YOUR HEAD!" Don't ask me why this is so hard for me! I just can't get a rhythm. I'm thinking it might be worth investing the $120 into having a professional swim coach give me four one-hour lessons at the YMCA. And, if you are a member getting private lessons, you are allowed to bring up to 3 friends. If I bring my entire little "triathlon wannabe" team, we will all only have to pay $30. I think that's a sweet deal!

I'm a little on the fence right now about whether I should be pushing swimming and biking off until after my half marathon and focusing mainly on running. I am very far behind in my training for this half, in terms of mileage. I have 6 weeks to build from essentially a 3-mile long run up to a 13-mile long run. I am feeling the pressure. Is swimming and biking taking energy out of my body that should be directed towards miles running and strength training only????

What do you think? Especially those that have run half marathons before. What would you do if you only had 6 weeks to train for a half marathon? Granted, I'm not planning on running the ENTIRE course...run/walk is fine...but I'd love to finish in less than 3.5 hours and I run very slow (15 min/mile) and walk even slower. Advice?







Tuesday, September 04, 2012
For this blog, I felt it only fitting to borrow a phrase originally coined by my friend (and author of the books "The Competitor In Me" and "The Competitor In Me II: Facing The Fear"), Francie Van Wirkus. Francie started out running and eventually went on to become a triathlete and then an Ironman. Obviously, Francie is a huge inspiration to me and definitely a driving force behind my interest in triathlon.

In her books, Francie frequently refers to those inner voices that come against a person and try to discourage or bring fear. She calls them "doubt demons". And she talks about how she works to defeat those doubt demons over and over and over and over. Sadly, they never seem to go away forever.

Before this injury, I thought I knew the doubt demons. But, for the past few days, I feel like they have descended upon my spirit en masse. Even in my passion and fervor to learn how to ride a bike and plan my various workouts and keep my calorie consumption under control, they have still be having a good old time in my brain. You see, that's the thing about doubt demons...they don't care how hard you work or what actions you have taken to do what's right...they just keep picking at you. They keep demeaning and they keep discouraging.

Today, I felt overwhelmed by them. As I said, it's been building for a few days. Nightmares and everything. In particular, though, I have begun to doubt my ability to run my 5k on Saturday (a 5k!) And I was getting close to panicking about being ready for my 10k race on September 29th. That's not very far away, you know. And, when I thought about my half marathon on October 20th, well...that is not even something I can describe. The doubt demons were EATING ME ALIVE on that one. They kept saying, "You won't be ready. What do you think you're doing? You can't do this, Leah. You will hurt yourself. You will make a fool of yourself."

Today, I knew what I needed to do. At some point, you just have to prove them wrong. And that is the only way to silence them. I was supposed to run 3.1 this morning. But the weather was so dark and foggy, I just couldn't bring myself to do it. I got home from a full day of work just wiped out. But I knew I had to do it. I couldn't handle those voices of discouragement one minute longer.

I went for my run. The first real run since I was injured 7 weeks ago. Warmed up with a 5 minute walk and then ran for 5 minutes. Walk break. So far, so good. If I can do 5 minutes running, 1 minute walking the entire way...that's not bad! But, my gosh, it 90 degrees and who knows what the nasty humidity was! I walked one minute, ran 2 minutes and had to walk again. Sweat was POURING down.

Doubt Demons: See, you've lost it. You cannot do this. You have to start all over.

Ran 4 minutes and had to walk.

Doubt Demons: You're never going to be in shape by the 29th. No way.

Ran 2 minutes and walked.

Doubt Demons: How could you register for that half marathon? You probably wasted your money.

Finally, I was at the halfway point. 1.55 miles. Actually, I thought, I'm on time with my normal pace, despite all the extra walk breaks. So, I'm not doing so badly. Also, it's freaking 90 degrees out here and I can barely breathe. And, it's afternoon (not my most energetic time) and I'm exhausted from this day!

Doubt Demons: Excuses.

No...no...grace. Because I haven't done this in 7 weeks. And it wasn't my fault I got injured and I did the right thing by resting. If I keep working and putting in the miles, I'll be ready. You know what? Shut up. SHUT UP now!

From that point on, they were silent. I broke the last half of the run up into small pieces...just like when I first started running back in March. Just go from this sign to that next sign. Go from this curve to the top of that hill. Go from that next curve to the curve after that. Just go up this little hill and then you can walk. Just run the rest of the way home and you'll be done.

In the end, I made it in 45 minutes - with heat, with humidity, with doubt demons, and without the normal energy that I have in my morning runs.

My PR in a 5k is 42 mins 30 secs. If conditions had been better, perhaps I could have met that time.

When I realized that I just might PR this race on Saturday, well...I don't know what happened to those stupid DDs but they are gone.

I have time before September 29th and October 20th. One thing at a time.

For now, Bloomingfoods 5k on Saturday...YOU ARE MINE.



First Page
1
2
3
4
5
6
7
8
9
10
11
12
13
14
15
16
17
18
19
20
21 22 23 24 25 26 27 28 29 30 31 32 33 34 35 36 37 38 39 40 41 42 43 44 45 46 47 48 49 50 51 52 53 54 55 56 57 58 59 60 61 62 63 64 Last Page

Get An Email Alert Each Time LDRICHEL Posts