| | |
| --- | --- |
| | LDRICHEL's Recent Blog Entries |



Thursday, September 06, 2012
You know how I started running? Couch to 5k. When I started, I could barely run for a whole minute. It was SO hard. Over time, and with a commitment to get out of bed at 5:30am AT LEAST 3 times a week (usually 4-5 times), I saw my body change and felt things get easier. After 3 months of this CONSISTENT work, I could run for half an hour - no problem!!! Even though it was at a snail's pace and I still weighed (and still do) 225 lbs.

But sitting out for 7 weeks changed that. It's no secret that I kept my fitness up for the entire period when I was in the boot. But, just because I am generally fit does not mean I magically kept my ability to run straight through for half an hour without stopping.

Rather, I feel as if I'm starting over...not from the beginning, necessarily. Because I can run longer than a minute...but maybe from where I was, say, 1-2 months in. The most I can do right now is 5 minutes.

I have a 5k race on Saturday, which I signed up for LONG before my injury. I have had ONE run of any substance since I returned to running. I used to think of a 5k as a mere blip. "Simple! Not even something I need to worry about! Just a fun little hour of my life!" Well...that was arrogance. Plain and simple. And I honestly believe that part of my injury was God ever so gently calling me out on this spirit of arrogance. A 5k is not an easy, Sunday jog. It's a pretty good distance! There's nothing EASY about it!

Forgive me if I'm wandering a bit, but this journey of health and fitness can't just be about how strong *I* am and how much work *I* put into my sport or how accomplished *I've* become or how many races *I* have completed. If that is all that it's about, it's just sad....and empty. It needs to be about more than that.

I've been wrestling with this idea for some time now. WHY AM I DOING THIS? To prove something to someone? To myself? To show off? To get skinny? To find an identity? To impress my friends? To switch one addiction for another? I don't want to work so hard at something in my life for such vain pursuits.

If I'm going to give my time, my energy, my MONEY, and my family's time to this training and this dream of running, triathlon, Ironman...I better have some reasons that align with my core beliefs and values. Or it's all for naught.

So, thinking on these things...the following are my reasons for pursuing this life of health/fitness/competition:

1. My own fitness journey has always signaled to me that God is able to make NEW life out of anything that we believe is dead and gone. Every day that I am able to get up and run or swim or bike or hike or ANYTHING is, and should always be recognized as, a gift to me.

I lived through an injury so severe, any sane person would live in fear for the rest of their life and never again attempt anything active, in an effort to guard against re-injury.

With the help of a great Bible Study leader and some pretty supportive family members, I dared to believe that I was strong enough to jog 20 feet on the trail one day. And when I jogged for that 10 seconds, my daughter rejoiced. That was the moment I believed that I COULD. And I just kept going. And every time I feel that runner's high, I thank God for bringing me BACK TO LIFE.

2. I want to set an example for my immediate family, for my friends and for others. It's not a "look at me and how great I am" kind of thing. Rather, it's a "look how terribly far gone I was and how cruel I was to myself and my body. And look at where I am today. Miracles are possible. Health IS possible."

I know we hear it all the time, but it's because it's true: If I can do it, you CAN do it. And aren't we all here to share the load together? Don't we need a little inspiration to get that first swift kick in the butt right in the beginning? Yes. I did. And so do all of us.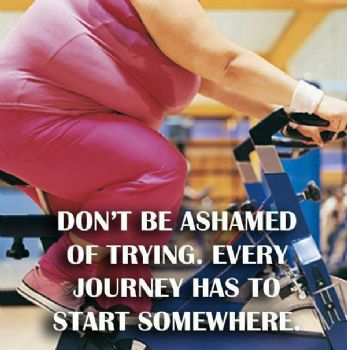 3. I didn't have this goal in the beginning, but as this thing has taken off and grown, it's become more than I ever could have imagined. So, my third goal is to touch people's lives. Because people MATTER.

Not just with blogs going out to the masses. I want to INTENTIONALLY look for SPECIFIC ways I can touch specific people's lives - to come alongside them and give them a word of encouragement or hope or support.

When I began to "wake up" to this new life of health, I began to see so much beauty in myself that I had never acknowledged before. The best part is, I can see that in everyone else now too! If it weren't so creepy, I'd just love to tell everyone I meet that they are so ridiculously beautiful. And that has nothing at all to do with figure or physique. It has everything to do with their VALUE as a human being. We are all WORTH fighting for.

4. Finally, I want healthy fruit. I'm not talking about pears or grapes, although I do want those. I'm talking about this:

"But the fruit of the Spirit is love, joy, peace, patience, kindness, goodness, faithfulness, gentleness and self-control." - Galatians 5:22-23

I happen to be a person of faith. And I believe that, to truly live what I say I believe, I need help from a power higher than myself. For me, this is the Holy Spirit. And His fruit is listed above.

It stuns me to read these verses in light of what running and endurance sports have produced in my life thus far.

Love - Well, I love myself. Is that worth noting?

Joy - Oh yeah!

Peace - Can't beat that feeling of peace after a good run.

Patience - Well, I have a lot more patience with my kids after a run and, in part, I have to have patience with my own body and not push it past its limits.

Kindness - Seeing my own weaknesses helps me to be more understanding towards the weaknesses of others. And a good training program WILL show you alllll your weaknesses.

Goodness - Welllll....jury's still out on that one! ;)

Faithfulness - Try to run a 26.2 mile marathon without it, friend.

Gentleness - Ask my husband if I've been more gentle since I began this lifestyle.

Self-Control - Are you kidding me??? We've hit the mother load here! 5:30am sucks...I'm just saying. And don't you KNOW how much I LOOOOVE Taco Bell?

There is so much potential in competition and sports to become so self-focused. And I just don't want to be *that* girl. I don't want my healthy diet or my fitness pursuits to define me and give me my identity. I want to have a solid identity FIRST and then have everything else in my entire life flow out of that.

So, I'm going to switch out my Vision Collage with the list above. I feel like it's a lot healthier motivation for me going forward. Training will only get harder and longer and more difficult. Time will be less available for other things and I don't want to miss out on the good that can come from all my hard work and slowly evolve into a person who is simply spinning her wheels, only to wake up one day and say, "Wait...I feel empty. Why am I doing this?"





Wednesday, September 05, 2012
Got my lazy butt out of bed at 6am this morning so I could get the YMCA as soon as they opened up for Adult Open Swim. I really didn't want to go, so I had to bribe myself. "If I go swim for 1/2 hour now, I can get a skinny Pumpkin Spice Latte at Starbucks on my way in to work." Well, somehow that tactic (and putting on my bathing suit) worked!

I got there and STILL didn't want to swim, but I figured, "Well, I'm here. Might as well get to it!" I ended up swimming for half an hour and getting 32 lengths in. That was the plan. I did learn that I've been calculating my swim distances all wrong, because I thought one length was 50m but it is actually 25m. No wonder! Haha. I am not so good at the maths. Anyway, today I did 800 meters (or 32 lengths). An official Sprint Tri is 750 meters. I did that in 28 minutes. Pretty much the same time I've been getting all along. But, I'm pretty happy with it.

Still having breathing issues. Not as bad as before, I guess. I have to keep telling myself, "Leah, no one is trying to steal your air. All you have to do is lift your head and get some. It's just right there above the top of the water. Plenty of it! Just LIFT YOUR HEAD!" Don't ask me why this is so hard for me! I just can't get a rhythm. I'm thinking it might be worth investing the $120 into having a professional swim coach give me four one-hour lessons at the YMCA. And, if you are a member getting private lessons, you are allowed to bring up to 3 friends. If I bring my entire little "triathlon wannabe" team, we will all only have to pay $30. I think that's a sweet deal!

I'm a little on the fence right now about whether I should be pushing swimming and biking off until after my half marathon and focusing mainly on running. I am very far behind in my training for this half, in terms of mileage. I have 6 weeks to build from essentially a 3-mile long run up to a 13-mile long run. I am feeling the pressure. Is swimming and biking taking energy out of my body that should be directed towards miles running and strength training only????

What do you think? Especially those that have run half marathons before. What would you do if you only had 6 weeks to train for a half marathon? Granted, I'm not planning on running the ENTIRE course...run/walk is fine...but I'd love to finish in less than 3.5 hours and I run very slow (15 min/mile) and walk even slower. Advice?







Tuesday, September 04, 2012
For this blog, I felt it only fitting to borrow a phrase originally coined by my friend (and author of the books "The Competitor In Me" and "The Competitor In Me II: Facing The Fear"), Francie Van Wirkus. Francie started out running and eventually went on to become a triathlete and then an Ironman. Obviously, Francie is a huge inspiration to me and definitely a driving force behind my interest in triathlon.

In her books, Francie frequently refers to those inner voices that come against a person and try to discourage or bring fear. She calls them "doubt demons". And she talks about how she works to defeat those doubt demons over and over and over and over. Sadly, they never seem to go away forever.

Before this injury, I thought I knew the doubt demons. But, for the past few days, I feel like they have descended upon my spirit en masse. Even in my passion and fervor to learn how to ride a bike and plan my various workouts and keep my calorie consumption under control, they have still be having a good old time in my brain. You see, that's the thing about doubt demons...they don't care how hard you work or what actions you have taken to do what's right...they just keep picking at you. They keep demeaning and they keep discouraging.

Today, I felt overwhelmed by them. As I said, it's been building for a few days. Nightmares and everything. In particular, though, I have begun to doubt my ability to run my 5k on Saturday (a 5k!) And I was getting close to panicking about being ready for my 10k race on September 29th. That's not very far away, you know. And, when I thought about my half marathon on October 20th, well...that is not even something I can describe. The doubt demons were EATING ME ALIVE on that one. They kept saying, "You won't be ready. What do you think you're doing? You can't do this, Leah. You will hurt yourself. You will make a fool of yourself."

Today, I knew what I needed to do. At some point, you just have to prove them wrong. And that is the only way to silence them. I was supposed to run 3.1 this morning. But the weather was so dark and foggy, I just couldn't bring myself to do it. I got home from a full day of work just wiped out. But I knew I had to do it. I couldn't handle those voices of discouragement one minute longer.

I went for my run. The first real run since I was injured 7 weeks ago. Warmed up with a 5 minute walk and then ran for 5 minutes. Walk break. So far, so good. If I can do 5 minutes running, 1 minute walking the entire way...that's not bad! But, my gosh, it 90 degrees and who knows what the nasty humidity was! I walked one minute, ran 2 minutes and had to walk again. Sweat was POURING down.

Doubt Demons: See, you've lost it. You cannot do this. You have to start all over.

Ran 4 minutes and had to walk.

Doubt Demons: You're never going to be in shape by the 29th. No way.

Ran 2 minutes and walked.

Doubt Demons: How could you register for that half marathon? You probably wasted your money.

Finally, I was at the halfway point. 1.55 miles. Actually, I thought, I'm on time with my normal pace, despite all the extra walk breaks. So, I'm not doing so badly. Also, it's freaking 90 degrees out here and I can barely breathe. And, it's afternoon (not my most energetic time) and I'm exhausted from this day!

Doubt Demons: Excuses.

No...no...grace. Because I haven't done this in 7 weeks. And it wasn't my fault I got injured and I did the right thing by resting. If I keep working and putting in the miles, I'll be ready. You know what? Shut up. SHUT UP now!

From that point on, they were silent. I broke the last half of the run up into small pieces...just like when I first started running back in March. Just go from this sign to that next sign. Go from this curve to the top of that hill. Go from that next curve to the curve after that. Just go up this little hill and then you can walk. Just run the rest of the way home and you'll be done.

In the end, I made it in 45 minutes - with heat, with humidity, with doubt demons, and without the normal energy that I have in my morning runs.

My PR in a 5k is 42 mins 30 secs. If conditions had been better, perhaps I could have met that time.

When I realized that I just might PR this race on Saturday, well...I don't know what happened to those stupid DDs but they are gone.

I have time before September 29th and October 20th. One thing at a time.

For now, Bloomingfoods 5k on Saturday...YOU ARE MINE.






Tuesday, September 04, 2012
I AM A RUNNER because my runs have names. I do tempo runs and threshold runs and fartlek runs. I do long, slow runs and track workouts. My runs are defined, even if my abs are not.

I AM A RUNNER because my shoes are training equipment, not a fashion statement. The best shoe for me is the one that makes me a better runner. I choose the shoe that goes with my running mechanics, not my running outfit.

I AM A RUNNER because I don't have running outfits. I have technical shirts and shorts and socks. I have apparel that enhances the experience of running by allowing me to run comfortably. I can say "Coolmax" and "Gore-Tex" in the same sentence and know which does what.

I AM A RUNNER because I know what effort feels like, and I embrace it. I know when I'm pushing the limits of my comfort and why I'm doing it. I know that heavy breathing and an accelerated heart rate–things I once avoided–are necessary if I want to be a better runner.

I AM A RUNNER because I value and respect my body. It will whisper to me when I've done too much. And if I choose to listen to that whisper, my body won't have to scream in pain later on.

I AM A RUNNER because I am willing to lay it all on the line. I know that every finish line has the potential to lift my spirits to new highs or devastate me, yet I line up anyway.

I AM A RUNNER because I know that despite my best efforts, I will always want more from myself. I will always want to know my limits so that I can exceed them.

I AM A RUNNER because I run. Not because I run fast. Not because I run far.

I AM A RUNNER because I say I am. And no one can tell me I'm not.

- John Bingham





Monday, September 03, 2012
UGH. That about sums it up. OK, bye now.

Haha. Just kidding. So, here's the deal. I had the day off work, so I figured, "Why not give it a shot? I've got all this extra time!" But, when I rode 5.25 miles and ran 2 miles (later on) on Saturday, it literally wiped me out the rest of the day Saturday and all day yesterday. So, I figured maybe I started off with a little too much ambition.

I wasn't feeling so hot to start with today, but mostly that's because I left my allergy meds at work on Friday, so I've been suffering through three days of allergy hell. Why don't I go to the store and buy more allergy meds so I always have some at home and always have some at work? I don't know...it's like $20. LOL. I'm a dork sometimes.

Anyway...allergies were really hitting me hard. And it was probably 88% humidity today...I kid you not. Oppressive. But, I wanted to take advantage of the break in rain and try a brick workout. Just to see if I could do it.

Wellll....I will say it again, riding a bike is REALLY HARD! Although, from the way my body feels now (as opposed to Saturday), I *might* be adjusting to it a bit. No pain this time (I'll spare you the exact pain location because you just don't want to know!)

So I rode slightly less than before...about 4 miles. Then, placed my bike and helmet by the garage and set off on a run. At this point, the humidity was really closing in on me and I was having trouble breathing (I NEVER have trouble breathing when I run!) I made it about 0.75 miles and then decided to call it a day. Every single inch of my body was soaked with sweat. You know those workouts where you sweat so much that it's dripping off the end of your ponytail? Yeah...it was that.

I bought a foam roller this weekend (don't ask me why I could buy an ankle brace and foam roller for $32 but not allergy meds for $20...a mystery!) and tried foam rolling instead of stretching. I don't know, but I feel pretty awesome. And I fully expected some sort of agonizing cramping in the front of my quads. Rolled em out really well and there is no pain or soreness at all. Woo!

OK, well, if you'll excuse me...I need to go blow my nose endlessly, squirt some drops in my eyes like a junkie and drink about a gallon of water. Ciao!



First Page
1
2
3
4
5
6
7
8
9
10
11
12
13
14
15
16
17
18
19
20
21 22 23 24 25 26 27 28 29 30 31 32 33 34 35 36 37 38 39 40 41 42 43 44 45 46 47 48 49 50 51 52 53 54 55 56 57 58 59 60 61 62 63 Last Page

Get An Email Alert Each Time LDRICHEL Posts