| | |
| --- | --- |
| | LDRICHEL's Recent Blog Entries |



Tuesday, September 04, 2012
I AM A RUNNER because my runs have names. I do tempo runs and threshold runs and fartlek runs. I do long, slow runs and track workouts. My runs are defined, even if my abs are not.

I AM A RUNNER because my shoes are training equipment, not a fashion statement. The best shoe for me is the one that makes me a better runner. I choose the shoe that goes with my running mechanics, not my running outfit.

I AM A RUNNER because I don't have running outfits. I have technical shirts and shorts and socks. I have apparel that enhances the experience of running by allowing me to run comfortably. I can say "Coolmax" and "Gore-Tex" in the same sentence and know which does what.

I AM A RUNNER because I know what effort feels like, and I embrace it. I know when I'm pushing the limits of my comfort and why I'm doing it. I know that heavy breathing and an accelerated heart rate–things I once avoided–are necessary if I want to be a better runner.

I AM A RUNNER because I value and respect my body. It will whisper to me when I've done too much. And if I choose to listen to that whisper, my body won't have to scream in pain later on.

I AM A RUNNER because I am willing to lay it all on the line. I know that every finish line has the potential to lift my spirits to new highs or devastate me, yet I line up anyway.

I AM A RUNNER because I know that despite my best efforts, I will always want more from myself. I will always want to know my limits so that I can exceed them.

I AM A RUNNER because I run. Not because I run fast. Not because I run far.

I AM A RUNNER because I say I am. And no one can tell me I'm not.

- John Bingham





Monday, September 03, 2012
UGH. That about sums it up. OK, bye now.

Haha. Just kidding. So, here's the deal. I had the day off work, so I figured, "Why not give it a shot? I've got all this extra time!" But, when I rode 5.25 miles and ran 2 miles (later on) on Saturday, it literally wiped me out the rest of the day Saturday and all day yesterday. So, I figured maybe I started off with a little too much ambition.

I wasn't feeling so hot to start with today, but mostly that's because I left my allergy meds at work on Friday, so I've been suffering through three days of allergy hell. Why don't I go to the store and buy more allergy meds so I always have some at home and always have some at work? I don't know...it's like $20. LOL. I'm a dork sometimes.

Anyway...allergies were really hitting me hard. And it was probably 88% humidity today...I kid you not. Oppressive. But, I wanted to take advantage of the break in rain and try a brick workout. Just to see if I could do it.

Wellll....I will say it again, riding a bike is REALLY HARD! Although, from the way my body feels now (as opposed to Saturday), I *might* be adjusting to it a bit. No pain this time (I'll spare you the exact pain location because you just don't want to know!)

So I rode slightly less than before...about 4 miles. Then, placed my bike and helmet by the garage and set off on a run. At this point, the humidity was really closing in on me and I was having trouble breathing (I NEVER have trouble breathing when I run!) I made it about 0.75 miles and then decided to call it a day. Every single inch of my body was soaked with sweat. You know those workouts where you sweat so much that it's dripping off the end of your ponytail? Yeah...it was that.

I bought a foam roller this weekend (don't ask me why I could buy an ankle brace and foam roller for $32 but not allergy meds for $20...a mystery!) and tried foam rolling instead of stretching. I don't know, but I feel pretty awesome. And I fully expected some sort of agonizing cramping in the front of my quads. Rolled em out really well and there is no pain or soreness at all. Woo!

OK, well, if you'll excuse me...I need to go blow my nose endlessly, squirt some drops in my eyes like a junkie and drink about a gallon of water. Ciao!





Saturday, September 01, 2012
Woke up this morning around 6:30am and tried to go back to sleep, but my body was awake. Then I remembered that my bike was ready to ride and, since the whole house was sleeping, I realized it would be a great time to take it out for a spin. Grabbed my helmet and I was out the door.

The first couple minutes were pretty wobbly, with every curb and bump sending fear through my heart...until I rolled over them and they were no big deal. I told myself I wouldn't go very fast today because I didn't want to get hurt. I must have rode my brakes for the first 5 minutes...you know, just to MAKE SURE I knew how to stop if I needed to! Cautious cautious cautious.

But, once I hit the trail, I was beginning to get a better feel for it. I realized that tightening my abs was the key to maintaining good balance and my thighs were already sore. Out on the trail, I started to pick up speed and it was so much fun! I felt like I was flying! So I went FASTER!

When it was all said and done, I rode about 5 miles in 30 minutes. My goodness...that was a GREAT workout! You know, I always used to see bikes pass me on the trail and I'd think, "Psshhh...must be nice to be on a bike. I wish *I* was riding a bike, instead of this grueling running!" I need to repent of every time I thought that because it is NOT EASY, you guys!!!! Just faster. Much more work than I expected! And it definitely works different muscles than running does.

The worst was the last 5 minutes or so before my house...pretty difficult inclines for already tired legs. But I made it. And I felt amazing at the end!!!

Went inside and stretched, then Sparked for about half an hour, drank a ton of water and decided I felt good enough to go for a run. So I did a half hour run - just 2 miles walking/running.

Also did Coach Nicole's plyometrics (from the Self Magazine Challenge). My goodness, I'm done for the day! The rest of my day will consist of reading and resting!!!! I definitely feel I've earned it today!

Hope you all are having a wonderful and health weekend! God bless!






Friday, August 31, 2012
Ohhhhh friends...I. AM. BACK. Saw the ortho yesterday and he cleared me for a return to running program! This morning, I got up bright and early and started the program (5 minutes walking, 1 minute running - repeated 5 times). I was nervous, to be sure...but absolutely no pain! I also worried that I'd have no endurance left. Well, that's nonsense.

Because, even though I haven't run in 6 weeks, I certainly haven't been sitting around letting my heart, lungs and muscles waste away (like I did with my last accident). NO...yours truly logged 1558 monthly fitness minutes for August. That is the most fitness minutes I've EVER done in a month! My original goal was 1,000 and I thought that would be rough. I can't tell you how proud of myself I am for breaking my personal record (highest was 1,200 in a month) WHILE injured.

I know that might sound cocky or arrogant. I don't mean to sound that way or come across like that. It's just that...when I got the non-weight bearing sentence from my ortho, I felt crushed in spirit. I felt like he was taking away everything that I'd worked for over the past 4 months. I was certain I'd gain the 30 lbs back that I'd lost and that I'd never be able to get through a 7-mile run again. That might not have been realistic thinking, but it's how I felt.

Man, what a month! I must admit that God was mightily at work in my life this past month. Not only did He root out some pretty serious emotional and relational things that were going on in my life, but He showed me a side of myself that I didn't know was there. I thought my dreams of running a marathon were big. Huh.

I got in the pool because I was desperate to not lose what I'd already attained. I kept going to the pool because I thought I might be able to improve my stroke a little. I will keep going to the pool now because I love the way my body feels after a swim.

I took my bike into the bike shop for a tune-up today, so I will know without a doubt that it is training-ready and isn't going to fall apart on me while I'm riding. This weekend, I will attempt to ride a bicycle for the first time in over 20 years. I will master this thing that I fear...because I want to train for a triathlon.

My husband has suddenly had a change of heart towards health. He is also fired up to work towards a triathlon. I NEVER thought I would see *this* day. Do you know how I've longed in my deepest heart to have my husband find any interest whatsoever in this journey that I'm on? And, by the way, if you think it's fun to research and buy fun running/cycling/swim gear by yourself...it's twice as fun when you've got a partner in crime! We've been geeking out non-stop about triathlon training for several days now. And it's brought an element of FUN back to our relationship. It's like something dead is coming alive again. Wow!!! Really???? Health can bring a marriage back to life??? That's astounding.

You know, I've been reading like crazy about running for the past few months. I have learned more than I could ever imagine about this sport, to the point that I feel pretty confident in my level of knowledge. Frankly, a fat girl like me walks into the running store and the guys there are always so shocked when I know what I'm talking about and use their terminology. Someday...this body will match the sport.

However, when you add two more sports to the mix, oh my gosh...I have SO much to learn. I know NOTHING about biking. At the bike store, I flat out said to the girl, "Can you give me your honest, expert opinion? Is this a shi*ty bike?" Haha. She had to show me how to put a helmet on. She was so kind and gracious and didn't make fun of me once...although, I know in her head, she was.

All of this because of a small tweak in my ankle. I am beyond words at how this one month has changed the entire course of my future, health-wise. I mean...who KNEW that new dreams could be born at the age of 34? I honestly thought that I got married, had three kids, got a job and that was going to be it. That was my life...forever. I wasn't going back to college. I wasn't going to learn any special new skill (like real estate or becoming a hair dresser). I just was...where I was gonna be...for the rest of my life.

If you would have told me last year that I'd now be seriously putting into motion a plan to become a triathlete, I would have laughed SO hard and ordered another Taco Supreme.

Amazing. I'm kind of speechless. I know they say "never say never". But I WILL say it...it's NEVER too late, guys. Never.






Thursday, August 30, 2012
Up until now, I've shared quite a lot of information about the athletes of Ironman Louisville. But, just for a moment, allow me to draw your attention to the unseen heroes of an Ironman race: the Ironman Support Team and the Volunteers.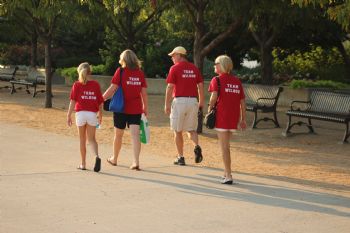 When you attend an Ironman, you'll often hear the term "Ironman Support Team" thrown around. It's even on t-shirts in the Ironman Store. Support Team is any athlete's family, friends, co-workers, etc who come out to cheer on their athlete on race day and/or anyone that makes it possible for the athletes to train and make it to the starting line of the race.




I found a great excerpt from Ironstruck.com:

"Taking on the Ironman Triathlon involves a lot more than buying equipment, finding a coach, and training for the big day. It's important to keep in mind that often the people most important in your life will prove to be instrumental in your journey and will be your ironman support. Ironman support makes all the difference.

One of the most important components of your preparation is the support, patience and understanding of the people who truly want you to succeed. In many respects, attempting something as challenging as the Ironman Triathlon can be hard on relationships, and especially hard on marriages. The people who are closest to you will benefit in the long run, but in the meantime it's important to remember how much their support means as you work towards your ultimate goal."

You can view the full article here: ironstruck.com/ironman-support

Likewise, there are THOUSANDS of volunteers for this event. Keep in mind that we're talking about at least 17 hours on race day that must be staffed by volunteers (and also for the days before and after).

In the Transition Area tents, thousands of volunteers wait to help the athletes change, apply sunscreen and get out to their bikes quickly. At the Finish Line, 1-2 volunteers greet EACH finisher that crosses the line. They literally hold them up and care for them – get them water, alert medics if needed, talk them through pain, and give verbal encouragement and hugs. I most definitely will be volunteering for Ironman races in the future. To be able to support athletes of that caliber would be an honor and a privilege.




I wish you could have stood with me in the area just past the finish line. It was so interesting to see them after the finish of the race. Some were rather unaffected, shook off the volunteers' helpful offers of support and simply walked past the water and Gatorade, gathered their medal and went back to the hotel. Others (many more were like this) crossed the line, walked past the camera and you literally saw their entire body shut down and crumble. They couldn't even stand. Many were taken away in wheelchairs. I thought, "These people did not have ONE OUNCE of energy left. How did they even manage to run across that finish line?" It's astounding what willpower and determination can do…it can literally take you beyond your body's physical limits!

The most intriguing to me were the athletes that appeared totally focused and crossed the finish line all smiles, but then had to be practically carried to water/Gatorade by the volunteers. If you looked into their eyes, they were not even mentally there. I recognized that glassy stare because I have had it myself. I know the exact "place" they were in because I've been to that place during each of my three natural childbirths.

There is a strange time between when you're ready to push that baby out and when the baby is actually born. You feel half awake, not able to make sense of where you are or who is around you or what is going on. The pain is so great, you literally feel like you've left your own body. Physiologically, that feeling is brought on by hormones in your body, attempting to protect you from a pain so intense that you can't bear it. It's amazing how the body does this because literally 5 minutes AFTER the baby was born, I felt completely wide awake - like I'd just woken up from a hazy dream.

If this is what is happening with these athletes, I ask you…WHY are they not our heroes? Why are they not household names? Why do our kids not look up to them? I don't belittle any sport or team because I understand the dedication it takes to master a game/sport that you love. But, truly…these Ironman athletes push their bodies far beyond that of most famous baseball, basketball or football stars and where is their glory? People don't even know what an Ironman race is!!! It's sad to me.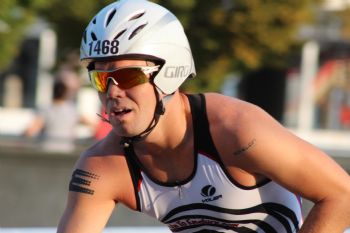 And yet, it makes the athlete's achievement all the more special. Because they aren't out there for glory or fame. They are there to test their own limits, to prove to themselves that they can do it, to be healthy and to live their lives to the full. The ironic thing (pun intended) is that this is what makes them inspiring and worthy of admiration.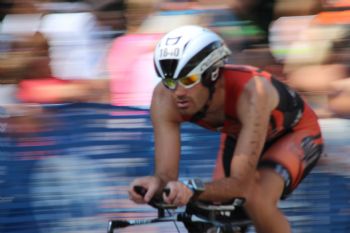 Do I want complete an Ironman someday? Of course! It might take me 15 years to get there, but what once seemed insane and impossible now seems shockingly within reach. Why? Because I was there. I've seen it done right in front of my eyes…by thousands of courageous men and women of all shapes and sizes and ages that simply chose to keep going and never give up. These men and women have an iron will. And, thanks to their hard work and sacrifice, a seed of an idea was planted in my mind…that perhaps I, too, might have that kind of will inside of me.

As I take on new challenges and go deeper in my training, I expect that seed will grow. It will take me across many finish lines in my lifetime. I can only dream and hope that it will carry me across the ultimate finish line and I will one day hear the words, "Leah Drichel…you are an Ironman."

*All photos copyrighted 2012: Scott Drichel Photography



First Page
1
2
3
4
5
6
7
8
9
10
11
12
13
14
15
16
17
18
19
20
21
22
23 24 25 26 27 28 29 30 31 32 33 34 35 36 37 38 39 40 41 42 43 44 45 46 47 48 49 50 51 52 53 54 55 56 57 58 59 60 61 62 63 64 65 Last Page

Get An Email Alert Each Time LDRICHEL Posts