| | |
| --- | --- |
| | LDRICHEL's Recent Blog Entries |


Thursday, August 30, 2012
Up until now, I've shared quite a lot of information about the athletes of Ironman Louisville. But, just for a moment, allow me to draw your attention to the unseen heroes of an Ironman race: the Ironman Support Team and the Volunteers.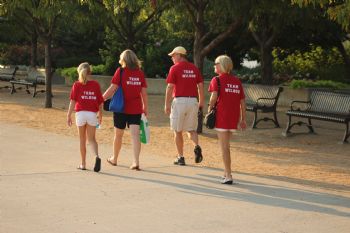 When you attend an Ironman, you'll often hear the term "Ironman Support Team" thrown around. It's even on t-shirts in the Ironman Store. Support Team is any athlete's family, friends, co-workers, etc who come out to cheer on their athlete on race day and/or anyone that makes it possible for the athletes to train and make it to the starting line of the race.




I found a great excerpt from Ironstruck.com:

"Taking on the Ironman Triathlon involves a lot more than buying equipment, finding a coach, and training for the big day. It's important to keep in mind that often the people most important in your life will prove to be instrumental in your journey and will be your ironman support. Ironman support makes all the difference.

One of the most important components of your preparation is the support, patience and understanding of the people who truly want you to succeed. In many respects, attempting something as challenging as the Ironman Triathlon can be hard on relationships, and especially hard on marriages. The people who are closest to you will benefit in the long run, but in the meantime it's important to remember how much their support means as you work towards your ultimate goal."

You can view the full article here: ironstruck.com/ironman-support

Likewise, there are THOUSANDS of volunteers for this event. Keep in mind that we're talking about at least 17 hours on race day that must be staffed by volunteers (and also for the days before and after).

In the Transition Area tents, thousands of volunteers wait to help the athletes change, apply sunscreen and get out to their bikes quickly. At the Finish Line, 1-2 volunteers greet EACH finisher that crosses the line. They literally hold them up and care for them – get them water, alert medics if needed, talk them through pain, and give verbal encouragement and hugs. I most definitely will be volunteering for Ironman races in the future. To be able to support athletes of that caliber would be an honor and a privilege.




I wish you could have stood with me in the area just past the finish line. It was so interesting to see them after the finish of the race. Some were rather unaffected, shook off the volunteers' helpful offers of support and simply walked past the water and Gatorade, gathered their medal and went back to the hotel. Others (many more were like this) crossed the line, walked past the camera and you literally saw their entire body shut down and crumble. They couldn't even stand. Many were taken away in wheelchairs. I thought, "These people did not have ONE OUNCE of energy left. How did they even manage to run across that finish line?" It's astounding what willpower and determination can do…it can literally take you beyond your body's physical limits!

The most intriguing to me were the athletes that appeared totally focused and crossed the finish line all smiles, but then had to be practically carried to water/Gatorade by the volunteers. If you looked into their eyes, they were not even mentally there. I recognized that glassy stare because I have had it myself. I know the exact "place" they were in because I've been to that place during each of my three natural childbirths.

There is a strange time between when you're ready to push that baby out and when the baby is actually born. You feel half awake, not able to make sense of where you are or who is around you or what is going on. The pain is so great, you literally feel like you've left your own body. Physiologically, that feeling is brought on by hormones in your body, attempting to protect you from a pain so intense that you can't bear it. It's amazing how the body does this because literally 5 minutes AFTER the baby was born, I felt completely wide awake - like I'd just woken up from a hazy dream.

If this is what is happening with these athletes, I ask you…WHY are they not our heroes? Why are they not household names? Why do our kids not look up to them? I don't belittle any sport or team because I understand the dedication it takes to master a game/sport that you love. But, truly…these Ironman athletes push their bodies far beyond that of most famous baseball, basketball or football stars and where is their glory? People don't even know what an Ironman race is!!! It's sad to me.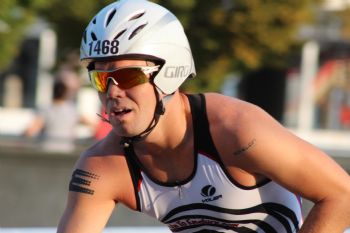 And yet, it makes the athlete's achievement all the more special. Because they aren't out there for glory or fame. They are there to test their own limits, to prove to themselves that they can do it, to be healthy and to live their lives to the full. The ironic thing (pun intended) is that this is what makes them inspiring and worthy of admiration.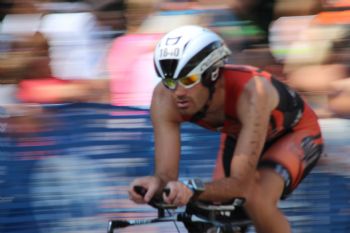 Do I want complete an Ironman someday? Of course! It might take me 15 years to get there, but what once seemed insane and impossible now seems shockingly within reach. Why? Because I was there. I've seen it done right in front of my eyes…by thousands of courageous men and women of all shapes and sizes and ages that simply chose to keep going and never give up. These men and women have an iron will. And, thanks to their hard work and sacrifice, a seed of an idea was planted in my mind…that perhaps I, too, might have that kind of will inside of me.

As I take on new challenges and go deeper in my training, I expect that seed will grow. It will take me across many finish lines in my lifetime. I can only dream and hope that it will carry me across the ultimate finish line and I will one day hear the words, "Leah Drichel…you are an Ironman."

*All photos copyrighted 2012: Scott Drichel Photography






Wednesday, August 29, 2012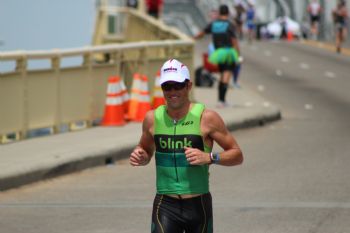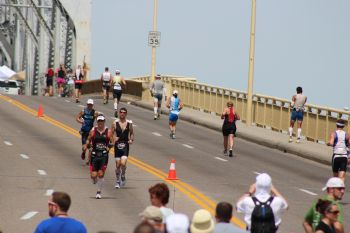 Immediately following their 5-6 hour ride through 112 miles of Kentucky terrain, the Ironman athletes returned to the Bike Transition Area to quickly shake off their dead legs and begin the marathon run that would usher them to the finish line and the title of "Ironman". It was a hot one…about 90 degrees. The humidity wasn't horrible, but it was not ideal running weather, that's for sure. The athletes did their best to combat the heat with sponges and other body cooling methods.




My husband's body actually suffered from the heat the entire following day, so the marathon was certainly no walk in the park for these athletes. In fact, I went through and looked at all the finisher results and, from what I can tell, there were 786 athletes that did not finish the race…most of them fell out on the run. This guy was hurting pretty badly.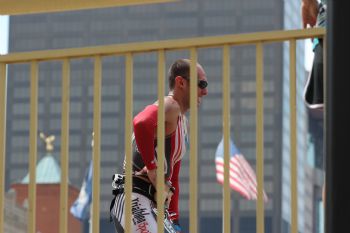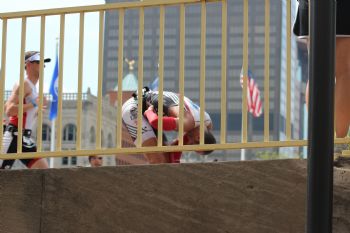 Just imagine how your body would feel after the effort put forth to not only swim 3,862 meters and ride a bike at full force for almost half a day. I have heard it described by many triathletes as feeling like your legs are Jell-O or trying to run through neck-high Jell-O. An average runner struggles to conquer a marathon, in and of itself, at some point in their lifetime. What kind of fitness does a person need to have to run 26.2 miles AFTER all of the above? It's just mind-blowing. By rights, the human body should not be able to withstand this type of effort. The fact that ANYONE finishes this race is unbelievable. The fact that one of the professional athletes completed another Ironman race just 14 days before this is downright insane. Can you imagine the conditioning of that woman's body to be able to recover in that way? I really can't.

By the time we got to the run course, our friend's husband, Joe, was already at Mile 7. Missed him again! He was just too speedy for us the entire day! We headed to the Finish Line to wait for the runners to start coming in. We got there around 3:00pm and waited. And waited.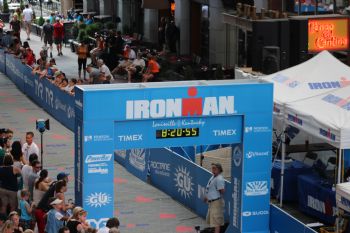 Finally! In the distance, a runner appeared…headed toward the finish line! It was professional athlete, Patrick Evoe. He has placed 2nd in an Ironman before, but has never won. This was his shining moment. The crowd was elated. He had a final finish time of 8 hrs 42 mins 44 secs. Amazing.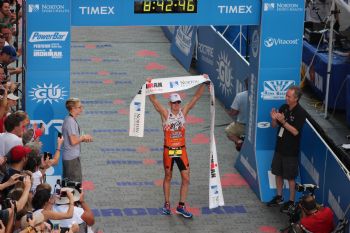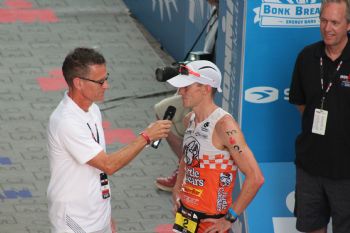 A few more men came in, including some age groupers (a.k.a. regular folk…although, not really regular…more extraordinary than most is more like it). We were waiting for the 1st place woman and it turned out to be pro, Bree Wee. Her finish is just adorable. I didn't want to include too many pics but you've gotta see these in succession! Precious!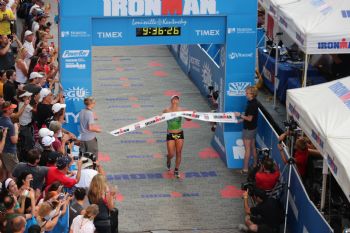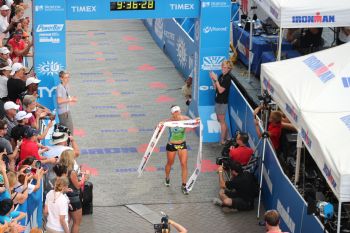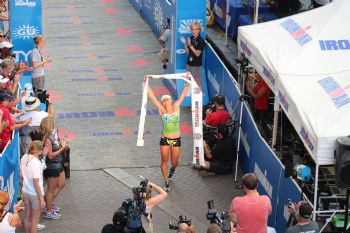 Bree finished with a total time of 9 hrs 36 mins 27 secs. After that, several more athletes came in and we kept getting texts from Francie that Joe was nearing the end of the marathon. Mile 15. Mile 20. Mile 25. He's on his way in! We couldn't wait to see him for the first time that day!




Joe made it across the line, finishing in the top 5% of all the athletes. He also qualified for a spot in the Ironman World Championship in Kona, Hawaii! There were about 50 spots available, evenly spread out by age group. This is not Joe's first time in Kona, but qualifying for Kona is ALWAYS a big deal! Now we will know TWO athletes in Kona!!! Guess who will be glued to the computer screen all day on October 13th??? Incidentally, Francie is competing in HER Ironman race next week in Madison, WI. How's that for an awesome family?

We also got to witness something really special. One of the athletes that had just finished his Ironman got down on one knee and proposed to his girlfriend. Naturally, we took pictures. Such a joyous moment in an overall fantastic day.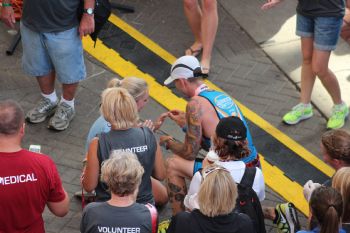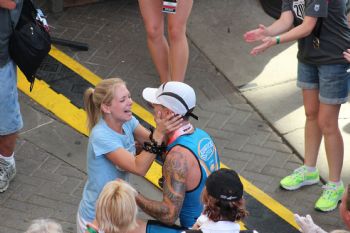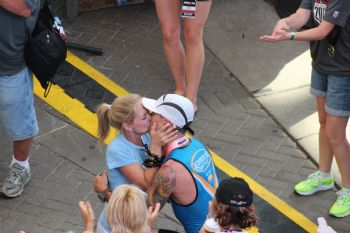 Since we'd been standing and waiting at the finish line for hours, we were ready to find a restaurant to sit down and eat (it's a full day of eating, with some athletics mixed in!) so we tried to get a patio seat on the finish line. But the restaurant was charging $100 for a seat outside! And that didn't even include your food and drink! Ridiculous. So, we ate at Hard Rock Café. Then, watched for a few more hours as athletes began to pour in. We had to head home around 8pm, although the finish line was pumping all the way up to midnight. Our feet were just done for the day and I had to work the next morning bright and early. I tried to watch the final finishers online but my body was just finished and I fell asleep.

From what I can tell online, the very last finisher was 63 yr old, Tina Duda, with a total time of 16 hrs 57 mins 47 secs.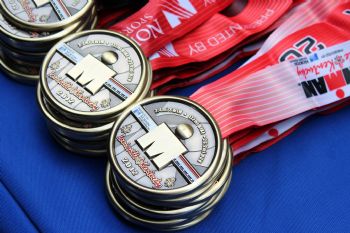 The story doesn't end here, folks. In fact, I'd venture to say that the true impact of the day did not hit me until we spent some time hanging out in the area AFTER the finish line. THAT is where the true magic was…and that ended up being my favorite part of the entire day. You WILL want to hear about this in my next installment, Ironman Louisville: After the Finish/Thoughts on Ironman (Part 4 of 4).

*All photos copyrighted 2012: Scott Drichel Photography





Tuesday, August 28, 2012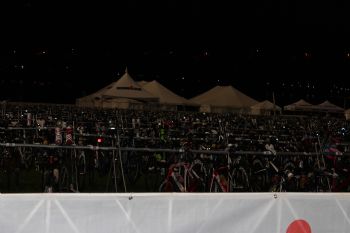 Hubby and I had to walk ½ mile from our parking garage to the start of the Ironman Sunday morning. This transition area was the first sign of Ironman on our trek to the swim start. It was my first moment of sheer awe in a day that would consistently challenge my perceptions of the human body's limits and the colossal power of an individual's will and determination.

After the murder of the 2.4 mile swim, athletes climbed out of the water and ran to a tent to change into their biking gear and prepare for the 112 mile ride in front of them. No doubt, they were concurrently changing clothes, maybe eating and drinking, putting on sunscreen, securing helmets - all in a matter of minutes.

Then, they had to run out and locate their bike, among thousands…and get it over to the Bike Start Line.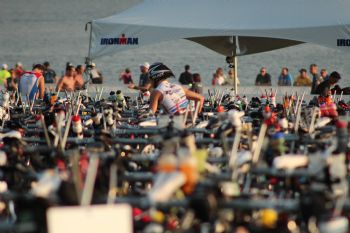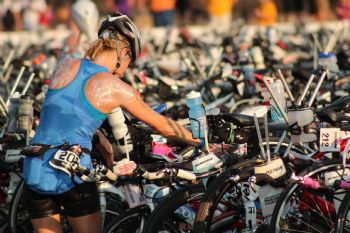 We were pretty close to the start, so we could see the athletes' bodies transition from the swim to the bike. Most of them were still wet from the swim and, as they rode by me, I could see the muscles in their arms still twitching from their 2.4 mile battle in the water.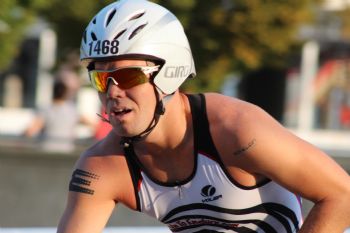 We watched several of the athletes take off onto the bike course and then we had to get in our car and drive to the Bike Viewing Area, which we assumed would be nearby. But, it was actually a small town that was a half hour drive each way from the actual race start. Wow. As we drove, we noticed that we were in some hilly terrain and we felt sorry for the bikers. We also decided that, as they were going for a leisurely 5-6 hour bike ride, we might as well get our hash brown casserole on at Cracker Barrel. I mean, we hadn't even had breakfast yet. We had been up for 5.5 hours and it was just 9:00am.

After breakfast, we got to the viewing area just as the athletes were beginning to pass in full force. This area was both Mile 40 and Mile 70 of their ride. We got there pretty early, so they were just coming up on Mile 40.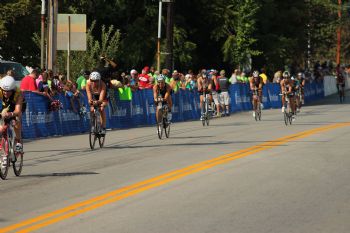 Those bikes were FLYING! So fast, so perfectly smooth, so beautiful. I must have watched hundreds go by and never tired of it. Have you ever seen a time trial bike? Those babies can cost upwards of $5,000. As we stood at the Transition Area earlier gazing at the thousands and thousands of bikes, I thought, "Can you IMAGINE how much money is in this little square of land? WOW!"

When you see it up close, hear the whir from its wheels, feel the wind as it whisks past you and see the athlete and the bike working together as one, there is something that happens to you. I jokingly thought to myself, "Leah, there are literally hundreds of perfectly formed, gorgeous bodies passing in front of you and you are lusting after their BIKES?!" I can't explain myself. I just know what I felt and if feeling that way is a crime, then lock me up!

Look at them…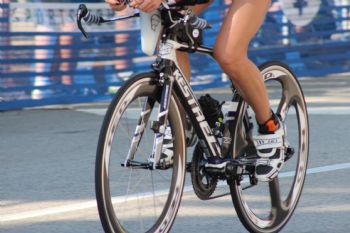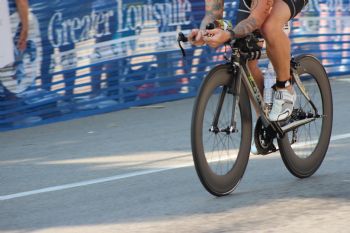 *Drool* Mmmm. Oh…sorry. OK, back to the race? Yeah. Sorry.

So, after watching for awhile, we walked around this little tiny town for a bit, looked in some shops, but we thought, "You know, this is going to go on for another 3-4 hours. Let's go have lunch." So we drove BACK the half hour to the actual race area/finish line and decided to scout out a restaurant for lunch. The funniest part is…I felt like we'd JUST had breakfast, even though several hours had passed. And, before the swim start, we heard a guy telling his friend, "It's like a whole day of eating, with a little bit of athletics mixed in." Well, at the time, I assumed he was talking about the athletes. But, at lunch, it hit me that he was talking about being a spectator! Ha! It is SO true! Because, in between legs of the race/finishes, what else IS there to do but eat and shop? Haha. Consequently, maxed out my credit card that day…but it was worth it.

We had lunch at a nice Irish pub. At the end of our meal, I received a text from my friend, Francie, telling me that her hubby, Joe, was off the bike and had just started the marathon. We originally went to watch Joe compete and cheer him on and we never once saw him until he crossed the finish line. Even then, we weren't able to catch him and talk to him, but we did get some great pictures for Francie of him crossing the finish line.

Back to the biking portion of the race: many of the athletes were on their bikes for at least 5 hours…some, or most, would be on them longer. As we did with the swim, put yourself in an athlete's place on the bike. You are bent over riding for over FIVE HOURS. You are sometimes riding in a pack at ridiculous speeds going downhill, where a collision could easily occur if you don't communicate well or alert the other riders to your presence. There are fans at Mile 40 and Mile 70 that make you want to keep going. You catch a glimpse of your country's flag. Pedal harder. But, gosh, you're so tired. That swim just took it out of you. Eat something! Drink something! But do not get off of that bike! And, when you're done with this…when you can finally stand upright again (assuming you CAN stand upright), you just have to run a measly little 26.2 miles to finally reach your goal of Ironman.

So, are you ready for a nice little jog in 93 degree Kentucky heat? I'll cover that next in Ironman Louisville: 26.2 Mile Run (Part 3 of 4)

*All photos copyrighted 2012: Scott Drichel Photography





Monday, August 27, 2012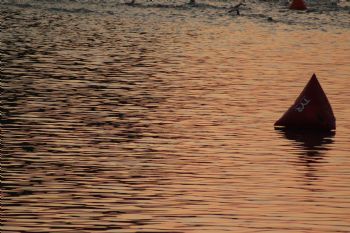 On Sunday, my husband and I had set our alarms for 3:30am, in order to arrive in Kentucky in time to catch the start of Ironman Louisville 2012 - the 6:50am Pro Swim Start. We knew we were in for a long day, but never could have predicted that we would walk away from that race completely worn down physically, but more alive in spirit than we've been in a long time.

As it turns out, we did make it just in time for the Pro Swim Start. This was less exciting than I imagined it would be, as there were only a few pro athletes, so it was really kind of a non-event. The real fun began at 7:00am when the age groupers lined up and began to start jumping into the river.

There were about 3,014 athletes in this race – from every U.S. state and 26 countries. They began to line up on two docks. The first group hit the water and athletes continued to jump in non-stop for the next 40 minutes! My first thought was, "How can SO MANY people complete this difficult of a race?!" Amazing!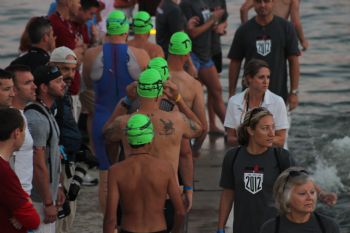 I was also struck by the fact that you could find every type of person in the lineup: skinny, chubby, young, old, man, woman, lean, muscular, fancy wetsuit, normal swim trunks.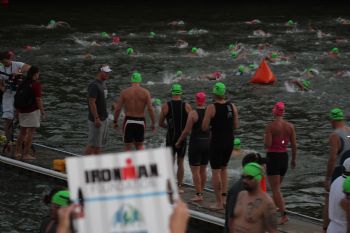 The swim course was set up to where the athletes jumped in and swam along a tree line (which was actually a small island in the river) and then swam all the way around the other side of the island. So, by the time we saw them coming around the other side of the island, they had already swam about 2 miles. Then, they had to keep swimming another 0.4 miles to the finish, where they would transition to their bikes. This would mean a swim of at least an hour for most of the athletes. The official cut-off for the swim was 2 hours 20 minutes.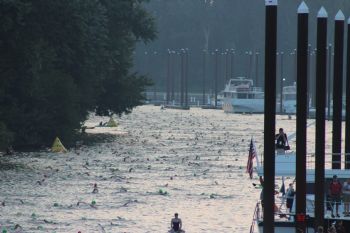 Most of us know how difficult it is to swim laps in a pool. But, unless you happen to be an Ironman yourself, I doubt any of us has experienced a swim of this magnitude in a dark river (without clear lane markers) with 3,000 other flailing bodies around you – possibly kicking you in the face, running into you, elbowing you. I know that when I swim, I begin to feel a bit panicked when I'm not getting enough air and that leads to me losing my form very easily. Much like a good run, a good swim demands a calm demeanor and a relaxed body. How in the world do these athletes achieve that physical state of calm in this type of atmosphere? A break in form can lead to serious pain for the entire rest of the race!

And, aside from the body mechanics, how much mental torture is there knowing that, once you finish this never-ending swim, you will be required to bike for 112 miles AND run a marathon? How does a person mentally block all that out and focus on the task at hand…swimming for over an hour?

Think that's impressive? Oh, my friends, you have not seen anything yet! Stay tuned for Part 2 tomorrow: 112 Mile Bike.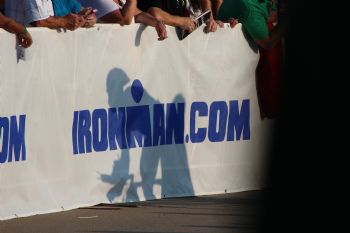 *All photos copyrighted 2012: Scott Drichel Photography





Friday, August 24, 2012
This afternoon, I had swimming on my schedule. But, you guys, I just did not FEEL like going today. AT ALL. So, I said, "What's the big deal, Leah? One day of not swimming is not a big deal. Just skip it."

Well, that thought lasted for about one minute, because then I thought to myself, "Am I injured or overtired?" Well...no. "Is there some credible reason that I CAN'T do my swim workout today?" Grrr...no. "Haven't I done about a hundred runs that I didn't FEEL like doing, simply because I knew it was good for me? And wasn't that what got me in shape enough to finish a 7 mile run before this injury?" Well...yeah...but....fine, I'm going.

I did it again, folks. Swam 30 lengths in 30 minutes. Well, actually...in 28 minutes if you want to get TECHNICAL about it.



So, today I had the shocking realization that my half marathon is only 6 weeks away. I had a minor mental panic attack, thinking about the miles I've been missing this month.

But that was quelled a bit by the fact that I passed 1,000 fitness minutes today. I had set a personal goal for myself of 1,000 crosstraining minutes in August (and, you know, with no running...ALL my fitness minutes are technically crosstraining). I have 1,003 minutes now and have an entire week left!!!

So, I've set a brand new goal....1500 fitness minutes for August. One week left to get 500 more. This is fairly significant for me because the most fitness minutes I ever logged in a month was when I did the Spring Into Shape Bootcamp Challenge and that month I did 1200 minutes. What would it mean for me if I reached my all-time high for monthly fitness minutes in a month where I am injured? I don't think I can fully explain how much that would motivate me for my shortened half marathon training schedule.

By the time I finish with P/T and get back on the road, I will have about 4 weeks to train for a 13.1 mile race. My first 13.1 mile race ever. That's a daunting thought. But...my phsical therapist and I have discussed realistic expectations for the race and we both are in agreement that I will not be able to run the entire thing and I will walk quite a bit. Which is FINE. I prefer the Galloway run/walk method anyway. When I get the all clear to run, I'm going to experiment with 8 mins running/1 minute walking splits.

Frankly, I wonder if my 1500 minute goal is a bit too small? My husband and I are going to Louisville on Sunday to watch the Ironman race!!!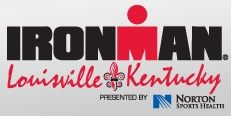 For those unaware, it is a 140.6 mile race - 2.4 mile swim, 112 mile bike and 26.2 mile run. You might remember my book review of "The Competitor In Me" by Francie Van Wirkus? Her husband is actually racing on Sunday, so I thought I'd go have a watch and cheer him on! A few Bloomington athletes racing it too. Should be a ton of fun! I anticipate quite a bit of walking, though. It's a long day (maybe 12 hours) so it's conceivable I could hit 2000 fitness minutes this month!!!! That's INSANE!!!!

Bet you can't wait for Monday'a blog!



First Page
1
2
3
4
5
6
7
8
9
10
11
12
13
14
15
16
17
18
19
20
21
22
23
24 25 26 27 28 29 30 31 32 33 34 35 36 37 38 39 40 41 42 43 44 45 46 47 48 49 50 51 52 53 54 55 56 57 58 59 60 61 62 63 64 65 Last Page

Get An Email Alert Each Time LDRICHEL Posts