| | |
| --- | --- |
| | LDRICHEL's Recent Blog Entries |



Wednesday, August 15, 2012
So, remember my running buddy, Sarah, that I met out on the trail?

Here is yet another photo I stole from Sarah's FB page: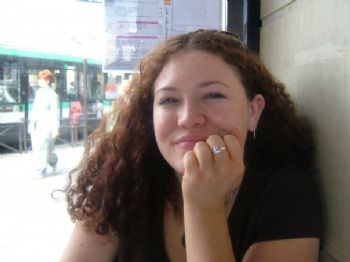 Yes, gentleman...she's available! Haha.

RECAP: Sarah and I passed each other on our regular morning runs almost every day. We would pass each other twice around the same spot on the trail every time. She had the sweetest smile and was so cheerful and always said, "Good morning!" I really wanted to know her story, so one day before my run, I penned a quick note and took it with me, hoping she would be out on the trail. Of course she was! So, as we got closer to passing each other, I yelled, "I have a note for you!" And I passed it to her. On the second pass, she introduced herself and said she'd e-mail me.

A couple weeks later, we had coffee for about half an hour, chatted about running and realized we were meant to be running buddies. We agreed to go on a short run together...an easy 5 miler. I had never run with a partner before. It was so much fun!

We decided, rather spontaneously, to do a long run together on a Saturday. 7 miles. That was awesome too! But, that was the fateful day of my ankle injury.

We had texted each other a couple times since then. She has been such a sweet, uplifting force for me through this time of injury and we have missed running together.

The other day, Sarah announced that she would join me for Deep Water Exercise. I was so proud of her for going out of her comfort zone.

And this is when it happened...

Try and put yourself in Sarah's shoes (probably Asics) for a second.

There's this girl that is close to your age that you keep seeing on the trail. One day this freak passes you a note...like it's high school or something. In the note, she calls you beautiful, but also makes sure you know that she isn't hitting on you. What a weirdo. But points for originality.

You meet her for coffee and it's fun! Yay! Instant friend!

You go running together once and decide it was worth it. Let's do it again!

Awww....friend is injured...no more running buddy for at least a month. Maybe it would be supportive and fun to go to deep water exercise with her.

Then, as you are struggling not to drown, she lays this one on you...

"So...do you wanna train for triathlons with me?"

Wait....WHAT?!!!!

Here's the best part, Sparkfriends. She thought for about, I don't know...one minute...and said, "OK, let's do it!"

Ahahahahaha! YES!

So...here we are. Two virtual strangers checking out swim instructors/classes and planning to split the bill. Biking will be next, but we can only handle one or two things at a time, you know. (Oh, did I mention she also plays tennis?)

We must be nuts. Barely knowing each other and agreeing to forge into this completely unknown territory together. But, the thing is...we don't feel like strangers. It's AMAZING what can happen on a short 5-mile run. So much sharing...so much common ground discovered. And it really doesn't take long to know when someone is a kindred spirit, does it?

Anyway, it might be insane, but it's fun...so...it'll be worth it. And I think we will only love ourselves more as we move through the process.






Tuesday, August 14, 2012
I had lunch with my boss this afternoon. As always, it was wonderful. I'm so blessed to have someone working above me that truly cares about my success in all areas - personal, family, career, running, everything.

Today, I was nervous. Because I knew there were issues that we needed to discuss where my performance on the job had not quite met her expectations. To be fair, she could have reamed me. But, she didn't. She was kind and understanding. Firm and clear about what needs to change (and she was 100% right), but never cruel or demeaning. I've never worked with a boss that handles situations like this so well. She's something else.

One thing we talked about was my professionalism. She is one of the most professional, confident women I've ever met. Watching her do her thing (which is, incidentally, "schmoozing" the big dogs at colleges and universities) is just fascinating. I asked her for tips on how to...well, be more like her. She said, "I know there is a deep confidence in you and I see it when we meet one on one. But, when we are in meetings and networking gatherings, you shrink back and I don't know why. You need to put your confidence out there and own it."

She's right, you know. I've talked about my insecurity in the professional realm in a previous blog. It is, by far, my biggest challenge at the moment. And it made me think...

Yeah...I DO have confidence inside. Remember my blog yesterday? I'm FIERCE. When it comes to my personal life, I really feel like I'm getting a handle on some things and that, naturally, brings confidence. But, when it comes to my outward persona with co-workers, it feels like a whole different story. And I wonder if it's related to my weight issues and the low self-esteem that comes along with them?

Here is a picture of me my junior year of high school: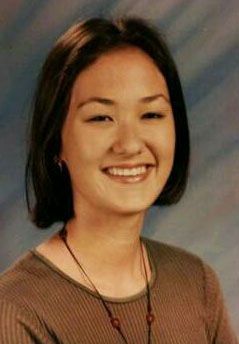 I was not an athlete. I did not pay attention to my food and, frankly, I ate anything I wanted and ate a WHOLE lot of junk. It just didn't stick to me. I wasn't overweight until later on in college and, obviously, when I started to have kids. I wasn't one of those kids that was fat my entire life. Being overweight, and then obese, was completely unexpected. I never, in my wildest dreams, imagined it would be possible for me to get to where I am now...over 200 lbs.

How did THAT girl become THIS?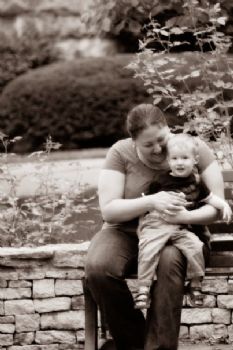 Granted, that is an absolutely BEAUTIFUL photo of me and my son. But, you can see a difference from what I used to be.

Back when I looked like the girl in the first pic, my Mom (a tiny, 5 ft tall 100 lb Korean woman) said to me one day, "Leah, never ever get fat and frumpy. No man wants a frumpy wife. He will say he loves you no matter what, but on the inside, he'll be disappointed and he won't find you attractive."

WOW. Can you say ISSUES??? Yeah...you can BET that has caused some DEEP problems in my marriage.

So, this skinny girl goes to college and goes nuts with food and never exercises and gains 20 lbs. She comes home from college and her Mom says, "You are getting so fat. Be careful because....no man wants a fat, frumpy wife." Thanks for reinforcing that message, Mom. Especially since it hadn't already scarred me the first time!

Once in college, when I had gained 20 lbs (to bring me up to a total weight of 140 lbs), I was freaking out about my weight gain and, naturally, crying to my boyfriend about it. He said, "Leah...this is ridiculous. You look fine. Think about this....how heavy do you think you're going to get?" In a burst of sobs, I wailed, "Probably (sniff, sniff) one..SIXTY! Waaaahhh!" Get this...he LAUGHED and said, "You're never gonna be 160!" OUCH.

Mmmmhmmm. Then, when this not-so-skinny girl was pregnant with #2, she called her Dad on the phone and told him that she had officially passed the 200-lb mark. Instead of telling his 8-months pregnant daughter that she could lose the weight after the baby was born, he basically went ballistic, shouting, "Oh my GOD! That is SOOOOOOOOOO heavy! OH MY GOD! TWO HUNDRED?!" Yeah...that didn't help the old confidence.

So...I can see where my confidence went bye bye a long time ago. I mean, if this is what my PARENTS see....people who are supposed to love me unconditionally...what do I expect pure strangers to see when they first meet me? And do you think I'm going to be great at walking up, making eye contact and confidently introducing myself? Nah.

This is not a whine-fest, though. Because I HAVE changed. I've long since dealt with my parental issues, so their negative messages do not cut nearly as deeply anymore. Of course the effect from those wounds lingers on, but now I am able to see clearly when this is happening and work to fix it. This is all a person with a wounded past can do...take it one day, one sitaution at a time. And, as time passes, it gets easier.

My entire life has changed over the past few months. It hasn't been just physical...it has been emotional and mental and spiritual. A complete overhaul. I have SO much more confidence than I had even back in February of this year. YOU are a part of that. You guys give me confidence every single day.

And that's what my boss, Jennifer, is talking about...she has seen this change in me. She knows that I possess it within. She is just asking me to show it to everyone else.

In the meantime, I am interested in faking it until I make it. So, if I have any seasoned professionals in the business world that read my blogs, help a girl out. Give me some BASIC tips on how to exude confidence in a networking setting.

For instance, Jennifer's idea was this: when I meet someone, give them the firm handshake, look them directly in the eye and say, "Hi so and so, my name is Leah Drichel and I am the Fiscal & Administrative Manager for the Kuali Foundation and I really wanted to meet you." Her tip was: imagine they really WANT to hear what you have to say. (Cuz...they actually probably DO! Haha).

Any help would be greatly appreciated!






Monday, August 13, 2012
It occurred to me yesterday that, in a couple days, I will already be halfway through my time in the walking boot. Two weeks down and two to go. My ankle is feeling a lot better, but then again, I haven't tried to necessarily put any weight on it. Still...it's healing. And, no, I do not walk around my house with the boot on 24/7, so I do have *some* idea of how it's doing...it's not like it's a full cast where I'm losing muscle mass daily, etc. It just feels...normal. That's a good thing, I think.

What's interesting is that I really haven't had much time to fret over the healing of my ankle. Yeah, I freaked in the beginning. But my ortho couldn't have been more merciful in putting me in a walking, removable boot.

I've been doing literally every other form of exercise that is non-weight bearing that I possibly can. My arms are RIPPED, y'all! For now, elliptical and bike are still out...but I have become more familiar with water than I have in a long time.

To be honest, I sort of dreaded water workouts, because it just seemed like a huge pain in the neck to figure out a schedule, then DRIVE to a pool and get my workout in. To be sure, it is a little more complicated than walking out my front door and running for an hour...but, it's amazing how simple things become when you are fiercely determined to do them.

Before this injury, I wouldn't have even considered going to the faculty/staff deep water exercise classes that are held from 5:30pm-6:15pm every single day after work. Don't want to miss an extra hour with my kids!!! Guilt city there! But...as it turns out...my family understands my desperate need for a workout right now and they don't really care if I come home an hour later than usual. They know this makes me happy and better able to serve them.

Do you know how long my kettlebell sat in a corner after I bought it? But you better believe I dragged that sucker out and it has got some use this past two weeks...along with my resistance band and my 5 lbs hand weights.

Do you know how DIFFICULT it was for me to make good food choices before this injury? But, hell...when I begin to feel desperate and realize that this is the KEY to continuing to lose weight, even while injured, suddenly it doesn't seem AS hard to make healthy choices for myself.

And, lo and behold, the scale is finally honoring the combined effort of exercise and diet that I am all-out fighting for these days!

I thought I was dedicated before. I thought I had a great program before. I really thought I was making the right choices before. And I really was...up to a point.

But this little injury/setback has taught me that there was a lot more I could have been doing. I didn't even SEE it! I just couldn't understand why I wasn't losing weight!

Well, truth is...I hadn't truly decided to...I wasn't 110% all in. And I didn't even know that I wasn't all in. How's that for helpful? Lol.

There was an initial switch in my brain that flipped back in April when I began running. It was the switch to accepting and working towards a healthy lifestyle.

And then there was this most recent switch...as Emeril would say, we kicked it up a notch. This was the switch to making that healthy lifestyle happen. There's something fierce about this switch.

If there's another on the horizon....well, that's almost frightening.

What about you? Where are you in your journey of fitness and food? BE HONEST. You don't have to tell me, but for goodness sake, be honest with yourself.

Are you fierce?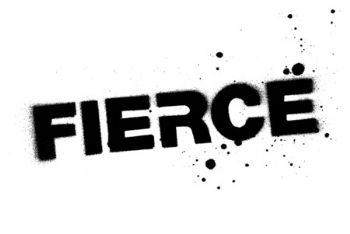 Sunday, August 12, 2012
I know I do this every so often and I hope it doesn't bother anyone, but I haven't had much happen in the past few days, as I've been down with the stomach flu. I mean, I suppose I could share that with you...but something tells me it would be rather uncouth to do so.

Instead, I thought I'd point you to an inspiring blog that I recently read. It happens to be written by one of my favs, ON2VICTORY. You guys know he's my buddy and, well, his story is really the one that stood out to me and got me started on this journey.

He posted a fabulous blog last night and I thought you'd enjoy it too:

www.sparkpeople.com/mypage_public_jo
urnal_individual.asp?blog_id=5011558

He's such a great writer and so excellent at expressing what so many of us feel about our own issues with obesity and losing weight.

I hope you enjoy it and send him some love.

P.S. He just LOVES emoticons. Especially the "Keep Pushing" one. It's his FAVORITE. You should definitely emotibomb him.

Heh heh heh.






Friday, August 10, 2012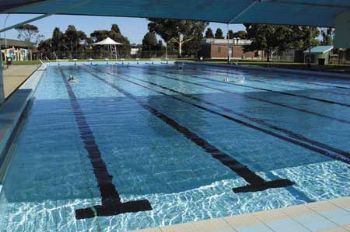 So, I decided I had better learn how to swim. If I expect to get any cardio in while I'm in the boot, I've just got to bite the bullet and do it. I've honestly been deathly afraid to swim in front of people (at a public pool or at the YMCA)...especially in a designated swim lane. It makes me feel very self-conscious...like everyone is watching or something.

Also, I had no clue HOW to swim correctly and I haven't actually swam freestyle since high school. That was a long time ago. And about 100 lbs ago too.

A little voice in the back of my mind was saying, "Leah, you should learn this...because someday you might want to do triathlons." Oh wait...that wasn't in the back of my mind...that was on the phone...it was my trainer. Haha. Either way...that voice is nuts! But...then I read that book and got all interested in triathlons. Oh Lord...there seems to be a recurring theme presenting itself in my life now. Grrrr.

So, here is what I did, friends:

I went to the computer and Googled "How to Swim". I kid you not. I watched like 3 videos. I also Googled "How to Water Jog". Upon seeing how completely DORKY people look when they water jog, I decided the LEAST DORKY option in a public place would be swimming.

Last night, I dreamed I was swimming with a relay team. It was my first race and the team was shocked that I was actually good! In my dream, I was going over and over the technique from the Google videos in my head. I woke up and thought, "Maybe I should try this."

So I headed over to the Y for Adult Open Swim this afternoon. Picked up my very own pair of goggles at Kmart on the way there and hopped in that pool.

It was nerve wracking (sp?) sharing a lane with an older guy who obviously KNEW what he was doing and didn't have to take a break to breathe every two lengths. But, I DID find that the techniques I learned on YouTube made things easier than they would have been if I would have just gone out flailing.

The toughest part for me was negotiating the breathing. They say every three strokes and blow the air out when you are looking down underwater. But...I just could not get enough air. Hence, the break I took every two lengths.

In the end, though, I swam 20 lengths of the pool in about 30 minutes time. I thought about going another 15 minutes, but decided that half an hour was good for my first time out.

And I'm SO glad I stopped then!!! See, the thing is...I didn't actually FEEL the workout until AFTER I got out of that pool! Talk about exhaustion! That was definitely the fastest 670 calories I've ever burned!

But I feel great. And I didn't drown and I didn't die and no one made fun of me or even looked twice. So...maybe I'll do it again. And again and again.

Stay tuned as I face my next big fear: riding a bicycle.



First Page
1
2
3
4
5
6
7
8
9
10
11
12
13
14
15
16
17
18
19
20
21
22
23 24 25 26 27 28 29 30 31 32 33 34 35 36 37 38 39 40 41 42 43 44 45 46 47 48 49 50 51 52 53 54 55 56 57 58 59 60 61 Last Page

Get An Email Alert Each Time LDRICHEL Posts