| | |
| --- | --- |
| | LDRICHEL's Recent Blog Entries |



Saturday, August 04, 2012
So, I hopped on my handy dandy scale this morning and, quite honestly, thought that it was impossible that I'd lost any weight whatsoever in one day.

(Reminder for those just coming on board: I'm experimenting with 3 protein shakes per day - for a total of about 800 calories - and a healthy dinner, just for about 3-4 days. The purpose is to jump start my weight loss and get my body used to eating less calories, as well as get rid of junk food cravings.)

I was shocked, to say the least, to see that I was 2 lbs down! Sure, it's probably water weight...but I'll take it. I had actually gained a few lbs over the past couple weeks, so now I'm back to where my tracker says I am. Anything from here on out will be a real loss and will add to my total weight lost.

Needless to say, I was thrilled with this result. And it gave me just the motivation I needed to go downstairs and throw another shake in the blender. Today, I decided to be creative and start putting things together that sound good...just to see how they taste.

Shake #1 at 8am was Green Tropical Somethin-Somethin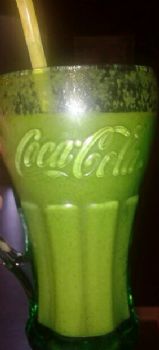 1 cup tropical frozen fruit (strawberry, mango, pineapple), 1 cup unsweetened almond coconut milk, 1 scoop vanilla whey protein powder, 3 cups spinach

It was...just meh. But...still have my record of no gagging, so that's a win. Haha. It was only 180 calories.

Around 9:30am, we took the kids to their favorite science museum, WonderLab. They were having a blast and we stayed until noon. Well, normally, I would have thrown another shake in the blender around 11am. Also, I would have been drinking water ALL morning...but, as it were, I had not had a drop of water so far today. So...I didn't have that to help me feel full.

By noon, I was STARVING. I literally didn't think I could possibly handle the hunger so I had decided, "Well, I'll just get Subway...that's about 300 calories and it can take the place of one of my shakes." On the way to Subway, my kids got Happy Meals at McDonald's and my husband got Chinese Take-Out (oh god, don't even get me started on this!!!)

Would you believe that, in the midst of all these wonderfully enticing aromas, I said to my husband, "You know what? No. I'm sticking to my plan. It's only a few days and we're on our way home right now. I'll just make a shake when I get home."

OK, do you know how PROUD of myself I was????? It's my first victory in willpower in this area of food in quite a long while. It's not that the 300 calorie Subway would have been bad for me - I totally would have ordered turkey with a ton of veggies and no mayo or cheese. But, it was the whole principle of making a plan and sticking with it...no matter what. For me, this was a victory.

Shake #2 at 12:30pm was Strawberry Chocolate Cheesecake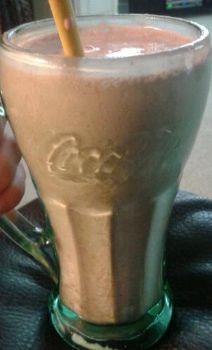 1 cup frozen strawberries, 1 scoop chocolate protein powder, 1 Tbsp Ghirardelli Unsweetened Cocoa, 1 Tbsp Jello Pudding Mix (Cheesecake flavor), 1 cup milk

OH. MY. GOSH. It was the most delicious one so far!!!! It felt positively SINFUL to drink it! The ENTIRE blender full of this stuff was only 230 calories and it just felt like there had to be a ton of sugar in there...but it was just the sweetness from the strawberries. WOW.

And, now, I will show you the two secret weapons for making protein shakes delicious and not gag-inducing: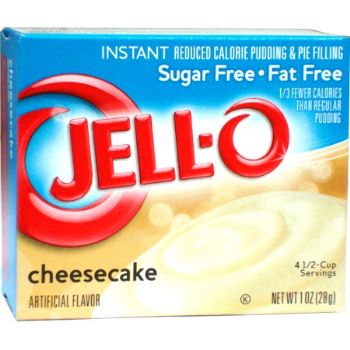 Just throw a tablespoon of the dry mix in for flavor and texture. Thanks to MOM2IAN for this AMAZING secret!!!!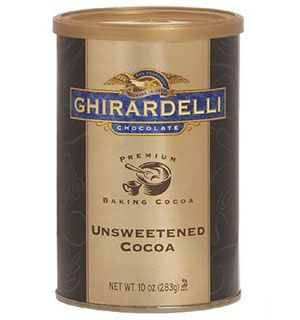 I have also heard that Hershey's Special Dark Unsweetened Cocoa rocks.

Apparently, this protein shake game is all about creativity. And, by the way, after I had this shake, I was not hungry. It did take care of that severe hunger. And made me realize that I was just craving things...which made me believe I was more hungry than I really was. Also, I needed a LOT of water. That helped as well.

Shake #3 at 3pm was Chocolate Peanut Butter Banana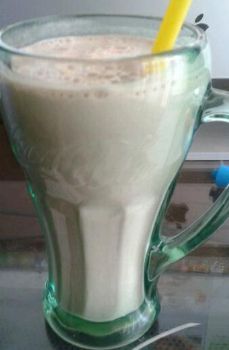 1 frozen sliced banana, 1 Tbsp peanut butter, 1 scoop chocolate protein powder, 1 Tbsp Ghirardelli unsweetened cocoa, 1 cup milk

Ummm...it tasted like a Reese's cup. It was about 240 calories.

If you're good at adding, you'll realize that I can have a few more calories than I anticipated at dinner tonight. I plan to have a small serving of meat loaf, a larger serving of asparagus and a LOT of fresh salad with vinegar and oil. And, for good measure, I might have a glass of milk.

Didn't get my strength training in yesterday as planned. Frankly, I was lazy. But, today, when we got home, I got a kickass 50 minute kettle bell workout in and it was KILLER!

Feeling great!!! Body is READY for cardio!!!! I am itching to get into a pool...I'm going to have to find one tomorrow, I think. I don't know how much longer I can go without it.






Friday, August 03, 2012
So, if you read my "Deal or No Deal" blog, you know I was stressing a bit about figuring out a way to get my weight going in the downward direction and finding a way to begin to control my diet a LOT more than I have been recently.

I reached out to a good friend who is pretty knowledgeable in this nutrition business, as well as to a friend who is a registered dietitian (for an expert's second opinion). Both agreed that the plan could be helpful for me.

So, the plan is...3-4 protein shakes during the day (for a total of about 800 calories) and a healthy meal for dinner. This is only for about 3-4 days and the idea is to hopefully kick start a little weight loss and, more importantly, kick the cravings and get my body used to a smaller number of calories.

I was a bit skeptical, thinking that it sounded a little like some fad diet...but I figured, "Hey...it's just 3 days...might as well give it a try. If it doesn't help, it doesn't help." And my dietitian friend assured me that my body would still be getting all the carbs and protein it needs and that I should remember to keep hydrated as well.

Another reason I worried is because I have the world's fastest gag reflex and that reflex is triggered by a) smells and b) bad tastes. Even if something DOESN'T taste bad, I have a hard time with anything that is even just a bit off. This is why I have difficulty with a lot of alcohol and absolutely cannot take shots.

So, today was Day 1 of the Protein Shake Experiment. To say I was nervous would be an understatement.

Shake #1 at 8am was a Green Monster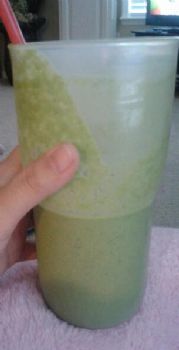 1 frozen sliced banana, 1 Tbsp Peanut Butter, 1 cup unsweetened vanilla almond milk, 1/2 cup Chobani Vanilla Greek Yogurt, 4 cups of spinach.

This shake took me an entire 1.25 hours to drink. It was really thick. But, not awful. I didn't necessarily LOVE the taste per se...but no gagging! And it was VERY filling. This one was 350 calories.

Shake #3 around 11am was Blueberry Cheesecake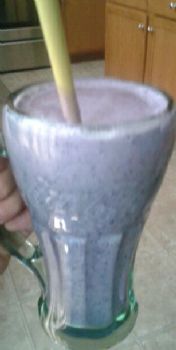 1 cup frozen blueberries, 1 cup skim milk, 1 scoop vanilla protein powder, 1 Tbsp dry Sugar Free Fat Free Jello Pudding (cheesecake flavor).

This one was DELICIOUS!!!!! I sucked that puppy down super fast! This one was also filling. And it turned my tongue blue! I believe this one was about 250 calories.

Shake #3 around 2pm was Chocolate Peanut Butter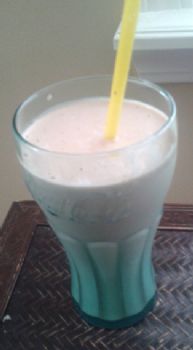 1 frozen sliced banana, 1 cup skim milk, 1 Tbsp peanut butter, 1 scoop chocolate protein powder, 1 Tbsp Ghirardelli Unsweetened Cocoa Powder

I had not felt hungry between the other two shakes, but this one was a result of some munchies and wanting to snack.

This shake was much yummier than I anticipated! This one was also 250 calories.

So, all three shakes were a total of 850 calories (in case you have trouble with adding...haha).

For dinner (sorry, no pics b/c I devoured it!), I made lemon chicken, sautéed kale and a humongous dinner salad. I can tell you now that food tasted better than it's ever tasted before! I was SO excited for dinner!

I think a part of this plan is that it really helps you appreciate real food...as in whole, healthy food...like vegetables, etc. Also, it wasn't so awful having a bunch of shakes during the day because I knew I was going to have dinner in a few hours. So it didn't feel like a huge sacrifice. And...the fact that it's only for a few days also made it not feel like I was "depriving" myself. Plus...with all that protein PLUS water...I really wasn't hungry.

I don't know if it will have any effect on my weight, but I only ate a total of 1350 calories today, so I'm hoping it will by the end of the week.

I did about 50 minutes of weights and strength training during the Olympics broadcast last night and felt really great about that...I intend to do that tonight as well. Wasn't sore at all this morning.

So...I'll report back on Day 2. I wonder if it will be more difficult or still be pretty easy like today?

We'll see!







Friday, August 03, 2012
A friend sent me a link to this one-minute Nike TV ad. It is quite possibly the most awesome ad I've ever seen from the company (and not just because the narrator sounds like my personal fav, Jude Law). If you've got an extra minute, I encourage you to watch.

In a world where people are fighting over chicken, this is a ray of light that will make you think about the greatness that lies within YOU. It's perfect for us here on Spark. I know you'll enjoy it like I did!

boingboing.net/2012/08/03/new-nike-a
d-features-overweigh.html






Thursday, August 02, 2012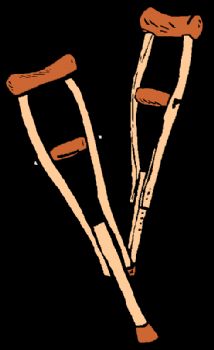 I was SO scared walking into that ortho office today. I mean, I really got myself all worked up. They brought me back to the doc's office and I waited and waited. The longer I sat there in that silent room, the more my imagination went wild and my stomach had a huge knot in it.

Finally, Dr. Reeves came in and sat down and said he had the results of the MRI. I was half closing my eyes, half looking at him...just waiting for the fateful words. These words would decide so much of my near future...and I wasn't sure I wanted to hear them.

The next few minutes felt like that game show "Deal or No Deal". It was like Dr. Reeves was Howie Mandel and I had just selected Case #6 (because that's my number).

Howie: Open up that case, Svetlana!

*Svetlana opens case (while craftily displaying cleavage)*

Howie: Ohhhh!!! September 8th Bloomingfoods 5k.

*Groan from the audience. And from me.*

Howie: So, the September 8th 5k is off the table. Wait...the Banker is calling with a deal for you.

*Silence in the Audience*

Howie: OK, here is what the Banker is willing to give you if you will agree right now...

NO OCD (chipped cartilege injury)
Bruised bone
4 weeks in a walking boot
Non-weight bearing course of treatment
*Audience is booing and shouting, 'No deal! No deal!'*
Water Treadmill and Pool Therapy
Return to Running Program with physical therapist
*Some audience members get excited and start to cheer*
And the final piece of the Banker's offer...October Half Marathon as planned
DEAL? OR NO DEAL?????

Contestant (aka me): Well, let's see here. This is a major decision. I mean, this is going to be a HUGE investment of time at the P/T office and in the pool and let's not even THINK about the cost of this treatment. Am I truly an athlete??? Or am I just a gentle jogger? I probably should decide this before I begin any multi-thousand dollar course of treatment. Am I really serious about this sport? Am I a runner...or a jogger?

Howie: You have 30 seconds to decide. DEAL OR NO DEAL?

Well...come on now...are you really on the edge of your seat? If you are, then you don't know me very well, do ya?

Of course I TOOK that deal!!!

Doc said, "Ok...I gave you the best possible course of treatment. Now it's up to you to do the hard work for the half marathon."

Trying not to think about how much work it's actually going to be...but I am pretty excited about one thing...I won't have to buy new shoes for at least a month!

P.S. A serious word on the bruised bone - this all happened because of my excessive weight. My talus bone in my ankle simply could not handle the force of my fibia constantly pounding it. I also have mild osteoarthritis in my ankle, which contributed to this apparently. This is definitely a wake-up call for me about my weight...although I have done a great job so far and lost weight using running as my primary method of calorie burn, I have got to get more strict with my diet and make sure I use my pool time to the max. I've been struggling the past couple of days to eat right. I don't know why it's been so hard for me...but I have GOT to do this. I NEED to get some weight off before October. This is going to take some serious mental toughness. Quite honestly, I am nervous and scared and doubting myself at times. This is the time to switch into athlete mode. If I say I'm going to train as an athlete, I need to begin to walk that walk and not just talk the talk. It's going to be hard.





Tuesday, July 31, 2012
So I've got this awesome son. But he's not actually my son. He's in college here in Bloomington. P.S. I am NOT old enough to have a kid in college, thankyouverymuch!

This young man is named Kaleem and he is the sweetest, most driven young man I've met in a long time. He just joined SparkPeople last night (KRMCGILL1). He already has 3 blogs. Talk about my little protege! Haha.

Here is a bit of his story (hilarious blog title, btw):

www.sparkpeople.com/mypage_public_jo
urnal_individual.asp?blog_id=4994336

Please go add my buddy and give him all the wonderful support you have given me!



First Page
1
2
3
4
5
6
7
8
9
10
11
12
13
14
15
16
17
18
19
20
21
22
23
24
25
26
27 28 29 30 31 32 33 34 35 36 37 38 39 40 41 42 43 44 45 46 47 48 49 50 51 52 53 54 55 56 57 58 59 60 61 62 63 64 Last Page

Get An Email Alert Each Time LDRICHEL Posts