| | |
| --- | --- |
| | LDRICHEL's Recent Blog Entries |


Wednesday, August 08, 2012
Today, I woke up feeling not quite right. Something was wrong with my stomach and I was just feeling nasty. I tried to remedy it with healthy food, plenty of water, caffeine, rest. The feeling still remains and additional symptoms have presented as the day has worn on. In short, I feel like crap.

It must have been fate because I was perusing my Facebook newsfeed and noticed a post from a friend, Francie Van Wirkus (who I added because she'd made some funny or great comment on one of SANDIEGOJOHN'S posts awhile back). From the time I added her, she's been great about occasionally commenting on my FB stati and encouraging me in my running, working out, etc. I quickly began to think of her as a real FB friend, not just a friend of a friend.

I knew she had written a book because, well, she's been plugging it on her FB page. I've eyed the posts lazily, not sure if I wanted to invest the $0.99 to buy it.

The REAL reason I resisted buying it is because I worked for a full year in self-publishing. I was the authors' first contact when they bought a contract and I helped them get all their materials prepared for editorial or for print. To be quite honest, that awful year in self-publishing taught me one thing: just because someone calls herself an author does not mean they even know how to construct a sentence or write in the English language. I'd say 98% of the materials I saw on a daily basis were absolute JUNK.

There was an overwhelming sense of guilt in that job - on the one hand, the fact that these people plunked down thousands of dollars to print their book and they had no idea our company was mercilessly taking their money and their book had no chance of ever selling more than 10 copies to friends and family and on the other hand, that we were marketing these books on Amazon, etc as something worthy of some hard working person's money. It was despicable and, frankly, evil.

So...it is with deep mistrust that I view ANY book or any author these days...especially eBooks and especially books on Amazon. I have to be honest...I have no idea if Francie's book is self-published.

But today I decided to go for it. I mean, it's $0.99. And, well, I really just had a good feeling about this. I have learned today that it doesn't matter whether Francie's book was self-published or not. If my experience with the self-publisher has scared you...then it also ought to tell you that if I ever do recommend a book highly, it is absolutely QUALITY.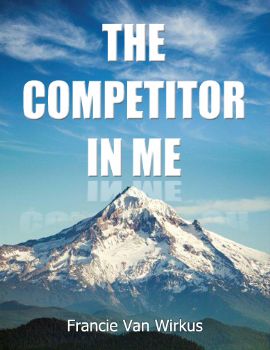 Francie Van Wirkus is a REAL author! Not only can she string together a sentence and do great things like...you know, spell and stuff. Her material is riveting for any aspiring runner, swimmer, biker or triathlete. Or for any parent who finds it difficult to balance career, family and health.

The book is about her journey from basically no fitness to running to doing triathlons and, ultimately, to her experiences with the ultimate of all races, the Ironman.

Although I am not a triathlete (I refuse to say I'm ONLY a runner...a good friend, ABSOLUTZER0 once told me to never use the word ONLY in regard to my running, because every bit of it is a personal accomplishment and I agree), I was able to relate so closely to so much of Francie's story. She has a way of describing things in a way that makes you feel you are there, racing beside her.

The chapter called "Bee Sting" made me laugh out loud several times. Her story was anything but predictable. I found myself trying to guess the outcomes of certain relationships and events and races and I was wrong every time. I love when that happens!

Throughout the book, what struck me most was Francie's outstanding determination and strength. I mean, she's an Ironman for goodness sake...of course she's an amazing athlete. And yet, she was so candid and vulnerable about her shortcomings, her doubts, her fears...so completely and unbelievably HUMAN. It's impossible to read this book and not feel at the end that she is your close friend.

So much of what she said struck me deeply. Becuase so much of it is what I have thought and felt in the past few months with my own metamorphasis from average mom to athlete.

This excerpt, in particular, speaks to me regarding the training I've put in for my half marathon thus far:

"I learned the hard way that no one else was going to prod me to do it or make time for me. I included my family in my progress, to help them be a part of my success but ultimately, they were fair weather fans. On a cold winter day at 5:00am, they wouldn't be the ones to kick my rear out of bed and get on my CompuTrainer. Or head ot the pool when I didn't feel like it. I owned my goals completely and the only excuses were mine."

Along the way, Francie suffered so many injuries and setbacks (as athletes do). This was, in some strange way, so soothing for my soul. Reading this, along with watching the Olympics this week, has taught me that I am not alone in this injury business. And nothing is over for me. This is just a temporary issue to handle. I may need to think about it in every training period and every race for the rest of my life or I may not. Either way...it's not going to be a barrier to cause me to quit.

Running isn't all there is. I had the best workout in the pool yesterday. I did some laps, but also some deep water running and some shallow water running with a 50-lb kid on my back. I burned 700 calories. But, even better, I realized that I don't have to waste away physically while my ankle injujry heals.

Francie says:

"At a time when I was working on healing, my competitive spirit still had an outlet for working hard and building fitness. Now that I'm a born again swimmer, I notice others who are like me, forced into the pool due to some other injury but coming out the other side with a new love for the water."

I can only hope that I get there with swimming. At this point, I'm still scared to death to do anything in the water if any people are around. I am plagued by self-consciousness and feeling like I'm just out of my league. My trainer said, "This is a great opportunity for you to learn to swim and gear up for a possible sprint tri next year." I was like, "Are you freaking kidding me??? There's no way in hell I'll EVER be a triathlete! I'm having enough trouble being a regular old runner!" But, if there's anything I've learned from running...it's this: never say never.

The other angle of Francie's book that was just so touching and beautiful was how she weaved her family into the story. No, strike that...they weren't weaved in....they WERE the story. Her athletic career was weaved into THEM. And I so respect that.

A couple of my favorite excerpts on this that hit me pretty hard:

"I learned the hard way that as parents, we should put our kids first, but not at the expense of our own essence. In no way are we helping our kids when we let ourselves erode into near nothing for their sake. They need us as their best resource for healthy growth now and for years to come."

"You can have your family be your priority and still do something for you. It does not matter if your goal is a marathon or a musical instrument, if your vision for success is strong, it can withstand just about any challenge. It takes a big effort to be capable of doing this but the payback received is enormous. Balancing it all in a healthy way takes practice and a willingness to make mistakes."

Today I spent 12 hours reading this entire book. It was my personal marathon for the day. I was completely immersed in another athlete's life all day long and to say I was inspired would be an understatement. I think this excerpt from one of the last chapters so perfectly encapsulates the spirit of this story:

"Forget the excuses of not having the time, the support, the money, whatever. Anything worth having must be worth fighting for. Taking time for me is always going to feel weird and be hard because I work 40 hours a week at my job and at least another 60 hours a week as a Mom. Giving time to me is a premium that I must not waste. Putting my children first doesn't mean I have to die inside. What good am I as a Mom if I am constantly muddling through mediocrity? How can I expect to raise kids who will reach for the stars if I'm not doing the same?"

I highly recommend this book for all my running/athlete friends and family. It always helps to hear about someone else's journey. We all need inspiration and I know I'll remember nuggets from this story as I run my first half marathon....and then my first full...and who knows what after that? Don't we all need a little inspiration?

So, go on...buy the book. If you don't have a Kindle, but do have a smartphone (like Android or iPhone), you can get a free Kindle app for your phone. Yep, I read an entire 194-page book on my phone today. Haha. Now...you KNOW that was a good book! Haha.

Check it out! Let's all go and make Francie a hundred-aire overnight!!! (If you become a millionaire overnight, Francie...you better tell me. Because that will mean that I have a million readers...and then I will just die. Ha!)

I promise, friends...you won't be sorry.

www.francievanwirkus.com/books.html






Monday, August 06, 2012
So I was pretty excited to attend Deep Water Exercise this evening - been craving a great workout. This particular class is at the gym on campus and is specifically geared towards faculty and staff. It's free and you can jump in anytime you want without signing up, so you can't beat that deal. We pay for a gym membership, but since we are staff, it's only $14/month and it automatically comes out of our paycheck. A pretty awesome deal, considering they have two gyms...one on each side of campus.

I remember that I went to this Deep Water Exercise class after I had begun to heal from my big accident two years ago. Granted, back then, I was struggling to do simple things like straighten my arm or, you know...put my hair in a ponytail. So...I remember this class being absolutely killer and an amazing workout! I specifically remember my foot cramping up just 5 minutes in to the first class.

Needless to say, I was raring to go today. I could not WAIT! Got in that pool and was ready to WORK!

It felt like we started out pretty slow, but then we started to get going a bit more (doing more water running types of moves) and I was thinking, "OK, yeah...this is about to get really good!" Then I was confused because we were removing our buoyancy belts. Turns out, 45 minutes was over already and we were stretching.

I was actually....ANGRY. Frustrated...because I didn't feel that my body had done anything yet. (To be fair, my long runs have been hitting almost 1.5 hours lately.) And here we were already done! I refused to stretch. Haha. Instead, I started water jogging and, while everyone else got out of the pool super fast, I took my time water jogging and getting as much of a burn in as I could as I slowly made my way to the edge of the pool and forced myself out. I was the last one out.

Everyone was thanking the instructor profusely and saying what an amazing workout it was...la la la. I thanked him, of course, because it's polite to do that. But, inside I was so confused.

Is this really where I'm at? Am I really TOO FIT for this class? That's both disappointing and incredibly empowering at the same time.

On the one hand, I realized that my water therapy will not be as easy as just joining a class...but that I will have to actively seek out a pool and do my OWN workout if I really want to get the burn and physical conditioning I'm looking for.

On the other hand, I felt so much confidence in my own body's strength. It was thrilling beyond measure and it let me know 100% that, when I get back to running, I WILL be kicking that half marathon's ass!!!! And maybe even SANDIEGOJOHN'S! We'll see! Haha.

For now, though...I'm focused on keeping my fitness at its peak and LOSING WEIGHT. I absolutely don't want this injury to recur and I've got to get the pounds off!!!

Tomorrow, I'm taking my girls to the pool and we are going as soon as they open. I intend to stay for most of the day and I will be in that pool as long as my body will allow it. I REALLY can't wait for that! Don't worry, dear Sparkies....I won't OVERDO it! I know how to listen to my body, that's for sure.

For tonight, I think I'll do some kettlebells to feel like I actually did something today. What about you? What are you doing for fitness today???






Sunday, August 05, 2012
So, I made it through Day 3. No weight loss today, but no gain either. And, remember, I'm still at a net total loss of 2 lbs...for 3 days, that's not too bad.

Today, I decided I'd be a LOT more prepared than I was yesterday. Because I knew I'd be at church from 8:30am - Noon, I made my first shake a 400 calorie shake with extra protein and made sure I brought my Nalgene full of water WITH me this time!

I didn't take a pic of it, but this morning's shake was a test of the claim that you can't taste spinach in a protein shake. So, I made the chocolate peanut butter shake, but added spinach. (1 frozen sliced banana, 2 scoops chocolate protein powder, 1 Tbsp Ghirardelli unsweetened cocoa, 1 cup milk, 3 cups fresh baby spinach). The first sip, I thought, "You can taste the spinach a little." But, as I kept drinking, it just tasted like chocolate peanut butter...it really wasn't heavily spinach-tasting at all. It was pretty delicious actually. But...it WAS green. So, if you can't get over the idea of drinking something green...I don't know...maybe put it in a solid up with a lid and a straw? haha.

This shake had double the protein powder than I usually use. This, plus peanut butter AND spinach gave me a whopping 31g of protein!!! It was great! Along with the water, I was full all the way until lunch.

Shake #2 was my favorite from Day 2: Strawberry Chocolate Cheesecake. Mmmm. Added double protein to this one too and it was 280 calories. I drank this shake while my family literally sat at the lunch table in front of me eating fried pork chops, french fries and alfredo noodles. Although the smells were lovely, I have to admit...I felt pretty great about my choice.

Currently, I'm cooking up some homemade chicken korma, garlic naan and a fresh salad for dinner.

I have had SO many comments the past few days on this protein business and I can't imagine it's because protein is that interesting per se. I can only believe that the interest comes from legions of you who also want to try to boost your protein intake without having to drink something that tastes disgusting and makes you gag. Thus, there is a great curiosity about exactly what products I'm using that are actually making it possible for me to do this without grimacing!

MANY of you asked which protein powder I've been using. I'm NOT an expert on protein powders (heck, I don't even know what there is out there...lol...I just grabbed the cheapest one at the grocery store and also used one that happened to be sitting in my mother-in-law's pantry).

VANILLA: Body Fortress Super Advanced Whey Protein




I was leary of this (the one that my mother-in-law passed on to me) because it just looked scary. Super advanced??? I don't know! And, I only used half a scoop the TWO times I used it because it is pretty high in calories actually. I get the feeling this stuff is probably more for guys that are trying to bulk up and get muscles or something. Anyway, it tasted kinda blech...you know, like most protein powders do. I blended it really well...but it was still kind of gritty. Not so awful I'd be all sick...but it wasn't my favorite.

CHOCOLATE: Aria Women's Protein (sorry, guys!)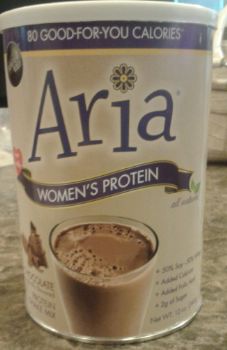 OK, one scoop of this stuff is like HALF the size of a scoop of that vanilla gunk. And it has a lot less calories. Frankly, when I put this powder in my shakes (even TWO scoops...as I did today, kind of as a test), I could not even tell there was protein powder in there!!!! It was great!!! And the reason I bought it...besides the fact that it was JUST FOR ME as a woman...is because it was cheap. It was about $7 for that can. Everything else was in the double digits. And I was not going to spend double digits on something that might be SICK. Haha.

I think the difference in these two is the consistency. I don't know if you can see it...but I took a pic of both to try and show you how much more bulky the vanilla is. The chocolate is very powdery and fine.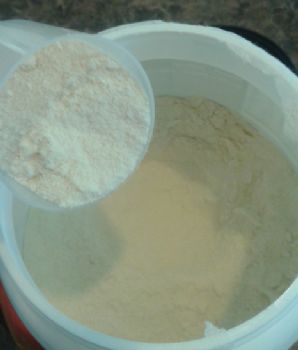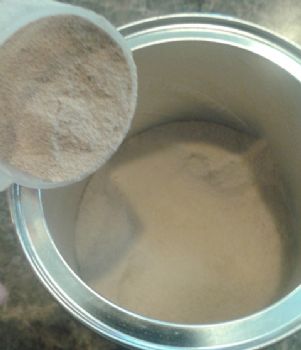 So, what now? My three day trial is up and, frankly, it was pretty easy. The drinking of the shakes was no problem. They were, for the most part, DELICIOUS. Super quick and easy to make and, with planning ahead, also pretty mobile.

I certainly developed a craving and appreciation for REAL food...but my body really does feel great, like it's been cleansed a bit. I really WANT to eat healthy foods like vegetables and lean proteins. I don't know...something about consciously making a choice to replace a meal with something that intentionally has an extra load of protein in it (and maybe even spinach!) just gets me into a "This is going to be a day of healthy choices" mindset.

I think I'm going to keep going with the protein shakes...maybe just replace one meal and a snack per day with them. It's really been fun being creative and finding new flavors too.

In other news, I am actually starting deep water exercise this week. I intend to go every afternoon this week, Monday through Thursday. I can't wait to do some cardio, guys. I'm just about to jump out of my skin. I need to BURN some ENERGY!!!!!!!

Hope you enjoyed this smoothie foray...back to regularly scheduled programming tomorrow.






Saturday, August 04, 2012
So, I hopped on my handy dandy scale this morning and, quite honestly, thought that it was impossible that I'd lost any weight whatsoever in one day.

(Reminder for those just coming on board: I'm experimenting with 3 protein shakes per day - for a total of about 800 calories - and a healthy dinner, just for about 3-4 days. The purpose is to jump start my weight loss and get my body used to eating less calories, as well as get rid of junk food cravings.)

I was shocked, to say the least, to see that I was 2 lbs down! Sure, it's probably water weight...but I'll take it. I had actually gained a few lbs over the past couple weeks, so now I'm back to where my tracker says I am. Anything from here on out will be a real loss and will add to my total weight lost.

Needless to say, I was thrilled with this result. And it gave me just the motivation I needed to go downstairs and throw another shake in the blender. Today, I decided to be creative and start putting things together that sound good...just to see how they taste.

Shake #1 at 8am was Green Tropical Somethin-Somethin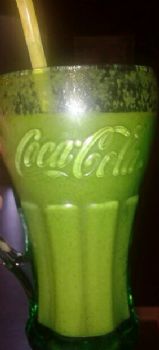 1 cup tropical frozen fruit (strawberry, mango, pineapple), 1 cup unsweetened almond coconut milk, 1 scoop vanilla whey protein powder, 3 cups spinach

It was...just meh. But...still have my record of no gagging, so that's a win. Haha. It was only 180 calories.

Around 9:30am, we took the kids to their favorite science museum, WonderLab. They were having a blast and we stayed until noon. Well, normally, I would have thrown another shake in the blender around 11am. Also, I would have been drinking water ALL morning...but, as it were, I had not had a drop of water so far today. So...I didn't have that to help me feel full.

By noon, I was STARVING. I literally didn't think I could possibly handle the hunger so I had decided, "Well, I'll just get Subway...that's about 300 calories and it can take the place of one of my shakes." On the way to Subway, my kids got Happy Meals at McDonald's and my husband got Chinese Take-Out (oh god, don't even get me started on this!!!)

Would you believe that, in the midst of all these wonderfully enticing aromas, I said to my husband, "You know what? No. I'm sticking to my plan. It's only a few days and we're on our way home right now. I'll just make a shake when I get home."

OK, do you know how PROUD of myself I was????? It's my first victory in willpower in this area of food in quite a long while. It's not that the 300 calorie Subway would have been bad for me - I totally would have ordered turkey with a ton of veggies and no mayo or cheese. But, it was the whole principle of making a plan and sticking with it...no matter what. For me, this was a victory.

Shake #2 at 12:30pm was Strawberry Chocolate Cheesecake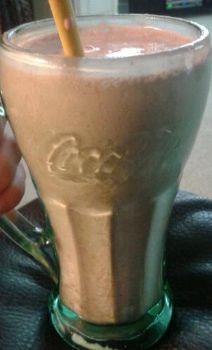 1 cup frozen strawberries, 1 scoop chocolate protein powder, 1 Tbsp Ghirardelli Unsweetened Cocoa, 1 Tbsp Jello Pudding Mix (Cheesecake flavor), 1 cup milk

OH. MY. GOSH. It was the most delicious one so far!!!! It felt positively SINFUL to drink it! The ENTIRE blender full of this stuff was only 230 calories and it just felt like there had to be a ton of sugar in there...but it was just the sweetness from the strawberries. WOW.

And, now, I will show you the two secret weapons for making protein shakes delicious and not gag-inducing: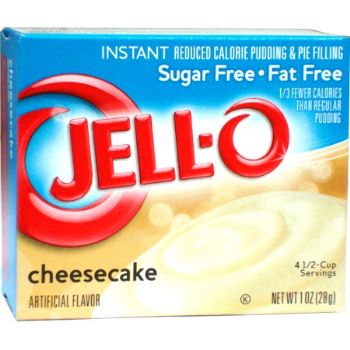 Just throw a tablespoon of the dry mix in for flavor and texture. Thanks to MOM2IAN for this AMAZING secret!!!!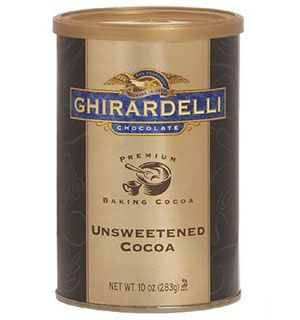 I have also heard that Hershey's Special Dark Unsweetened Cocoa rocks.

Apparently, this protein shake game is all about creativity. And, by the way, after I had this shake, I was not hungry. It did take care of that severe hunger. And made me realize that I was just craving things...which made me believe I was more hungry than I really was. Also, I needed a LOT of water. That helped as well.

Shake #3 at 3pm was Chocolate Peanut Butter Banana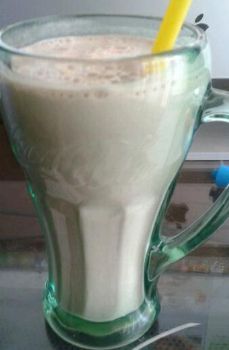 1 frozen sliced banana, 1 Tbsp peanut butter, 1 scoop chocolate protein powder, 1 Tbsp Ghirardelli unsweetened cocoa, 1 cup milk

Ummm...it tasted like a Reese's cup. It was about 240 calories.

If you're good at adding, you'll realize that I can have a few more calories than I anticipated at dinner tonight. I plan to have a small serving of meat loaf, a larger serving of asparagus and a LOT of fresh salad with vinegar and oil. And, for good measure, I might have a glass of milk.

Didn't get my strength training in yesterday as planned. Frankly, I was lazy. But, today, when we got home, I got a kickass 50 minute kettle bell workout in and it was KILLER!

Feeling great!!! Body is READY for cardio!!!! I am itching to get into a pool...I'm going to have to find one tomorrow, I think. I don't know how much longer I can go without it.






Friday, August 03, 2012
So, if you read my "Deal or No Deal" blog, you know I was stressing a bit about figuring out a way to get my weight going in the downward direction and finding a way to begin to control my diet a LOT more than I have been recently.

I reached out to a good friend who is pretty knowledgeable in this nutrition business, as well as to a friend who is a registered dietitian (for an expert's second opinion). Both agreed that the plan could be helpful for me.

So, the plan is...3-4 protein shakes during the day (for a total of about 800 calories) and a healthy meal for dinner. This is only for about 3-4 days and the idea is to hopefully kick start a little weight loss and, more importantly, kick the cravings and get my body used to a smaller number of calories.

I was a bit skeptical, thinking that it sounded a little like some fad diet...but I figured, "Hey...it's just 3 days...might as well give it a try. If it doesn't help, it doesn't help." And my dietitian friend assured me that my body would still be getting all the carbs and protein it needs and that I should remember to keep hydrated as well.

Another reason I worried is because I have the world's fastest gag reflex and that reflex is triggered by a) smells and b) bad tastes. Even if something DOESN'T taste bad, I have a hard time with anything that is even just a bit off. This is why I have difficulty with a lot of alcohol and absolutely cannot take shots.

So, today was Day 1 of the Protein Shake Experiment. To say I was nervous would be an understatement.

Shake #1 at 8am was a Green Monster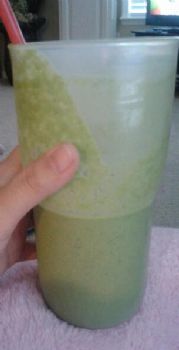 1 frozen sliced banana, 1 Tbsp Peanut Butter, 1 cup unsweetened vanilla almond milk, 1/2 cup Chobani Vanilla Greek Yogurt, 4 cups of spinach.

This shake took me an entire 1.25 hours to drink. It was really thick. But, not awful. I didn't necessarily LOVE the taste per se...but no gagging! And it was VERY filling. This one was 350 calories.

Shake #3 around 11am was Blueberry Cheesecake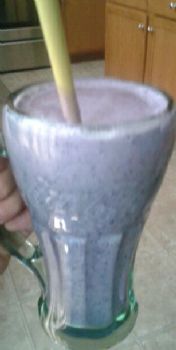 1 cup frozen blueberries, 1 cup skim milk, 1 scoop vanilla protein powder, 1 Tbsp dry Sugar Free Fat Free Jello Pudding (cheesecake flavor).

This one was DELICIOUS!!!!! I sucked that puppy down super fast! This one was also filling. And it turned my tongue blue! I believe this one was about 250 calories.

Shake #3 around 2pm was Chocolate Peanut Butter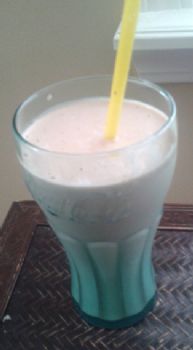 1 frozen sliced banana, 1 cup skim milk, 1 Tbsp peanut butter, 1 scoop chocolate protein powder, 1 Tbsp Ghirardelli Unsweetened Cocoa Powder

I had not felt hungry between the other two shakes, but this one was a result of some munchies and wanting to snack.

This shake was much yummier than I anticipated! This one was also 250 calories.

So, all three shakes were a total of 850 calories (in case you have trouble with adding...haha).

For dinner (sorry, no pics b/c I devoured it!), I made lemon chicken, sautéed kale and a humongous dinner salad. I can tell you now that food tasted better than it's ever tasted before! I was SO excited for dinner!

I think a part of this plan is that it really helps you appreciate real food...as in whole, healthy food...like vegetables, etc. Also, it wasn't so awful having a bunch of shakes during the day because I knew I was going to have dinner in a few hours. So it didn't feel like a huge sacrifice. And...the fact that it's only for a few days also made it not feel like I was "depriving" myself. Plus...with all that protein PLUS water...I really wasn't hungry.

I don't know if it will have any effect on my weight, but I only ate a total of 1350 calories today, so I'm hoping it will by the end of the week.

I did about 50 minutes of weights and strength training during the Olympics broadcast last night and felt really great about that...I intend to do that tonight as well. Wasn't sore at all this morning.

So...I'll report back on Day 2. I wonder if it will be more difficult or still be pretty easy like today?

We'll see!





First Page
1
2
3
4
5
6
7
8
9
10
11
12
13
14
15
16
17
18
19
20
21
22
23
24 25 26 27 28 29 30 31 32 33 34 35 36 37 38 39 40 41 42 43 44 45 46 47 48 49 50 51 52 53 54 55 56 57 58 59 60 61 Last Page

Get An Email Alert Each Time LDRICHEL Posts