| | |
| --- | --- |
| | LDRICHEL's Recent Blog Entries |



Sunday, July 29, 2012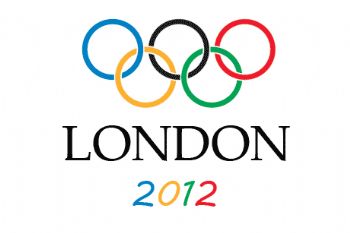 OK, did you guys see the Olympics Game on the Daily Spark? If not, here is a link:

www.dailyspark.com/blog.asp?post=the
_olympics_workout_game_work_out_while_
you_watch&fb_action_ids=10101965899039
429&fb_action_types=og.likes&fb_source
=aggregation&fb_aggregation_id=246965925417366

I saw it and, being a self-proclaimed Olympic addict, decided, "THIS is for me!"

I made a quick decision to only follow the game during Primetime coverage, because if I do it the entire time I watch the Olympics (all day and night), I will be immobile by Day 3. Haha. I also had to alter a few of the exercises for my ankle injury.

The best part, though, was that my kids joined in the fun, so the whole family got a great workout as we watched the Olympics! I can't imagine how strong we will be after two weeks if we keep this up! And we intend to!

Last night, I did:

10 push-ups
30 sec downward facing dog
30 sec jogging in place
30 single leg hops
10 tricep dips
45 Supermans
10 bridges
20 mountain climbers
20 bicycle crunches

And...I went to bed early. So, that was between 8pm and 10pm. HA!

Anyone want to join me? It really is fun!








Saturday, July 28, 2012
So, I didn't go to bed until midnight last night because of the Olympics Opening Ceremonies. Got up at 4:30am to head up to Indianapolis for the Color Run. I've really been looking forward to this race for months and, even though I knew I'd just be walking it, I was determined to enjoy it to the full...seeing as it could be my last race for awhile.

Rode up with some good friends, Josh and Christina. Plenty of laughter on the way up...which lasted for the entire day. Here we are BEFORE the madness: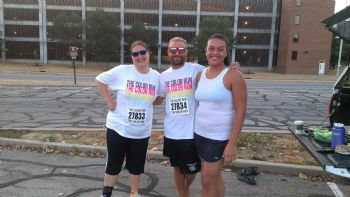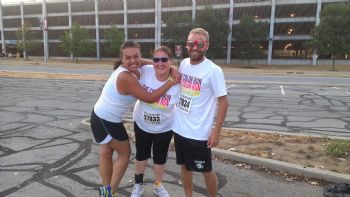 My buddies were so great and walked the entire race with me. They never left me for a second and, in fact, they ran backwards for much of the race. 1. Because it was pretty funny. 2. So they could entertain me. 3. So they could entertain other runners. 4. Because, well...they are kind of weird.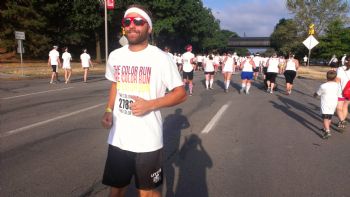 I have to admit, I had some misconceptions about this race. The first was that it would be an organizational nightmare, since we were still about 2 weeks out and had not received one single bit of information about packet pick-up or, well, ANYTHING. I thought, "What kind of a crap operation IS this?" I started to worry about the $45 I'd sent into the void to register. As it turns out, these guys have got this race down to a SCIENCE.

A week before the race, we received all our pre-race info. They had TWO full days of packet pick-up and we got a lot of great swag: a tattoo, headband, t-shirt and packet of color for the finish line party. In addition, when I registered, I got a free subscription to Runner's World Magazine. Sweet.

Was very worried about traffic, as Brickyard 400 was also today and there were 11,000 runners. Parking was anticipated to be a NIGHTMARE. Turns out...we drove right in, parked and had no trouble whatsoever. Totally free parking and I honestly NEVER felt like crowds were an issue at all!!! Literally NO issues with waiting or anything. So great!

At the starting line, they had the standard port-o-potties...but with a small twist.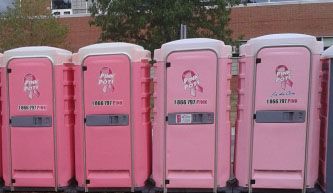 Shockingly, these were actually kind of clean. And, I have got to say...mentally, it is a lot less detestable using a pink port-o-potty than a dark, nasty black one. Or, maybe I'm just mental. Lol. Is anyone else getting great ideas for slogans for these? Along the lines of "Crap on Cancer!" No? Just me? Whatever.

I also kind of assumed that color would be thrown on us the entire 3.1 miles, but it was actually set up so that most of the run was normal, then there were several stations along the way where you'd get each different color thrown on you. SUCH A BLAST!

The walk was just great...I hadn't really worked out at all since Tuesday...no real cardio since last Saturday. It felt REALLY good to get out there and get some exercise! My friends were cracking me up the entire time and it was really the most fun I've had in quite awhile!

At the finish line: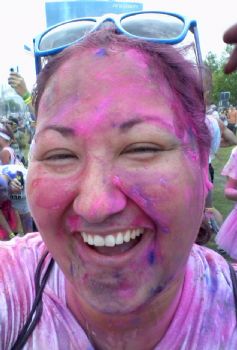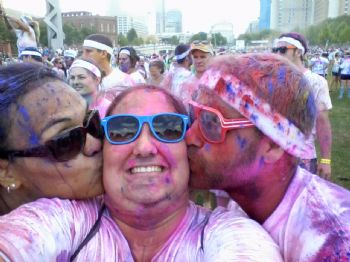 I can't tell you how great this day was. A picture's worth a thousand words. The only thing I can say is that I was really wishing my 9 year old was with me. She would have LOVED it! I made a mental vow that it would be WORTH the money to pay for the entire family to do it next year.

So...when the Color Run rolls through YOUR town or close to it (it's worth a two hour drive), you are going to sign up and sign up early, right????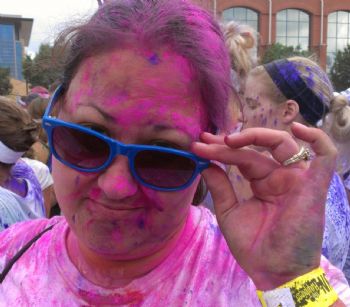 Thursday, July 26, 2012
Did some research last night on the possible injury (requiring MRI next week) and it had me kind of in a tizzy because the symptoms so exactly match what I am experiencing. I had not realized how serious this type of injury is and now I understand why the doc did not answer my question and, instead, resorted to saying "blah blah blah blah". Basic breakdown: it would mean at least 6 weeks either in a boot or cast, on crutches. That's kind of a "wait and see if it heals" approach (which I'm sure they will do first). IF it does not heal (and this type doesn't usually heal on it's own, then surgery is needed, which means at least 6 MORE weeks on crutches.

That realization was just crushing to me. It would eliminate all possibilities of every race I've registered for and my half marathon. Although I know this is necessary if I ever want to be a runner again, I was somewhat devastated and I shed quite a few tears last night.

My mind quickly began to go to battle - it was like the angel on one shoulder and the devil on the other. I had some great SparkFriends (and local friends and family) texting me and trying to calm me down. Their words helped, but this is how it went down:

DEVIL: I feel like all my running dreams are slipping away in front of me. This condition leads to arthritis.

ANGEL: Oh wait...people have gone on to run marathons, but it requires surgery.

DEVIL: I am going to gain all my weight back! I don't want everything I've done to be a waste or to slip away!

ANGEL: I'm the one that determines whether that happens. I have a choice.

DEVIL: This is like an awful re-run. It's exactly what happened with my last accident. I lost all control over my eating and exercise habits. And don't forget the depression.

ANGEL: I feel like I'm strong (and it helps having hundreds on SP & in real life rooting for me)...

DEVIL: ...but I also think about it and feel the fight draining out of me. Just want to curl up and sleep the 6 weeks away.

ANGEL: But what a great chance to motivate the Spark masses. What if I DIDN'T give up? Wouldn't that be AMAZING?

And then....I fell asleep. Haha.

This morning, I woke up to the choice. What will I do with the next two weeks? I am extraordinarily lucky (blessed) that I am on vacation for the next two weeks...so the P/T and MRI and doc visits will not interfere with my work at all (although, they will interfere with my carefully calculated Olympics-watching schedule. *SIGH* haha)

Here are the facts:

I believe this is an OCD injury, as the doc believes it could be.

The treatment is like a fracture and will require a boot or cast.

I have the next week to get whatever exercise in that I can in the water, then who knows?

I am off work, so I have all day every day to work in fitness. I would be a fool to not prepare my body for what lies ahead.

My choice is to give up...or to make a plan. I choose a plan.

SO HERE'S THE PLAN:

JULY 30 - AUGUST 3

Monday:
8:20am - P/T for tendonitis
12:15pm - 1:00pm Core Strength Class
5:30pm - 6:15pm Deep Water Aerobics

Tuesday:
5:30pm - 6:15pm Deep Water Aerobics

Wednesday:
11:30am - MRI
5:30pm - 6:15pm Deep Water Aerobics

Thursday
1:20pm - MRI Follow-Up with Doc
5:30pm - 6:15pm Deep Water Aerobics (?)

Friday
12:15pm - 1:00pm Core Stretch Class


AUGUST 6 - AUGUST 10 (assuming removable boot, not cast)

Monday
5:30pm - 6:15pm Deep Water Aerobics

Tuesday
5:30pm - 6:15pm Deep Water Aerobics

Wednesday
12:15pm - 1:00pm Core Strength Class
5:30pm - 6:15pm Deep Water Aerobics

Thursday
5:30pm - 6:15pm Deep Water Aerobics

Friday
12:15pm - 1:00pm Core Stretch Class

In addition, I'll be jumping back onto the South Beach Phase 1 diet for the next two weeks to get my weight going in the downward direction and get my body accustomed to making healthy choices (kicking that sugar craving and carb craving).

I feel this plan will give me a great base for whatever lies ahead. And, at this time, I really can't plan more than two weeks' out...as the next two weeks will hold enough challenges on their own.

I'm sure some people couldn't care less...but I write it down because once it's out there, I am more likely to stick to it. I ask that you check in on me and ask how it is going...if you happen to think of it. Especially next week Monday through Wednesday when I will most definitely have the chance to follow through and when I will be going through the heaviest carb/sugar withdrawal.

Thanks, as always, and have a beautiful day!






Wednesday, July 25, 2012
OK, so you know when it's storming really badly and then THIS happens?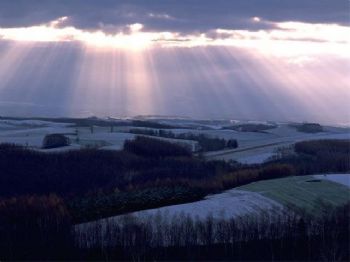 It doesn't matter how many times I see it...when the sun's rays burst out from behind a dark cloud, it is ALWAYS breathtaking.

Today...I feel the light piercing through. It's amazing how a person can feel so broken one day and, after a good night's rest, wake up and just see things differently. I suppose it's not that surprising...I am generally a positive person. The times that I give in to depression are few and far between. I'd say it happens a couple times per year and then I'm done with it. I guess it was just my time this past week. Granted, a lot of things really came down on me all at once...so it makes sense, I guess.

That big, grief-filled emotional issue I have been dealing with seems to have taken a turn today...it feels like I am settling into a new normal there and I can't even tell you what a HUGE relief this is for me! It's like a 50-lb weight has been lifted from my heart. There's a little lingering confusion, but relationship has been restored and healed up to a point. And that is always good.

And now the info you've all been waiting for...

I went to the ortho today to have him look at my ankle. Got some x-rays and talked to the doc. So, apparently, it is possible that there are two things going on here:

1. Posterior Tendonitis - Basically, the tendon in the back of my ankle is not strong. When I pronate my foot, it wears it down too much. I need to strengthen it if I'm serious about training for a half marathon (so I begin physical therapy for this next week). He also prescribed custom insoles for my shoes to try to bring some stability to that area of my foot.

2. He noticed a lucid spot on my x-ray in the cartilege of my ankle joint, which could mean that it's chipped away. He couldn't see it well enough, so an MRI is necessary to get a high resolution image of the area (my hardware is in the way and blocking the view). I am scheduled for an MRI next Wednesday. Then, I have a follow-up appointment with the doc the following day to discuss the results. I asked him what it would mean if there WAS a chipping away of the cartilege. He took a deep breath and said, "I would have to treat it like a fracture and recommend a non-weight bearing course of treatment blah blah blah blah blah." He literally said the words, "blah blah blah blah blah"...giving me the idea that it would not be speedy recovery.

How did this happen? Aside from my tendon not being strong enough (which is simply due to not enough use since it's healed from the accident), the cartilege issue is because of my weight repeatedly pounding on the cartilege when I run.

Today, I have so many thoughts swirling in my head and if you care to keep reading, I will share them with you:

1. How could I expect to let myself go for so long and NOT have some consequences to face due to my excess weight?

Especially when we are talking about running. I have read that the force on your feet when running can be up to three times your body weight. That is over 600 lbs of force on my already-weak ankle. To think of it this way...my injury shouldn't be a very big surprise. It's a bummer, yeah...but it's just something that I need to deal with and move past. If anything, it's more of a motivator to get this weight off as quickly as I can!

2. I can't stress this enough - the Olympics could not come at a better time. It's no secret that I'm excited to watch them (I did take two weeks off of work so I can watch them 24 hours a day for two weeks! Seriously!) I have hit a small bump in the road this past week. I am sure the inspirational stories of the Olympic athletes will give me JUST the kick in the pants that I need to get back in full gear with my eating and working out, whether that be elliptical, pool, stationary bike, whatever. I've got to do SOMETHING. I can't lose this momentum!

3. How lucky am I to have a doctor that is an EXPERT in the field of sports medicine to help me get through this first injury as a runner? Not only does he have a full history of my past injuries, but he knows my goal of training for the half marathon and he knows exactly what I need to do from a physical standpoint to get to where I need to be by October. If this man can't get me running again, there is no one that can. A non-weight bearing course of treatment would definitely suck for the next who knows how long...but, in October, I wonder if I will be thanking my lucky stars that this happened at the very beginning of my training shedule and not two weeks before the race.

4. And, finally...it all comes back to SparkPeople. As always. My girl RAMONAFLOWERZ just had knee surgery yesterday. This woman has got a LOT more going on with her knee than I have with my ankle (even if the MRI DOES show a cartilege chip). I've been writing to her telling her that she WILL bounce back from this and she will come back better than ever and that she is so fierce (because she IS!) I was just thinking today, "How DARE I say all those things to her and then mope about whining about my ankle issues, like it's the end of the world?" Look...if Ramona's fierce, then dammit so am I! And you know what? We are going to kick these injuries in the as*s TOGETHER. So, girl....it's you and me. And we've got to keep a positive attitude. It's all we have at times. We CAN do this!

The best part is...we aren't alone. Can't even tell you how many amazing messages and comments I've received over the past few days. Thank you, friends.

The sun is bursting through the clouds. And, for that, I am so grateful.






Tuesday, July 24, 2012
So, I can't get into the ortho until tomorrow (Wednesday at 2pm EDT). I've kind of been in denial about the situation, but this morning when I had to stop in the middle of the hall because the pain shooting up my ankle was so severe (as I've had to do several times since then today), I figured I'd best face facts and admit that something is very wrong. If I'm being realistic, I will not be surprised if I walk out of the office tomorrow in a boot.

Look...I know this is a very temporary thing. And, my goodness, I have been in MUCH worse circumstances and much longer recovery periods in my lifetime. But, this Saturday is the Color Run. It is the first race I was ever interested in and the first race I ever committed to running. I have been looking forward to it for MONTHS, I recruited several team members and I paid $45! I can't tell you how upset I am that I won't be able to run it (and, just trust me, I won't be in any shape to run it by Saturday...if today is any indication). I thought I could walk it, but now I am questioning that as well.

My mind tells me all the things that you awesome SparkFriends have been telling me, but my heart is in a different place. That is what makes this so difficult for me.

Why is this so hard?

1. I was finally getting to a point of consistency with my running. My training plan for the half marathon just kicked in two weeks ago. I was doing so well! I'm not afraid of losing my physical conditioning as much as I am losing my momentum and my consistency. I was at 5 days a week of running and it was finally a habit.

INTELLIGENT RESPONSE: I have proved that I have the willpower. And, if I could do it once, I can do it again when I'm healed. More than that, I can CONTINUE to do it WHILE I'm injured. I realized I need to change my exercise perspective a bit...but I cannot quit.

2. I was just beginning to crawl out from under the crushing self-doubt that I've carried around with me for so many years...this idea that I can't ever possibly do anything active that matters...that I could never be an athlete...that it was, frankly, just TOO LATE for me. I was starting to think that maybe it COULD be possible...and I was getting to a point where I could see myself in that role. Athlete. It's amazing. I'm 34 years old and I've got 3 kids. How could a re-birth like this be possible at this point in my life?

INTELLIGENT RESPONSE: Can I still be an athlete? Of course! This is temporary. I know that in my head. But the feelings and the lies that slip in when you can't do what you love are really difficult to ignore. I know they are lies and I know this is temporary. It's just hard.

3. Running was a way to push back against my past defining me. I had this terrible accident that broke half my body...and I somehow came back from that to do things that I never imagined I could do. As I recline on my couch with a bag of ice on my ankle, I have awful flashbacks of injuries past. It is really tough to fight those old demons and hold them at bay. There was a lot of depression surrounding that accident, specifically the lack of mobility. It's like a horrible re-run (no pun intended...but funny pun nonetheless).

INTELLIGENT RESPONSE: THIS IS NOT THE SAME! Not even close! I still have 90% of my body functioning, which leaves room for a LOT of activity. I just need to DO it!

4. On top of that, there is a whole other world of pain that has nothing at all to do with my ankle. It's this horrible situation where I have to choose between one course of action and another. And, they simply can't co-exist. Even though I love them both and don't want to let go of either. In addition, it's always a shock when someone makes a choice FOR you...without much input from you. That is what happened here. And so I'm left reeling from the effects of it...and I didn't have a plan for how to handle my emotions. I certainly didn't expect to lose this part of my life at the same time that I would temporarily lose running. That, in itself has been quite a blow.

INTELLIGENT RESPONSE: Move on. Right? Easier said than done. I have ONE friend that's been tracking with me through this ENTIRE situation. One day, she said to me, "Leah, it seems like you can't decide between two options here. If you could take everything you are, all your passions, your entire person and soul and wrap it up in a box and give it to one or the other, which would you choose?" I was actually pretty shocked how easily the answer came to me. "Neither." Neither deserves THAT. I'd choose ME.

And so, even as I cry myself to sleep every single night this week, I know that I'm strong. Because, when given a choice...my instant response was to choose myself...because I'm worth it. And that....THAT never would have happened 3 months ago, 6 months ago, a year ago.

So, friends...I'm sad. I'm very very sad right now. I won't lie to you. I haven't figured out how to stop my tears at times. My usual outlet (running) has temporarily been taken from me. But...I won't give up. I haven't bowed out. Please don't worry about that.

Listen, when I get use of this ankle again, you can bet I'll come back swingin' and you KNOW I'll have a few rage runs stored up too. We've all got stuff we deal with from time to time. If you promise to hang in there, I'll promise too.

Above all, I can't tell you what it means to have you all supporting me. You are lights in the darkness and I'm so SO thankful for you.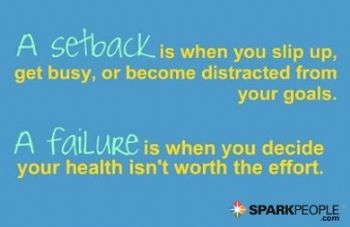 First Page
1
2
3
4
5
6
7
8
9
10
11
12
13
14
15
16
17
18
19
20
21
22
23
24
25
26
27
28
29 30 31 32 33 34 35 36 37 38 39 40 41 42 43 44 45 46 47 48 49 50 51 52 53 54 55 56 57 58 59 60 61 62 63 64 Last Page

Get An Email Alert Each Time LDRICHEL Posts