| | |
| --- | --- |
| | LDRICHEL's Recent Blog Entries |



Saturday, July 21, 2012
So, last night I got home from a Girls Night Out around 11:30pm. Woke up at 5:30am to meet my new running buddy, Sarah (see "Running Buddies") for a nice easy 7-mile run. Everything was wonderful. I took a gel (Hammer Orange - BLECH!) before the run because I didn't have time to figure out breakfast. HATE gels. Will try a couple other brands and flavors, but I am not hopeful. Took a package of Honey Stinger Chews for the middle of the run and those things were DELICIOUS (not even vitaminy tasting!) Took 24 oz. water and 24 oz. Nuun, but ended up only drinking about 12 oz of each because the temp was a PERFECT 53 degrees.

Sadly, I got home and after I finished stretching, I stood up and experienced sharp, shooting pain through my ankle. :( Iced it for a long time...it seems to be doing a little bit better now...walked it out a little bit and still have it in the brace...but it's not recovering quickly. I am not sure what's wrong. We'll have to play it by ear and if it isn't improved tomorrow, might think about seeing my ortho. I hate this...I have the Color Run next Saturday. I will NOT miss that!!! I have already determined that I will just walk the entire thing if I can't run it. So I'll still get to experience it. It's not a timed race, so it's not a huge deal.

Not sure about my workouts this week, but I figure I ought to have a back-up plan in case I can't run. I can't just let myself go completely...not with all the stress I have at work and the emotional stuff I'm dealing with. I've got to have some sort of outlet to sweat it out. So...I'll be thinking about that in detail today.

So, I received an interesting question in my SparkMail the other day and thought I'd address it in a blog.

QUESTION: How do you justify the cost of all these races? Don't they all have registration fees?

This got me thinking about how much it does cost me to run. First, I was just figuring up the race entry fees, but then I started to think about the cost of shoes, long run fuel, clothing and gear, travel for races, etc and I thought it would be interesting to map it all out and see what the total is...just for curiosity. I am also assuming that I will only be running half marathons this year...no marathons in this financial plan yet. Those are much more expensive.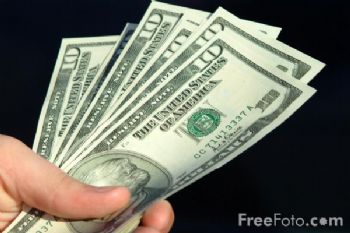 So, this is another super SCIENTIFIC study (with one respondent...which is me). We're gonna go ahead and try to figure an entire year. This will be highly inaccurate, I'm sure. But fun...and scary.

Running Shoes: $400
I'm going with an average price of $100 for a good pair of shoes (although many will cost more) and, since I run about 20 miles or less per week, I figure I will need to replace my shoes every few months or so...for a total of 4 pairs per year.

Running Clothes: $250
This is probably low for most runners...but I don't go all fancy, yo. Target has some AMAAAAZING running clothes and, if you catch the sales, you can get stuff pretty cheap. I can get about 3 pairs of running socks for $8. I bought two packs of those. I also bought 4 sports bras for a total of about $30 once and I expect them to last a year...I take very good care of them and never let them go through the dryer. Currently, I only have two really good, high quality wicking shirts for warmer weather and two pairs of running pants. Shhh...I wear both outfits twice and then I wash them. LOL. I will probably have to invest in some winter clothing at some point. I really don't mind having two outfits that I rotate over and over.

iPod Shuffle & Skull Candy Earbuds: $60
I did buy an iPod Shuffle because it's small and it clips on to my clothing and it's just easier than dealing with a full size mp3 player. The Skull Candy earbuds are the soft rubber that wrap around your ear so they don't fall out, even if you're sweating. This purchase has been invaluable.

Fuel for Longer Runs (gels, chews, Nuun, etc): $350
This also might be a little low of an estimate. Some people take 2 gels at a time. So far, I have not needed that much. But I figured about 4 gels (or similar items) per week - just for my long runs or races.

Race entry fees: $300
A 5k is usually $15-$20. I tend to do mostly 5k races, so it's not really breaking the bank. But half marathons start to get into the $40 and up range. This estimate is based on a race schedule of about seven (7) 5k races and 2 half marathons in a year...which is how my first year looks.

Travel for races: $250
This includes gas, hotel, food for a trip outside of my hometown. Most of my races this year are local, but I am going to figure in two out of town races, which require travel, for the purposes of this blog post. I'm also figuring in sharing a hotel room with friends.

TOTAL FOR ONE YEAR OF 7 5K RACES AND 2 HALFS: ~$1600/year

So, yeah...that seems like a lot, right? Well, how much does it cost me NOT to run?

Here are some ideas of alternative ways to use my money:

Starbucks Specialty Drink every weekday for a year: $910

McDonald's Value Meal 3 times a week for a year: $546

2 New Kinect Games per Month for a Year: $700

Going to the Bars to party every weekend (2 drinks): $780

Or how about these benefits? Can you put a dollar value on:

1. Improved Health
2. Disease Prevention
3. Weight Loss
4. Stress Relief
5. Eliminating Depression
6. Increased Confidence

You know, I didn't need all these facts and figures to answer the original question. I already knew the answer. The answer is...how do I justify NOT spending the money to run? It's something I love...something I have found a deep passion for. And, when you love something, you don't care what it costs.

People pay for things they WANT to pay for...pure and simple. At this point in my life, I just really want to be healthy.






Friday, July 20, 2012
I have got a special treat for you today!!! It's a GUEST blog! Now, you know I don't do this...well, ever. I do, however, peruse most of your blogs and try to read as many of them as I can. I have a SparkFriend that I've known for awhile and he doesn't post too often, but today's blog was just...special. I thought, "I have GOT to share that with my peeps."

So, friends, let's give a warm welcome to fellow runner, MARATHONDAD (a.k.a. Eddie).

I'll let him give you a little summary of himself and how he got to be where he is today:

"My wife, Brenda (MOMMARUNNER), is more than just my wife – she is my best friend, mother of my kids, and my running partner. She has always loved me unconditionally, even when I was 125 pounds overweight. After our first date, I knew I was going to marry her and less than year from that, I did.

I was overweight and heading down an unhealthy road. One day she called me out and dared me to join her at the Running Room. I'm a guy…and she had just challenged my manhood. What else could I do? I started to run.

I remember our first run was 8 km, which probably wasn't the best idea, now that I look back on it. It was so hard, I thought I was going to die. I couldn't walk for a week afterwards. But we kept going to the Running Room and I kept improving and then I was hooked.

My weight started to fly off. Before I knew it, we had agreed to do a half marathon on Father's Day. I couldn't think of a better way to celebrate Father's Day than running a half marathon with my wife by my side. After I crossed the finish line, I was on Cloud Nine! Believe it or not, I almost cried. After that day, I couldn't wait for our next race.

Since then, I've completed 7 half marathons (all of them with my wife by my side). She saved my life. I was borderline diabetic and my cholesterol levels were awful. Now I am healthy and will be able to live a long life and watch our four kids grow up. (That's right, folks...Eddie and Brenda have FOUR kids under the age of 5! YOWZERS! No wonder they run!!!)"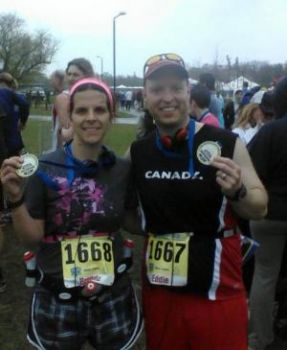 Aren't they adorable???

You all know that I have talked in my blogs about how running has been helping me handle grief and stress and joy and all the other emotions that come with life. In light of that, I thought it was so appropriate to share Eddie's story with you today. It is one of the most beautiful things I've ever heard and I know you will agree.

"Sometimes my job is so difficult and it can be so cruel. I manage recreation in a nursing home. My job is very rewarding and I meet some of the most amazing people. For our residents, this is the last place they live before they go to heaven. I want to make sure their stay is full of fun and dignity. My residents are like fine wine…they get better with age.

Yesterday, I lost two of my favorite ladies. One of them was my all-time favorite. She was 102 and still very active. Let me repeat that…102 and STILL ACTIVE. So, when you say you are too tired or too old, remember my senior.

She would ask me every day, "Did you go for your run?" I would always assure her that I did. She would tell me that she had done her laps on the floor. She was so proud of me and proud of the father I was becoming. My kids would visit her and I was so happy she got to meet my precious Abby before she passed.

Yesterday, I was talking to her before the end and was holding her hand. With a smirk on her face, she asked me, "Did you get your run in today?" This beautiful lady was on her deathbed and she was worried about me! I held her hand until her final breath.

I needed to grieve so badly last night, but I was scheduled to work my second job. This morning, I went for a 10km run, as a way to say good-bye to my ladies. I probably scared people passing by. I was running so hard, all the while also crying so hard. But it felt so good to say good-bye. When I was done, I looked up at the sky and I said, "Yes, I did my run!!!!!"

I know that touched you as deeply as it did me...so let's show Eddie some love. Comment away, folks! Send him goodies! Tell his wife how amazing she is too! Let's love on this family and help to carry them through a difficult time. That's what we do best here at Spark. So....ok...GO.







Thursday, July 19, 2012
This day was...a day. I am completely and totally emotionally depleted as I write this. It started last night actually. Our company is having our once per year project managers' face to face meeting. Lucky for me, it's here in Bloomington so I don't have to travel for it. But, since it's here and since I am the Executive Director's right-hand woman, the mantle of hostess falls to us. My boss got stuck in Austin, TX last week because her husband had a medical emergency and was still in the hospital down there. So, here I am (a nobody, really) left to welcome these project managers in and show them a great time.

We had a team dinner last night and it was lovely. Ate WAY too much. Drank WAY too much. It's easy to do when everything is on the company's dime. You know, I've still not learned how to balance food in this specific realm. If I am not paying for it, I will stuff myself...even if I KNOW I'm going over on calories and I'm not hungry. But it's like, "Why WOULDN'T I order wine and dessert if it's FREE?" I have GOT to get this under control before my next business trip - because, at the end of my next business trip, is a flight home to Indy and a half marathon the very next morning. I can't be messing around with food that week.

Of course, what I'm insinuating is that I also ate horribly all day today too. UGH! I feel SO gross!!!

In addition to the food issues today, I am completely beat...I mean, thinking all day really takes it out of ya. Being totally serious here. Strategizing and focusing and taking notes and trying to understand tech speak for 8 hours is just exhausting.

But it's not just that. If I could get real and just admit something...I am so new to this whole "professionalism" thing. I feel SO out of place. I thought I was doing pretty well for most of the day today. But, upon leaving the meeting, I was hit with an overwhelming feeling of not being good enough. Like I'm just SO out of my league here and what am I DOING thinking I can fit into this world? I look back on the entire day and I see the things that I said and think, "Oh, Leah...why did you SAY that? It must have come off as SO unprofessional or obnoxious! What a terrible way to represent the Foundation." I keep trying to learn and I keep messing up. Will I ever get the hang of this?

On top of the feelings of professional failure, my co-worker was upset with me because I didn't help support her more during our presentation on a daily company blog. I honestly don't know what I did wrong, but I could tell she was pretty angry.

And in the back of my mind, I'm dealing with all the other emotions from this other issue that I'm going through...the death of a special relationship, which I'm thoroughly grieving at all times underneath everything else in my life that's going on.

I got in my car and wanted to break into tears. In fact, I'm so completely wiped out right now, I will literally be going to bed as soon as I finish this blog. It is 7:33pm.

But, here's the thing...normally, I check my blog comments here on SparkPeople on a pretty regular basis as they are coming in. Today, I couldn't do that...obviously. Can you imagine the shock when I saw that my blog from yesterday already had 237 comments? Or that the comments on my Tears & Texting on the Trail blog have risen to 417?! First, I felt overwhelmed. I thought, "I just can't possibly put the energy into reading all of these tonight." But then I realized...I'll just get FURTHER behind if I don't do it now!

Do you know what happened when I started reading the 20 or so pages of comments that I'd missed? Comments from YOU wonderful and beautiful people? Some of you comment every single day. I know your face! I do! Or I know your avatar...like it's a familiar friend. I know more of you than you might realize. People constantly tell me that they are shocked I recognize them when I add them as friends or comment on their wall or whatever. You guys...I'm not a celeb. I'm just a chick who runs. LOL. Of course I know you! I know you all!

And this is all I have to say about that. I hear all the time...ALL the time..."you don't know what your blog meant to me today. If you only knew how many people you touch...etc etc etc."

Well, it's time to turn that back around on you.

If you only knew what your comments do for me (not just collectively but individually).

If you only knew that I read every single one.

If you only knew that your Spark Goodies and the notes that go with them make me cry tears of joy.

If you only knew how much energy reading your words gave me tonight, when I felt like less than nothing.

If you only knew how beautiful and powerful you are...and that you can do all that I blog about and more...you CAN.

If you only knew how unworthy of your attention I sometimes feel...and how badly I wish I could respond to every single comment and message.

If you only knew how many times I read what you write and think to myself, "I wish we could meet in real life and hang out."

God, if you only knew...

Some of you read my blog every single day. Some of you see me as some sort of lifeline.

But...if you all only knew...that you are my lifeline. You are what keeps me going. I would have given up. I would have gone back to my lazy life. I would have given in to depression. But....YOU kept me alive. Quite literally.

YOU saved ME. And you just keep doing it every single day. And I love you for it.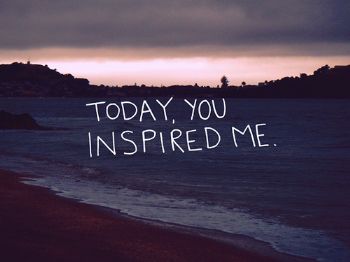 Wednesday, July 18, 2012
So you've heard about revenge sex, right? How about rage running? Yeah, I didn't think so...because I believe a friend of mine just invented the term this morning. Haha.

So, it's no secret I've been going through the wringer with some stuff in my personal life right now. This morning, it occurred to me that I truly feel I've suffered a loss - a part of myself feels like it's been taken away. This is not the good kind of loss (loss of pounds). As with any loss, there is a grieving process.

I'm sure we've all heard this...that there are Seven Stages of Grief:

1. Shock & Denial - yep, done that (all last week)
2. Pain & Guilt - did you SEE my blog, "Tears & Texting on the Trail"????
3. Anger & Bargaining - apparently, I'm there right now
4. Depression, Reflection, Loneliness - oh goodie! I can't wait for that!!!
5. The Upward Turn - phew
6. Reconstruction & Working Through (aka Acceptance)

Well, that's lovely. And I'm sure my sarcastic tone is coming from my place of anger.

Anyway...this morning, I had NO desire to run. Just wanted to mope, you know? But, and I'm gonna be totally honest, I've got this competition thing going with SANDIEGOJOHN and I wanted to catch up with him in mileage MORE than I wanted to sit around and pout. Haha.

Walked out the door and, I kid you not, it felt like 90% humidity. UGH! Oh well...a quick two miles, eh?

You know...anger is a new fuel for running for me. I draw on a lot of emotions to fuel my runs. In the past, I've used:



joy


sexual tension


pure determination


sadness


pride

But this was a first for me. Can I just tell you I was FLYING. Knowing my distance was relatively short helped a bit...but I was clocking a 12:49 pace (which is much faster than my previous 13:20 pace).

The only thing I have to say about a rage run is this...don't forget to stay loose. I had to remind myself a couple times to relax my shoulders and fists. Yes, form is still important, no matter what is going on in your head. Keep it in the back of your mind. Or the front...whatever you want.

When I got home, that humidity had seriously whipped me. SO. MUCH. SWEAT. Literally had to strip to my underclothes the second I walked in the door. Here's a photo, so you can be grossed out completely. (And, by the way, if this makes the SparkMail and is featured blog and this disgusting photo is plastered for all to see, I will die of embarrassment. Just sayin'.)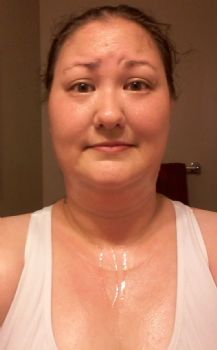 There you have it, friends. No matter what you've got boiling inside...get out there and run. You'll feel better. I promise.






Tuesday, July 17, 2012
Well, so far it seems that my ankle simply wanted to MOVE more! Pssshhh.

Woke up this morning at 5am because I wanted to get some great quiet time in and have a cup of coffee before my run. It's been 4 days since I've run and I was both excited and scared. I figured, I'd either wimp out in the first mile with ankle pain or it would be like the return of a dear old friend. I'm sure my nervousness was compounded by the fact that I was about to run a pretty long distance (5 miles) with a running partner (and no music!) I've only run with a partner ONE other time and that was a quick 3.1.

If you've been with me since my first days, you might remember my running buddy, Sarah. I met her on the trail...we used to pass each other a couple times every day and her smile was so bright and she seemed so friendly that I finally got up the nerve to pass her a note saying hello. (I made sure to tell her that I was not hitting on her. Haha.)

After that, we met for coffee to geek out about running and that hour flew by way too fast. We've been Facebook stalking each other a bit and it turns out we are both running the Fort4Fitness in September (my first 10k, her first half marathon) and we're also both running the Indianapolis Half Marathon in October. Small, small running world.

Here she is...isn't she prettttty?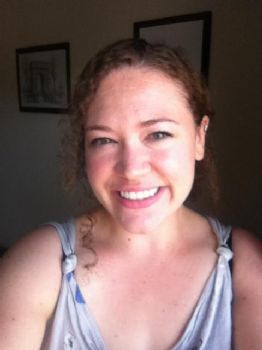 I totally stole this photo off of her Facebook. So, if my blogs stop coming, you will know it's because she sued me for copyright and I am rotting away in jail. But, between you and me, I doubt that will happen...it wouldn't help her training any, let's put it that way.

So...guess what? This morning we went 5.31 miles in 1 hr 13 mins!!! (Put this up against my usual 3.1 mile time of 43 minutes. Are you understanding what a BIG DEAL this is to me???!)

We talked the entire time and, the more we chat, the more I see that we are really in the same boat. She just started running last Fall and has lost about the same amount of weight that I have lost. It was so refreshing to be able to just talk to someone who completely "gets" what I'm doing and knows how everything feels and understands my lingo and my obsession.

We saw FIVE deer....from a distance of, I don't know...10 feet??? I had no ankle pain at all. It was the best run I've ever had...and that's not an exaggeration. Also, it's the fastest I've ever continuously run. And I felt amazing afterwards and still do. It was EXACTLY what I needed after my super stressful day yesterday! I took a cool shower afterwards, which was DIVINE.

If you're a beginning runner and you worry about running with a partner, I'm telling you...try it. The miles seem to fly by. Before this, I had read over and over that I should try it and I was still skeptical...but it really is fun. So...go for it!



First Page
1
2
3
4
5
6
7
8
9
10
11
12
13
14
15
16
17
18
19
20
21
22
23
24
25
26
27
28
29
30
31 32 33 34 35 36 37 38 39 40 41 42 43 44 45 46 47 48 49 50 51 52 53 54 55 56 57 58 59 60 61 62 63 64 65 Last Page

Get An Email Alert Each Time LDRICHEL Posts