| | |
| --- | --- |
| | LDRICHEL's Recent Blog Entries |



Sunday, July 15, 2012
This morning...simply put...my heart was heavy. I can't give you details, but I can tell you most assuredly that I carried a broken heart into church with me and I couldn't stop the tears from flowing. The issues weighing me down are complicated and confusing and, even though the situation is a consequence of my own actions and choices, it doesn't make the pain less violent.

To add injury to insult, I had some pretty bad ankle pain yesterday and missed my long run. The first long run I've missed...ever. Added to the emotional distress I was under, my self-confidence was at about zero. I literally had an all-out temper tantrum this morning...and it wasn't pretty. If there were EVER a time that I NEEDED to take a run, it was this morning.

My husband, seeing that I was a hot mess, said, "Leah, you need to go run." But...my ankle! His response: "You live with an EMT. Put on your ankle brace, go out and bring your cell phone and call me to pick you up if your ankle is hurting."

Well, I couldn't, in good conscience, run on my ankle after the way it was feeling yesterday so I compromised and decided to do the same length of my long run, but walk it easily instead. And that's what I did.

If you've been doing this healthy lifestyle thing for awhile, you might know what I mean when I say that exercise isn't just good for your body and a way to keep your weight in check. It is also extremely cleansing for the soul.

Today, I ditched the iPod and went out solo with a water bottle, my cell phone and my mess of thoughts. I have to be honest...I'd forgotten how nice it is to just walk sometimes. One of the best parts of walking is that I can text while I do it. It sounds silly...but when I'm out on the trail, I get some pretty deep thoughts. I've said before that I write all my blogs in my head while I'm on a run and that is true (you think I didn't weave this entry together in my head over the past two hours?) I text my key thoughts to my "inner circle" to get their reactions and to make sure I've got a record for later. It helps me process. You know...a lot of texts make it into my blogs. Now you know my secret.

The first mile, I cried. I sobbed. I just let it all out. No one was around. No one saw. I could just release.

Then...the tears stopped. And I just walked for awhile.

Mile 2: I was ready to have a little talk with God about everything. Out there on that trail, I laid it all out for Him. This is how I feel about such and such, God. This is where I feel betrayed...here is where I made a bad choice and did my own thing anyway...and, by the way, I'm SO sorry about that, God! I know this particular action didn't make You happy, but it made me happy and that was more important than You and, geez, I brought this on myself. I just want to feel this...I just want to be this certain way...I want my life to be like this. Can you understand that, God? And on and on it went....complete and total baring of my soul. Raw and real.

TEXT #1: "You know what's beautiful about Jesus? He doesn't hold our shi*t in front of us and rub our nose in it. He just forgives it and lets go and says, 'Move along now. My love for you never changed. Let's keep going." I can't understand that kind of mercy, but it soothes a broken heart more than you can imagine.

Mile 3: After the deluge of MY thoughts and feelings...silence. Just listening. And looking around...and really seeing where I was.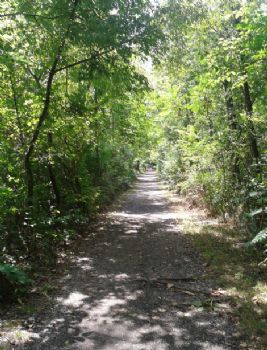 I know what you're thinking. You're thinking, "Is that...is that...THE SHIRE?" haha. Yeah...it sure is.

But, seriously, as my body moved and I began to sweat and breathe deeper, I actually looked up and saw the sky and somewhere along the way, it hit me that my little problems are so small in the greater scheme of things. There is SO much more to my life than these issues I'm dealing with. And I realized, "My gosh, it's a BEAUTIFUL day today!"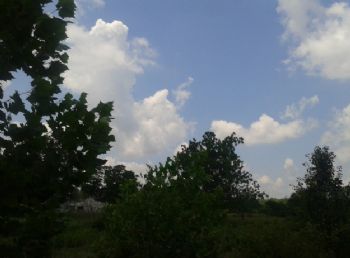 TEXT #2: I'm stronger than all this emotional mess...I lean on a Power that's bigger than my own feeble heart. The darkest moments in my life come when I say, "no thanks" to that Power.

The remaining 2.5 miles were spent just thinking about all the good things that I have. And, would you believe I came home feeling healed and whole? The situation hasn't changed, friends. My outlook on my life has. And it all came about because I made a choice to go out and move my body.

Exercise isn't a "magic pill" but there certainly is some magic in it.

I suppose it's only fitting to end this one with one of the greatest quotes from The Lord of the Rings. I swear, this could have been my friend and I texting this morning. Replace Frodo with "Leah" and Sam with "Inner Circle Friend".

FRODO: I can't do this, Sam.

SAM: I know. It's all wrong. By rights we shouldn't even be here. But we are. It's like in the great stories, Mr. Frodo. The ones that really mattered. Full of darkness and danger, they were. And sometimes you didn't want to know the end. Because how could the end be happy? How could the world go back to the way it was when so much bad had happened? But in the end, it's only a passing thing, this shadow. Even darkness must pass. A new day will come. And when the sun shines it will shine out the clearer. Those were the stories that stayed with you. That meant something, even if you were too small to understand why. But I think, Mr. Frodo, I do understand. I know now. Folk in those stories had lots of chances of turning back, only they didn't. They kept going. Because they were holding on to something.

FRODO: What are we holding onto, Sam?

SAM: That there's some good in this world, Mr. Frodo... and it's worth fighting for.






Friday, July 13, 2012
I remember the night we met like it was yesterday. I was young, just 18 years old...a freshman at Purdue University and I hadn't really connected with a group of friends yet. I'd tagged along with some girls from the floor of my dorm to a party at a friend's apartment. She was breathtakingly beautiful. She was a junior and a member of the Purdue Women's Water Polo team.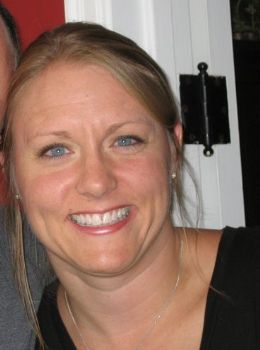 She had a ton of friends at this party, but she sat and talked to me. I was so insecure. How could a girl like THIS actually care about some dorky freshman like ME? But, she asked me questions and really listened to my answers. It was clear that she wanted to know me. Not just because she was a leader of the club, but because she had a loving heart.

Over the next 2 years, Allison took me under her wing and mentored me, led a Bible study, prayed with me, allowed me to be completely honest with her and challenged me to become a better version of myself and to dive deeper into my faith. I looked up to her in a way I can't describe to you. There was a joy and a peace in her spirit that I've never found in another person since.

I remember the horrible phone call in 2001. I had graduated from Purdue by then and was making a decent living in Chicago, when my best friend called with the news that there had been an accident. Allison had been on the beach, having fun with a group of students and dived into a wave headfirst. The ensuing days were a nightmare for all of us that loved her...there was the initial worry that she wouldn't make it, then the frightening news that she was paralyzed from the neck down, prayers for complete healing and a firm answer of "no" from God on those prayers.

Floundering faith...tears of sadness...dreams washed away with that one ferocious wave.

But all of us should have known that Allison wasn't one to stay down. She had her dark time and moved past it. She came back...with style. From that point, our lives took diverging paths.

Allison fought through rehab and learned how to live in her new state.
I lived it up in Chicago, completely self-centered and pretty much gave myself whatever my heart desired.

Allison joined the staff of Campus Crusade for Christ and continued to impact students' lives in a positive way.
I got married and had three little ones. All the while, I ate my feelings and abused my body with excessive food.

Allison found an amazing man and they got married.
My health declined to the point that I could not care for my family the way they deserved to be cared for.

Allison became active in wheelchair sports.
I became depressed and gave up on myself.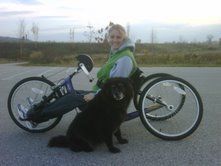 Through every adversity, Allison has been an inspiration. I'm sure there are many that find her inspirational because of her accident (and rightly so), but I must tell you...she was always this way. There was never a time when she was NOT an inspiration to me. And she continues to be one.

Why do I tell you this story about this beautiful and amazing woman??? Because, when I had my accident, Allison and I were finally on parallel paths...for a few months at least. My family had to purchase a new bed so I could sleep in the living room because I couldn't go upstairs with 5 broken bones. I was wheelchair-bound for at least a month and it's difficult to maneuver a wheelchair with a broken leg AND broken arm on the same side of your body. The most mundane, everyday things were impossible for me. The day I couldn't put my hair in a ponytail or, frankly, wipe my own behind in the bathroom, was a real eye opener for me. For me to compare my accident to what Allison has been through would be blasphemy. But...in some small and tiny way, I was able to get a taste of a COUPLE of the difficulties that she deals with on a daily basis.

This is why, when I run...it is not just an exercise routine for me. It is a life-giving activity. I saw this photo awhile back and thought of what I have come through...and, yes, thought of Allison: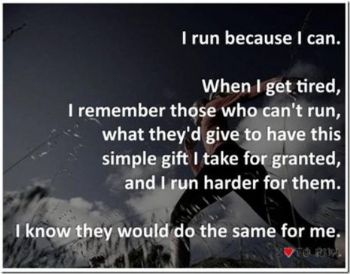 In light of this deep gratitude I feel for running, I would like to dedicate my first half marathon to Allison - one of the brightest lights that's ever graced my life. When I take to that course in October, it will be her spirit that pulls me through those 13.1 miles. And I can't wait to see those beautiful eyes smiling at me when I cross that finish line.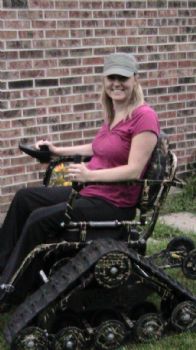 Allison's take on life - in her own words (taken from her FB page):

"Had a diving accident in '01 that left me paralyzed and on a journey I would never take back. It's hard, don't get me wrong. I miss the simplicity of life...things I used to take for granted...like typing with all fingers!...and am sad from time to time when I can't do something I really miss doing. Yet, in the midst of all that, I have sooooo much to be thankful for. I pray that I would live for what I can DO, not for what I can't and think on what I have, not what I lack. I pray that God would use me far more than I could imagine...that I'd live a thankful life and maybe help others who hurt along the way. There is hope. Through Jesus Christ we have access to the Father and in the Father, we have life...true life. Life that will one day give me a new body. Life where they'll be no more pain, no more struggles, no more sin. Life that we can experience even NOW. I pray you know this life and if not, please ask me about it, cuz it was meant for you too!"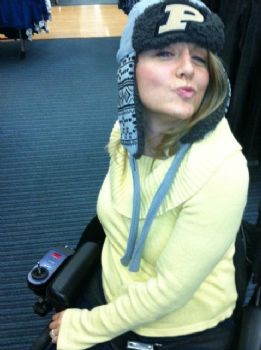 Thursday, July 12, 2012
Lately, I've been receiving a lot more comments on my daily blogs and I've continued to receive quite a lot of encouraging words from so many of you, as well as friends and family in my "real life" spheres. As you might imagine, there are words that begin to repeat themselves and stand out among the rest. I've learned that if a word or idea is repeated, it's probably important and worth investing some time into understanding.

There are three words that I repeatedly hear about myself and, in particular, my running these days: grit, tenacity and determination. Apparently, people admire these things. And, I'll tell you the truth...these words are music to a wannabe/prematurely injured rollergirl's ears.

Hearing these things said about me makes me want to work harder, reach further and dream bigger with my running. For that reason, I've assumed that I should be working toward getting stronger and faster and better at running. These are certainly noble goals. And a person needs goals to move forward.

But, last night, I had a moment where I stood naked before myself (intellectually, not literally) and asked myself, "Leah, what is your half marathon goal?" And was surprised to find that I didn't have a clear answer.

You see, I've always assumed my goal for my first half coming up in a few short months was to beat a certain time. I'm not trying to be an Olympian or anything. I'm a beginning runner and I get that...I was really just hoping to finish in less than 3 1/2 hours.

But something happens when you immerse yourself in running books and running magazines and running training programs and running SP teams. You start to feel very competitive...even if it's just with yourself. I am reading all about tempo runs and hill drills and pushing the body harder and faster. And I guess I got carried away with all of it.

I am notorious for advocating listening to my body, because I am coming back from EPIC injuries. So, certainly one of my foremost goals is to never get injured again. I've had quite enough hospital and P/T time for one person...enough for a lifetime actually. So, yes...I've been pushing my limits a bit...but not at the expense of my body. Yet.

Today, I was scheduled to run my first interval speed training workout. I don't know why this was making me nervous, but I was feeling uneasy. I've read you shouldn't even DO speed training until you have been running for an entire year. And I've also read you can't even hope to get faster without it. So...this is what led me to the ultimate question last night: IS my objective to just get faster?

Part of me felt compelled to say "yes" because of those three magic words. If I DON'T get faster and focus on getting better times, then aren't I just being lazy and not challenging myself? Wouldn't that be like wussing out and be the OPPOSITE of grit, determination and tenacity?

Well, what do these things even mean?

GRIT - noun - firmness of character; indomitable spirit; pluck

DETERMINATION - noun - the act of coming to a decision or of fixing or settling a purpose.

TENACITY - noun - holding or grasping firmly; forceful; stubborn or persistent; tending to stick or adhere

Last night, I allowed myself to think about the possibility of running my first half marathon purely for the enjoyment of it, with no regard for finish time. And I had to chide myself and say, "Leah...do you REALLY believe that if you run for enjoyment and finish a half marathon that anyone can accuse you of not having any grit, determination and tenacity? C'mon!"

I reached out to some friends on DailyMile and a fellow sparker (who also happens to be one of my biggest running inspriations), SANDIEGOJOHN, answered:

"When I decided to run my first marathon, my friend gave me the best advice. He said, 'If your goal is to finish the marathon, don't have another goal.' His point was that just running that distance was an amazing accomplishment and would be a shock to my body. And he was right. I ran it to experience it and that was enough. I waited until my second marathon to chase a specific time."

Then, I got one more comment that put some things into perspective for me:

"I am with John. Just enjoy it. Finishing is a great attainable goal. If it is your first you automatically PR. Set yourself up for success."

Wow. What WISE friends I have!

So, you know what I'm going to do??? I'm going to completely and totally focus on just finishing and enjoying every minute of "one of the most beautiful Autumn Marathon courses you will find anywhere. The course has been described as 'Enchanting' and 'Surreal' by participants! An amazing treat." WHY WOULD I WANT TO MISS THAT BECAUSE I'M WORKING TO NOT THROW UP???

Also, I'd like to enjoy the "fantastic post-race atmosphere. After the race, hang out in the Beautiful Park Setting of the Former Army Parade Grounds of Lawton Loop. Enjoy music, fire pits, a free post-race meal, and a magical atmosphere where people simply want to relax, catch up with new and old friends, and enjoy their accomplishment on a beautiful autumn day." As it happens, I DO have an old friend running this marathon that moved away a couple of years ago and I have missed her dearly. AND a new friend that I met on the running trail that is also running the half. WHY WOULD I WANT TO COMPROMISE SPECIAL TIME WITH THEM?

So, yeah...that's my official plan. This will change the way I train and will take a lot of pressure off. And, looking back at those definitions, I think I still fit the profile. All in all, I'm happy.

Now, let's get running!






Wednesday, July 11, 2012
What is sexy?

Is it someone with a perfect body?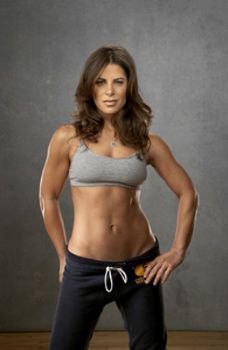 Nice eyes and smile?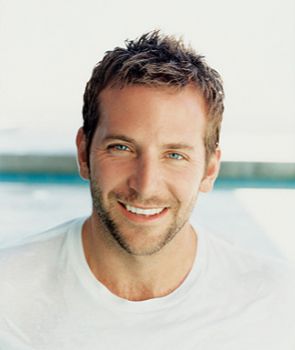 Is it a well-dressed person?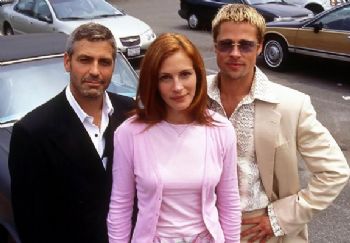 Maybe it's not so shallow for you. Maybe someone who can make you laugh really gets your motor going?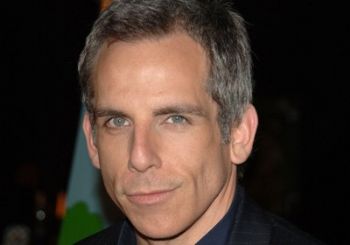 Or someone who is extremely intelligent (psst: my weakness)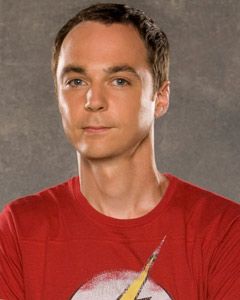 Or maybe sexy comes from a person just being genuinely kind?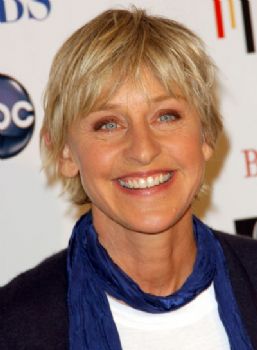 WHAT IS SEXY? Is it sometimes one of these and sometimes another? Is it all of them put together, creating a desirable effect (gee, I hope not because I'll never be able to nail them all down! Haha.)

I was thinking about this because, with the increasing levels of health and vitality and energy that come from eating right and working out, it's bound to happen one of these days to all of us. At some point, when you least expect it...you will think to yourself, "Rawr. I feel sexy." And how do we interpret that feeling, when some of us have never ever felt that before or it's been quite a long time since the last time it happened?

I thought it would be interesting to get my friends' takes on the definition of SEXY.

(And, since this is a real scientific experiment with 4 whole respondents, I will also indicate if the reply comes from a man or a woman. You know...just so everything's SCIENTIFIC-LIKE.)

SPARKY #1 (Man): "For me, it all boils down to confidence. There is a thin line between confidence and arrogance. Many straddle the fence, but that comes with the territory. Just because someone is beautiful or pretty doesn't automatically make them sexy. If you're confident on the inside, it will show on the outside. You don't have to wear fancy clothes or makeup. The person makes the clothes and, although makeup may help, it only accentuates beauty. It doesn't create it."

SPARKY #2 (Woman): "Sexy is how a person conducts themselves - being independent and happy with oneself. I tend to stick with society's physical definition of sexy in my head, though, so I'm more critical or judgmental of myself. The times I feel sexy are when I do my hair and wear something that flatters my body, so I can notice that I am getting smaller. Sometimes I feel sexy after pole dancing class just cuz I'm taking new risks and putting myself out there. If I felt better about myself physically, it would probably increase my self confidence and expand my definition of sexy."

SPARKY #3 (Man): Curves and confidence!

SPARKY #4 (Woman): Sexy can be a physical trait, for sure. I think sexy is an attitude. Sexy is what you exude. Sexy is being in control. Sexy is owning everything about yourself. Sexy is confidence. Sexy is that day you get checked out at the store and you think to yourself, "You wish." Sexy is having standards. Sexy is knowing you're a catch, even on an off day. Sexy is you, plain and simple. Think sexy. Feel sexy. Be sexy.

Interesting, don't you think? I have been contemplating my answer all day now. I don't know that I could put it so succinctly, as my dear friends have done.

I guess, if I were to define it for me, I'd say sexy is in a person's heart. Yep, confidence rocks...but even moreso than that, I appreciate a tenderness toward others, an ability to love deeply and love freely, a passion (for anything!), and the freedom that comes when there is no fear in being 100% completely you around the person and vice versa. No barriers or walls...that's sexy.

What about you? How would YOU define sexy?

And a follow-up question...are you sexy? Hmmm?








Tuesday, July 10, 2012
Well, I'm going to do it...I'm taking the plunge and posting a cheesy before/after picture.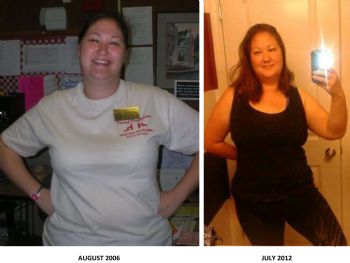 Frankly, I don't see a TON of difference when I look at pics, but I can tell you right now that the person in the pic on the right is not the same woman as the one on the left.

Been considering all morning this idea of, "I'm not where I'd like to be, but I'm also not where I used to be." It's definitely true. But something else occurred to me that actually has me quite shaken up and I feel I'm on the verge of a rather significant perspective change.

The only photos I was able to find of me in my unhealthier days were ones with friends and family...and, in all of them, I appeared to be so happy. No...strike that...I WAS so happy. As I looked through photo after photo (not many of them full body shots), I was reminded of every single memory with every person in every photo. These photos are going back up to 6 years and span to just yesterday at lunch. And, since everyone loves pictures, I thought I'd give you a sampling (oldest to newest).

Warning: Some of these photos are *gasp* fat photos. But...I'm not so embarrassed anymore. I'll explain in a minute.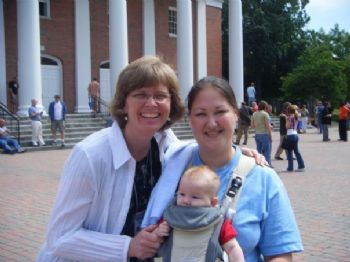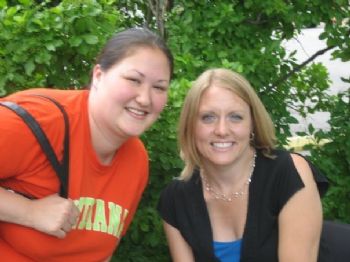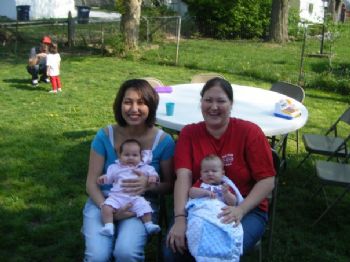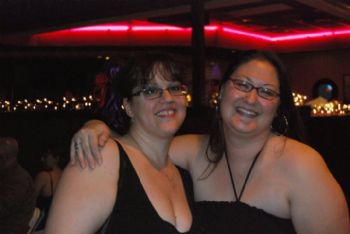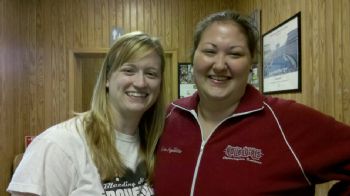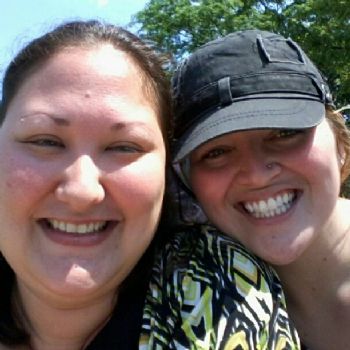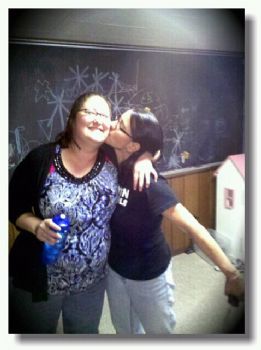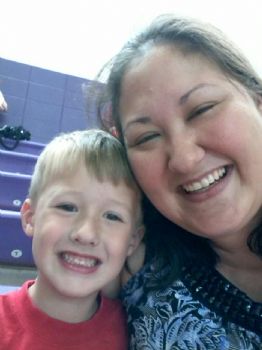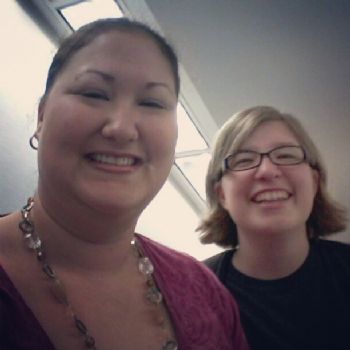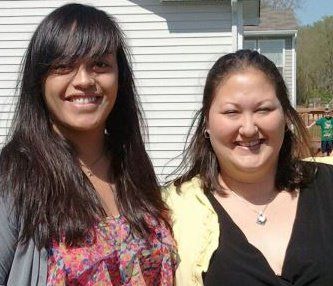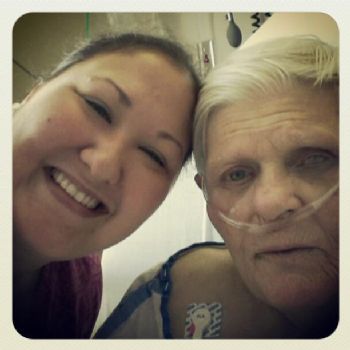 So, what's the big revelation? It's this: I have been so blessed, in that I have ALWAYS been loved by so many. These people have not based their affection on my weight, my health, my exercise routine or how much I inspire them. They just loved me for ME. They always have and they always will. Even when I have not loved myself.

I recently went through some hardcore counseling (I guess this is a tell-all today! haha) and discovered that my deepest heart issue throughout my entire life has always been a desire to feel loved by others. I always search for that love in the wrong places and I always feel like I don't have enough.

But today, looking through so many old photos, I realize that it's always been there. My self-hatred was blinding me to that. I feel like I've been awakened from a hazy dream...and can see what I didn't see before.

I truly believe my changing health has been a catalyst to a clearer mind and a more honest heart. Awhile back, I wondered if focusing so much on getting healthy might be narcissistic. But now I see that it's not that...it's a focus on yourself and who you truly are...so that you can slowly learn to love yourself. And, once you begin to do that...you can look back and see clearly that you have always been loved...but you pushed it away or simply didn't believe that it could be possible.

Well...at least that's how it's been for me. All in all, I'm feeling deeply grateful and blessed today. I don't know how I have been privileged to know such amazing and wonderful people in my life, but I will take them!!!! And you, SparkFriends, are a part of that now.

Thanks for the love. You know I can't get enough.




First Page
1
2
3
4
5
6
7
8
9
10
11
12
13
14
15
16
17
18
19
20
21
22
23
24
25
26
27
28
29
30
31
32 33 34 35 36 37 38 39 40 41 42 43 44 45 46 47 48 49 50 51 52 53 54 55 56 57 58 59 60 61 62 63 64 65 Last Page

Get An Email Alert Each Time LDRICHEL Posts