| | |
| --- | --- |
| | LDRICHEL's Recent Blog Entries |


Thursday, July 05, 2012
So, I've been doing this running thing for a couple months. Kinda liking it. OK, more than that...kinda in love with it.

I recently stumbled across a lesson on my own that might be helpful for new runners and those training for their first long race. I was surprised that, with all the voracious reading on the subject of running that I've been doing, I never came across this information in any of my books or magazines or even in any discussions with my trainer.

So, here's the big nugget o' wisdom today.

I think it's pretty common for many runners to sit down and plan a bunch of races (or even all their races for the year) all at once. Not only is it a blast to dream about different places to travel and friends to see, but you can get a good feel for how your schedule will be and make sure you space out your races enough to give your body time to recover.

Well, here was my big mistake this year. I had started out just planning 5k races and decided to make my first half marathon in October. Then, I chose a training plan for my half.

But...as I am looking over my training schedule for the next 15 weeks, I'm noticing some issues. Nothing I can't work around, but a little annoying nonetheless.

You see, I had signed up for two 5k races, with about a month between each one. Already paid and everything. July 28th and September 8th. That's all well and good. It's great to get real race experience...and as much of it as possible. It will not be a wasted effort by any means! But...

...when I checked my training schedule, both races fall on my Long Run days. If you have done any research at all, you should know that, in training, the weekly LONG RUN is absolutely key to a good half marathon/marathon training program. If you skip any training runs, it sure as hell BETTER NOT be your Long Run.

Well, it just so happens that my Long Run on July 28th is supposed to be 11 miles. And my Long Run on September 8th is supposed to be 13 miles.

I'll tell you what...I don't run at all the day before or after a race. ANY race...even a 5k. And I sure as heck am NOT going to run a 5k race and then go home and run 8 more miles. Seriously??? I mean, I GUESS I could...but I don't think it'd be smart. Things happen to your body in a race...even in a 5k and we tend to push ourselves harder in a race setting.

So...the moral of the story is...if you know you are wanting to run a half or a full marathon...plan your training BEFORE you plan your races.

As it turns out, I have one more race before my half marathon and it is a 10k (6.2 miles). Luckily, that day's Long Run was only supposed to be 8 miles...so that's not too terrible.

I have remedied the above problems by adjusting the Long Runs the weeks preceeding and following my races...but just thought it would be food for thought for some of you that are still in the planning stage.





Wednesday, July 04, 2012
I know it's shocking to hear, but there is an area of this fitness journey that is the bane of my existence and that would be...strength training. I hate it, you guys. I find every excuse under the sun NOT to do it.

The problem is...I NEED to do it. It will make me feel better, it will help me lose weight and it will improve my running! I've got to be honest and admit that I often just take a slow 3-mile walk to cross train...which is totally fine and it definitely COUNTS as cross training!! But, for me...it's a way of doing what I'm "supposed" to do but also kind of wimping out on myself. It's an "easy out", if you will.

The truth is...my legs are doing great...and, sure, a nice walk will only help them and improve their strength and help them stretch out and recover from my runs. But the REAL work needs to go into my arms and abs. And, seeing as I have so few cross training days in my training schedule (usually two or three per week...guess how many I go with when the choice is between two or three? heheheh. Yep, that's right....ONE...or zero. Just keepin' it real!), I have got to make the most of them. It doesn't even need to be an hour-long workout either. ANY workout that targets those muscles will help!

As I procrastinated this morning, I realized that I really have no excuse. I have all the equipment I need...a nice set of dumbbells, a jump rope, and a great resistance band. I could do this stuff at home! How LAZY can a person be? It's not like I have to drive to the YMCA! AND...SparkPeople has over 40 videos. No excuse, dude.

I also realized that I need to clean my kitchen...it's a mess. But I hate doing dishes...so guess what? I decided to do some strength training instead! Ha! I also told myself that if I finished ST and did the dishes afterwards, my reward would be reading more running magazines. Hell...whatever works, eh???

So, I chose this one...20 minute full body strengthening sounded pretty good to me!

www.sparkpeople.com/resource/fitness
_articles.asp?id=1768

This workout was tough! But I actually felt great during and after, so that's good. Also, the instructor totally reminded me of my Spark BFF, MOM2IAN. That got me thinking about MOM2IAN and I remembered that her arms look like this:




Uhh...if that's not motivation, I don't know what is. A little friendly competition never killed a person.

So, today, I did what I had to do. Hope I can keep this up. I'm sure, as long as there are dirty dishes, there will be a Leah in front of the computer doing her strength training exercises.









Tuesday, July 03, 2012
Wow. This has been an interesting day. As I was messing around on SparkPeople, I noticed my good friend and trainer, ON2VICTORY, had posted a new blog. Read it. Sat in shock. Read it again. Still couldn't formulate words. Read it again.

Decided that my blog today would be a link to his...because MY SparkPeeps (and I know a lot you are also HIS SparkPeeps...and, if you're not, you will be now) have GOT to read this. It's more impactful than anything I could come up with today and, frankly...I'll just say it...this is the best blog I've EVER read on SparkPeople. And...listen...I've read A LOT.

So, here's a link...if you guys could just go take a little read and then come back...I have now had enough time to formulate a response. Go ahead...don't worry, I'll wait for ya. Take your time...there's a LOT there...

www.sparkpeople.com/mypage_public_jo
urnal_individual.asp?blog_id=4953003&c
omment_page=1

Are you sufficiently blown away??? Yeah...me too.

So, here's the deal. This seemed like a good time (dare I say "pre-ordained") to let the cat out of the bag and just admit up front that, for the past week or so, I've been quietly pondering a full marathon in my heart. I haven't even run a half. Haha.

Obviously, this would not happen for a LONG time...I mean, we're talking not until Spring/Summer of 2013 or later. There is no rush here...at all. In fact, I still think that I am going insane when I start to think about actual logistics of training. Frankly, I have my half marathons to get through first. But, at this point, I am no longer afraid of those.

I suppose it might seem that this blog by Robert was the deciding factor here...but, truth be told, I had decided already deep inside...but feared to speak it out loud.

The first step in being courageous and making a dream a reality is saying it out loud. So...I'm telling the world that I have this crazy idea of running a full marathon in 2013.

Secret's most definitely out...I am most definitely completely mental. And...also kind of excited.






Monday, July 02, 2012
[AUTHOR'S NOTE: Apologies in advance for an extremely blunt/maybe sarcastic tone. I am having a really off day today...and my office is under construction and we have no A/C. And it's 100 degrees out...that's not a clever exaggeration..it really is 100 degrees. i.e. CRANKY Leah.]

I've received quite a few questions and messages asking about my diet recently. I feel a bit of a resistance to blogging about food for a couple reasons:

1. Everyone's body is different, so what works for one person might not work for everyone and I don't want to lead people astray. I am no dietitian or expert.

2. What is working for me now might not work a month from now, in terms of weight loss.

3. I sometimes find food blogs boring. Haha.

I can only tell you that I was at a plateau for a long time and was finally able to break through it and appear to be losing weight slowly and steadily again. (26 lbs gone so far)

The first thing I did was average my calorie burn for a typical week and plug that into my SP Fitness Goals. This caused my food tracker to adjust my daily calorie numbers.

I make sure I meet my minimum calories in my SP food tracker every day. EVEN IF I'M NOT HUNGRY, I eat until I get over that lower threshhold...because I know my body needs the calories to fuel all the running I'm doing. I don't want to deal with my body going into "starvation mode".

How INFURIATING is it to have an extra 88 lbs of fat and have your body go into starvation mode and stall your weight loss because you're not eating ENOUGH?! I know some will scoff and say, "Must be nice to have that problem!" But, truth be told, it's sometimes rough to eat in the summer...104 degrees makes me feel yucky and I just want to sleep and lay in a bath full of cold water all day. Food sounds nasty sometimes.

Of course, I will not lie to you and say I don't have days where I go over my maximum calories. Sheesh. I'm human and I'm obese...do you think I got this way by eating healthy my whole life? There are still old habits to break.

This is, by no means, a special diet plan, but I will tell you what has worked for me lately. First, I watched "Food, Inc." which completely disgusted me and gave me a burning desire to try to eat more veggies and to look specifically toward organically-grown foods.

I joined a co-op grocery store. Started eating lunch from their salad bar/deli line every single day.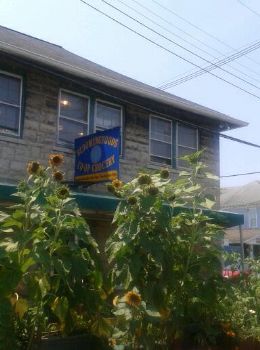 This alone helped me lose 5 lbs. And they aren't that expensive. Here's a major hint: WHOLE FOODS FILL YOU UP FASTER. You have to eat LESS of them to feel full. That means, it's not as expensive as you might think! Of course, you know I frequent the Farmer's Market in the summer...I try to go every Saturday.

I did kickstart my eating plan with South Beach Phase 1, which got rid of almost all of my simple carb and sugar cravings really quickly and also got me eating more veggies than I ever imagined possible.

I absolutely swear by the short, two week Phase 1 of South Beach. It will re-program your body to WANT healthy stuff! There's a Spark Team for it too...they are a great community to help you get through that really rough 2 weeks! And, friends...it is ROUGH. But once I'd kicked the sugar habit and processed food addiction, it got a LOT easier for me to make healthy choices.

Every week, I buy one of those HUGE tubs of spring mix from the grocery store...and whatever veggies I might want to put on my salads (latest craze is avocados or roasted chickpeas - protein!)

Onions are a great flavor booster for salads...if you can't handle them, try green onions (scallions). I eat a HUGE salad every single day...EVERY SINGLE DAY as the bulk of one of my meals (either lunch or dinner...sometimes both). Do I get tired of it? Yeah...sometimes, but what are you gonna do? Whine like a baby or just eat it? I know that sounds kind of mean...but I'm just done with excuses. I won't accept them from myself any longer. I hate being this way and, by golly, I'm changing it. Tough love for me.

I had to really break my addiction to Ranch dressing (I never ate ANYTHING other than ranch on a salad before South Beach). I now absolutely LOVE the taste of 1 Tbsp of extra virgin olive oil and 1-2 tsp of regular white vinegar. That's all I need for my salads to be delicious these days.

I limit carbs, but I also recognize my body needs some of them to fuel my runs.

This ratio pretty much stays the same every day and, if I don't blow it by bingeing on Taco Hell, I can pretty much expect to see slow weight loss. This formula has been working for my body for a few weeks now, obviously in conjunction with running about 15-20 miles per week (no excuses):

Breakfast:
Coffee with Creamer, Water, Protein, 1-2 servings of carbs (we're talking whole grains, fresh fruits and GOOD carbs here, folks...NOT donuts)

AM Snack: Protein (usually string cheese)

Lunch:
Protein, 2 or more servings of veggies. I try to go completely carb-less at lunch, but I won't go all crazy and freak if I eat bread on a sandwich either. I'm not strict or military about it...just consistent.

PM Snack: Protein

Dinner:
Protein, 1-3 servings of veggies, 1 serving carb (brown rice, potato, quinoa, something like that)

Where are the treats???? I just don't eat sweets. I just choose not to. And that's that.

Occasionally, I will have a cookie. Or one of those Betty Crocker Warm Delights (so bad and chemically...but man they are yummy and they cook in 30 secs in the micro and they are only 160 cals). I also like Jello, low fat pudding cups, yogurt. Still...don't have these too often...just once in awhile.

I am not blatantly against diet sodas...but I maybe drink one once every couple of weeks. Just because I watched "Weight of the Nation" and saw the illustrations with soda and it just grossed me out.

I drink 64 oz. (at least) of water every single day. I used to hate water. But now I just do it. Cuz I've gotta.

That's how my diet goes. I do what I've gotta do to get what I ultimately want. Even if it's not my fav.

Life is all about choices. I've had plenty of restaurant trips lately where I half-heartedly ordered what I knew to have the least calories JUST because it was good for me. I don't usually splurge when I eat out b/c if I did that, I'd be splurging every single week. I just plan ahead, order the fish or the salad without the fried stuff and without the ranch or whatever...and I just eat it. And I'm usually surprised at how much I actually love it.

Real food tastes good...but it's difficult to get it on the plate. I just always try to remember...FOOD IS FUEL. Make diet choices with your brain and not your feelings and you have won 90% of the battle.

Hope this helps!







Sunday, July 01, 2012
So, yesterday I ran my longest distance yet - the elusive 10k (or for us Americans, 6.2 miles). Not only was it a distance I've never attempted (the longest I've run before this was 5 miles), but it was also my first run experimenting with my new hydration belt and with some sort of fueling system. The hydration belt was excellent...very comfy and the extra weight was not a bother at all. Trickiest part was getting the bottles off and on, but I think I've got the hang of it now.

I figure if I'm going to work on fueling, I'd best start experimenting with race day breakfasts too. My stomach is very sensitive and I've had quite a bit of trouble over the past few weeks with getting it to a point where I can get a full run in without major discomfort, if you catch my drift.

Because of the stomach issues and the fact that I had to add an entirely new route to my run (because my trail only stretches 4 miles roundtrip), I was very nervous. I had no idea what to expect from such a long distance and, frankly, I worried that it would be a grueling run.

I woke up at 6am, ate a small banana with a couple tablespoons of peanut butter and drank a glass of water. Prepped my hydration belt (just water this time - wanted to know EXACTLY what was causing it if any stomach issues occurred) and my experimental fuel of choice, which was gummy bears. Seems like a good way to start...with something that I know for sure won't make me gag. Haha.

I went out at 6:30am, so heat was not really an issue at that point (the temps did get up to 103 degrees yesterday, though, so I'm very glad I went early) but there was some wicked humidity in the beginning of my run. In addition, with the new route, there were some mild hills in the first mile of my run.

As promised, I had committed to the Galloway Method of taking short walk breaks every so often...to keep my legs fresh and hopefully reserve enough energy to pull me through the entire run.

Here's a step-by-step breakdown of the run:

Easy 5-minute walking warm-up (about 1/3 mile)
At 1/2 mile - took an early one-minute walk break
At 1 mile - took a one-minute walk break
At 2 miles (30 mins in) - took some gummy bears and water; about a 1:30 walk break
At 3 miles - took a one-minute walk break
At 4 miles (60 mins in) - took some gummy bears and water; about a 1:30 walk break
At 5 miles - took a one-minute walk break; took water
At 6 miles - walked remaining 0.2 miles to cool down

Aside from my short walk breaks, I ran the entire distance. Total time: 1 hour 30 minutes. That's on par with my normal time, considering it usually takes me about 1 hour to run 4 miles (without walk breaks). Interesting.

But walk breaks are for naught if I was feeling like I was dragging, right? Well, as it turns out, I checked my run app and would you believe it??? My FASTEST mile was Mile 5. I was clipping along at a 12:20 pace, which is much faster than my normal 13:30. In addition, my long slow run pace is generally a lot slower than my normal pace and around a 15-minute mile. But, because of the walk breaks, I just could not go that slow...I kept trying to slow myself down to that pace and, finally, at about a mile in, I gave up trying to slow down and decided to just go with what felt comfortable for my body. As it turned out...for most of the run, my pace was around 13:20 (and it felt SLOW!) But, in the end, it all averaged out the same.

I had absolutely NO stomach issues. Gummy bears rock...and, yes, I did feel the surge of energy after taking them and some water. That was pretty cool. I felt near the end that I could have maybe benefited from some electrolytes so I will add that next week and maybe try a different fuel source...perhaps Sport Beans or Chews. (If you're clever, you will have noticed that I am saving gels for last...because, well, they sound DISGUSTING. Haha.)

I had a bit of soreness in the arch of my left foot, but I iced it and it went away completely. This morning, I woke up and had absolutely NO soreness at all. I felt GREAT! After last week's colossal exhaustion, this is just so exciting for me!!!

In addition, this was a great mental hurdle for me to overcome...to know that I am able to do ALMOST half of a half marathon with very few issues at all brings me more comfort than you can imagine!

Next week is a 7-mile run. I start the "official" half marathon training program (from "Run Like A Mother") tomorrow morning.

Geez...I never in my life thought I'd be EXCITED about running 7 miles. WHAT IS HAPPENING TO ME?! Haha.

Have a great week, y'all! Stay healthy and positive! And make good choices! (a.k.a. I better NOT be finishing my 4 miles tomorrow morning while you are finishing a second donut!!!)





First Page
1
2
3
4
5
6
7
8
9
10
11
12
13
14
15
16
17
18
19
20
21
22
23
24
25
26
27
28
29
30
31
32 33 34 35 36 37 38 39 40 41 42 43 44 45 46 47 48 49 50 51 52 53 54 55 56 57 58 59 60 61 62 63 Last Page

Get An Email Alert Each Time LDRICHEL Posts