| | |
| --- | --- |
| | LDRICHEL's Recent Blog Entries |



Sunday, July 01, 2012
So, yesterday I ran my longest distance yet - the elusive 10k (or for us Americans, 6.2 miles). Not only was it a distance I've never attempted (the longest I've run before this was 5 miles), but it was also my first run experimenting with my new hydration belt and with some sort of fueling system. The hydration belt was excellent...very comfy and the extra weight was not a bother at all. Trickiest part was getting the bottles off and on, but I think I've got the hang of it now.

I figure if I'm going to work on fueling, I'd best start experimenting with race day breakfasts too. My stomach is very sensitive and I've had quite a bit of trouble over the past few weeks with getting it to a point where I can get a full run in without major discomfort, if you catch my drift.

Because of the stomach issues and the fact that I had to add an entirely new route to my run (because my trail only stretches 4 miles roundtrip), I was very nervous. I had no idea what to expect from such a long distance and, frankly, I worried that it would be a grueling run.

I woke up at 6am, ate a small banana with a couple tablespoons of peanut butter and drank a glass of water. Prepped my hydration belt (just water this time - wanted to know EXACTLY what was causing it if any stomach issues occurred) and my experimental fuel of choice, which was gummy bears. Seems like a good way to start...with something that I know for sure won't make me gag. Haha.

I went out at 6:30am, so heat was not really an issue at that point (the temps did get up to 103 degrees yesterday, though, so I'm very glad I went early) but there was some wicked humidity in the beginning of my run. In addition, with the new route, there were some mild hills in the first mile of my run.

As promised, I had committed to the Galloway Method of taking short walk breaks every so often...to keep my legs fresh and hopefully reserve enough energy to pull me through the entire run.

Here's a step-by-step breakdown of the run:

Easy 5-minute walking warm-up (about 1/3 mile)
At 1/2 mile - took an early one-minute walk break
At 1 mile - took a one-minute walk break
At 2 miles (30 mins in) - took some gummy bears and water; about a 1:30 walk break
At 3 miles - took a one-minute walk break
At 4 miles (60 mins in) - took some gummy bears and water; about a 1:30 walk break
At 5 miles - took a one-minute walk break; took water
At 6 miles - walked remaining 0.2 miles to cool down

Aside from my short walk breaks, I ran the entire distance. Total time: 1 hour 30 minutes. That's on par with my normal time, considering it usually takes me about 1 hour to run 4 miles (without walk breaks). Interesting.

But walk breaks are for naught if I was feeling like I was dragging, right? Well, as it turns out, I checked my run app and would you believe it??? My FASTEST mile was Mile 5. I was clipping along at a 12:20 pace, which is much faster than my normal 13:30. In addition, my long slow run pace is generally a lot slower than my normal pace and around a 15-minute mile. But, because of the walk breaks, I just could not go that slow...I kept trying to slow myself down to that pace and, finally, at about a mile in, I gave up trying to slow down and decided to just go with what felt comfortable for my body. As it turned out...for most of the run, my pace was around 13:20 (and it felt SLOW!) But, in the end, it all averaged out the same.

I had absolutely NO stomach issues. Gummy bears rock...and, yes, I did feel the surge of energy after taking them and some water. That was pretty cool. I felt near the end that I could have maybe benefited from some electrolytes so I will add that next week and maybe try a different fuel source...perhaps Sport Beans or Chews. (If you're clever, you will have noticed that I am saving gels for last...because, well, they sound DISGUSTING. Haha.)

I had a bit of soreness in the arch of my left foot, but I iced it and it went away completely. This morning, I woke up and had absolutely NO soreness at all. I felt GREAT! After last week's colossal exhaustion, this is just so exciting for me!!!

In addition, this was a great mental hurdle for me to overcome...to know that I am able to do ALMOST half of a half marathon with very few issues at all brings me more comfort than you can imagine!

Next week is a 7-mile run. I start the "official" half marathon training program (from "Run Like A Mother") tomorrow morning.

Geez...I never in my life thought I'd be EXCITED about running 7 miles. WHAT IS HAPPENING TO ME?! Haha.

Have a great week, y'all! Stay healthy and positive! And make good choices! (a.k.a. I better NOT be finishing my 4 miles tomorrow morning while you are finishing a second donut!!!)








Friday, June 29, 2012
I can't even tell you how many times over the past few weeks I have thought to myself, "Who ARE you, Leah??? Where did this person come from? When did you change so much? How did this even happen?" In a GOOD way! Haha.

So, I thought, "Why not try and figure this out?" I went back and started to read all my old blogs...because I distinctly remember there being a turning point where something permanently changed and I never looked back. It was really fun going back through old blogs. The funniest for me was when I got all emotional and thankful over FOUR comments on a blog. HA! Seems crazy to me now...

Anyway, the progression is very interesting and I thought it would maybe be encouraging for some of you...to show you that, no matter how overwhelming your odds are (whether you have to lose 108 lbs - like me) or you just can't imagine walking more than a mile...THINGS CHANGE, FRIENDS. And sometimes, when you least expect it, they change quickly. You CAN turn your entire life around in a short period of time...I am proof of this. It's not easy...but it is not as difficult as I always thought it would be either. Need proof? OK, let's begin...

FEBRUARY 27, 2012

So, yesterday I was at my "Made To Crave" Bible Study (week 2) and was telling my group that I feel like my issues with food/health have kept me from victory, specifically in the fact that I feel like I can never do anything fun again because I'm afraid of re-breaking my ankle and elbow. It makes me very upset and I was sobbing as I told them, "I can't even run! I've tried and I just can't do it!"

But, I've always wondered if I really physically can't run or if it was just a mental block, completely based on fear. I suspected it was the latter.

Yesterday I took my kids for a walk. About halfway through our 1.5 mile walk, I said to my daughter, "Should I try to jog to that sign? Just to see if I can do it?" I actually jogged!!! My daughter was behind me and she started shouting, "Mommy is jogging!!!!! Oh my gosh!!!" After that short distance, I felt like I wanted to jog again! I ended up jogging, then walking, then jogging, then walking...the entire way and I felt AMAZING!!! No pain. Just sweet, sweet joy.

I am beyond excited about this. And now I want to go again today!

MARCH 13, 2012

Apparently, there's a runners' store in town that will do all the measurements on my feet and even watch me run and figure out the perfect shoe for me.

The real shocker here is this...WHY do I want to spend so much time to do this? WHY do I want to go to this store and have some stranger watch me shake my fatness and have him fit me with what is sure to be a SUPER expensive shoe that I probably can't afford and then WHY do I WANT to do this Couch 2 5K so badly and eventually sign up for a 5K and, later on, who knows what? I HATE running. Right????

It is shocking even to me. I don't know where this desire came from.

MAY 2, 2012 (57 DAYS AGO!!!!)

I've read a LOT of blogs over the past couple of weeks. As you know, I feel specifically drawn to the stories of SparkPeople that have lost 100+ lbs. I began to see a common thread in many of these success stories: running. And not just running when they had walked enough to shed a ton of weight...running when they were STILL out of shape. When they were STILL over 300 lbs, over 250 lbs. Running a 5K non-stop at 230 lbs. It has quite literally blown my mind!

And, I don't know...I just thought, "If these people have done it...then I can do it." I can't keep making excuses.

Sunday morning, I knew I'd have a 6-hour car ride in front of me. At 7am, I went and started over with Couch 2 5K. But, this time, I ran all the running intervals. I cut my personal best mile interval time by 3 whole minutes!!! I was THRILLED! I felt SO GREAT! Yeah, it was a rough run, but not as rough as I thought it would be.

This morning, I woke up at 5:30am to take care of my 4 year old. He went back to sleep and I realized I was wide awake and just ITCHING for the sun to come up, so I could go for another run. I cut my mile interval time by another minute this morning. But that wasn't even my biggest victory today. The victory today was that I was able to breathe! I focused on my running form and, do you know, that made things so much easier?! I wasn't in pain. It was exponentially easier than it was on Sunday.

This is just TWO DAYS of work, folks. And I already feel like it's getting easier. I just can't tell you how amazing I feel. This running thing, once you get the hang of it, is really quite addicting.

If you only knew me two years ago, you'd understand how shocking this is. I am the girl who used to HATE any exercise. I am the rude person that would post on my runner friends' Facebook statuses that running is disgusting. I am the one who would say, "Who cares if I'm overweight? I'm already married and at least I'll die happy (eating delicious things and living life to the full)!"

But I so wasn't living life! And, to have this chance to truly LIVE...well, I refuse to take it for granted. I just can't wait to see what's ahead!!!!

JUNE 28, 2012 (TODAY)

It has only been 57 days since I wrote that. Less than two months, you guys. Tomorrow morning, I will run my longest distance yet - 6.2 miles. And I plan on running the entire thing...with a total of 15-20 minutes of walking interspersed throughout the entire run.

57 days ago, I was thrilled to able to run a 1:30 minute interval. Tomorrow I will run for over an hour.

57 days ago, running in a 5k race was a pipe dream. Something that could only happen "someday". Today, I have run and finished two 5k races.

57 days ago, I thought, "Maybe when I've lost a bunch of weight, I'll be able to do a 5k".

Tomorrow, I will run 10k as a part of my training for a half marathon...which I will run just 15 weeks from now.

In light of these facts, it is understandable that I am constantly looking in the mirror and asking, "Who ARE you?!" Well, I have some ideas:

I am Leah.
I am stronger than I ever imagined I could be.
I am a healed woman - physically, mentally, emotionally.
I am tenacious and empowered.
I am beautiful.
I am not afraid anymore.
I am not giving up.
I am blessed.
I am a runner.






Thursday, June 28, 2012
I've been reading a great book by Jeff Galloway, "Galloway's Book On Running". Does that title sound arrogant? Actually, far from it. Galloway was an Olympic runner and winner of the first Atlanta Marathon. He's been called one of the fathers of running and his book has been called one of the greatest books on the sport of running. I'm still working on it, but you know...I think this description might be accurate.

One of Galloway's biggest tips is using walk breaks in a long run. He talks at length about how strongly he believes in the ability of walk breaks to actually DECREASE a person's race time.

"Most runners will record significantly faster times when they take walk breaks because they don't slow down at the end of a long run. Thousands of veterans whose goal is to run faster have improved by 10, 20, 30 minutes and more in marathons by taking walk breaks early and often in the race. You can spot these folks: they're the ones who are picking up speed during the last 2-6 miles when everyone else is slowing down."

How is this even possible? How does this work? I was skeptical.

"By varying use of your muscles, your legs keep their bounce as they conserve resources. Walk breaks keep you from using up your reserve resources early. By alternating the exertion level and the way you're using your running muscles, these prime movers have a chance to recover before they accumulate fatigue."

So, as it turns out, my trainer and I discussed this at length as well. After hearing it from him, from Galloway and also from ABSOLUTZER0 when I spoke with him a couple months ago, I figured it was time to test this theory myself.

This morning, I was coming off of two rest days. I was FRESH and ready to go. Listen, if there were ever a day I could knock out four miles without a thought and barely feel it, it would be today! My body was primed for this and I was positively itching to get back out there.

But, in a few weeks, my mileage on my long run is going to start getting into the 8-10 mile ranges and, at that point, I seriously question my ability to run the entire thing. And, even if I could do it, would I even want to? It sounds like a recipe for injury to me.

So, 1.3 miles in, I took a one minute walk break. Probably a 19 minute pace. JUST ONE MINUTE. No big deal. It was a little difficult to start back up...but, listen, it took me a full 3/4 of a mile to get into a groovy pace when I started the run. After this walk break, it didn't take nearly as long to get BACK into the groove.

Second mile was great and at the end of it, I was happy to take a one minute walk break. After that break, you guys, I TOOK off! That third mile was the absolute best. I just can't describe how great I felt! I was flying (I mean...by my own standards) at about a 12:30 pace. (Normal pace is 13:30).

I definitely had to FORCE myself to take that last one minute walk break at the end of it. I could have gone forever!!! Still...in true scientific form, I went ahead and took one last one-minute break to walk (again...18 to 19 minute pace). Then, easily ran the last mile. This is the time when I begin to feel fatigued and have to mentally work myself really hard to keep going to the end. This time, I trotted up that hill on the way home and was running happy when I hit my driveway.

LOTS of sweat today. Weird. But here's the CRAZIEST part...my time was a full two minutes faster than the last time I ran the same distance (without walk breaks). By golly...I think there is something to this!

I don't even think I'd consider this "intervals" because the one minute walk breaks are just SO miniscule and short...and they really are pretty slow...completely focused on quick muscle recovery.

If you're interested in this, stay tuned because I am going to work these short breaks into my 10k distance on Saturday, so I will definitely report back on that!!!





Wednesday, June 27, 2012
I will go on record and admit that my favorite position is facedown. I just find that staring at the ceiling is not very comfortable and after an hour or so on my left or right side, my hip starts to get sore (partly why I hated pregnancy so much!) You can judge me if you want (I know it's a little immature for a 33-year old woman), but I'm not ashamed of the fact that I'm a tummy sleeper.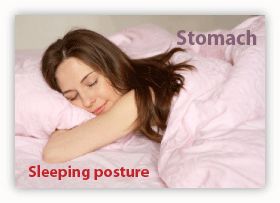 This is exactly how I look when I sleep...except I'm usually not smiling if you take my picture while I'm doing it.

Seeing as this is a rest day for me (I feel GREAT, by the way! Almost fully recovered! Yay!), I thought you'd like to learn some interesting facts about your sleep position. Learning, folks. It's a good thing.

[For legal reasons, I need to tell you I totally swiped this information from another source and I'm only allowed to use a few lines from it, but the full text can be viewed here: www.livestrong.com/article/109972-sl
eeping-positions-mean/ As usual, though, the color commentary is TOTALLY MINE - see what I did there? My commentary is in ALL CAPS. FYI.]


We are constantly communicating how we feel, what we're thinking and our desires even when we're not speaking... Even while sleeping, we are communicating our true selves...

THE FETAL POSITION
This is the most common sleep position. [WHAT THE WHAT? THIS IS SO UNCOMFORTABLE!]

Out of the 1,000 people surveyed, 41 percent slept in this position---51 percent of women. [SERIOUSLY? IF YOU FOUND OUT YOUR PARTNER SLEPT IN THE FETAL POSITION, YOU WOULDN'T BE A LITTLE CREEPED OUT??? OH NO...I JUST ALIENATED 41% OF MY WOMEN AND 51% OF MY MEN READERS. SORRY TO THE 4 OF YOU!!!]

Those who sleep in the fetal position are described as being very emotional, artistic and sensitive with the capacity to have intense relationships. [LIKE...I DON'T KNOW...A BABY???]

An interesting finding for the ladies: Women who enjoy slumber in this position tend to have a greater capacity for multiple orgasms. [WAIT, WHAT? I MIGHT RECONSIDER THAT FREAK REMARK.]

Gregarious and brash people are said to sleep on their stomachs with their hands around the pillow and their heads turned to one side. [OMG, THIS IS ME!!!!]

They can be thin-skinned underneath their outgoing exteriors and dislike criticism or extreme situations. People who regularly sleep prone are stubborn, persistent and goal-oriented...if you've suddenly begun to sleep in this position, there might be something you're afraid of. [UHHH...YEAH...THIRTEEN POINT FREAKING ONE]

HONEYMOON HUG
Sleeping face to face in a hug is the ultimate in intimacy. [AND BAD MORNING BREATH]

Couples who do not stop sleeping this way might have underlying issues of co-dependence. [OUCH]

This position is uncomfortable to maintain throughout the night for most couples. [YA THINK?]

SPOON [FAVORITE FAVORITE FAVORITE]
Many couples spoon while they sleep. That's when both partners are in a semi-fetal position, one behind the other with the front of the "spooning" partner touching the back of the partner being "spooned."

BACK TO BACK
Couples who sleep back to back with their bottoms touching have a sexual bond but are both independent and confident individuals. [THIS TOTALLY REMINDS ME OF AN EPISODE OF 'MODERN FAMILY"]

I could end this blog with the question of what your favorite sleeping position, but I would be lying if I acted like I really cared. It was really just an excuse for a clever title and intro...haha.





Tuesday, June 26, 2012
Wow. So, I'm surprised that, as I write this, I am STILL recovering from this weekend's running workouts. I was brutally exhausted yesterday and didn't actually get to bed very early - stayed up to watch a movie until midnight (bad choice).

Woke this morning and had more trouble than usual getting out of bed. Because of how completely wiped out my body was after a 5-mile followed immediately by a 3.1, I decided today should be my easy 3-mile cross-training walk instead of the normal 2-mile run.

I wasn't prepared for an easygoing walk to feel grueling. And, at the same time, I could barely stay awake through it. Somehow managed to get ready for work (after yelling at my kid and husband for no reason) and made it to work...late, of course. Pretty much had a breakdown at that point emotionally. Poor hubby was so confused and asked, "What is happening right now???" Normally, I close up real tight and just put a wall up at this point...but today I tried to think about what was really going on in my head. I responded to him with a pretty long list of things that were bothering me...one of the biggest being that I was upset because my body was not responding to my weekend training the way I'd like it to and that I hate this feeling of being rundown and of knowing I went too far and that I didn't take care of myself the way I should have.

Long story short, I apologized to all parties and things are fine now. But, man, has this been a long day. I decided tomorrow will be another rest day. I just need another 24 hours to come out of this haze of exhaustion and I will definitely be going to bed early tonight.

Truth be told, I do feel a bit better after several hours of focusing on other tasks and I don't know how I was able to do it, but I had a VERY productive day at work! I am more and more thankful that the half marathon training program I have chosen is rigorous, but also has one day per week built in where you are allowed to "bail" if you want to. Tomorrow, I have decided to exercise my freedom to blow off that run because my body needs more time to recover. I know this is the right thing to do.

Deep down, I also wonder (and I have absolutely no experience with this whatsoever, so I'm totally just pulling this out of nowhere) if my lack of a refueling system on my long run Saturday has prolonged the effects that I have seen on my body. I went out there with no breakfast beforehand and no water or food/gel/fuel for during the run. Is it possible that this could effect my body for more than just the few hours before, during and after a run? I'm just curious.

Another lesson (always lessons...no matter how crappy you feel!!! Keep your eyes open for them!): I started to eat some cottage cheese this morning,..even though I didn't really feel that hungry. Suddenly, I felt ravenous and I could not get enough of that stuff. PROTEIN, people! It was like my body took over and said, "YES! THIS! MORE! NOW!" I must have had an entire two servings. It was SO good.

All the while, I'm eating and feeling stronger and thinking, "Oh geez, Leah...DUUUUUUUUUUUUUUUUUHHHHHHHHHHH!!!!!!
!!!!!!"

So, yeah...sometimes when you feel tired...it's not just that you're tired. Protein helps.

I reserve the right to claim that I had brain fuzz and that's why it didn't even occur to me that I should eat. Haha.

Sorry to be a downer, guys. I have a great feeling about tomorrow, though. It's going to be better...I can just feel it. And I have no doubt I'll be back at full strength again Thursday, raring to go with some sort of brilliance for ya!

Have a lovely night. And enjoy the view on NBC!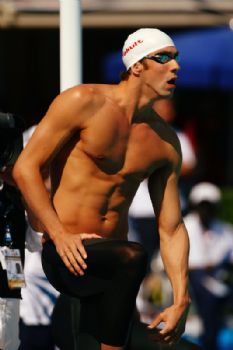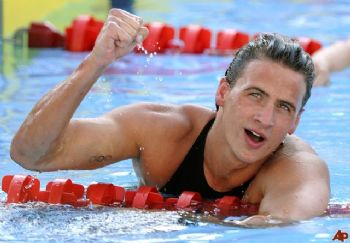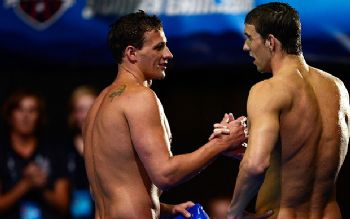 Mmmmmhmmm...you're WELCOME, ladies!!!!




First Page
1
2
3
4
5
6
7
8
9
10
11
12
13
14
15
16
17
18
19
20
21
22
23
24
25
26
27
28
29
30
31
32
33
34 35 36 37 38 39 40 41 42 43 44 45 46 47 48 49 50 51 52 53 54 55 56 57 58 59 60 61 62 63 64 Last Page

Get An Email Alert Each Time LDRICHEL Posts