| | |
| --- | --- |
| | LDRICHEL's Recent Blog Entries |


Tuesday, June 26, 2012
Wow. So, I'm surprised that, as I write this, I am STILL recovering from this weekend's running workouts. I was brutally exhausted yesterday and didn't actually get to bed very early - stayed up to watch a movie until midnight (bad choice).

Woke this morning and had more trouble than usual getting out of bed. Because of how completely wiped out my body was after a 5-mile followed immediately by a 3.1, I decided today should be my easy 3-mile cross-training walk instead of the normal 2-mile run.

I wasn't prepared for an easygoing walk to feel grueling. And, at the same time, I could barely stay awake through it. Somehow managed to get ready for work (after yelling at my kid and husband for no reason) and made it to work...late, of course. Pretty much had a breakdown at that point emotionally. Poor hubby was so confused and asked, "What is happening right now???" Normally, I close up real tight and just put a wall up at this point...but today I tried to think about what was really going on in my head. I responded to him with a pretty long list of things that were bothering me...one of the biggest being that I was upset because my body was not responding to my weekend training the way I'd like it to and that I hate this feeling of being rundown and of knowing I went too far and that I didn't take care of myself the way I should have.

Long story short, I apologized to all parties and things are fine now. But, man, has this been a long day. I decided tomorrow will be another rest day. I just need another 24 hours to come out of this haze of exhaustion and I will definitely be going to bed early tonight.

Truth be told, I do feel a bit better after several hours of focusing on other tasks and I don't know how I was able to do it, but I had a VERY productive day at work! I am more and more thankful that the half marathon training program I have chosen is rigorous, but also has one day per week built in where you are allowed to "bail" if you want to. Tomorrow, I have decided to exercise my freedom to blow off that run because my body needs more time to recover. I know this is the right thing to do.

Deep down, I also wonder (and I have absolutely no experience with this whatsoever, so I'm totally just pulling this out of nowhere) if my lack of a refueling system on my long run Saturday has prolonged the effects that I have seen on my body. I went out there with no breakfast beforehand and no water or food/gel/fuel for during the run. Is it possible that this could effect my body for more than just the few hours before, during and after a run? I'm just curious.

Another lesson (always lessons...no matter how crappy you feel!!! Keep your eyes open for them!): I started to eat some cottage cheese this morning,..even though I didn't really feel that hungry. Suddenly, I felt ravenous and I could not get enough of that stuff. PROTEIN, people! It was like my body took over and said, "YES! THIS! MORE! NOW!" I must have had an entire two servings. It was SO good.

All the while, I'm eating and feeling stronger and thinking, "Oh geez, Leah...DUUUUUUUUUUUUUUUUUHHHHHHHHHHH!!!!!!
!!!!!!"

So, yeah...sometimes when you feel tired...it's not just that you're tired. Protein helps.

I reserve the right to claim that I had brain fuzz and that's why it didn't even occur to me that I should eat. Haha.

Sorry to be a downer, guys. I have a great feeling about tomorrow, though. It's going to be better...I can just feel it. And I have no doubt I'll be back at full strength again Thursday, raring to go with some sort of brilliance for ya!

Have a lovely night. And enjoy the view on NBC!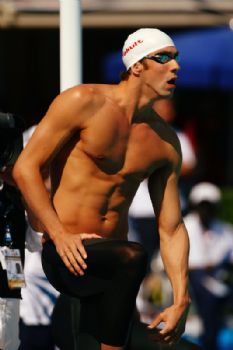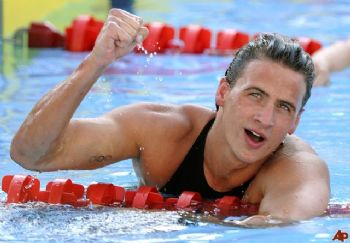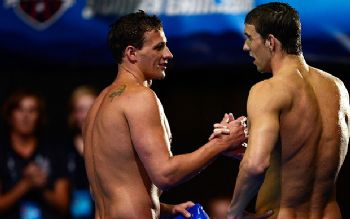 Mmmmmhmmm...you're WELCOME, ladies!!!!







Monday, June 25, 2012
Blog has been pretty heavy these last few days. Figured we all could use some light fare today. I mean, it is Monday and an inordinate number of my buddies are just exhausted today and have brain fuzz (including myself). I don't know if there's a solar flare that's messing with everyone today or what, but the general consensus is that we are in need of some motivation.

So...enjoy, friends! Some awesome pics...with color commentary from yours truly, as usual.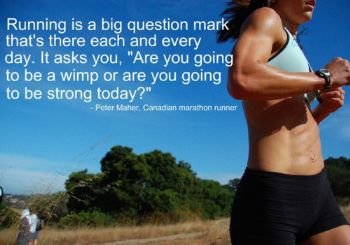 I would add...are you going to take a rest day? Or are you going to be a stubborn ass?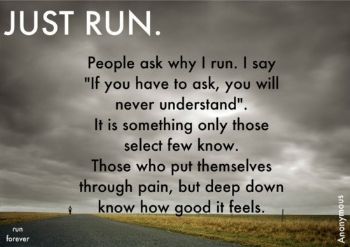 Thus, proving we are a) insane and b) sadomasochists.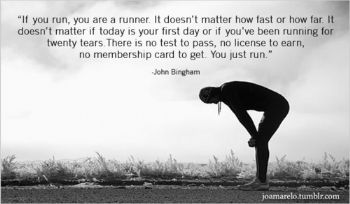 I'm just going to say...I love this sentiment. But if you want to really "sell" running, maybe don't use a photo of a guy who looks like he's about to puke. Just my opinion. I'm no ad exec.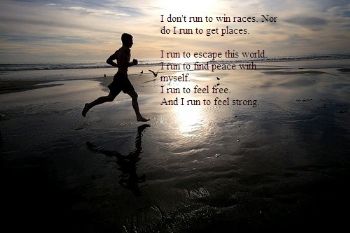 This is absolutely 100% true for me. Thus, proving that I am most definitely in my own little world. And I'm OK with that.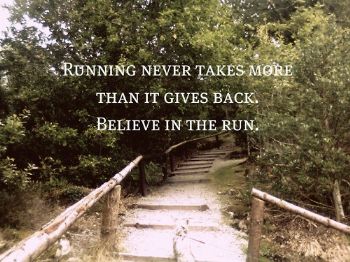 In all seriousness now...this is the most important lesson I am learning.






Sunday, June 24, 2012
Yesterday, I blogged about my longest run so far, the 5 mile. It went pretty well. No serious pain or anything and no soreness afterwards. I'd be lying, though, if I said it was a super easy run. In fact, I've been thinking a lot lately about how I have shared the highs in my blogs, but not necessarily the lows. Truth be told, I have had a great experience with running so far (for the 3 months or so that I've been seriously engaged in training). But, like any sport, it is not without its aches and pains.

At mile 3.8 yesterday, it felt like my quad muscle suddenly woke up and said, "Hey, wait a second, lady!!! We've been moving for an hour. Did you know that? I don't want to do this anymore." At that point, I had a little conversation with myself, asking myself if this was actually PAIN that could lead to possible injury OR just tiredness that I could push through and stretch out after my run. This is such a difficult balance and I can't say that I've mastered it. I mean, what can any of us do but listen to our bodies the best we can? Sooner or later, there's going to be a time where we take a risk. And pray like hell that you make the right choice.

By definition (according to Merriam-Webster Dictionary), an "athlete" is a person who is trained or skilled in exercises, sports, or games requiring physical strength, agility, or stamina.

When do you choose stamina over caution? I don't know. I'm asking you. Haha. This is one of the biggest lessons I'm working on learning right now. With so many past injuries from my freak roller skating accident, I might have a greater fear of injury than most people in my situation. As a result, I might tend to baby my muscles and joints a bit more...fearing the pain that might result if something goes awry.

Been watching the Olympic Trials this weekend? Watching stuff like that just confuses the heck out of me in this area. LOL. I also watched a movie called "Spirit of the Marathon" last night (it's free to watch on hulu.com!) I'm not kidding...my knees started to hurt just WATCHING that! How on earth does anyone run 26.2 miles? I cannot wrap my brain around this at all!

And then...I did something that shook me to the core. I watched a video of the course I'll be running for my first half marathon on October 20th. Here's a link...

www.youtube.com/watch?v=WM-SNHXxdoY&
feature=youtube_gdata_player

You don't have to watch the whole thing...you just need to get about 3 minutes in before you start to feel the same emotions that I began to feel while watching it. No joke, guys...the longer it went on, the more fear built in my heart. I thought to myself, "Is this EVER going to end?! This is SOOOO far!"

I'll be honest. This is the first "wall" I've hit in my running. Not the wall that you hear about around Mile 8 of a half marathon...but a mental wall. When I hit this wall, the floodgates of fear and self-doubt were opened...

What am I thinking?
How can I do this?
There's no way I can last that long.
How can anyone make it?
What if I'm just kidding myself?
Am I freaking insane?

After this mental breakdown, I needed some help from a few close friends. Sent the APB out to my Team (A)cross the Miles of Spark runner buddies and they were able to give me some positive fuel for this battle. Some answers to the questions and negative thoughts.

You're going to unleash the beast, that's how. Picture me there cheering you on.
You got this...no worries. If you are at 5 miles now, I would bet my paycheck on you finishing with flying colors.
When what you do brings with it the taste of glory, nothing else will ever satisfy. You train to finish and endure because finishing means so much.
You have 4 months! Think about where you were on Valentine's Day...both mentally and physically. How does it compare to today?

Well, when you put it that way...on Valentine's Day, I was in a place of self-hatred. I had no confidence. I could not even run for 15 seconds. I couldn't even SHUFFLE for 15 seconds. I hadn't even THOUGHT about doing C25K. I wasn't eating right...I wasn't doing anything. I have come quite a ways in 16 weeks. So...what could I do with another 16 weeks? I suppose we'll see. Haha.

This morning, it should have been a rest day for me, but I got out there to support my girl, SNEVIL1 as she ran her first 5k race. MOM2IAN and I both started our 3.1 mile run at the same time that SNEVIL1's race was starting. We like to support each other this way when any of us has a race. It's fun and it's nice when you are the one running the race to know that there are friends out there running "with" you.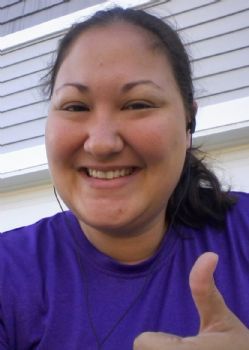 Standard Team (A)cross The Miles Thumbs Up Pic

I was not sore after my 5-mile run yesterday, but I was tired. I knew going into this that it was not going to be the easiest run. I even considered just walking it. But, honestly, I just wanted to do it and do it fast. Haha. So, I did the 3.1 miles. It was...tough.

If I wasn't feeling the 5 miles before that run...I certainly was feeling it afterwards. Basically, from the time I got home until now...I've been feeling 8 miles worth of running on my body.

This is a side of my running that I don't usually show you.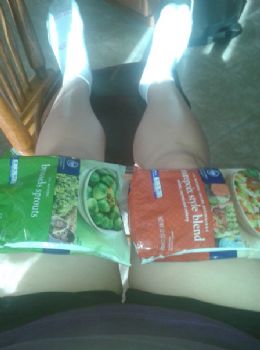 These bags of veggies moved from my thighs to my knees, to my shins to my ankles.

When I talked about hard work yesterday, I wasn't pulling your leg. At 2.1 miles today, my quad and knee in my left leg said, "THAT'S ENOUGH OF THIS!" And I walked the last mile. Because they so forcefully asked me to.

Know what else? I took an ice bath this afternoon, for the first time in my life. It was SHOCKING to the system, but oh maaaaan, my legs and arms felt SO much better afterwards.

For me, though, even with soreness and ice and ibuprofen and whatever else comes down the line, I still find the sport rewarding. Even in this exhausting weekend of running, I've learned invaluable lessons.

1. I discovered that late in my long run, I call upon my core and arm muscles to get me through to the end. And, guess what? They need some serious work. So...I will be adding arm work and core work to my rest days. So crucial!

2. Yet ANOTHER reinforcement of how important REST DAYS are! I don't think, from this point forward, I will ever run on a Sunday after a Saturday long run...ever again. I love my Team, but...it's obviously too much for my body to handle. And I simply can't risk injury.

3. I definitely need to work massage money into my budget. No joke, y'all. I went up to serve Communion in church today...and promptly had a lower back spasm. THAT was awkward.

4. Perhaps the most important lesson from this weekend: I can no longer afford to focus ONLY on my physical training. If I expect to endure through 13.1 miles, I need to begin my MENTAL training, like, YESTERDAY. And, as it turns out, I did begin yesterday. It starts with realizing that there will be aches, pains, negative thoughts...and it is my job in training to figure out how to respond to all of it. Whether I yield to it or push through it...is going to be the key for the next 4 months of training.

Wish me luck. No...no luck. Wish me wisdom. I'm gonna need it.








Saturday, June 23, 2012
This morning was a 5-mile long slow run. My longest distance attempt so far. I started out with a 0.3 mile walking warm-up and ended with a 0.2 walking cool down. In between, though, I was able to run 4.5 miles non-stop.

Perhaps you thought you'd find some helpful tips and tricks here for enduring 4.5 miles (similar to my previous blog, "How I Ran 3 Miles Without Stopping"). Maybe some pointers on running form or speed or ideas on how to drink or fuel to keep going the distance. I hate to disappoint you...this is not my typical inspiration-filled, informative blog.

But I WILL share my secret for the 4.5 mile non-stop run. Ok, gather in close now...wouldn't want this to get out...it's just you and me, right?

HARD WORK

That's all. One day a week of cross training (I do a 3-mile easy walk) and 4 days a week of training runs (2 miles, 3 miles, 3 miles and a long run of 4-6 miles). No exceptions - no excuses. 7 days a week of paying attention to and logging food - nothing fried, very little sugary stuff and more veggies and protein than you can even imagine...with some whole grains and good carbs mixed in as well.

Consistency and, to be honest, a whole lot of stubbornness and a little bit of sass.

Disappointed?






Friday, June 22, 2012
Something new happened to me this morning. I will confide in you and tell you that I literally "write" my entire blog in my head each day WHILE I'm on my runs in the morning. If you've noticed, there have been a couple days where I didn't post anything. I could almost 100% guarantee that those days were rest days.

This morning, I stumbled upon such deep and profound thoughts, I literally couldn't wait to capture them. Picture this...a running girl holding a cell phone and talking into her voice recognition app WHILE still running. Yeah...I was THAT desperate to hold onto these ideas. So, maybe you're in for a treat with this one. Or, maybe I've finally truly lost my mind. You be the judge.

This morning's run started off as every other until I got to the trail and began my run. About 3 minutes in, I looked ahead and saw this...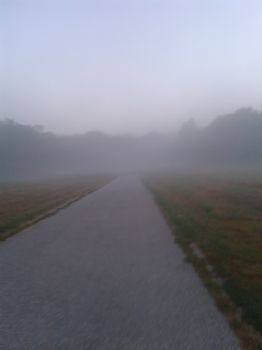 The picture really doesn't do this wall of fog justice. It was so thick, I couldn't see anything past a few yards in front of me. I felt the icy fingers of fear grasp my heart. I've read too many safety articles lately. Here I am...a woman completely alone on a trail shrouded in thick fog.

I'm not a fool. I turned down my music and proceeded with caution, keeping my eyes wide open and alert for predators. I kept running. And what happened next took me completely by surprise. I had assumed the entire rest of my run would literally be in a cloud. But, as it turns out, that patch of fog was a narrow strip...and soon, I was on a clear path and looking back at the fog behind me.

On the way back, my thoughts were so energizing that I picked up the pace of my run significantly. I ran right through that fog on the way back without so much as a backwards glance.

As I finished my run, the impact of this as a metaphor for life and health really hit me hard. And, as a result of this seemingly insignificant incident, I came up with 5 truths that can be used as guides for life and health.

1. Watch for Predators

LIFE: Doesn't it seem like things are going so well sometimes and you suddenly look around and realize that you've stumbled into a situation where you could easily be attacked? At work, school, in your marriage, with a friend. We've gotta keep our eyes open for things like gossip, anger, bitterness and division in our family. Stuff like that can sneak up and destroy you...usually when you are all alone in your own thoughts, in your own world.

HEALTH: Moments of weakness can roll in like a thick fog and cloud your judgment. What are the predators that seek to destroy our healthy lifestyle? Fast food, indifference, self-hatred, depression. Come on...I'm sure you can name a LOT more than that! We MUST keep our eyes open. For, if our health is stolen from us...what do we have left?

2. But...Keep Running!

LIFE: When you are living WAY off your budget, you face death of loved ones, when you have no job prospects and your kids are hungry, when you wonder if this marriage has any possibility of surviving, when you ask God if your life means anything...keep running. Because, who knows when that fog will lift? It might look overpowering and it might appear to stretch on forever, but one day...you'll find yourself in the light. And you'll be looking back at that fog, thinking, "What was that all about? I'm OK."

HEALTH: You guys know this. I have only talked about this about a thousand times. And so has everyone else that has found success on this site. We just can't give up. It doesn't matter if you ate 5 Big Macs yesterday or spent a full 48 hours in front of the TV playing World of Warcraft. Today is a new day and you are responsible for your body TODAY. So, screw the past and get moving.

3. You'll Be Surprised What You Find on The Other Side

LIFE: Sometimes (ok, most times), good things happen after we fall. A new love, a new friend and soulmate, some new opportunity that you never even conceived of in the past. And your horrible circumstances led you directly to it. Life is just like that. Thank God. You know...like a box of choclates. Never know what you're gonna get.

HEALTH: One of these days, you're gonna be walking into a gas station wearing a skirt and heels and you are going to check out your OWN legs. (OK, well...if the guys do that, I might get a *little* concerned...depending on your chosen lifestyle, I guess). But, seriously, you will realize one day that you have a muscle where you didn't know you had one. You will collapse in tears on your driveway because you ran a 5k at 248 lbs. You'll marvel at the fact that you said "no" to your very favorite meal because it just isn't good for you. Not out of guilt...but out of love for yourself. And you will sit in awe and realize how far you have come.

4. You'll Be Stronger On The Other Side

LIFE: This is the epitome of being a survivor. Your courage and determination grows each time you face a situation you fear and take it on head to head. And even if the results are not what you think they will be or wish them to be, you can never say that you are not a more complex or interesting person as result.

HEALTH: Muscles get torn down in a run and then they build back up. But, when they build back up, they are stronger. But exercise and healthy eating doesn't just make you physically stronger. Your level of confidence and love for yourself is a foundation for everything else you do in life. It needs to be sturdy, like a brick wall. Every time you meet a goal or complete a workout or make a healthy choice, you are adding another brick to that inpenetrable wall.

5. You Won't Be Afraid Next Time

LIFE: This doesn't mean it won't hurt just as much the next time...but you will go into it with something more valuable than fear...knowledge and wisdom from living through it in the past. The best part about knowledge and wisdom is that you can pass that on to others...and maybe they won't be AS afraid the first time they are faced with the fog.

HEALTH: The lure of junk food, the beckoning of the couch, the mental exhaustion that comes from making excuse after excuse - these things (and more) will slowly lose their power in your life...if you are consistent. No longer will you be a slave to them. But you will claim your OWN power. And you will be in control of your own body, mind and spirit. THAT, my friends, is true health.



First Page
1
2
3
4
5
6
7
8
9
10
11
12
13
14
15
16
17
18
19
20
21
22
23
24
25
26
27
28
29
30
31
32
33
34
35 36 37 38 39 40 41 42 43 44 45 46 47 48 49 50 51 52 53 54 55 56 57 58 59 60 61 62 63 64 65 Last Page

Get An Email Alert Each Time LDRICHEL Posts