| | |
| --- | --- |
| | LDRICHEL's Recent Blog Entries |



Wednesday, June 20, 2012
Yesterday, I posted a wonderful, yet vaguely mysterious status on the Friend Feed:

"Single best day of my career...ever. In 12 years. Not exaggerating."

Well, I think I've kept you all on pins and needles long enough! I suppose I'll explain now.

But first...I need to take you back to last November 2011. I had recently started working in my current position with a non-profit connected with Indiana University called The Kuali Foundation. www.kuali.org

Because our business is mostly virtual (we've got people scattered all over the country and the globe), we only get to see each other face to face twice per year. Our biggest face to face is called Kuali Days and it happens in the Fall.

The day before I left for Kuali Days, I was invited to attend an all-day conference at the IU Memorial Union that was hosted by the Office of Women's Affairs. The subject was "Re-Inventing Your Career Path". Honestly, I attended because my boss was speaking in a session and...to get free food and get out of the office for a day with pay.

The keynote speaker at this event was an amazing woman named Caroline Dowd-Higgins. This woman started her career as a professional opera singer and traveled the world. But, when that wasn't working out the way she planned, she faced a difficult career transition. Caroline is now an expert on career coaching, in particular completely re-inventing your career. After a stint at the IU Career Development Center, she now helps coach students in the Indiana University Maurer School of Law. She has written a book called "This Is Not The Career I Ordered" and she hosts a radio show on CBS Radio called "Career Coach Caroline".

Here's a link. Isn't she pretty??? carolinedowdhiggins.com/

Why do I go on and on about Caroline? Simple...she has changed my life. After that conference, I went immediately into Kuali Days. I was brand new to this organization, as naive and shy as you could ever imagine, not knowing a thing about our software products, let alone about the organization in general. I didn't know anyone except the girl I shared an office with! It was really scary.

But...that week, something happened. I fell in love with my team and with my organization and with my job. It was the first time I ever thought (in 11 years of working!), "This is the one. This is my forever career."

When I got back, I was SO excited to tell Caroline all about it. I sent her a message on Facebook, not expecting any sort of reply. Shockingly (to me), she replied right away. She was thrilled for me and promised to be cheering me on and available if I ever needed her help. She was so warm...so approachable and so available to help me. We became fast friends.

And, a few weeks later when one of the ladies in our office left and I took on some of her work responsiblities, I approached Caroline about how to negotiate a raise in salary. This famous woman actually took time from her busy schedule and met me for coffee. We talked about raises, professional demeanor, tips for getting noticed in large meetings. It was a breath of fresh air for me and the first time I ever began to see myself as more than just a secretary. Since then, I have held Caroline in the highest esteem and frequently refer to her as my "career guru".

Fast forward to last month. I received an invitation from Caroline to attend the first annual Midwest Invent Your Future Conference for Women. Along with this invitation came a special request to attend a VIP Reception the evening before and meet all the conference organizers and speakers. Well, let's just say...if Caroline says, "Jump", I say, "How high, honey?" So I signed up.

I didn't know what to expect at all. To be quite frank, I thought it would be your typical "Yay...go women! Be happier at work and quit complaining about your job" kind of conference. You know what I'm talking about, ladies. A happy thoughts day, dedicated to getting as much free food as you can. Right?

Well....it was NOT that. And, you know, I should have KNOWN it wouldn't be that because Caroline was on the steering committee and had really talked this thing up. I should have trusted my guru, you know?

At this point, I begin to feel a bit choked up. Because I can't quite articulate everything that went down yesterday. Let me just start by saying...the speakers that were at this event were PHENOMENAL.

I'm including a link below with all their bios (seriously, if this interests you, totally get ALL these books!) But let me just give you a sampling of these ladies' achievements:

CHARLOTTE BEERS - was Undersecretary of State to Colin Powell. Was named "the most powerful woman in advertising" and has been on the cover of Fortune and Business Week.

SAM HORN - The Intrigue Expert. Has been on NPR, MSNBC and in the New York Times, Washington Post and Readers Digest

MARY LOVERDE - Work Life Balance Expert. Has been on Opray Winfrey 4 times, inducted into the National Speakers Hall of Fame and has several best selling books

BETSY MYERS (my new idol) - Former Director of the White House Office for Women during the Clinton Administration and COO of Barack Obama's presidential campaign. SHE WAS AMAAAAAAZING!!!!

Here's the official bio link: www.inventyourfuture.com/events/conf
erences/2012-midwest-iyf/midwest-keyno
tes-featured-speakers/

You know what the best part was? I would say there were only a couple hundred ladies at this event. That means that all of us got to interact, talk, ask questions and spend an entire day just being real with these remarkable women. Literally...sitting there and chatting with some of the most influential and powerful women on earth!

There were breakout sessions and every single one was fabulous. Great food. Lots of amazing networking. Not only that, but I discovered a newfound DEEP appreciation for my company and their openness to smart, intelligent women - that's not the norm in IT. And my own boss...well, she's just been so incredible in supporting me and modeling for me how to succeed as a professional woman.

But here is the best part...and the reason for my enigmatic status yesterday.

Somehow, somewhere in the middle of the day yesterday...something shifted in my mind. You see, I've always had my life segmented. There has been my home/family life, my work life, my church life, my health, etc. These things sort of overlapped...but never really melted together.

Yesterday...everything came together. Suddenly, all the amazing lessons I've been learning at church and all the discipline and hard work I've put into getting healthy translated directly into how I can do my job at work and, as a result, help to further our company brand. In addition, everything I learned about "business" yesterday was directly applicable to how I care for my family and how I use the gifts that God has given me. It's like there is this giant puzzle and pieces were missing. And, yesterday, they all linked together and formed into a beautiful, perfectly flowing image.

It's the ME Puzzle. And it's put together. And I feel indescribably complete.

Ask yourself this:

What would your life feel like if you truly understood how you were made and what your passions are AND you realized how to funnel that into your everyday job?

How would it be to work hard during the day for something you believe in and then come home and have it just be a continuation of your day...full of things you love?

I don't live in a dream world. I'm sure days will suck. I mean, we ARE talking about work here. LOL. But...the potential for this is off the charts.

I'm actually still working through it all mentally, but a friend of mine really summed it up best after I'd told him all about this. He said, "This is your magic moment, Leah."

It is. Magic. I can't think of a better word for it.






Monday, June 18, 2012
So, I've been on a "motivation" kick lately, I guess. This wasn't something that was planned...it just sort of happened. It seems like this would be a good time to move off of this topic of motivation and onto the next logical step, in my mind, of a complete health journey. Can you guess what that step is?

Consistency.

Look, you can be inspired by my words and they can even motivate you to get on your treadmill or go do your workout. That is INCREDIBLE to me...that something I say when I'm just talking about my own regular everyday stuff could actually move someone (or more than one person) to DO something. Believe me...I do fully grasp how amazing and powerful that is.

Still, that's one workout. What about the rest of your life? What if my motivating blogs suddenly stopped? Would you be able to carry yourself on and do it for YOU?

I came across this cartoon several years ago...WAY before SparkPeople. I have never been able to stop thinking about it. Yeah, it's funny. But, when you really think about it...it's not funny. It's spot on.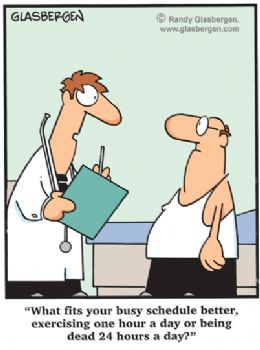 Have you seen Jamie Oliver's show, "Food Revolution"? This man opened my eyes wider than they've ever been opened to what I was doing to my body by feeding it junk and only moving to get from my house to my desk at work, where I'd sit all day long.

I have a lot of motivators on SparkPeople. And, yes, a couple of them really were instrumental in getting me going in this particular phase of my journey. I acknowledge that I wouldn't have done it and I wouldn't have stuck to it in the beginning if I wouldn't have had them on my mind the ENTIRE first month or so.

But, at some point, I had to "leave the nest" and figure out my own stuff. A trainer is great, but he can't be here with me every single day and he can't call or text me every time I'm supposed to do a workout. And he won't always be there to post an uber-inspiring blog, which will motivate me enough to keep going.

Simply put, it clicked in my brain that I have limited time on this earth and I was wasting it being unhealthy. And, well, I don't want to let unhealthy habits slowly (or quickly) kill me and leave that legacy for my children.

I wake up ridiculously early 6 days week (yes, even Saturday). I feed my soul with some quiet time in my Bible and with my God. I feed my body with a morning run or cross-training. I feed my stomach with a healthy breakfast.

I don't LIKE to wake up at 5:30am. It's HARD for me to get out of bed. I usually DON'T WANT to exercise.

But I don't NEED a partner to force me to do it. I don't HAVE TO have perfect conditions (sunny weather, etc). I DON'T MAKE EXCUSES. I just DO what I HAVE to DO. And I do it over and over and over and over again.

And...now you know my secret. It's yours now. What are you going to do with it?

"If a man has any greatness in him, it comes to light, not in one flamboyant hour, but in the ledger of his daily work." -Beryl Markham






Sunday, June 17, 2012
So, wait...something weird is happening. This weekend, we had very old friends (from back before we even had kids) come visit us from Iowa. We were pretty excited to see them and spend time with them. Things were going very well the first night. But things took a strange turn yesterday. And, without going into too much detail, this visit did not end well. To be quite honest, it was sort of an emotional upheaval for me. A pretty awful time. Put it this way...when you think to yourself, "I wish they would just go home", you know some serious stuff has gone down.

They finally drove off and our entire household released their collective breath and peace returned. Of course, sadness remained. It's no exaggeration to say that I'm mourning the loss of an old and dear friendship this afternoon. I hate that this happened, but I've determined not to internalize it and take someone else's dysfunction and make it my own. I've done far too much of it in my life and I'm just done with it.

My good friend, MOM2IAN, has been my texting lifeline this weekend as all of this has gone down. At one point, I said to her, "I don't feel like I should have to apologize but I'm sure I will because that's what nice little Leah always does." She responded, "No...that nice little Leah was 25 pounds ago. New Leah doesn't take any sh&t and she doesn't give false apologies just to please other people and make them feel more comfortable!" (Or something along those lines...probably not those EXACT words...haha).

You know what else New Leah did today that surprises me? New Leah DID cave in and have an ice cream cone...for the sole purpose of comfort. But, it was a small, normal-sized cone that was within the daily calorie limits. New Leah has an insatiable desire to unwind by cleaning the kitchen and then making a delicious, well-rounded, healthy meal for her family, using fresh herbs from the garden.

Who ARE you, New Leah? The Old Leah would sulk, pout, cry, and probably lay around in bed all day. The Old Leah would take the entire weekend onto herself and blame herself for things she didn't do and hold onto that horrible, icky, angry, bitter feeling for years. The New Leah is already letting it slide off of her...because she knows she did nothing wrong. And bitterness will kill the soul and, eventually, the body. New Leah is blogging out her frustrations and then letting them drop.

You know what else? New Leah has really hot legs. She just noticed that this morning after her shower. Perhaps 20 lbs of the 25 lbs lost must have come from her calves alone. LOL.

New Leah realizes that she has SO MANY WONDERFUL and AMAZING friends...and she feels sorry for a person that pushes away one of their only friends in the world instead of asking for help.

New Leah loves herself. And she's determined to make this a great week...and she's praying her dear Spark Lovelies have a great one as well!





Saturday, June 16, 2012
This morning was my Long Slow Run. 4 miles today, as I'm attempting to slowly build my endurance up to 7 miles (which is the first official LSR of my half marathon training schedule, which starts the second week of July). In case some of you are really paying attention, yes...I switched out my training program for a different one that struck my fancy a bit more. I'm following a plan from the book, "Run Like A Mother". It's a 15-week plan with hill and interval training built in.

I've done 4 miles before, but today I was able to start up with a 6-minute walking warm-up and then run for 48 minutes straight (total distance of 3.5 of 3.5 miles). It was a wonderful run!!!

Then we took some visiting friends to a local artists' colony and walked around for about 2 hours in the 90° heat.

After some down time and a delicious healthy dinner, we're all going to take a walk on our trail.

I've always hated rest days...but, for the first time ever, my body is telling me that it is ready for a rest day. I absolutely can't wait to relax tomorrow. I've worked hard this week and a rest day has never sounded so great!

REMENBER TO REST!!!






Friday, June 15, 2012
For the past two mornings, I've had training runs scheduled (yesterday, a 3.1 mile and this morning, a 2 mile).

For the past two mornings, my alarm has sounded and my body has gone into all-out war with my mind.

Some days, I'm thrilled to run. I can't WAIT to get up and get out there and hit that pavement.

Other days, I just can't even imagine moving a muscle or throwing off my cozy comforter to go outside in the brisk morning air and move my entire body for 30-60 minutes.

So...what makes me actually pull myself out of a mound of comfort and get started? What makes me keep going once I'm on the road? And what keeps me from saying, "To hell with this today!" when a run isn't going as smoothly as I'd like? In short, what motivates me to keep going?

I think you will agree that some cool pictures with motivational quotes on them aren't going to propel my lazy butt out of a cocoon of joy and into a 50-degree world of short breathing and muscle cramps.

The truth is, there's not one specific thing that motivates me. As with most areas of life, I have a myriad of resources to draw from that keep me going. These are in no particular order, but at some point in time, I have certainly drawn on every single one of these to fuel my workouts.

1. Inspirational Stories

This can be someone famous, like a sports legend or Olympic hero - my personal favorites are speed skater, Apolo Ohno, and swimmer, Michael Phelps. Doesn't have to be a sports figure, either. Have you SEEN Gwen Stefani's abs? Wow!

In addition, I draw inspiration from average joes like you and me and ON2VICTORY and ABSOLUTZER0 and WUBBY82 and GODIVADSG and MOM2IAN and FREEDOMSTAR and SANDIEGOJOHN. People that are REAL and that are friends on SparkPeople and that have worked hard to get results. Truth be told, I think about my SparkFriends FAR MORE than I think about Apolo Ohno when I'm struggling to get through a run.

2. Music

Sometimes, I am ready to give up. But then, that PERFECT song comes on that keeps moving me forward. Anything by Daft Punk tends to perk me up and keep me running, in particular the song, "Harder, Better, Faster, Stronger". Some songs are just IMPOSSIBLE to walk to...like "Tik Tok" by Ke$ha. Never underestimate the power of music to pull you through those tough spots!

3. Endorphins

When I don't want to run, I think about all the other times I have had successful runs and how I felt afterwards. That feeling is indescribable and it really does last the entire day. This is addicting. And sometimes just the THOUGHT of it gets me moving.

4. Small Treats

Now, we know that we should never reward ourselves with food, right?!! Well, I say that's bull. This morning, this was the trick I used to get up and go (really!) I said to myself, "Self, if you go run a little teeny tiny itty bitty two miles, you can come back and have coffee with Cinnabon flavored creamer." Notice this was a SMALL treat!!! We're talking 45 calories people. NOT an entire 1,000 calorie Cinnabon!!! Other great low calorie "treats" are Banana Fudge Sundae Jello Pudding (60 calories) or just Jello-O (something like 15 calories). There are DELICIOUS and sweet things that you can bribe yourself with that won't even break 100 calories. Get a list...and maybe you can use it as motivation next time you're tempted to hit snooze.

5. Future Body

It sometimes helps me to visualize my future body (or the body I had in the past) in the midst of a hard workout. It reminds me that it will all be worth it and that this "pain" and effort is a temporary thing...that will pay off in something much greater.

6. Sex

Listen, we don't have to get raunchy here. But can we all just agree that this activity is a lot easier when you weigh less? And, in addition, you feel better about yourself so you are less shy about things and there are just more...flexible possibilities. Are you pickin' up what I'm putting down???

7. Pride

Sometimes I exercise just to prove to myself that I'm awesome. Plain and simple.

8. Kids

There are three sets of little tiny eyes in my house and they pick up on everything. They absolutely adore me and I am the queen of their universe. Will they see a Mom who is strong and consistent and hard working? Or will they see a Mom who chooses laziness and breaks promises that she makes to herself?

9. People I've Inspired

In short...YOU! If you are reading this blog, it's possible you've left me some sort of comment or note to tell me that I've inspireed you or given you hope in some way. You can never understand how much everyone in this community contributes to my health. Some mornings I literally do my runs JUST because I know people are waiting to hear about how things went today. Accountability, pure and simple. (THANK YOU, by the way. You guys are helping me to choose to LIVE! This is something I could never possibly repay. And I love you for it.)

10. Frustration/Stress

Look...I tend to find that when I'm upset or pissed off or frustrated, my runs are exponentially better. There's a lot of fuel in stress and anger...and I can't tell you how GOOD it feels to just know that all of that has been lifted when a run is finished.

So...there you have it. If I haven't provided enough reasons for you, well...I simply can't help you. At some point, we all have to find our sources of motivation. I hope that some of you can use a few of mine that I've outlined here.

I believe in every single one of us. Go out there now and take over the world, guys!




First Page
1
2
3
4
5
6
7
8
9
10
11
12
13
14
15
16
17
18
19
20
21
22
23
24
25
26
27
28
29
30
31
32
33
34
35 36 37 38 39 40 41 42 43 44 45 46 47 48 49 50 51 52 53 54 55 56 57 58 59 60 61 62 63 Last Page

Get An Email Alert Each Time LDRICHEL Posts