| | |
| --- | --- |
| | LDRICHEL's Recent Blog Entries |


Monday, June 11, 2012
Well, I kind of freaked myself out today when I started doing some more detailed research of the Boilermaker Half Marathon (which I had chosen as my first half marathon on October 20th). Come to find out that this is the first year for this race and there are some monster hills. This wouldn't necessarily be an issue (I've got plenty of time for hill training before October), but then I read that the pace required for the race is a 15-minute mile and, if you aren't able to keep up with the pace, they will pick you up in the Sag Wagon and drive you back to the finish line.





Well, seeing as my 5k average time is close to 14 minutes, that made me pretty nervous. That, in addition to hills, was a daunting thought for me. I spent a bit of time discussing this with my trainer and he gave me some VERY valuable information about choosing half marathons.

Apparently, if you are a novice, it is best to choose a half marathon that has a full marathon attached because the required times to finish are based upon the full marathon times. Whereas, if you register for a half that has no full attached, the maximum time to finish is usually based on an average (generally around 3 hours).





Seeing as my trainer has run something like 8 half marathons and 2 full marathons and he still has not been able to break the 3 hour mark, I began to feel VERY uneasy about the Boiler Half being my first half marathon ever. I really do want to ENJOY my first big race and not be pushing my body too hard or worrying that I am about to be kicked out at any time.

It just so happens that a good friend of mine (who moved away a year or so ago) had asked me just this afternoon to run the Indianapolis Marathon. While I'm definitely not going to attempt a full marathon, there is a half marathon attached to this race (and a 5k!) and the max time allowed is 4 hours (or a 17-minute mile) – MUCH BETTER!!!





I started to do some research and checked out the website and found this info, which was very appealing to me:

What Sets This Event Apart...

• One of the most beautiful Autumn Marathon courses you will find anywhere. The course has been described as "Enchanting" and "Surreal" by participants! "No 'down' spots along the entire course". An amazing treat.

• The fantastic post-race atmosphere. After the race, hang out in the Beautiful Park Setting of the Former Army Parade Grounds of Lawton Loop. Enjoy music, fire pits, a free post-race meal, and a magical atmosphere where people simply want to relax, catch up with new and old friends, and enjoy their accomplishment on a beautiful autumn day.

• The Indianapolis Marathon and Half Marathon registration fees are some of the most reasonable in the country!

• We delight in paying attention to the details. Our Goal for participants: Exceed Expectations, Amaze Them!





In light of the fact that this race is closer to me, it has great reviews, it sounds like a lot of fun AND I will get to re-connect with an old friend…I've changed my plan up a bit and decided to run this as my first half marathon instead. I still desperately want to do the Boiler Half Marathon, but I think it will have to wait until I am in a better space physically and mentally…maybe next year.

Best part is…these two races are on the same day, so my training plan still stands and I will continue to follow it just as it is already scheduled.





Wish me luck!







Monday, June 11, 2012
Truth be told, I've been feeling kind of BLAH ever since the Spring Into Shape Boot Camp Challenge ended. I am shocked at how much just an extra 10-minute exercise/strength training video every single day can change the way my body feels. In addition to my small slide in healthy eating habits, I feel like a huge lazy slob!!! And this doesn't even make any sense. For goodness sake, I ran a 5k race on Saturday! I have run 3-4 times per week for the past three weeks. There is no reason whatsoever that I should be feeling this way!

Still...it is what it is, you know? Because I *feel* gross doesn't mean I stop doing what I know is right. I keep eating healthy and I keep doing my scheduled runs and crosstraining workouts...no matter what.

I am not afraid that I'll give up. But there are times that I even need a little push to get me through a mental slump. And this is one of those times. What motivates me? Well, I know this will sound really silly and cheesy, but I really do get motivated by inspirational quotes and images. That's part of the reason I have so many in my SparkPage photo album. I suppose it makes sense if a picture if worth a thousand words...and images tend to stick in a person's mind.

So, I found some gems for you...and for me today. Tried to steer clear of the tried and true that we've all seen a million times on Pinterest or even on this site. The four that I'm including below are all new to me...so maybe they'll be new to you too. You can bet that these will be floating in my brain when my alarm clock goes off at 6am tomorrow and I head out for my morning run. Enjoy, friends!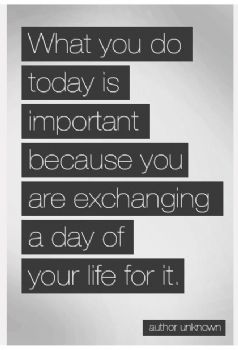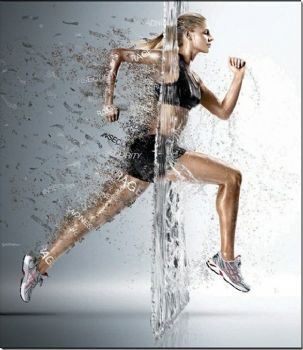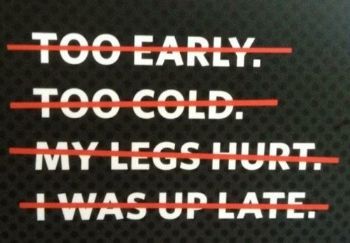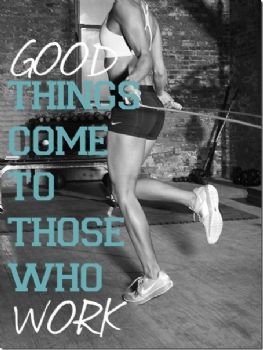 Sunday, June 10, 2012
Warning: Embarrassing Confession To Follow

Some of you will remember that I started my healthy eating journey before I started with exercise or running. Once I had my food under control, I slowly began to introduce activity and somehow landed on running as my primary means of working out. To kickstart my health, I went on the South Beach Diet Phase 1. It was a really great time for my body, as I kicked all those sugar and carb cravings to the curb and lost almost 10 lbs in 2 weeks time. To my surprise, it wasn't just water weight. After I finished with the strict Phase 1 and decided not to transition to Phase 2, but to go with a somewhat less strict diet (basically, the SparkPeople diet - just doing my best to eat healthfully and stay within my daily calorie ranges), I kept the initial 10 lbs. off. And I've kept it off to this day.

On the Spark Diet, I lost another 5 lbs or so...bringing me to a total weight loss of 21 lbs. I was able to stick with pretty healthy choices and wasn't indulging in sweets or excessive portions.

But I went on vacation this past week. For the first half of the week, I didn't have much control over my diet because we were at a retreat center, which was stocked with food for us. We had to work with what we were given and, truthfully, there was a lot of convenience food and pre-frozen stuff. But...I did manage to work in as many veggies as I could and had a pretty great salad every day while we were there.

The rest of the week was tougher for me, being home. It was a slow decline. Started with a few extra snacks here and there...with the thought, "Just a little treat. I NEVER eat these anymore and I'm still controlling my portion. It's just one little extra." It staggers me to watch myself and see how QUICKLY I can just come undone when I allow a small indiscretion here and a small indiscretion there. Suddenly, I'm going through an entire day with an attitude of "whatever".

Please understand...I'm not one that thinks there are "good foods" and "bad foods". I do believe that everything is fine in moderation and that deprivation is not a good strategy for lifelong health. But each of us is different and, if we say we want to be healthy, we need to be honest with ourselves and KNOW ourselves...what our triggers are and how they might affect us overall and for the long haul. Some people might not need to be so strict with their food choices, because if they eat a small bag of chips, it's no problem. They'll just jump back into healthy choices, no problem. But I haven't been able to get to this point yet. So, I have learned that I NEED some rigid boundaries. If I am going to get what I ultimately WANT...which is a healthier, leaner and stronger body...I will need to take measures that might seem drastic to some.

The truth is...my weight loss has stalled - for the past couple of weeks (and not just stalled, the number is slowly creeping up...it could be just water weight, but knowing my diet habits this past week...I am not so sure). This is frustrating for me because I've been working so hard. And, while I completely understand the idea of a non-scale victory and don't base my total worth on the number on the scale, let's not kid ourselves. ONE of my goals here is to lose weight. And if it isn't happening for a significant amount of time, even as I am supposedly doing the things that I should be doing for weight loss, perhaps I need to re-evaluate my plan.

As I don't believe it would be wise to violate my rest days (I'm already running 4 days a week and I already have a good half marathon training program in place that includes cross-training on the off days), that only leaves one variable. My diet.

And seeing as the first go around with South Beach Phase 1 was so helpful, I think it could benefit me to revert back to that for a week or two. Nothing permanent...the author of South Beach would tell you himself that this strict of a diet is not sustainable over the longterm or advisable (the body DOES need carbohydrates...and a runner's body surely needs them!)

I'm basically looking for a healthy eating re-boot here. Another attempt to flush out the sugar that I've let slowly infiltrate my diet over time and to re-train my focus on vegetables and lean proteins. Because I did not have running as part of my equation the first time around, I consulted with a certified personal trainer that I go to church with to make sure this would be OK for my body. She informed me that, if I am eating plenty of vegetables, they will give me the carbohydrate levels I need to perform the runs that are on my schedule for the next two weeks. So, I got the thumbs up from her...which was definitely a big deal to me. Peace of mind.

We've all heard the car analogy, right? You take care of your car and give it good fuel, just as you take care of your body by fueling it with good things. I consider this a pit stop...an oil change to flush out the bad and clean everything up a bit.

How about you? What types of re-boots have you had to perform in your health journey? What has worked? What did not work?





Saturday, June 09, 2012
Raced my second 5k this morning. This race was hosted by Genesis Church, who runs a low barrier homeless shelter here in Bloomington in the summer. Our church partners with the Genesis Shelter, so it was not only a great chance for me to get more experience racing, but it was for a great cause too.

No surprise hills on this run. This was a "there and back" race and happened to be the exact route I run on for every single training run during the week.

So, while the course was familiar (memorized), I still had some issues going in. Remember that huge blister on my left heel? It literally covered my entire heel and I drained and removed the skin from it on Wednesday. It was slowly healing but it was still pretty raw. Yesterday, when I ran two miles (yeah yeah...I just couldn't help it!), I did all I could to take care of it (Vaseline, blister bandages, running socks) and it was bleeding when I got home. Ugh.

I've realized that the shoes I am wearing are not cutting it. They are Champion walking shoes that I bought from Payless for literally $8. They worked GREAT in the beginning...they have extra padded soles and they were really comfortable when I started with my short runs. But, as I've upped my mileage and kicked my training up to 4 days instead of 3, things have drastically changed. I am convinced my blister problem and the soreness in my feet and legs after a run definitely have to do with improper shoes. I am looking to remedy that this week because I am worried about future injury if I keep wearing these shoes.

Anyway, back to the race. I protected the blister as best I could this morning, but just kind of went into it assuming I'd be running with some pain in the heel.

I recruited three friends to run this race with me. My friends talked me out of using music this morning, saying they wanted to chat during the run...so I left my ipod in the car. I wasn't so sure about running buddies because I've never run with anyone before...I usually just run on my own and I prefer it that way. I was also worried that a race situation was not a good first time for running with a partner (or three). But...what are you gonna do? I resigned myself to the fact that this would just be a fun, easy run with friends and I wasn't going to break any time records or anything.

Race started and I was super slow (as usual). Friends took off and left me in the dust. I yelled out to them and said, "You're the worst friends ever!" haha. They came back and ran with me and made fun of me for a good mile. I told them to go on ahead and said I'd catch them when they wore themselves out and had to stop and walk. But they stayed with me for awhile. About two miles in, two of us started walking and the other two kept going and our group split. My friend, Jenny, and I alternated between walking and running and talked the entire time. Talking the entire time did make the distance go by faster. Still, with the fast pace in the beginning, I figured we were done for on time.

I was surprised to cross the finish line with a time of 41:35 - a whole two minutes faster than my first 5k time. Just 1:35 less and I would have hit my personal best. I definitely didn't win any prizes for time, but apparently the church received a bunch of extra donated prizes from the sponsors of the race, so they decided to "raffle" the rest of them off. I ended up winning a $5 Starbucks gift card. Ha!

My next race isn't until July 28th - Color Run in Indianapolis!!! I cannot WAIT until that race! I also officially start my half marathon training plan this coming week, so I anticipate that the Color Run will be an even better time than today's.

Keep on keepin' on, Spark peeps. Who else raced today? How'd it go????








Friday, June 08, 2012
I have not run since Tuesday. I haven't really cross-trained either. I had scheduled a 3-mile crosstraining walk on Wednesday. Ended up taking the kids with me, thinking they'd be fine because they are young and in shape. They were not fine with 3 miles. Bunch of wussies! Lol. Actually, the problem was the 4 year old boy. Are you kidding me? The kid has so much energy we can barely keep up with him EVERY other time in life...EXCEPT when we go for a walk. Sheesh. Turned out to be a 1.8 mile walk or something...and a very slow one at that. I didn't feel like I got any sort of a workout at all, although I'm sure I must have burned some calories.

All that to say, I feel like a big blob and cannot WAIT for my 5k race tomorrow morning. It will feel SO great to go on that run. And the best part is...it is taking place on the same trail and stretch that I run in every single training run. No surprise hills this time! Should be a GREAT run.

Been thinking about the Boilermaker Half and reviewing my training schedule and, you know, when I look ahead at the next 18 weeks, I feel a bit nervous. The distances in training don't look terrible. And they certainly build slowly enough, but when I see that number of 13.1, I will admit...it scares me to death and intimidates me quite a bit. Knowing that once I pass the 10-mile mark, there will be all sorts of new things for me to learn (refueling while running, hydration systems, special diet restrictions and additions/subtractions, types of running gear, etc.) It seems like an entirely different world and, quite honestly, I think to myself at times, "Do I have it in me?" CAN I actually handle this? Am I really ready for this to be a SPORT? Am I an ATHLETE? Seriously? What if my injured body just can't handle this intense of a sport?

I just coughed up $5 and bought the July 2012 issue of Runner's World Magazine last night. When money is involved, you know I've got an addiction. haha. There is a great page this month (pg. 26 for subscribers) that touched me to the core. Written by Debra Witt, it is just a short little blurb, but it stunned me into silence.

What It Takes To Run A Marathon After 25 Surgeries

In 2004, Janet Oberholtzer, of Pennsylvania, was in an RV that collided with five semis. Days later, she came out of a coma, only to face 25-plus surgeries, many on her left leg. Her doctors doubted she'd run again, but Janet kept the faith, and by 2011 she was running half-marathons. In May, on the eighth anniversary of her accident, the 46-year-old ran the Bob Potts Marathon.

"I'm so thankful now that my legs carry me on a run." - Janet Oberholtzer

WOW. You know, my 5 measly broken bones don't seem like such a big issue in light of this story! My extra 89 lbs of weight seem like a mere blip in terms of hardship when taken into consideration. I'm young. I'm fairly healthy and getting healthier every day.

I receive so many comments on my blogs - many are telling me that I inspire them, etc. I love these comments. I also get comments like this:

I can't run and I'll never be able to.
I wish I could run.
I will try running when I have lost some weight.
I can't do it, but I'm glad you can.

Obviously, I'm not a doctor and I don't know everyone's individual situation. And, certainly, there ARE medical reasons for not being able to do a jarring activity such as running. And, frankly, some people just don't LIKE to run and there is nothing wrong with that either. People have gotta find what they LOVE to do...it's the only way they'll keep moving for life!

But I also wonder how many COULD do it...if they wanted to? How many just THINK they can't do it, but haven't really tried? How many just haven't decided that they want to take charge of their health and push their bodies to bring about change?

Like I said, I have no way of knowing. I just know that I hate that "C" word now. If anything, I have taught myself that there is no such thing as CAN'T. And I have just begun. Will you just IMAGINE the possibilities when I actually get GOOD at this sport after many months and even years of training?

So, on second thought, let's pull that 18-week program out again and have another look. Yes, this looks very do-able. No problems whatsoever. Let's MURDER this training schedule! Boilermaker Half Marathon, brace yourself...cause I'm coming for you in October.





First Page
1
2
3
4
5
6
7
8
9
10
11
12
13
14
15
16
17
18
19
20
21
22
23
24
25
26
27
28
29
30
31
32
33
34
35
36
37
38 39 40 41 42 43 44 45 46 47 48 49 50 51 52 53 54 55 56 57 58 59 60 61 62 63 64 65 Last Page

Get An Email Alert Each Time LDRICHEL Posts