| | |
| --- | --- |
| | LDRICHEL's Recent Blog Entries |


Wednesday, June 06, 2012
The other day when I got out of the shower, I saw my 9 yr old looking at herself in the mirror. She was standing there, holding her shirt up and looking at her stomach. This horrified me. My daughter is not overweight. She was chubby when she was little (around 2 yrs old) and I was told by the nurse at the WIC office that she was going to be obese. That made me SO angry. Then, the woman had the nerve to say, ďYouíre the mom. Itís your fault.Ē What a b*%$h. Even though I knew she was right.

We made a lot of changes to what she was drinking (she had been drinking non-stop juice and chocolate milk and hardly any water at all). We watered down her juice and used the 25% less sugar Nestle Quik powder instead of buying already mixed chocolate milk or using syrup. We also sometimes substituted with chocolate soymilk and she never even noticed. She got involved in gymnastics and all the weight just fell off within a year. She has been fit, trim and in great health ever since.

She has never worried about her weight. But you could see how this could happen with Mom making this huge lifestyle overhaul. I wonít eat the same things that everyone else in the family eats (and they wonít eat what Iím eating). I weigh myself pretty often and the kids are aware that Iím away from the house a lot more now so I can get my runs and workouts in. In their eyes, I must seem rather obsessed. Well, I kind of am.

There have been some positives from this. They are sometimes curious about this new food mom is eating and they are getting curious enough to at least try bites of things. They are used to seeing me exercise now and they sometimes join me if Iím doing some sort of workout video or lay right down next to me and try to copy my crunches or push-ups. They are definitely proud of their mom and they see my body changing and they do mention it.

But then there is this moment with my daughter, where I donít quite know how to explain to her that Mommy really DOES need to lose 100 lbs. Itís not just a vanity thing or some fad diet. Itís so I donít die. Period. I donít think I handled this moment well because I simply gasped and said, ďNo! Donít you do that! You are BEAUTIFUL!!! Donít ever forget that!Ē

The truth is, she eats junk food ALL THE TIME. She does have the potential to gain weight. And childhood obesity is real. Sheís fine right now, but I worry that if she keeps eating the way she is, she wonít always be fine. We live with my in-laws (who have their own full kitchen downstairs). My father-in-law is in the beginning stages of Alzheimerís and heís a stubborn old Marine. He is a junk food junkie. This dude goes to the grocery store and comes back with Fig Newtons, Oreos, Lays and cinnamon rolls. Seriously. We have asked them to not let Anika eat so much junk (or any) but he is constantly giving it to her. The kids sneak downstairs whenever they want a treatÖwhich is very often.

Iím nervous because this is a delicate subject to bring up with a girl that is about to enter her pre-teen years. I donít know how to have a good talk about this subject without making her self-conscious.

The best I can come up with is to talk to her about HEALTH and not weight. I thought maybe we could watch something like ďFood, Inc.Ē together or ďWeight of the NationĒ and maybe talk about what we learn from that. Sheís a smart girl. She just needs to be educated on whatís best for her body.

What do you think, SparkFriends? Have any of you talked to your pre-teen daughters about this stuff and how did you go about it? I am asking for help. Because this is new territory for me.

Thanks in advance for any suggestions!






Tuesday, June 05, 2012
When I have a really rough run, I end up depending on my tunes pretty heavily to make it through to the end. There is one song that never fails to hit a nerve with me and really push me to that finish line. The lyrics are simply so powerful that I canít help but keep going.

Iíve placed a link to a fan-made YouTube video of the song below, which has the lyrics embedded for you to read as you listen. Take a listen and really think about the words and how you would answer the question in this song.

I feel that I can finally honestly say that I am not yet where I want to be, but I am certainly well on my way to getting there. So, now when I hear this song, I feel proud of myself and hopeful for the future.

It wasnít always this way. The first time I heard this song 7 years ago, I stopped in the middle of my workout and sobbed because I knew deep down what the answer was for me.

Have a listen and read along. Where are you right this very moment? And where do you want to be?

www.youtube.com/watch?v=LA2CpQWg2pA






Monday, June 04, 2012
So, I know it seems like Iíve been doing quite a lot lately in the way of fitness and running and all that good stuff. I have to be honest and admit that sometimes I worry that people that are new to SparkPeople or to healthy living in general will read some of the things I write, get inspired and then try to do too much too soon.

Itís interesting that I would post a warning like this, considering the fact that the moment I hear the words ďdonít try to do too much too soonĒ, I instantly get defensive. In fact, itís bordering on upset. I want to instinctively lash back at the person and say, ďHow dare you lecture me? Do you know my body? Do you know what Iím capable of? Do you think Iím stupid and wonít be careful and would knowingly do something to injure myself?Ē

Some of these folks are not qualified to say this to me. Others really are qualified Ė case in point, PAPAMIKIE who is a certified running coach. You can see his warning to me in my previous blog entitled ďImportant Information on RunningĒ.

But, if Iím truthful, it was difficult for me to get to the point with PAPAMIKIEís message where I calmed down enough to truly see what he was saying and take his advice as an expert in the field.

When it comes to this journey of health and fitness, our pride should take a back seat to an expertís wise advice.

That being said, I am not at ALL claiming to be ANY kind of expert. In fact, quite the opposite. I am nobody. I am not a certified personal trainer. I am just a beginning runner and, frankly, I just started this journey four months ago.

It would be a lie if I said I havenít worked hard to get to where I am today. I have worked hard. Iíve tracked my food religiously and denied myself plenty to stay within my calorie range most days. But Iíve also failed colossally and had some pretty bad eating days. Iíve worked running into my schedule, as if it were a work appointment. And I have not missed a day. However, I donít expect to be able to keep that appointment EVERY SINGLE time. Things happen. Iíve got three kids and a full-time job and SOMETHING will happen on some miserable day that will cause me to miss a run.

So I am not at all perfect. But I am disciplined. I am determined. And I have been successful.

The thing isÖI didnít start off this way. Yes, there was that day that I decided enough was enough and I was going to do this and do it right. I have not looked back since that day.

But, before that, there was a day that I decided enough was enough and guess what? I was going strong for a few months and then I got sick, went on vacation, got lazy and my health journey at that point ended. I was MIA from SparkPeople for 7 months Ė gaining weight and slowly killing my body the entire time.

Even when I came back to SparkPeople in February, I was still skeptical. Still doubting myself. I was tentatively tracking, sporadically adding activity and for the most part, avoiding a lot of hard truths about how I was treating my body. I still wasnít respecting myself. I started C25K and quit after 2 weeks. I continued to learn about health and my motivation for wanting to get healthy. I thought a lot about my life. I started C25K again.

It wasnít until May 6th (3 months after I had re-started on SparkPeople) that I finally ďgot itĒ. That was the day that things shifted in my brain and in my heart and the healthy lifestyle took hold. This is when it finally began to feel second nature.

What Iím saying isÖif you are just starting out with SparkPeople or exercising or making small healthy changes to your diet, donít despair. You can bet that you wonít be able to meet your calorie range every single day. You wonít be able to run 2 miles your first time out. You may have trouble just getting your body to even shuffle along. Or walking might even be tough for you. One of the cornerstones of this site is starting small. Very small changes made gradually WILL change your entire outlook and your life. You can read inspiring blogs all day long on here and get excited about victories that your SparkFriends are achieving. Thatís a wonderful way to start a spark in your own life!

But one of the most important lessons I am learning through all of this is not to compare my progress, my body, my diet, my running program, my weight loss to anyone else. Because it wonít be the same. My body doesnít respond the same as anyone elseís body. My body is unique. My personality is unique. And this is MY journey. Not someone elseís.

Be motivated by your SparkFriends. Be happy for them when they achieve. Understand that something that might seem small to them could be monumental for you and vice versa. And both are equally spectacular. And be proud of yourself when you see progress, whether that be a perfect week of eating within your calorie range or one simple choice to eat a salad for lunch instead of a burger.

We are all here to be the best that we can be. Together, we can get there. Do your thing, friend. And Iíll do mine. And we will each be victorious in our own special way.







Sunday, June 03, 2012
After my crazy fast run yesterday, I felt great. But, later on around bedtime, I started to notice that my entire body was feeling the morning's run. This made me a bit nervous, as today was supposed to be my Long Slow Run.

In a normal training schedule, I wouldn't schedule a back-to-back run anywhere near the Long Slow Run. I would definitely leave a rest day before my LSR. But, this week, things got a little wonky because I'm starting my official half marathon training schedule next week. So, my days were going to need to shift a little bit...also, I had wanted to run a distance of 5k "with" one of my SparkFriends yesterday...so that threw me off a bit.

This morning, the alarm went off at 7am and I was NOT in the mood. I think it's important for those of you who say you are inspired by me to understand that I have days where I want to be lazy and I DON'T WANT TO RUN!!! Yes, I am mortal. Lol.

But...to be honest...this is my first REAL LSR and I know that these are so important in training. So, I forced myself to put my running clothes on. I figured I'd feel better when I got out there. Took a VERY slow walk to the trail and was not instantly refreshed by the morning air, as I usually am. Still tired. Ugh.

Got to the trail and this is the part where I usually start running. This run would be different, though, because as the name suggests...it is to be a LONG, SLOW RUN.

I remembered the book I just finished reading (which I highly recommend for ALL beginning runners trying to lose weight) called "Run Your Butt Off". In this book, they introduce a running program for weight loss that gradually builds slowly (somewhat like C25K). But they had a test panel of people that did the program and reported back the entire 12 weeks. By the end of the program, every single person had become "a runner". There were a few that had a hard time getting into it the first few weeks. They said they hated running...even 3 weeks in. At that point, the authors and coaches gave them a tip...SLOW YOUR PACE. Amazingly, every single one of the participants reported that running was a COMPLETELY different story when they just slowed down.

This morning, I knew 4 miles would be tough. I determined to go as slow as possible so I could make it through the long haul. My feet were NOT wanting to do this. Ankles were a bit sore from yesterday. I started off running REALLY weird. It was a strange, limping run and I knew it was because I was being overprotective of my bad ankle.

I thought to myself, "Leah, this is going to get you injured...stop it now. Settle in." I say this to myself a lot in the beginning of runs (especially when I'm ready to say 'screw this today')...SETTLE IN. So I kept going...VERY slowly...literally felt like I was shuffling (barely lifting my feet of the ground) for AT LEAST half a mile. I almost felt like I was walking fast and not running. It took me a good LONG time to find a decent rhythm on this run...in fact, I hesitate to call it a run. The word "jog" is much more appropriate for what went down today.

I felt like I was going half my normal speed, but the clock didn't matter today. I finally was able to focus more on my music and forget about my feet. Then, I settled into a good slow pace and got into my zone.

This morning, I learned exactly what those test subjects from "Run Your Butt Off" learned. When I slowed down, running 4 miles was a COMPLETELY different experience. I never once found myself breathing heavily...never once got winded in the slightest bit. Just breathed normally through the entire run! Because I had no problems breathing and because my legs weren't bothering me since I was running so slowly, I just kept going. And I ran non-stop for 3 miles!!! It was about 1/2 hour!! I felt like I could have kept going indefinitely...but there was amonster blister on my left foot and I ended up walking the final mile.

Here's the most amazing part of all...when I looked at my run app later, it showed that my time for the 3.0 miles that I ran was 46 minutes. Um....what? I RAN the entire thing without stopping and it ended up being almost the same time as when I almost kill myself trying to run faster and taking walk breaks to catch my breath. You know, my trainer has told me this and told me this...but I guess I just never believed him. Sorry, Robert!!!

Kind of a mindblowing discovery actually. This is actually going to make me re-think my entire training strategy.






Saturday, June 02, 2012
So, it's no secret. Yesterday I was a little blue. The weather was dreary. A friend of mine is suffering a bit and I was sick with worry and didn't sleep well at all on Thursday night. Plus, I was just a little overwhelmed at work and it was a rest day, which does affect my mood. Just a blah day in general. But...slept very well last night and it is amazing what a difference that can make.

Woke up super early this morning and got my little guy up to take him to the Farmer's Market with me. He and I have never gone to the market alone together and he was literally shaking with excitement the entire time. He just loves this special time with his mama all alone! He helped me by choosing vegetables and paying all the farmers. Of course, they all told him how big a boy he was and how he was such a great helper for his mom. It was so much fun!!! And we got it all done by 8:30am.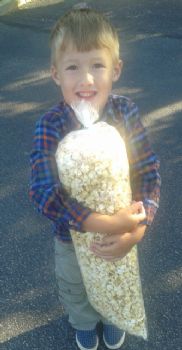 Farmer's Market Bliss

When we got home, I sat him down with a bowl of that kettle corn and he watched a show, while I went out for a run (no worries...hubby was home! Lol!)

Oh my goodness, you guys. The temp outside was PERFECT this morning and everything was just bursting with color and freshness. I could not have engineered a more GORGEOUS day for a run. Once again, running "with" a fellow sparker who was doing a 5k this morning.




I had a good feeling going into this one. But I worried when I noticed I wasn't making much progress and 11 minutes had already passed. I worked on a longer running interval in the middle of the run and took a couple walking breaks to catch my breath. I was making decent time and was actually a little ahead. But I was getting tired. However, my run app indicated that it was still possible for me to meet my goal of a 40 minute 5k. I kept things slow and steady for as long as possible because I knew tiring myself out would not work. Near the end, I was walking and I saw that I had one minute left. I was exhausted...but, you guys, I could SEE the end and I had 0.1 miles left!!!!! So I just sprinted that last 0.1.

I made it in 40 minutes flat. I kid you not, I felt like I would hurl and when I finished, I splayed out on my driveway (which felt SO nice and cool). I was SO proud of myself. And nothing on my body hurts at all. I slowly cooled down and stretched out really well and just laid there on the driveway for about half an hour before going inside. What a rush!!!

Next on the Super Saturday agenda? Trying out Chef Meg's Raspberry Lemon Scones recipe.

Here is the recipe: recipes.sparkpeople.com/recipe-detai
l.asp?recipe=2066103

I've been dying to make these for weeks and I bought all organic ingredients and the recipe calls for whole grain flour. I brought Little Man in on the action and we created a photo journey of scone creation for you.

A note: if you are OCD like me and you are going to let a 4 yr old help you with this recipe, you must understand that your kitchen will be destroyed by the end of this. Just know this and accept this fact and be OK with it.

A second note: Let's just acknowledge the mess in my living room before I even show you any pictures of my son with said mess in the background. OK...moving on.

So, we started off trying to line a baking sheet with parchment paper.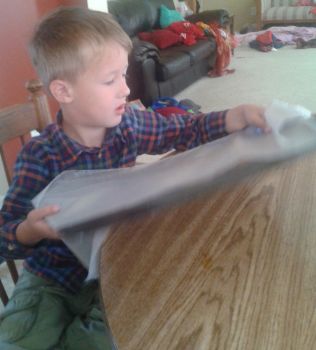 Well, listen...Mama's a lil OCD, so we used tape and wrapped it like a present. Don't judge me!




Next, we got to put butter in a bowl and chase it all around with a mixer. Boy liked this game.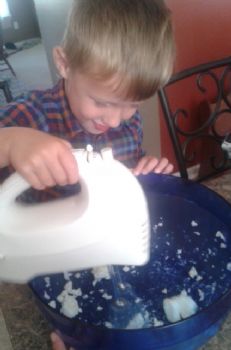 Then, we added sugar and made it look like mashed potatoes.




Then, eggs and vanilla and evaporated milk.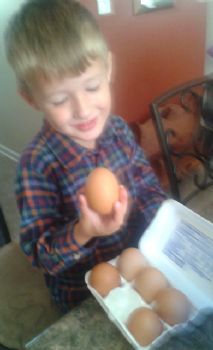 Most delicious-smelling step was adding the zest of one lemon. Man child about blew a gasket when I pulled that grater out of the cabinet. Super excitement! Don't judge...admit it, you *know* you get a *little* excited when you get to use the grater.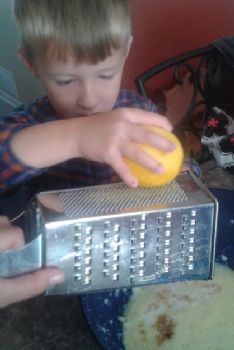 Dry ingredients time! And, since I bought my whole grain white flour in bulk from the co-op grocery store and I was trying to scoop it out of a flimsy little fruit/veggie bag, we got super dirty. Yay!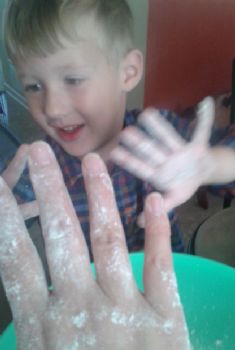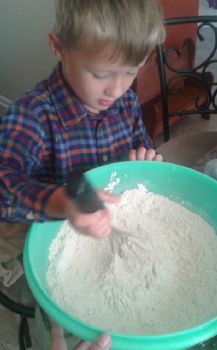 Let's throw it all together. Chef Meg says "mix just until combined". Uhhh...yeah right. This stuff was not coming together...so, we used our hands. It was crumbly. Then, she says "gently stir in raspberries". Into this crumbly mess of non-dough? Okaaaay.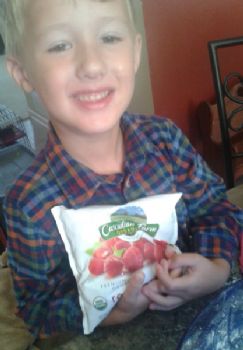 Here's where this gets good!!!! So, it says "turn the DOUGH onto the baking pan and form an 8-inch circle".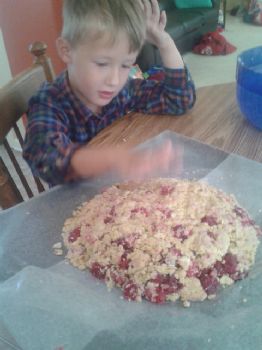 At this point, it's really not sticking together because I honestly think we should have increased the evaporated milk JUST a little bit...by maybe 1/4 cup???

J-Man and I were confused.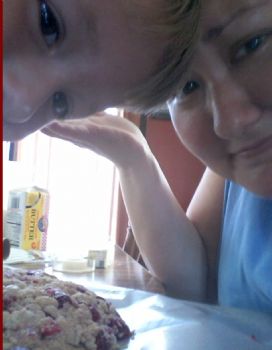 Then, it asks you to cut into 12 pieces. Riiiiggght.




OK, hold up here. Do you SEE that little slacker in the right-hand bottom corner???! I had a heck of a time getting these things separated by half an inch. But I was all, "Okay, Chef Meg...I will trust you."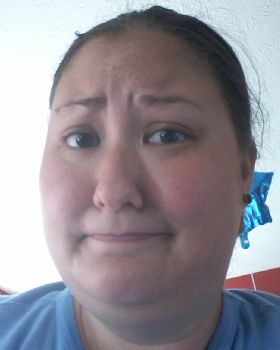 The finished product was an interesting texture, but of course, mighty tasty!!! Gotta say...yummiest 172 calories I've had in quite awhile!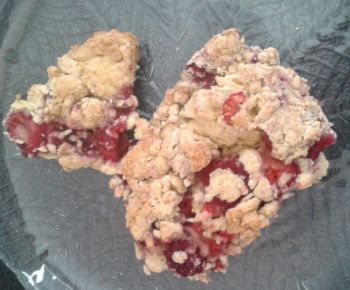 Next time...MORE EVAPORATED MILK!!!!






First Page
1
2
3
4
5
6
7
8
9
10
11
12
13
14
15
16
17
18
19
20
21
22
23
24
25
26
27
28
29
30
31
32
33
34
35
36
37
38
39 40 41 42 43 44 45 46 47 48 49 50 51 52 53 54 55 56 57 58 59 60 61 62 63 64 65 Last Page

Get An Email Alert Each Time LDRICHEL Posts