| | |
| --- | --- |
| | LDRICHEL's Recent Blog Entries |



Sunday, June 03, 2012
After my crazy fast run yesterday, I felt great. But, later on around bedtime, I started to notice that my entire body was feeling the morning's run. This made me a bit nervous, as today was supposed to be my Long Slow Run.

In a normal training schedule, I wouldn't schedule a back-to-back run anywhere near the Long Slow Run. I would definitely leave a rest day before my LSR. But, this week, things got a little wonky because I'm starting my official half marathon training schedule next week. So, my days were going to need to shift a little bit...also, I had wanted to run a distance of 5k "with" one of my SparkFriends yesterday...so that threw me off a bit.

This morning, the alarm went off at 7am and I was NOT in the mood. I think it's important for those of you who say you are inspired by me to understand that I have days where I want to be lazy and I DON'T WANT TO RUN!!! Yes, I am mortal. Lol.

But...to be honest...this is my first REAL LSR and I know that these are so important in training. So, I forced myself to put my running clothes on. I figured I'd feel better when I got out there. Took a VERY slow walk to the trail and was not instantly refreshed by the morning air, as I usually am. Still tired. Ugh.

Got to the trail and this is the part where I usually start running. This run would be different, though, because as the name suggests...it is to be a LONG, SLOW RUN.

I remembered the book I just finished reading (which I highly recommend for ALL beginning runners trying to lose weight) called "Run Your Butt Off". In this book, they introduce a running program for weight loss that gradually builds slowly (somewhat like C25K). But they had a test panel of people that did the program and reported back the entire 12 weeks. By the end of the program, every single person had become "a runner". There were a few that had a hard time getting into it the first few weeks. They said they hated running...even 3 weeks in. At that point, the authors and coaches gave them a tip...SLOW YOUR PACE. Amazingly, every single one of the participants reported that running was a COMPLETELY different story when they just slowed down.

This morning, I knew 4 miles would be tough. I determined to go as slow as possible so I could make it through the long haul. My feet were NOT wanting to do this. Ankles were a bit sore from yesterday. I started off running REALLY weird. It was a strange, limping run and I knew it was because I was being overprotective of my bad ankle.

I thought to myself, "Leah, this is going to get you injured...stop it now. Settle in." I say this to myself a lot in the beginning of runs (especially when I'm ready to say 'screw this today')...SETTLE IN. So I kept going...VERY slowly...literally felt like I was shuffling (barely lifting my feet of the ground) for AT LEAST half a mile. I almost felt like I was walking fast and not running. It took me a good LONG time to find a decent rhythm on this run...in fact, I hesitate to call it a run. The word "jog" is much more appropriate for what went down today.

I felt like I was going half my normal speed, but the clock didn't matter today. I finally was able to focus more on my music and forget about my feet. Then, I settled into a good slow pace and got into my zone.

This morning, I learned exactly what those test subjects from "Run Your Butt Off" learned. When I slowed down, running 4 miles was a COMPLETELY different experience. I never once found myself breathing heavily...never once got winded in the slightest bit. Just breathed normally through the entire run! Because I had no problems breathing and because my legs weren't bothering me since I was running so slowly, I just kept going. And I ran non-stop for 3 miles!!! It was about 1/2 hour!! I felt like I could have kept going indefinitely...but there was amonster blister on my left foot and I ended up walking the final mile.

Here's the most amazing part of all...when I looked at my run app later, it showed that my time for the 3.0 miles that I ran was 46 minutes. Um....what? I RAN the entire thing without stopping and it ended up being almost the same time as when I almost kill myself trying to run faster and taking walk breaks to catch my breath. You know, my trainer has told me this and told me this...but I guess I just never believed him. Sorry, Robert!!!

Kind of a mindblowing discovery actually. This is actually going to make me re-think my entire training strategy.






Saturday, June 02, 2012
So, it's no secret. Yesterday I was a little blue. The weather was dreary. A friend of mine is suffering a bit and I was sick with worry and didn't sleep well at all on Thursday night. Plus, I was just a little overwhelmed at work and it was a rest day, which does affect my mood. Just a blah day in general. But...slept very well last night and it is amazing what a difference that can make.

Woke up super early this morning and got my little guy up to take him to the Farmer's Market with me. He and I have never gone to the market alone together and he was literally shaking with excitement the entire time. He just loves this special time with his mama all alone! He helped me by choosing vegetables and paying all the farmers. Of course, they all told him how big a boy he was and how he was such a great helper for his mom. It was so much fun!!! And we got it all done by 8:30am.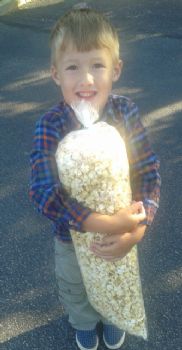 Farmer's Market Bliss

When we got home, I sat him down with a bowl of that kettle corn and he watched a show, while I went out for a run (no worries...hubby was home! Lol!)

Oh my goodness, you guys. The temp outside was PERFECT this morning and everything was just bursting with color and freshness. I could not have engineered a more GORGEOUS day for a run. Once again, running "with" a fellow sparker who was doing a 5k this morning.




I had a good feeling going into this one. But I worried when I noticed I wasn't making much progress and 11 minutes had already passed. I worked on a longer running interval in the middle of the run and took a couple walking breaks to catch my breath. I was making decent time and was actually a little ahead. But I was getting tired. However, my run app indicated that it was still possible for me to meet my goal of a 40 minute 5k. I kept things slow and steady for as long as possible because I knew tiring myself out would not work. Near the end, I was walking and I saw that I had one minute left. I was exhausted...but, you guys, I could SEE the end and I had 0.1 miles left!!!!! So I just sprinted that last 0.1.

I made it in 40 minutes flat. I kid you not, I felt like I would hurl and when I finished, I splayed out on my driveway (which felt SO nice and cool). I was SO proud of myself. And nothing on my body hurts at all. I slowly cooled down and stretched out really well and just laid there on the driveway for about half an hour before going inside. What a rush!!!

Next on the Super Saturday agenda? Trying out Chef Meg's Raspberry Lemon Scones recipe.

Here is the recipe: recipes.sparkpeople.com/recipe-detai
l.asp?recipe=2066103

I've been dying to make these for weeks and I bought all organic ingredients and the recipe calls for whole grain flour. I brought Little Man in on the action and we created a photo journey of scone creation for you.

A note: if you are OCD like me and you are going to let a 4 yr old help you with this recipe, you must understand that your kitchen will be destroyed by the end of this. Just know this and accept this fact and be OK with it.

A second note: Let's just acknowledge the mess in my living room before I even show you any pictures of my son with said mess in the background. OK...moving on.

So, we started off trying to line a baking sheet with parchment paper.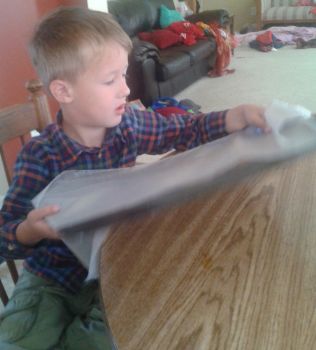 Well, listen...Mama's a lil OCD, so we used tape and wrapped it like a present. Don't judge me!




Next, we got to put butter in a bowl and chase it all around with a mixer. Boy liked this game.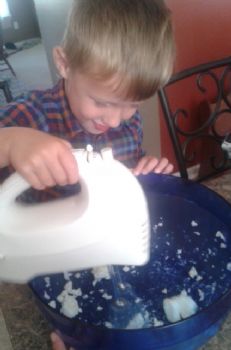 Then, we added sugar and made it look like mashed potatoes.




Then, eggs and vanilla and evaporated milk.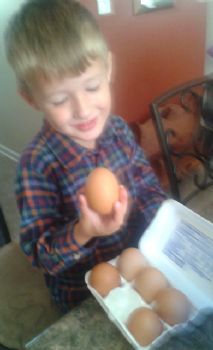 Most delicious-smelling step was adding the zest of one lemon. Man child about blew a gasket when I pulled that grater out of the cabinet. Super excitement! Don't judge...admit it, you *know* you get a *little* excited when you get to use the grater.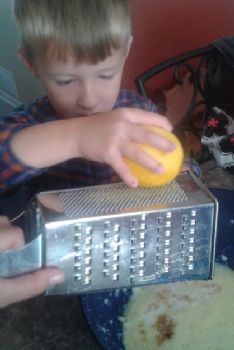 Dry ingredients time! And, since I bought my whole grain white flour in bulk from the co-op grocery store and I was trying to scoop it out of a flimsy little fruit/veggie bag, we got super dirty. Yay!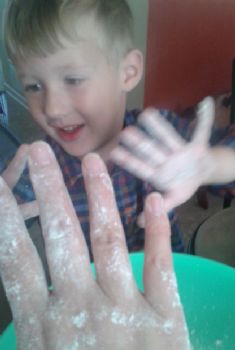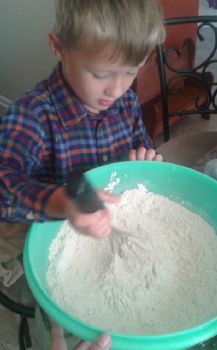 Let's throw it all together. Chef Meg says "mix just until combined". Uhhh...yeah right. This stuff was not coming together...so, we used our hands. It was crumbly. Then, she says "gently stir in raspberries". Into this crumbly mess of non-dough? Okaaaay.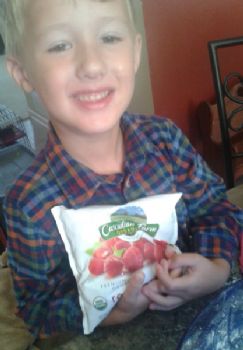 Here's where this gets good!!!! So, it says "turn the DOUGH onto the baking pan and form an 8-inch circle".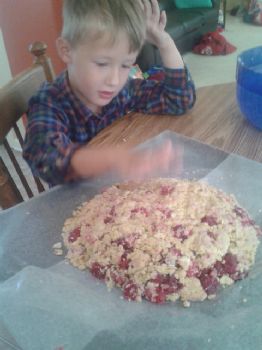 At this point, it's really not sticking together because I honestly think we should have increased the evaporated milk JUST a little bit...by maybe 1/4 cup???

J-Man and I were confused.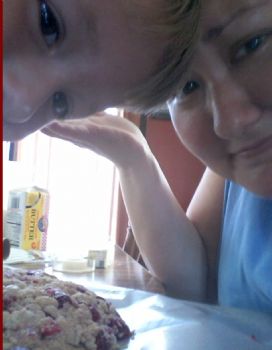 Then, it asks you to cut into 12 pieces. Riiiiggght.




OK, hold up here. Do you SEE that little slacker in the right-hand bottom corner???! I had a heck of a time getting these things separated by half an inch. But I was all, "Okay, Chef Meg...I will trust you."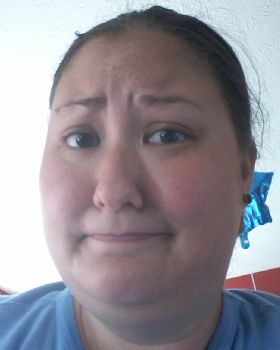 The finished product was an interesting texture, but of course, mighty tasty!!! Gotta say...yummiest 172 calories I've had in quite awhile!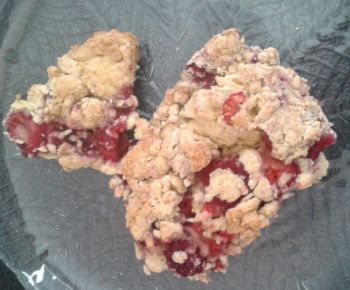 Next time...MORE EVAPORATED MILK!!!!








Friday, June 01, 2012
Hey SparkPeeps. Today is Friday, which is all well and good. But tomorrow...tomorrow is the BEST day. Farmer's Market Day!

If you have a Farmer's Market in your town and haven't had a chance to check it out, I highly recommend it. Everything's fresh and delicious and a lot of it is organic too.

You might be surprised at what you can find there too. It's not all fruits and veggies. In fact, my favorite indulgences - and my very first purchases every week - include a fresh roasted cup of Egyptian coffee and a delicious asparagus egg tart or a homemade tamale with fresh green mole sauce. With deliciousness in tow, I begin my leisurely Saturday morning by taking one "lap" around to look at all the goods. Then, second time around, decide which items to purchase and take home.

Here are my Top 5 Farmer's Market finds - most of these I buy weekly. Because they are just SO good!

1. Spring Mix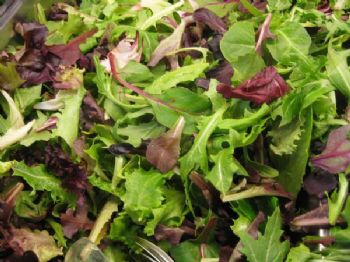 I will admit...I have a special "salad guy". I don't know what it is about his spring mix, but I bought it one time last year and it was the most delicious and flavorful salad I've ever had! I'm talking JUST the green portion. After that one time, he never appeared again for the rest of the summer and I whined to my Farmer's Market Buddy, Christina, every single week, "WHERE is my salad guy???"

2. Heirloom Tomatoes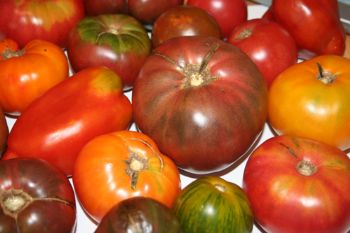 These sometimes look weird, color-wise. But they are delicious. There is just nothing like a fresh, Farmer's Market tomato. Well, maybe home grown...but if you don't have the discipline to garden (like me), Farmer's Market is your next best bet.

3. Green Onions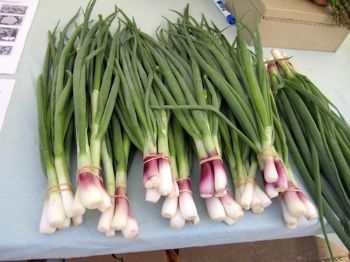 Green onions are standard and they are cheap in the grocery store. But you have never seen green onions like they have at the local market. They are, in my opinion, one of the best subtle ways to flavor a salad or really any sort of food. They are particularly great in eggs!

4. Goat Cheese




One of my favorite booths at the market is the goat cheese booth. There are at least 10 samples of different sorts of goat cheese, including CHOCOLATE (which actually tastes like chocolate cream cheese). So delicious! My personal favorite is garlic and herb. This stuff is pricey, but a wonderful splurge every so often.

5. Grass-Fed Beef*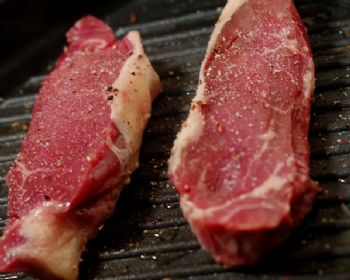 *apologies to vegetarians if this grosses you out!

Just as I have my "salad guy", I also have my "meat guy". This farmer raises his cattle as grass-fed all the way up until just a couple weeks before slaughter and then finishes them off with corn. I simply can't say enough about his products. Absolutely the most delicious beef I have ever bought anywhere...hands down. And, while it seems expensive, when I actually compare it to grocery store prices, it's not too different. But, you know, steak is pricey...so it's maybe an every few weeks indulgence. The best part of this is that this farmer knows me and he knows what I like. He makes recommendations, but he always has my tried and true New York Strip ready when I walk up. That kind of service is priceless.

Anyone else have favorite Farmer's Market finds? I'm always up for trying something new!






Thursday, May 31, 2012
If you've been hanging around my SparkPage lately (I'm sure there are LEGIONS of you that have! pssshh), you may have noticed a couple changes recently. I'm not talking about my weight loss ticker or all the pics I keep posting (although, those are great and very motivational...I highly recommend checking them out!) Last night, I changed my "About Me" section to reflect my upcoming races. I've seen this on many pages of runners and tri athletes alike and I liked the idea of throwing my intentions out there for the world to see and keep me accountable.

More subtly, you might have noticed that, in this list of races, there are 3 half marathons...the first of which is MUCH earlier than I originally planned. Yeah, you're right if you're thinking to yourself, "Didn't you just run your first 5k ever?" Yep.

So, here's the explanation. I had signed up for a few 5k races over the next 6 months or so. But it was recommended by my trainer that I work up to at least 10k endurance at my own pace, but as soon as my body allows...to prepare for the Indy Mini next year in May. Last night I went online to see if I could maybe find some 10k races around me in the midwest, so I could gain that valuable race experience before going straight from a 5k into a half marathon.

And then it happened. I stumbled upon the MOST perfect half marathon for me. The Purdue Boilermaker Half Marathon on October 20th. I sat there and stared for what seemed like half an hour. My heart was a-flutter. Why? Because this is my alma mater. I haven't been back in years. I have so many special memories of my time at Purdue and the very thought of my first big race being on that hallowed ground...it literally almost brought tears to my eyes. There really wasn't any other choice. When I saw it, I thought, "I HAVE to do this." And that was that.

Once I realized that the training plan for a half is about 15 weeks long and that I'd need to put that training plan into effect literally...like next week, things suddenly got VERY serious. I have plugged in every single run and crosstraining day in my calendar from now until October. I'm not messing around, y'all. I refuse to go into that race unprepared and out of shape. I know racing isn't for everyone...but, for me, this is a sure way to keep me on track with my fitness goals and also, in large part, my nutrition goals as well.

In fact, this very morning, I was pretty angry at that alarm for having the nerve to go off so stinkin' early. Of COURSE the thought ran through my head that no one was holding a gun to my head and forcing me to go for a run today. But, right on that thought's heels came another..."Someone WILL be holding a gun on October 20th to start a 13.1 mile race that YOU have said you want to do. So...maybe you should get up and just do it."

Well...wouldn't you know? I got up.

And found I'd lost another pound. And set a personal best 5k time at 41:49. This was not an easy run. I had some stomach issues about halfway through, but I am rather proud to say that I ran the entire first half of that 5k without stopping. That's a big deal for me. It staggers me that my endurance has built up so quickly (literally about 6 weeks ago, I could barely run a 1.5 minute interval). This run this morning was really tough near the end...the last half mile was just sheer determination. But my gosh...I wanted to beat that 5k time from my race last Saturday and I was gonna do it, come hell or high water or the most miserable blister forming on my left heel. I pushed my body hard today.

And I feel amazing! I know a lot of non-runners that HATE running (ha...I was one for YEARS). They look at me like I'm insane and I know they think, "WHY are you doing this?"

[Warning: TMI alert. Stop here if you are overly-senstive]

1. Obviously, endorphin rush is pretty amazing. I'm gonna be honest and say that I do think it's better than an orgasm...because...the feeling lasts ALL DAY LONG. And that's pretty powerful as a motivator.

2. I thought about my Aunt Lois this morning, as I drew a deep breath in and felt my lungs expand...so clear and strong. I literally watched her die as she drowned in her own lung fluid. I don't mean to be crass, but I know that she would want me to take care of these lungs. And to use them to their full capacity...to enjoy life with my breath every day.

3. My legs feel INCREDIBLE. They aren't lookin' too shabby these days, either. *wink* After the injuries that I've seen...the strength that I feel just walking upright is inexplicable.

4. My entire body feels tighter...more compact and like it's finally all working together the way it SHOULD be.

5. My core is just about as fit as it's ever been. Crosstraining with weights, pilates, resistance band, jump rope and my own body weight have completely changed the way I carry myself physically and the level of exertion it takes to do so.

6. My heart. And I'm not talking about the one with blood vessels and chambers...although, that's working pretty nicely now too. There's a feeling of confidence that I've never experienced. Did you read that? NEVER...in my entire life. I have never loved myself, accepted my flaws, had faith that I could change the things about myself that aren't quite right...until now. When I say I'm a completely different person, I quite literally mean that.

And the most exciting part is...if all these things have happened and changed for me in just a short 6 weeks or so of running...what kind of a person will I be by the time I run that half marathon in October? I have no way of imagining it..but I can guarantee strength, confidence, joy and health.

And those are some pretty great guarantees.







Wednesday, May 30, 2012
I had a rather enlightening FB conversation this morning with my SparkBuddy, MARATHONDAD. This was the gist of it:

ME: Hungry for lunch at 9:30am. Bad sign.

MD: Remember - when you start running more, you need to add more calories to your diet or you will get tired. You dont want your body to go into starvation mode!!!

ME: I don't know how many to add and still maintain weight loss. I've been confused about that. I am meeting my daily SP calorie ranges. Shouldn't I just do that and whatever I burn running is for weight loss? I am a little confused.

MD: The best way I've found is to work out how many calories you are burning in a typical week. Then, enter that into your goals on workout page (in the settings). SP usually uses this information to adjust your daily calorie needs for you.

So, I went through my past two weeks of workouts and averaged how many calories I burned per week. Sure enough, there was an area under my Activity Goals in my fitness section where I could enter how many calories I burn in a week. When I went back to my Nutrition Tracker, my calorie totals had been adjusted.

THAT'S WHEN IT HIT ME. LIKE A 2x4 IN THE HEAD.

I've been doing this wrong for 3 months!!!! NO WONDER those last 5 lbs have been so stubborn! Even though my calorie range has been too low (with my increased activity from running), I have been going OVER on calories without knowing it.

Let me explain...

Let's say my calorie range in SP is 1320-1690 per day.
And let's say I go for a run and burn 400 calories.

So, here I've been thinking that I can eat up to 1690 calories PLUS an extra 400 calories (because I burned that running) and maintain weight.

BUT NO....NO NO NO. OF COURSE SPARKPEOPLE is integrated across pages!!! I JUST realized that the 1320-1690 is already reflecting the number of calories I anticipate on burning every week!

It's already included in my calorie range!!

Wow...I don't know about you, but that just blew my mind. Even though I only go over about 200 or 300 calories per day...that adds up. That explains the stall in weight loss and why it's seemed so slow, even with all my extra activity.

Maybe it's just me...but I figured I'd better share that tidbit in case anyone else was thinking the same way I was!!!!



First Page
1
2
3
4
5
6
7
8
9
10
11
12
13
14
15
16
17
18
19
20
21
22
23
24
25
26
27
28
29
30
31
32
33
34
35
36
37
38 39 40 41 42 43 44 45 46 47 48 49 50 51 52 53 54 55 56 57 58 59 60 61 62 63 Last Page

Get An Email Alert Each Time LDRICHEL Posts