| | |
| --- | --- |
| | LDRICHEL's Recent Blog Entries |


Wednesday, May 30, 2012
I had a rather enlightening FB conversation this morning with my SparkBuddy, MARATHONDAD. This was the gist of it:

ME: Hungry for lunch at 9:30am. Bad sign.

MD: Remember - when you start running more, you need to add more calories to your diet or you will get tired. You dont want your body to go into starvation mode!!!

ME: I don't know how many to add and still maintain weight loss. I've been confused about that. I am meeting my daily SP calorie ranges. Shouldn't I just do that and whatever I burn running is for weight loss? I am a little confused.

MD: The best way I've found is to work out how many calories you are burning in a typical week. Then, enter that into your goals on workout page (in the settings). SP usually uses this information to adjust your daily calorie needs for you.

So, I went through my past two weeks of workouts and averaged how many calories I burned per week. Sure enough, there was an area under my Activity Goals in my fitness section where I could enter how many calories I burn in a week. When I went back to my Nutrition Tracker, my calorie totals had been adjusted.

THAT'S WHEN IT HIT ME. LIKE A 2x4 IN THE HEAD.

I've been doing this wrong for 3 months!!!! NO WONDER those last 5 lbs have been so stubborn! Even though my calorie range has been too low (with my increased activity from running), I have been going OVER on calories without knowing it.

Let me explain...

Let's say my calorie range in SP is 1320-1690 per day.
And let's say I go for a run and burn 400 calories.

So, here I've been thinking that I can eat up to 1690 calories PLUS an extra 400 calories (because I burned that running) and maintain weight.

BUT NO....NO NO NO. OF COURSE SPARKPEOPLE is integrated across pages!!! I JUST realized that the 1320-1690 is already reflecting the number of calories I anticipate on burning every week!

It's already included in my calorie range!!

Wow...I don't know about you, but that just blew my mind. Even though I only go over about 200 or 300 calories per day...that adds up. That explains the stall in weight loss and why it's seemed so slow, even with all my extra activity.

Maybe it's just me...but I figured I'd better share that tidbit in case anyone else was thinking the same way I was!!!!






Tuesday, May 29, 2012
As I usually do on Tuesday mornings, I set my alarm for 6am so I could get up and go running. I planned on a short 1.5-2 mile run, as my body is still somewhat recovering from my hilly 5k on Saturday. I didn't want to go too hard too fast and hurt myself. I was really quite thrilled about this run this morning because it would be my first since the race and I've kind of missed running (since Saturday...haha. Wow. WHO AM I?)

Imagine my dismay when I woke up to hear the rumblings of thunder. This is the first time since I started running that I've had any sort of roadblock, in terms of weather. I know...I've been pretty lucky! A full month without a drop of rain!

So, I laid in bed and played out all the excuses and rebuttals in my head...for the sake of this illustration, I will label my inner voices "Gollum" and "Smiegel" (yeeeaaah...you know what's up, LOTR fans!) OK, enough nerdiness.

GOLLUM: Can't run. Might as well sleep more.

SMIEGEL: But...I *could* get up and eat breakfast and maybe it will pass by 7am. Not tired anymore anyway.

GOLLUM: But you'll be late for work.

SMIEGEL: So what? I'm on salary and boss said I could run whenever I want during the day, as long as I get 40 hours in.

GOLLUM: You'll get all wet. Not worth it.

SMIEGEL: I miss running...it IS worth it. No one will be out there to see me. Eddie and Brenda ran a half marathon in pouring rain and strong winds on Sunday. Don't be a wuss.

GOLLUM/SMIEGEL: OK, I'm getting dressed.

Walked outside and got about 0.1 miles and almost got struck by lightning twice. TURN AROUND AND GO HOME. I'm not THAT crazy!

So, I was bummed, right? But I checked the hourly forecast for the day on my phone and saw that the rain would clear up around 8am or 9am. Then, return around 10am. Then, sunny until nighttime. BUT...when the sun came out, it would be 86 degrees and humid. So, if I ran after work, it would be MISERABLE.

So, here is the question...what does a real athlete do in this situation? The fact is...my boss is a runner. She completely understands this conundrum and she has flat out told me that I can take a run whenever I want, as long as I get my work done. I have a private office with a private bathroom. And, even though I share this office with a co-worker, she does most of her work from home and only comes in for meetings. So, it would be likely that I would have the entire office to myself all day.

It was still early.



Quickly ate breakfast, packed my running gear and headed off to work a half hour early. Mapped a run on campus and the minute that rain stopped, I set my phone to "Do Not Disturb" and got out there for my run. The temperature was PERFECT.

You know, it's a good thing I did this because I set a personal best for my mile time today. 13 minutes, which is right on track for my next goal - to run my June 9th 5k in 40 minutes or less.

Looking forward to Thursday's run, although the forecast calls for thunderstorms again. But, as we know now...that's not gonna stop me.

Will it stop you?






Monday, May 28, 2012
Good morning, Spark Friends! It occurs to me that some of us struggle with motivation to just get out the door and get our workouts done. So, today...you have no choice. We are getting up and going for a walk! I'm taking you to the trail where I run or walk about 4 miles between 3 and 4 times a week. It's 7am! Time to get up! You should feel lucky because I usually do this at 6am. You're welcome.

OK, so...out the front door and it's about a 3 minute brisk walk to the trail. On the way, you can hear about a thousand birds proclaiming the beauty of this day!

And, here we are!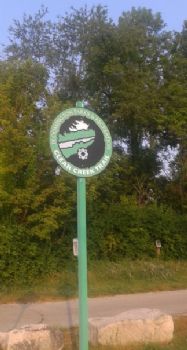 Now, how could you not be filled with happiness when THIS is your first sight in the morning?




And, as if that weren't enough...this is your first view of our trail walk...at 6am, the fog is still rising off of this field.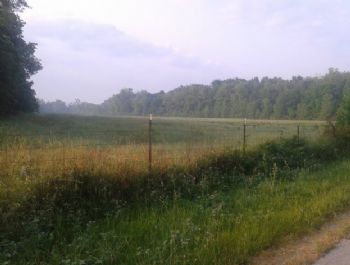 What is that AMAZING smell?!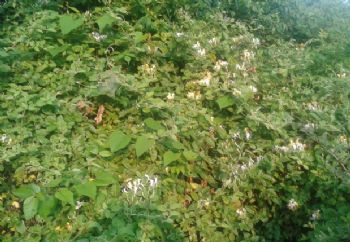 Honeysuckle! The trail is completely lined with it! Now, you're starting to feel kinda nice, aren't ya? Blood's flowing, legs moving.

Here's our first long stretch, with plenty of friends to say "good morning"!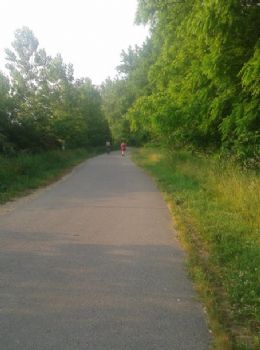 Beauty everywhere...a pic is worth a thousand words.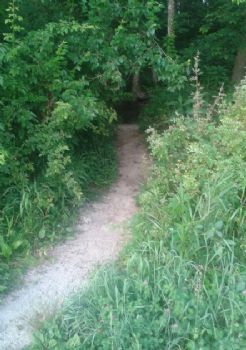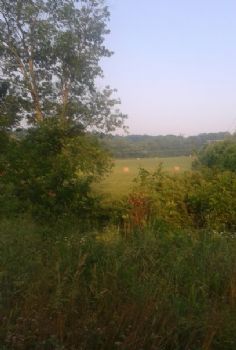 And, if you're one of those house hunter types, there are plenty of beautiful homes to check out along the way too!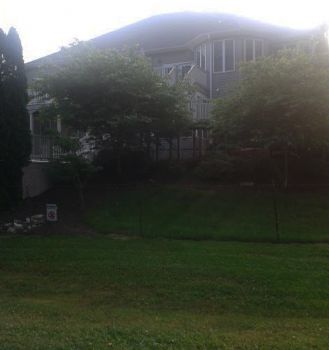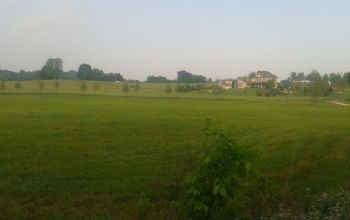 And, of course, we wouldn't be in Indiana without some farm paraphernalia.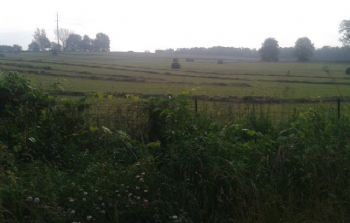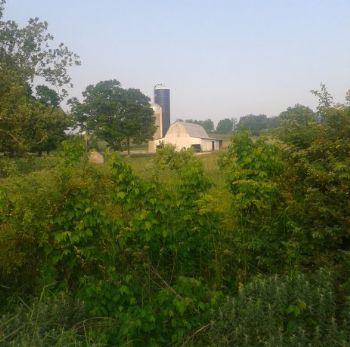 Don't even ask me about this. I have no idea. I'm just hoping this is not some snide commentary on my weight.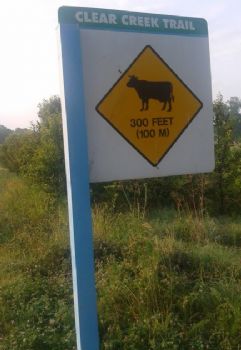 There's a bridge coming up...know that that means?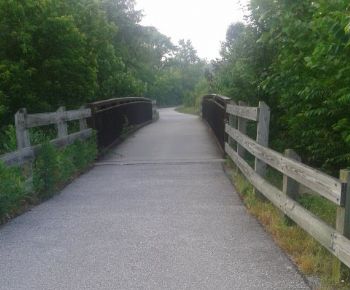 Oooh! Our first Clear Creek sighting!!!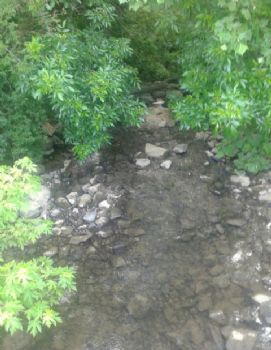 Coming up on the first of two rest areas. But don't even think about it...we are not stopping!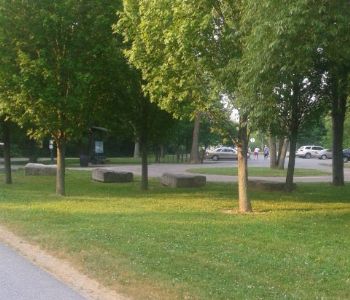 You can see Emmanuel Baptist Church off in the distance (that's where I vote!)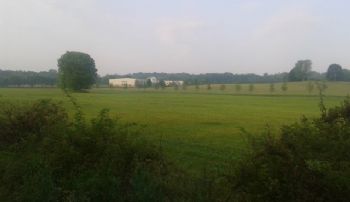 Crossing the street now...and another bridge. Are you feeling energized yet?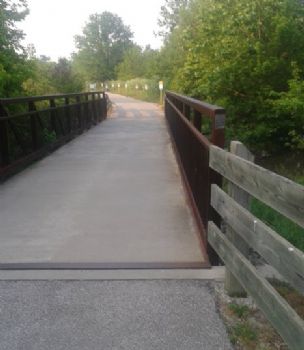 OK, we've gotta slow down a bit so I can show you this. The coolest part of the trail for kids and parents. One of the best things our city has ever done for physical fitness education!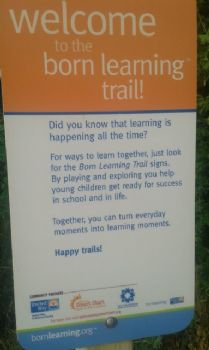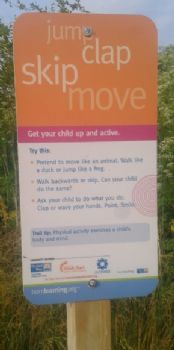 I'm quite sure we could fit a game of hopscotch into our Fitness Tracker!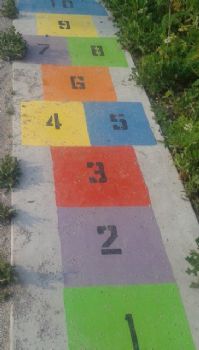 Ummmm....WHAT ARE YOU DOING???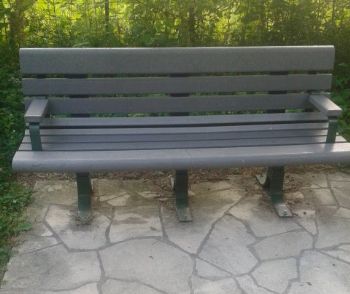 We aren't stopping! GET UP and keep going!!! Just a little bit more...

Oh my, we've run out of trail!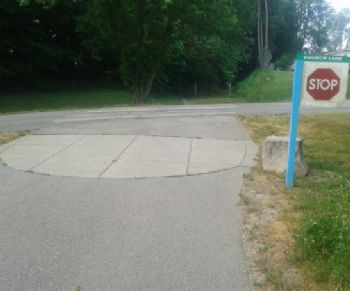 What a bummer. Guess we'll have to turn around and walk back now. Congratulations, you've completed a 4.3 mile walk today. You don't think that was fun???

Let's do it again. Soon. And often. K?











Sunday, May 27, 2012
Been a pretty un-eventful day since the 5k. I wasn't prepared for the amount of soreness and pain in my body, nor the excessive exhaustion. But...trainer said this would happen, so at least I know it's normal. Took a GREAT nap yesterday after the race. Church this morning, then simply could not stay awake a minute longer so I took ANOTHER nap this afternoon. Today has been a complete rest day. Tomorrow will probably be simple cross-training walk and I might try a short 1.5 mile run on Tuesday morning to get my body back into the usual training routine.

We are headed out to a cookout with our church friends in a few and I always used to agonize over what to bring to these things. There are so many desserts (which really don't appeal to me much anymore) and, obviously, lots of grilled things. With the last cookout, I finally found my go-to potluck/cookout/pitch-in dish. This is absolutely one of my favorite parts of summer...THIS salad! It's SO easy and so delicious and very low in calories, but high in nutrients and even has some protein.

INGREDIENTS:

One package/bag/tub of pre-washed spinach
One pint of fresh strawberries
Some walnut pieces
One small container of crumbled goat cheese
Marzetti's Simply Dressed Balsamic Vinagrette Salad Dressing

Throw all of this in a bowl.
Toss with a little bit of the dressing.
BOOM. Summer Deliciousness.

And you wouldn't believe the compliments. It's almost guilt-inducing because it's so easy. Haha.

Here is a picture to make you salivate:








Saturday, May 26, 2012
Wow...what a day for a first race! I had a GREAT night of sleep last night, after several encouraging texts from some of my runner friends and non-runner friends alike. Woke up around 6am and, per trainer's orders, ate immediately. Had a nice strawberry banana blueberry yogurt smoothie, cup of coffee and a Luna Bar. Just a few sips of water to get my vitamin down.

Around 7am, the texts and e-mails started pouring in from amazing friends, co-workers, SparkBuddies and trainer. I was nervous, but excited and just so touched that so many were thinking of me and cheering for me. And then...I went outside to leave and found my van had been attacked by one of my derby buddies, Thigh Candy. Oy...that sweet, sweet girl! There was a card and a dozen roses on my windshield and a bunch of star balloons tied to the side mirror. And...well...this...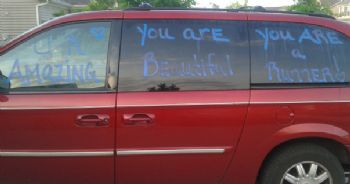 And this...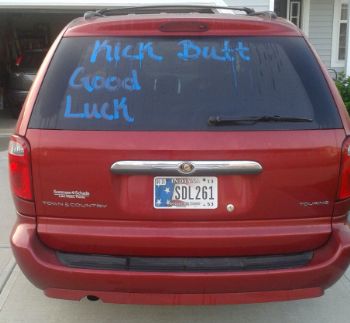 2 Sweet, Candy!!!



Got in the car and was one of the first people at the field house. Haha. That was a long couple of hours, but had some friends with booths there so I chatted them up a bit, used the restroom and all that good stuff. Did a little warm-up and got into my zen place. About 10 minutes before the race, my mother-in-law, husband, oldest daughter and little guy showed up. That was a surprise and pretty nice to see them.

Before the race started, I got to chat a bit with Tara from Biggest Loser (Season 7?). She was really sweet and really down to earth, not at all like you'd think a TV star would be. I kind of expected her to have an entourage, but nope. She was just hanging out by the starting line and nobody was talking to her, so I asked her about her Iron Man and she played with my kids a bit. That was surreal. We talked about workouts and food and such. She was really great. Here's a shot of Tara: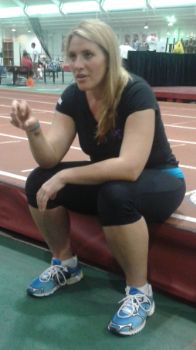 I know, you guys are like...WHO CARES? GET TO THE RACE! Haha.

OK, so starting line...and we're off. There were really only about 30 people running this 5k so it was a really nice, small group. We started out and I was already in the rear...but I knew going in that I wouldn't be as fast as most people, so it didn't really bother me. I just hung out in the back, thinking, "I'll make this up later...gotta get in the zone."

Well...no time to get in the zone because the very first thing on this course was a MASSIVE hill. I have not trained on hills AT ALL. I've READ about them and the form you are supposed to use when you run up and down them...but reading and doing are two very different things. Needless to say, I walked that first hill...as did many of the runners. Listen...that thing was LONG. About halfway up, I decided to name it because it was just so treacherous. I dis-affectionately dubbed it "Murder Mountain".

Once I got past that hill, running felt SO good. Until...the next hill. Yes. And the next. And the next. Look, I didn't know there was a mountain range in the middle of Bloomington, Indiana!



So, I walked all the hills because I really wasn't willing to risk injury. I figured, "Well, my time will suffer, but who cares? At least I'll finish."

On the downhills and straight-aways, I was able to run and that was really nice. Honestly, it was 93 degrees and it wasn't until the last half mile or so that I really began to feel the heat. Luckily, they decided to throw some water stations onto the course RIGHT where I needed it...wow, that stuff felt good and helped me keep going.

Finally, I could see the stadium (finish line was across the parking lot). But, you know...wouldn't be right unless there was ONE LAST HILL right before the finish line. It was a smaller one...but still.

The last 0.1 miles, of course I ran. And Tara ran with me. That was pretty awesome. She took me all the way to the finish line.

So, I came out with a final time of 43:35. Considering my normal training run time for the 5k on a totally flat course is 43 minutes, I was SUPER excited about this finish. I honestly thought it was going to be closer to 55 minutes. It felt so long out there.

Here is the obligatory medal photo: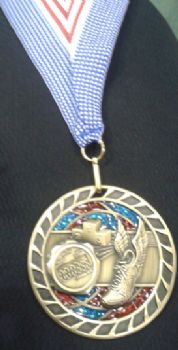 Sparkly!





All in all, this was a perfect first race. Debriefed with trainer afterwards and he asked, "How do you feel after getting such a cool medal?"

I replied, "I feel...like I can do whatever I want. I feel like I'm never going back to...all of it."

But, I think if I had to sum up how I feel...it really doesn't have much to do with the run. Honestly...I've never felt more loved than I felt today.

I'm so thankful and so blessed to have the most amazing group of friends on the planet.








First Page
1
2
3
4
5
6
7
8
9
10
11
12
13
14
15
16
17
18
19
20
21
22
23
24
25
26
27
28
29
30
31
32
33
34
35
36
37 38 39 40 41 42 43 44 45 46 47 48 49 50 51 52 53 54 55 56 57 58 59 60 61 Last Page

Get An Email Alert Each Time LDRICHEL Posts