| | |
| --- | --- |
| | LDRICHEL's Recent Blog Entries |



Monday, May 21, 2012
You know something? That Coach Nicole is tricky! Let me just explain to you how this crafty woman lured me (a self-proclaimed exercise hater) into a seemingly innocent little challenge that has turned into one of the best things that has ever happened to me: The Spring Into Shape Bootcamp Challenge.

Imagine this...here comes an e-mail with a sweet little lady (Nicole) on it that says, "Hey lazy Leah! Join our super simple and easy challenge that only lasts for 4 very short weeks and you could win $300! ALL you have to do is a really tiny 10-minute video every day and add at least 10 minutes of cardio (preferably 30) to your schedule three times a week. EASY!" (Ok, ok...I paraphrased that).

So, of course, I thought, "Wellll....aren't you the cutest little thing? I am quite certain I am able to do 10 measly minutes a day and sometimes 20 minutes (with cardio). Yeah, this sounds simple enough. I'M IN!"

Week 1: OH MY GOSH...HOW LONG IS THIS VIDEO?! Coach Nicole, my body won't stretch that way! But...cardio wasn't bad. Actually...30 mins three times a week is pretty easy. No probs there.

Week 2: I hate these videos...but...they are only 10 minutes. Just do it, Leah...and you'll feel better afterwards. Cardio is making me feel AMAAAZING! Ramping it up now to 60 minute workouts thrice a week.

Week 3: Wow...halfway point is over already? Cool. Hey, these videos are getting easier. And I have muscle in my arm! Cardio is the best thing that's ever happened to me and I don't even WANT to take two rest days. MAKE YOURSELF REST, LEAH!

And that brings us to today...the second day of Week 4. I had just finished my standard daily video (Pilates...which I DESPISED the first week, but I gotta tell ya...I am actually seeing abs forming and it is shocking. So...I kinda like it now...even though it's still torture). I also added a 20-minute full body resistance band workout. Body feels awesome. My running is taking off like crazy...about ready to kick my long run on Sundays up to a 5-miler.

And, as I was getting ready for work, it was like everything about this challenge hit me all at once:

I am getting abs.
I have lost 5 lbs in 3 weeks.
My body feels so...tight and strong. No more flabby mess.
I have so much energy.
I love running.
My stomach is smaller.
I can get through those Bootcamp videos really easily now.
I don't want to stop after the Challenge ends.
I couldn't care less if I win $300.
I am ONE run away from 1,000 monthly fitness minutes - this has never happened.
This is the first time I've ever looked in the mirror and noticed a change in my body.

With alllll these thoughts swishing in my head...I not only thought, "WHO IS THIS PERSON THAT I'M LOOKING AT IN THE MIRROR???" I realized...that Coach Nicole...she's a tricky little saint. And I LOVE her.








Sunday, May 20, 2012
Well, I promised my friends I'd run "with" them this morning, as they began their races at the Cellcom Green Bay Marathon/Half Marathon. True to form, I was up bright and early...even before the sun rose (so excited for them!) Out the door and got on the trail ready for a great run!

This was a challenging one for me because I was having major issues with my music player, so my concentration wasn't that great. BUT...I felt great and actually went 4 entire miles with my buddies...figured since it was race day, it couldn't hurt to go the extra mile with them.

Sweating "alongside" my friends early in the morn!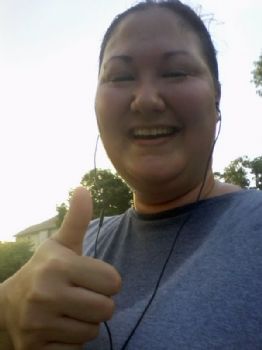 Sad to say, the marathon was called early due to extreme heat. I have not yet heard how WONDERWOMAN or ABSOLUTZER0 are doing...and I am concerned. I spoke with Robert (ON2VICTORY) who explained that it was absolutely treacherous and there were hundreds of people sent to the hospital because of the heat. The course had to be at least 90 degrees and the humidity was awful. That's about all I know and I will let Robert tell you his personal story of the day in his own words - he's so great at describing things.

Sending up some serious prayers for those runners today...especially all that have suffered from heat-related injuries. And our friends that we have not yet heard from. All that being said, it was great to hear Robert's voice and know that he made it through safely. And, even with the extreme conditions, his time was looking really great before the race was called...I truly believe he would have achieved a personal best today. This is absolutely remarkable. Talk about a hardcore athlete.

Well, just wanted to pass on the update. Thank you for those that ran with us this morning or walked or worked out at 7am. How very special of you to join and support these amazing folks. What an excellent community we have here on SparkPeople!!!

Have a great day everyone and stay healthy and safe!!!!







Saturday, May 19, 2012
So...tomorrow my trainer, Robert (ON2VICTORY) and WONDERWOMAN (from the Half Marathon Team) are running the Green Bay Cellcom Half Marathon. Apparently, ABSOLUTZERO (also from Half Marathon Team) is running the full marathon. These people rock. I can't say it enough.

I have just been reading about training for the marathon (as in, the 26.2 miler). That s*&t is CRAZY, y'all! Here is a great quote that I actually can't get out of my head:

"In the marathon, even when the race is going as planned, you will get to the point where you question your existence," says Willie Rios, who helped coach Jenny Spangler to victory in the 1996 U.S. Olympic Marathon trials.

You might be thinking, "Leah??? Why are you reading about marathons??? Hmmm?"

Yeah...I'm not going to say the word "can't" or "never" to myself ever again...but I can assure you, this is NOT on my radar right now. AT ALL. However, reading about the ridiculous amount of work and time and training that these runners (really, a completely different LEVEL of runner) put into training just sheds a whole new light on everything I am doing as a beginning runner.

I mean, no one starts off running a marathon or even WANTING to run one. No...you start by walking a half mile. Then, maybe a mile. I remember when walking 4 miles every day (after healing from my extensive injuries) was the greatest victory for me. And now my focus is on a seemingly simple 5k. Except...it's not simple...not when you're just starting. When I wrote that blog about finally running a distance of 5k for the first time, Robert was so incredibly excited for me and so supportive. It wasn't until the next day that I realized how special this was and said, "Why were you so excited? You've run a marathon. A 5k is like nothing for you." He responded, "The 5k IS your marathon right now. It's no different than me running a marathon...mine is just a longer distance. The feeling of victory and accomplishment is the same."

Look...I know I go on and on here about how excited I am to meet new goals in my running, etc. And it does seem like it's happening pretty fast. I don't know why...my body is just taking to it better than I expected.But I never want anyone who is just beginning...ESPECIALLY those on our 2013 Indy Mini Team...to feel like they're not going to be able to complete the half next year because they aren't as far along as me or Robert or any other runner. It's been a huge deal for me to try to learn the most important lesson in running...that it's not about comparing yourself to anyone else. If anything, it's about comparing yourself to yourself.

I just love this quote: "It's very hard in the beginning to understand that the whole idea is not to beat the other runners. Eventually you will learn that the competition is against the little voice inside you that wants to quit." - Dr. George Sheehan

I suspect I still have quite a bit to learn about not comparing myself to other runners. I am trying to mentally prepare myself for my first 5k on July 28th with this in mind. But, on race day...my FIRST race day...I'm sure this will be one of my biggest struggles.

Comparing ourselves to others can destroy a workout regime. We've got to stop this.

One of the greatest things about the running community, though, that I've discovered rather quickly is their complete and undying support for one another. Seriously...the first time you go for a run on a crowded trail, you'll see. Apparently, it's not just Indiana's Hoosier Hospitality. I have read so many statuses of runners saying how pleasant it is to wave at other runners as they pass. It's like a big family...and no matter how successful one is in their own running, they are always looking out for the others.

In light of this spirit of cameraderie, I choose to run WITH my friends tomorrow. Race start time is 7am EDT. I will be out the door at 6:55am. I might only run 3 miles with them (because that is the limit of what my body can do right now)...but my spirit will be with them and will be cheering them on the entire way.

Wanna join me?

For you...WONDERWOMAN, ABSOLUTZER0 and ON2VICTORY...we run







Friday, May 18, 2012
WOW. Is THIS a beautiful day or what?! I woke up this morning and reeeeaaalllly wasn't wanting to get up when my alarm went off at 6am. But I pulled myself out of that comfy cozy warm cocoon of blanket and immediately donned my running clothes.

Last night, I was pretty excited for this run today because it's the first run I've felt comfortable doing with only one rest day between runs. My ankle has not given me any pain or trouble at all...so it must be getting stronger. Also, I have been getting REALLY sick of my old workout music mix, so I put together a brand new playlist last night! And, well, that's just fun.

I don't know if it was my new tunes, the feeling that you all are counting on me to be consistent, the fact that I just started a team to train for the 2013 Indy Mini or the fact that my incredibly inspiring trainer is running a half marathon on Sunday, but I hit a NEW LEVEL in my running this morning. I choose to believe it was a combination of all those factors.

My best running interval thus far has been 7.5 minutes and I thought that was pretty great. But, this morning, I told myself I would go as long as I am comfortable and nothing hurts and I can breathe. YOU GUYS!!!!! I did a 16.5 minute running interval!!! I haven't run that long since high school! When all was said and done, I had cut my mile time to about 14:20. That's a 45-minute 5k. Of course, I immediately texted Robert and I said to him, "Today...I became a runner."

On my run, I realized...you and I? We don't have a song!


People that love each other have GOT to have a song!!! Right???

Well, it just so happens I came across this one and it literally froze me in my tracks, y'all. If you've got a moment to spare, take a listen and watch the video. I GUARANTEE it will resonate with you the way it did me. I love you all. I'm just *alive* because of you!

www.youtube.com/watch?v=j6z-H3_hgEU





Thursday, May 17, 2012

A special call to action...



First Page
1
2
3
4
5
6
7
8
9
10
11
12
13
14
15
16
17
18
19
20
21
22
23
24
25
26
27
28
29
30
31
32
33
34
35
36
37
38
39
40
41
42 43 44 45 46 47 48 49 50 51 52 53 54 55 56 57 58 59 60 61 62 63 64 65 Last Page

Get An Email Alert Each Time LDRICHEL Posts