| | |
| --- | --- |
| | LDRICHEL's Recent Blog Entries |


Sunday, May 20, 2012
Well, I promised my friends I'd run "with" them this morning, as they began their races at the Cellcom Green Bay Marathon/Half Marathon. True to form, I was up bright and early...even before the sun rose (so excited for them!) Out the door and got on the trail ready for a great run!

This was a challenging one for me because I was having major issues with my music player, so my concentration wasn't that great. BUT...I felt great and actually went 4 entire miles with my buddies...figured since it was race day, it couldn't hurt to go the extra mile with them.

Sweating "alongside" my friends early in the morn!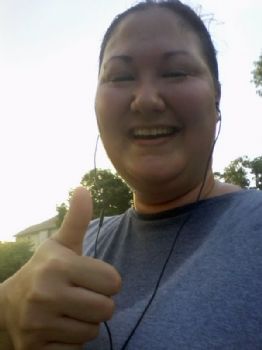 Sad to say, the marathon was called early due to extreme heat. I have not yet heard how WONDERWOMAN or ABSOLUTZER0 are doing...and I am concerned. I spoke with Robert (ON2VICTORY) who explained that it was absolutely treacherous and there were hundreds of people sent to the hospital because of the heat. The course had to be at least 90 degrees and the humidity was awful. That's about all I know and I will let Robert tell you his personal story of the day in his own words - he's so great at describing things.

Sending up some serious prayers for those runners today...especially all that have suffered from heat-related injuries. And our friends that we have not yet heard from. All that being said, it was great to hear Robert's voice and know that he made it through safely. And, even with the extreme conditions, his time was looking really great before the race was called...I truly believe he would have achieved a personal best today. This is absolutely remarkable. Talk about a hardcore athlete.

Well, just wanted to pass on the update. Thank you for those that ran with us this morning or walked or worked out at 7am. How very special of you to join and support these amazing folks. What an excellent community we have here on SparkPeople!!!

Have a great day everyone and stay healthy and safe!!!!







Saturday, May 19, 2012
So...tomorrow my trainer, Robert (ON2VICTORY) and WONDERWOMAN (from the Half Marathon Team) are running the Green Bay Cellcom Half Marathon. Apparently, ABSOLUTZERO (also from Half Marathon Team) is running the full marathon. These people rock. I can't say it enough.

I have just been reading about training for the marathon (as in, the 26.2 miler). That s*&t is CRAZY, y'all! Here is a great quote that I actually can't get out of my head:

"In the marathon, even when the race is going as planned, you will get to the point where you question your existence," says Willie Rios, who helped coach Jenny Spangler to victory in the 1996 U.S. Olympic Marathon trials.

You might be thinking, "Leah??? Why are you reading about marathons??? Hmmm?"

Yeah...I'm not going to say the word "can't" or "never" to myself ever again...but I can assure you, this is NOT on my radar right now. AT ALL. However, reading about the ridiculous amount of work and time and training that these runners (really, a completely different LEVEL of runner) put into training just sheds a whole new light on everything I am doing as a beginning runner.

I mean, no one starts off running a marathon or even WANTING to run one. No...you start by walking a half mile. Then, maybe a mile. I remember when walking 4 miles every day (after healing from my extensive injuries) was the greatest victory for me. And now my focus is on a seemingly simple 5k. Except...it's not simple...not when you're just starting. When I wrote that blog about finally running a distance of 5k for the first time, Robert was so incredibly excited for me and so supportive. It wasn't until the next day that I realized how special this was and said, "Why were you so excited? You've run a marathon. A 5k is like nothing for you." He responded, "The 5k IS your marathon right now. It's no different than me running a marathon...mine is just a longer distance. The feeling of victory and accomplishment is the same."

Look...I know I go on and on here about how excited I am to meet new goals in my running, etc. And it does seem like it's happening pretty fast. I don't know why...my body is just taking to it better than I expected.But I never want anyone who is just beginning...ESPECIALLY those on our 2013 Indy Mini Team...to feel like they're not going to be able to complete the half next year because they aren't as far along as me or Robert or any other runner. It's been a huge deal for me to try to learn the most important lesson in running...that it's not about comparing yourself to anyone else. If anything, it's about comparing yourself to yourself.

I just love this quote: "It's very hard in the beginning to understand that the whole idea is not to beat the other runners. Eventually you will learn that the competition is against the little voice inside you that wants to quit." - Dr. George Sheehan

I suspect I still have quite a bit to learn about not comparing myself to other runners. I am trying to mentally prepare myself for my first 5k on July 28th with this in mind. But, on race day...my FIRST race day...I'm sure this will be one of my biggest struggles.

Comparing ourselves to others can destroy a workout regime. We've got to stop this.

One of the greatest things about the running community, though, that I've discovered rather quickly is their complete and undying support for one another. Seriously...the first time you go for a run on a crowded trail, you'll see. Apparently, it's not just Indiana's Hoosier Hospitality. I have read so many statuses of runners saying how pleasant it is to wave at other runners as they pass. It's like a big family...and no matter how successful one is in their own running, they are always looking out for the others.

In light of this spirit of cameraderie, I choose to run WITH my friends tomorrow. Race start time is 7am EDT. I will be out the door at 6:55am. I might only run 3 miles with them (because that is the limit of what my body can do right now)...but my spirit will be with them and will be cheering them on the entire way.

Wanna join me?

For you...WONDERWOMAN, ABSOLUTZER0 and ON2VICTORY...we run







Friday, May 18, 2012
WOW. Is THIS a beautiful day or what?! I woke up this morning and reeeeaaalllly wasn't wanting to get up when my alarm went off at 6am. But I pulled myself out of that comfy cozy warm cocoon of blanket and immediately donned my running clothes.

Last night, I was pretty excited for this run today because it's the first run I've felt comfortable doing with only one rest day between runs. My ankle has not given me any pain or trouble at all...so it must be getting stronger. Also, I have been getting REALLY sick of my old workout music mix, so I put together a brand new playlist last night! And, well, that's just fun.

I don't know if it was my new tunes, the feeling that you all are counting on me to be consistent, the fact that I just started a team to train for the 2013 Indy Mini or the fact that my incredibly inspiring trainer is running a half marathon on Sunday, but I hit a NEW LEVEL in my running this morning. I choose to believe it was a combination of all those factors.

My best running interval thus far has been 7.5 minutes and I thought that was pretty great. But, this morning, I told myself I would go as long as I am comfortable and nothing hurts and I can breathe. YOU GUYS!!!!! I did a 16.5 minute running interval!!! I haven't run that long since high school! When all was said and done, I had cut my mile time to about 14:20. That's a 45-minute 5k. Of course, I immediately texted Robert and I said to him, "Today...I became a runner."

On my run, I realized...you and I? We don't have a song!


People that love each other have GOT to have a song!!! Right???

Well, it just so happens I came across this one and it literally froze me in my tracks, y'all. If you've got a moment to spare, take a listen and watch the video. I GUARANTEE it will resonate with you the way it did me. I love you all. I'm just *alive* because of you!

www.youtube.com/watch?v=j6z-H3_hgEU





Thursday, May 17, 2012

A special call to action...





Wednesday, May 16, 2012
In terms of exercise and eating, I've been really thinking a lot this past few weeks about this idea of listening to our bodies. And, by that, I mean reeeaaally being in tune with what this wonderful machine that we call our body honestly and truly needs from us to function at its peak.

I've sort of naturally divided it up in my head into two separate streams of thought - food and exercise.

FOOD

If you've been around SparkPeople for awhile or read much on nutrition, you might have heard the term "food as fuel". I was unaware of what this meant for most of my life and, quite honestly, did not fully understand this concept until the past few months.

But, I do remember the first time I heard of this concept. It was a few years ago and my brother had moved to California and, when he left, he was extremely overweight, having been overweight most of his childhood and adult life. One day, I received a photo from him and was shocked to see that he'd lost more than a quarter of his body weight in a few short months! I asked him what in the world he had done to lose the weight...besides, you know, living in California. His answer was, "I walk everywhere because I can't afford a car and I eat vegetarian 6 days a week and only let myself have meat once a week." Then he said this and it always stuck with me (even though, at that time, I lazily shrugged it off): "Leah, you just have to look at food as fuel for your body and that's all. I don't care what I eat anymore...I just eat what I have to for my body to work correctly. There's not this huge level of enjoyment attached to eating anymore." Well, that did not sound appealing to me at all at the time.

When I returned to SparkPeople in February, you might remember that I rather flippantly agreed to do South Beach Phase 1 with a friend, which is basically a metric ton of vegetables and some protein every day for two weeks. The first few days were odd for me. I had never eaten so many vegetables in my life! It was extremely time-consuming in the first week to plan all my meals and snacks so I would end up having what I needed to not be hungry throughout the day. But, as time went by, it got much easier. By the second week, the diet had become second nature and I was throwing meals together within minutes. It was during this time that I realized that I was beginning to see food as fuel. This phase of the diet completely re-set the hardwiring in my brain regarding food. I no longer desired food as a reward. I don't really crave sweet things anymore. And even though I moved to the Spark Diet (as opposed to staying on South Beach's more strict Phase 2), I kind of just naturally stay away from carbs now without even realizing it. In fact, most days my Nutrition Report shows that I'm low on carbs.

Now that I've added running to my life, I am re-learning how to properly fuel my body with the extra activity in mind.

Of course, I've got a couple interesting examples to share, in which I will walk through this process with you of listening to your body.

First, I need to confess that I got 3 hours of sleep last night. This is in no way advisable or healthy - frankly, I made a choice to stay up late and I knew it would affect my body today. But I did it anyway. I don't do this often (if ever) so it won't become something that taxes my body in the long-term. But it is important to know this for the following examples. So, just go ahead and stick that little feather in your cap and hold onto it and I'll tell you when to bring it out again.

I actually woke up at 6am and my body felt good - so I did my run. I had not eaten anything before my run, but I felt perfect upon returning home. I made sure to get some carbs in me immediately - a slice of whole grain toast with some natural peanut butter for protein and good measure. And coffee - I mean...DUH. I felt satisfied and left for work.

At 10am, I went into our Accountant's office to work with her on some bookkeeping. We were just chugging along doing our work and something happened to me that has never happened before. I suddenly stopped and gasped. She looked up and said, "What's wrong?" I said, "I'm desperately hungry." Now, it's one thing to know the feeling of your body's natural hunger cues, but it is quite another to have hunger savagely pounce on you like a ninja assassin. I was literally fine one moment and the very next moment, I sat straight up and my stomach felt COMPLETELY EMPTY...and I was dizzy. So, using this as an object lesson...what does this tell me? I can discern that I probably should have eaten more than a piece of toast with peanut butter after a 3-mile run. I believe if I would have added a banana or some juice, or even some milk, it might have helped balance my system a bit more...even if I wasn't feeling hungry.

WHAT? Yeah...that brings us to our next parable.

Today I went to lunch with a friend and we were good little healthy girls and got delicious salads. These were wonderful, balanced salads with some meat and cheese (protein) and some healthy fats (avocado and olive oil). I ate most of my salad, but not all because I felt full. When we stood up to leave, I didn't feel dizzy but my entire body felt extremely weak...even though I had just eaten.

SIDE NOTE: Now, pull that feather out. YES...I slept for 3 hours. This is most likely WHY I felt weak. But...I am also a grown-up and I have a job so I can't just take a nap whenever I want on a Wednesday.

The surprising thing was that I immediately said to my friend without even thinking about it, "My body feels extremely weak. What should I eat?" To be quite honest, I shocked myself with this automatic response. Again, it goes back to food being fuel. In lieu of falling asleep in the park like a bag lady, I needed an alternative to give my body the energy boost it required to get through the rest of the afternoon. The answer? CARBS. So I hustled on over to my local co-op grocery (which, by the way, I believe is the SAFEST place to purchase carbs because, more often than not, they are made from natural ingredients or whole grain or delicious organicness) and plopped my handful of Clif Bars (stocking up - they were on sale!) and bananas on the counter. I just looked at the cashier and said, "I NEED CARBS NOW." Haha. That's me...freaky weird co-op grocery girl.

But food as fuel is not the only factor in this magical equation...

EXERCISE

So, I woke up this morning and actually felt decent at 6am! I was tired but my body didn't feel sick like it usually does when I wake up with not enough sleep. I was able to get out of bed, so I decided to go for my run. I walked out the door and I'm telling you guys...that first breath of air in the pre-dawn hours is like an instant drug the moment it hits your lungs. IMMEDIATE wake-up and an exhilerating feeling of being alive. And this is BEFORE my run even starts.

Turns out, I had the best run of my life. Cut quite a bit of time off my 5k time by adding longer running intervals. Listen, don't get overly impressed here. I don't run fast at all. I think LMFAO wrote me into their Party Rock Anthem when they wrote the line, "Every day I'm shufflin'". But I was proud of my progress...and can now run a straight 7.5 minute interval with absolute comfort and no heavy breathing. That's a huge improvement over just a few weeks ago when I was doing C25K and could barely run the 1.5 minute intervals.

I was really listening to my body this morning, as I knew I had had so little rest and it could affect me. I walked when I felt the need for more air. I had a super lame interval of running that wasn't even two minutes long in the middle of the run. But made up for it with my longest running interval on the way home. Normally, I'd only walk the final 5 minutes of a run, but this time I walked the final 11 minutes. I probably COULD HAVE run again...but I didn't want to push it.

I truly believe this run is what has given me the energy to make it this far through my day. If I wouldn't have done it, I might have face-planted into my computer about 4 hours ago.

My focus on listening to my body with running is not only in relation to the actual run. I have found that, probably due to my previous injuries, it is best for me personally to take two days of rest in between actual runs. So, my schedule for the week starts with a run on Sunday, a cross-training walk on Monday and a complete rest day from cardio on Tuesday. Then, the next real run is on Wednesday. And so on and so on. I find that I feel more soreness and possibly strain in my ankles the second day after a run and not the following day as one would expect. Thus, my complete rest day on that day. I have found this to be a great plan so far. And have avoided any injury or pain.

Last night, I started reading a book called "Complete Book of Women's Running" by Dagny Scott Barrios. This book is put out by Runner's World and I had received a recommendation from a friend. I picked it up at the library and, quite honestly, didn't feel it would be that interesting. I mean, come on...a book about exercise??? BORING. I figured it would be all tables and charts and training schedules. But I was surprised when I flew through 5 chapters because the author's voice and writing style is just so beautiful and easy to understand. What a great read!!! In the tune of this whole idea of listening to your body, I thought it would be appropriate to end with these beautiful excerpts from that book:

"When listening to your body, it's important to understand that you can't separate your running from the rest of your life. If you're tired from other activities, it can and will affect your running. You might find your energy drained from a family problem, a bad night's sleep, or office stress. You can't fight the impact of those things; nor should you ignore them. Factor them in when gauging how hard to push in your workouts. Running at this stage (beginning stage) should remain a positive, enjoyable complement to the rest of your activities. If any day proves too challenging - your legs hurt or your breathing is uncomfortably labored - back off. Walk as much as you need in order to finish. Take the next day off, and repeat the previous workout until you can complete it comfortably. Do this as many times as necessary.

Over time, you'll come to understand these training principles as you see them in action. You will feel the bounce in your step after you take your off day; you will become aware of the microcycles of improvement in your running from month to month; you will recognize when you push too hard or when you're being inconsistent and your training suffers accordingly. Pay attention to these principles and to the message your body sends. Eventually, you'll find that you can tailor a training program to your own needs, no matter what type of runner you are."



First Page
1
2
3
4
5
6
7
8
9
10
11
12
13
14
15
16
17
18
19
20
21
22
23
24
25
26
27
28
29
30
31
32
33
34
35
36
37
38
39
40
41
42 43 44 45 46 47 48 49 50 51 52 53 54 55 56 57 58 59 60 61 62 63 64 Last Page

Get An Email Alert Each Time LDRICHEL Posts