Friday, May 01, 2009
Sorry I haven't posted in a bit. I promise the soy article is coming soon, I've just been SUPER busy and haven't finished it. I promise it will be out by next week.

We're doing major overhaul chucking of unecessary items so we can have a much cleaner house. Yesterday I put all my half full bottles of cleaners up on Craigslist and got rid of them. I'm trying to save money and not have toxic cleaners in the house because what's in our environment affects us just as much as what we put into our body. I have pets (cat and a puppy) and I don't want them to ingest anything that could kill them.

Here's the recipe I've been using - I use it to clean countertops, the bathroom, dishes (helps A LOT with stuck on gunk) etc. It's thick and feels just like Soft Scrub - but much cheaper, doesn't smell, and doesn't make my hands hurt when I clean. I keep it in a mason jar on the sink. A little goes a long way when cleaning countertops! The Tea Tree Oil is known for its disinfectant properties.

1 2/3 cups baking soda
1/2 cup liquid soap
1/2 cup water
2 tablespoons white vinegar
20 drops Tea Tree Essential Oil (Optional)




In other news, I've decided to go "no 'poo" - It's no commercial shampoo. Instead you clean your hair with baking soda and apple cider vinegar. I'm on day 6 and the top of my head isn't greasy, but the longer portion of my hair is at the moment. Let it be known that going "no 'poo" does not mean that I don't rinse my hair with water and the solution mix and bathe every night - I do. The expensive Redken shampoo will just be put out for guests now.

If you'd like to read up about the "no 'poo" movement, here's a few links:

http://babyslime.livejournal.com/174054.
html

www.sfgate.com/cgi-bin/blogs/sfmoms/deta
il?entry_id=36992

www.naturemoms.com/no-shampoo-alternativ
e.html

To top it all off, after years of experimenting with "natural" toothpastes (Read: Fluoride free.) I've given up and have just started making my own for mere pennies. I've given up because they either don't work or they don't work and taste bad and they're all expensive. The gunk on my teeth is GONE. As in GONE GONE. (I haven't been to the dentist in a year because my mom took me off her insurance) My teeth are shiny and clean. Beware, it does taste salty (obviously) but it does get the job done - remember to brush your tongue!

Here's the recipe:
8 tablespoons baking soda
8 tablespoons sea salt, not iodized
20 drops orange blossom essential oils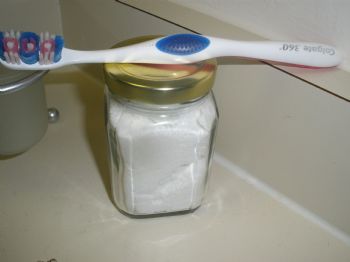 Want to know why I don't like fluoride (this is also one of the reasons I drink spring water instead of tap. I get it for $.30 a gallon at Whole Foods because I have my own 5 gallon bottle to refill.)
Check it out:
http://www.fluoridealert.org/50-reasons.
htm

When I have time, I'm going to make this deoderant (http://www.recipezaar.com/stick-deodorant
-aluminum-free-361814) because again, the store bought aluminum free stuff just does NOT work for me. I still get stinky.

Want to know why I avoid aluminum? Here's a few sites:

http://articles.mercola.com/sites/articl
es/archive/2003/09/03/antiperspirants-
part-one.aspx (He has GREAT articles on everything.)

http://www.bellaonline.com/articles/art7
739.asp

http://www.vitawise.com/Nutritional_Heal
ing/aluminum%20toxicity.htm

Luckily, all the homemade alternatives are VERY cheap and VERY powerful. Baking soda is between $.50 -$.57 at Wal-Mart depending on if you get the house brand or not. Hopefully as your waste lines go down, these recipes will help your wallets bulk up!