| | |
| --- | --- |
| | LARRI2010's Recent Blog Entries |


Saturday, October 12, 2013
Iíve had the Spark Activity Tracker (Spark for short) for about 3 weeks now (I purchased mine before it was released to the public). To be honest, I would not have considered buying it had I not misplaced my pedometer just before receiving the offer. I found my pedometer shortly after receiving the Spark, so I was able to conduct side-by-side comparisons. Additionally, I was able to move the Spark around to see if I could find a spot optimal for me. There is a discrepancy between the number of steps recorded by the pedometer and the Spark, and this isnít necessarily a bad thing.

SparkPeople recommends carrying the Spark on oneís shoe, flat on the laces, but I donít often wear lace-up shoes. I like to wear sandals or slip-on shoes to the office and sandals or lace-up sneakers (walking or running shoes Ė I think ďsneakersĒ may be a regional term) on the weekend or Casual Friday. My sandal-wearing days are greatly numbered, though, for the rest of the year. Soon, I will be wearing boots.

I know the Spark is waterproof up to 100 feet, and I know that some people have worn theirs swimming. I just donít like to tempt fate, and I like the security of wearing my Spark on my hip, on either the waistband or pocket of whatever pants I am wearing (I donít often wear dresses or skirts). I donít have to worry about what will happen if I step into a puddle or deep snow (though maybe if I think positively, we wonít get any deep snow this year).

It doesnít seem to matter where I wear the Spark, the Spark will consistently record fewer steps than does my pedometer. When I wear the Spark on my waistband or pocket, as close to the outer edge of my body as possible, I can get a difference of 518 to 3220 steps. My pedometer uses dual-axis technology, and I donít know what mechanism the Spark uses to detect steps. It does appear that my pedometer is much more sensitive to movement than the Spark is. I have seen posts from others on SparkPeople that they feel they really earn the steps they make with their Sparks. They have a point Ė we should be getting credit for exercise, not just gliding through life at a leisurely pace. Itís also nice to get data from the whole day, because some days, I put in a lot of steps just walking from my desk to the copier multiple times. It all adds up.

I still like that my Spark will upload data automatically, as long as I am near my computer and have the dongle installed. I did not realize this until other Spark owners pointed it out, but down past the steps, miles, calories, and minutes data on my Spark Activity Tracker page is a nice graph of my times of highest activity, and I can use the tabs to view steps, calories, and miles. I donít know that I need all that information, but itís interesting to view (and Iím bit of a data freak and have been keeping a spreadsheet of my steps and miles taken on my pedometer and now on my Spark, also).

I do hope that a future incarnation of the Spark (perhaps a Spark II in a year or two) will take into account that I and a great many other Spark users would like to have a display on the unit, also. Rather than watch the lights around the perimeter light up as we near our goals, we would like to see how many steps we have taken without having to be near a computer that can upload the data.

It is also frustrating to me and many others that we cannot take short breaks for any reason (to wait for a light to change, to pick up after a dog, to catch oneís breath), as the workout clock resets to zero in that break. We still have the total minutes for the day displayed, but the workout minutes may be less than what we hope for. For now, we will have to keep track of our true workout minutes ourselves.

Disclaimer: I purchased the Spark with no expectation from SparkPeople that I would post a review. All my opinions are my own.






Tuesday, October 01, 2013
My pedometer had disappeared the day I received the offer to try out the new SparkPeople Activity Tracker. I most likely would not have ordered the Spark had I still had the pedometer Ė why would I need two devices?

I ordered the Spark on a Thursday, and it arrived the next day. It turns out it shipped from a town in my state about an hour and a half away, and not from Ohio, which is on the return address. (I think the return address might reflect the actual corporate address of SparkPeople, while there may be warehouses around the United States. [And, alas, I hear the device is currently available only in the US].)

The device came in a plastic cube, much the way watches are packaged. This would make for easy wrapping of it as a gift. Inside the cube was the Spark Activity Tracker (which weíve started calling the Spark), SyncPoint (the dongle that goes into the USB port of a computer), and an extra battery. One battery is already installed in the Spark.

Setup was easy. The invoice included the URL (web address) for the software you need to download, and I found it seamless to install. It searched for the SyncPoint, which I had not yet installed into one of the USB ports of my laptop (I was waiting for the prompts to tell me to plug it in Ė some devices are picky about the order you do things, but this one doesnít seem to care). Once I did that, the software completed the setup for me. I just had to follow the prompts on the screen and tap the Spark when the directions called for it.

Instructions on how to wear the device were on the tutorial, and I also got some instructions emailed to me upon setup. For optimal tracking, the device should be worn on oneís shoe, but I can see myself stepping into a puddle and ruining it irreparably (though the tracker is supposed to be waterproof up to 100 feet, and I could wear it swimming, if I didnít swim like a rock). Other options for good tracking include: clipped to oneís bra (not as crazy as it sounds, as the device is barely larger than a US quarter), a belt, or a pocket. I donít know about IN a pocket Ė perhaps it blocks the signals, though some users have reported that the Spark has worked well tucked into a sock. Itís worth experimenting and finding something that works well with your clothing and lifestyle.

In the setup process, the software told me the serial numbers of the tracker and SyncPoint. I jotted them down onto the invoice in case I ever need them and canít access the software. There is also a serial number printed on the back of the Spark, and there are numbers engraved on the SyncPoint, but they are tiny and hard to read without a magnifying glass. It could be worth it to me to have the numbers written elsewhere (if I donít lose the paper they are written on).

The setup process ended with signing into SparkPeople. A new tracking page opened in my browser with stats from that day (all zeros, because I hadnít done anything yet). If you leave the SyncPoint in the USB port, the Spark will send updates periodically through your computer to SparkPeople. Ideally, one should leave the SyncPoint in the computer, as that will help prevent loss (though with the cordless mouse dongle in one port and the Spark dongle in another, I have only one free port left on my laptop for anything else I want to plug in) and allow it to sync data any time you are near your computer. Additionally, I have been told that if you walk by a friendís computer with a SyncPoint installed, your Spark will update to your SparkPeople account. How cool is that?

I was also automatically enrolled in the Spark Activity Owner SparkTeam. They may have changed the settings so they automatically send an email to new members of the team, but I discovered this by accident when I went to my list of SparkTeams to look for another team I am on.

When it updates, the Spark Activity Tracker page tells you how many steps you took and how many activity minutes you did. It tells you how close you are to your daily goal. The Activity Tracker also tells how many calories you have burned from workouts and how many workouts over 10 minutes you did (I think you might be able to change the length of workout you must do, but I havenít explored this).

One problem with the 10-minute workout is that you need to keep moving for the entire 10 minutes, or it will not count that as a workout. I took a 20 minute walk one day, but the Spark did not count that as a workout. I had stopped to take photographs along the way and I had to wait for traffic before crossing streets (drivers around here donít know what ďstop for pedestrians in crosswalksĒ means). The Spark still counts minutes, but it doesnít count them as workout minutes.

If you go someplace off the grid, your Spark is supposed to store about 2 weeksí worth of data, though I think itís possible this could be less than a week, if you do a lot of activities. At some point, there is supposed to be a smartphone app made for the Spark Activity Tracker, but I donít think it will be able to upload data from the Spark (maybe one day this will be able to happen, but this is wishful thinking on my part, as it doesnít appear to be on the agenda in the near future).

A few days after I got the Spark, I found my pedometer. I was able to do a side-by-side comparison. It seems the Spark isnít as sensitive to movement as the pedometer is. The pedometer recorded 415 to 2750 more steps than did the Spark (the average was a difference of 1268 steps). The pedometer recorded 0.28 to 1.33 miles more than the Spark did (the average difference was 0.65 miles). The mileage can be calibrated, but the steps are whatever the device records.

I like that the Spark syncs directly with SparkPeople. I no longer have to enter manually my mileage and steps, something I tend to forget to do with my pedometer. I still have access to my regular tracker, though, so I can add other activities not captured by the Spark.

I also like that there is no yearly membership fee. Once you buy the device, you can upload data for free to SparkPeople. As I understand it, some electronic devices charge for the convenience of automatic uploading of data to a web site.

I donít like that there is a large discrepancy between the pedometer and the Spark. If I continue to wear two devices, though, I can allow the Spark to upload data automatically, and then manually record the difference between the two devices so I get full credit for the walking I do.

Edit: Disclaimer: I did not receive the Spark for free, though I did get a discount and was able to try it out earlier than the public release date of September 30, 2013. As far as I know, there was no expectation that I write a review - I did that on my own. No one offered to pay me to write a review, and I don't expect any future compensation. I hope my review helps others to decide whether they want to purchase the device. And others should feel free to post links to my blog entry.





Monday, August 19, 2013
Ö and ducks and trees Ö.

I enjoy taking long walks around town, taking photos on my iPhone. Any camera would do, but right now, I use my iPhone and a point-and-shoot Nikon Coolpix L610. Iíd love a DSLR, but thatís not in the budget. I can take some decent pictures with what Iíve got, if I do say so myself.

My cameras are what get me out on nice days, when I could be staying home, chatting on Facebook or SparkPeople. Online isnít bad, but itís also not getting my physical activity. There needs to be a balance.

Iím on the SparkPeople Shutterbugs team. Every week thereís an assignment (which isnít graded and no one really cares if you post stuff from years ago or if you post 6 months from now, if you have something that fits the theme). The assignments are inspiring and encourage me (and others) to go out and shoot and sometimes interpret assignments in interesting ways. I think it helps my creativity.

I took an online photo class this summer, a class which lasted the entire month of July. Each day had an assignment, and I enjoyed working to get just the right photo or set of photos for each assignment. As with the Shutterbug team assignments, nothing was graded. I got out of the class what I put into it, which I think was a lot. I think it helped improve my photos, especially in thinking of subjects I might not have considered before and various angles with which to shoot a picture.

And as a bonus, I got lots of walking in. According to my pedometer, I walked 84.19 miles in July. That may not seem like much to someone who walks all the time. After all, some people walk - or run Ė 5 or more miles a day. But it was the month in which I walked the most miles so far this year. And I wasnít able to record my miles for 2 of those days, due to a dead pedometer battery.

So Ö thatís what motivates me to get out and get some exercise. And itís enjoyable. Itís a win-win, as far as Iím concerned.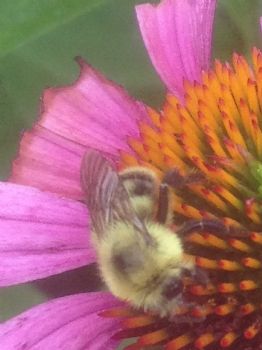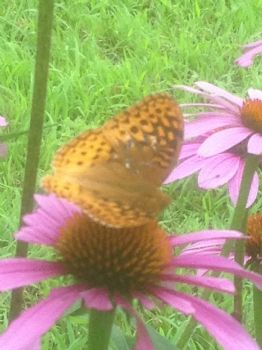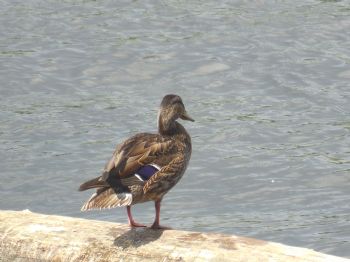 Saturday, July 27, 2013
Iíve been thinking a lot about perspective lately. Perspective is the way you see something. In photography, perspective is the angle at which you photograph a subject, and shooting from above or below or across can make for interesting photos, as can extreme close-ups and distances shots.

Perspective is also the way you see yourself and others, and itís something you can change. If all your notice is your weight or failures, you are likely to feel pretty bad about yourself. Changing your perspective Ė your view of yourself or others Ė can change your whole attitude toward yourself or others. Look for a feature you like. This could be your eyes, your hair, your smile Ė or it could be something inside, such as your outlook on life.

Some things I like to notice about people: their smiles, their manicures, their shoes.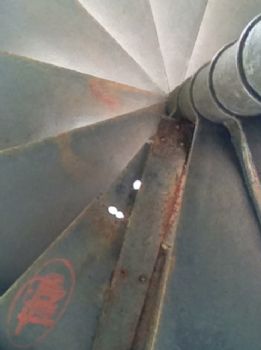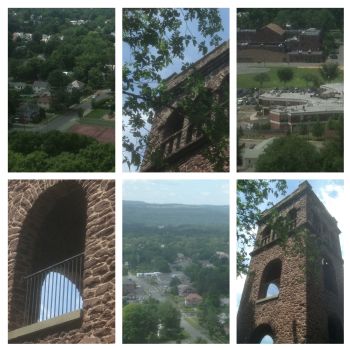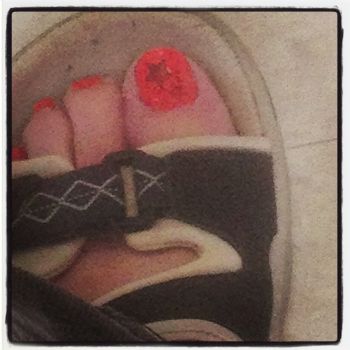 Monday, April 29, 2013
I signed up 7 weeks ago for a 5K ďfun run,Ē which was held yesterday. It was to benefit charity. I even found a 7-week ďCouch to 5KĒ program online so I would be ready to run.

Right.

My first day out, a Monday, and my day off, I got a frantic call from one of my staff calling out because of ďpersonal issues.Ē Iím usually suspect of personal issues and ďfamily emergencies,Ē because they are usually euphemisms for ďitís a nice day and I want to party instead of work.Ē My staff was sobbing, so she probably really had something going on.

So I didnít run that day. The next few days were work days, and I just didnít have time to go out and run. OrÖI didnít make the time to go out and run.

And then I was on-call a week. I had to carry a pager and cell phone everywhere. So much for traveling light. I took brief walks around town, with the devices shoved in my pockets.

And thenÖthe weeks flew by and I worked and worked, and then it was the day of the race. I really canít say the day snuck up on me or that it was a surprise Ė after all, I had 7 weeksí notice. I suppose I should have signed up to walk, but I had chosen to run (I had already asked what would happen if I changed my mind and was told nothing, Iíd still have a chip and would still be timed). I walked fast, though, and finished in 50 minutes (official time: 50:42). And I fully expected to come in last place of the runners Ė and I was actually 459 of 473. But, regardless my placement, I FINISHED.

My feet hurt, though. Itís the shoes, I just know it. They look really cool Ė theyíre coral. However, they donít seem to have the cushioning necessary for running or walking shoes. I guess you get what you pay for with shoes, and clearance items at Target may be nice to work in and get tons of compliments on, but may not cut it for a race.

All this is training and learning for a 5K my agency is sponsoring in November. I am helping plan this race, and I plan to run. Really run. Not win, just run. I have 6 months to train. And my time to beat is 50:42.



1 2 3 4 5 6 7 8 9 10 11 12 13 14 15 16 17 Last Page

Get An Email Alert Each Time LARRI2010 Posts