| | |
| --- | --- |
| | LADYIRISH317's Recent Blog Entries |


Thursday, December 02, 2010
You've noticed my Christmas avatar. This angel represents my daughter, Margaret.

I carried Margaret for ten months, and she weighed 10 3/4 pounds at birth. She had the darkest red hair I've ever seen on a newborn. My ex and my in-laws had always told me that Irish is a terrible, low-class thing to be. Well, my Margaret was the most Irish-looking baby I've ever seen, and she had the attitude to match. In the words of the classic film The Quiet Man, "Oh, that red head is no lie."

When she was one day old, the doctor told me to give her a bottle of water (she was breast-fed and had never tasted a rubber nipple before). Well, she shoved the nipple back out of her mouth with her tongue and absolutely GLARED at me! "Whatever that was, I did NOT like it!" She never tasted a bottle again.

Her big brother was in ICU at the time from being hit by a pick-up truck. We were bracing ourselves to lose him. Instead, Margaret grew her wings at the age of one month, a victim of SIDS. I've scourged myself for years -- I put her down on her tummy to sleep, and now they say that can contribute to SIDS. Sometimes I still wonder if I caused her to die.

I have two consolations in this. One, I know that my little bundle of attitude is keeping Sts. Peter and Patrick absolutely hopping! The other is that she's with her great-grandmother. My grandmother Margaret (my father's mother) is my other guardian angel, a skinny, frail old woman who would tell my father and my uncle to quit picking on me (big macho men -- I was six at the time). I lost her when I was seven, but I said from the time I could talk that my first daughter was going to be named Margaret. I imagine her holding my little redhead.

Margaret, a stor -- I miss you so much. I wish I could have given you a Christmas.





Wednesday, December 01, 2010
I'm lonely and starving for community. I'm alienated from the Catholic Church I grew up in. I have tried other churches but I always feel as if I'm betraying a loved one when I do (when I was growing up, "Protestants" was an insult. This is in no way the way I think now.). Also, "Irish Catholic" is almost one word to a lot of people. I feel as though I'm betraying my ancestors who died for the right to practice the faith.

But recent developments from the Church make it impossible for me, in good conscience, to return. I'm considering a Presbyterian church me that looks really appealing. It looks like a wonderful, vibrant community with a lot of activities and committees to appeal to different people. But my Catholic conscience is kicking me badly. Also, I'm terrified of new situations where I might be judged based on my size and ungainly appearance.

I want to. I don't know what to do.





Saturday, November 20, 2010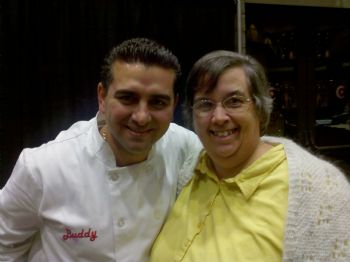 (A special thank you to the security guard at the Wells Fargo Center who took this picture with his Smart Phone -- doofus here left her camera in the glove box!)

I've been a fan of Buddy Valastro since Cake Boss premiered. I always found him to be engaging and funny. I know some people think they edit the show to make him look good. I can tell you after tonight, he doesn't need any help. He radiates energy, joy, warmth and -- love. I'm sorry if that sounds hokey, but it's the absolute truth.

The show was a lot of fun. He talked, took questions (while decorating an absolutely gorgeous wedding cake, practically without looking). He had people up on the stage for competitions to see who could frost a cupcake or make a frosting flower like he could (uh...nobody). He made a stunning frosting rosebud BLINDFOLDED. And he had the audience eating out of the palm of his hand. Two extra-nice touches -- a sign-language interpreter for the hearing-impaired in the audience, and a staffer standing by the autograph line to photograph people with Buddy with their cameras. A lot of thought and care for the audience went into this show and made it even more special.

He stayed after the show to sign autographs. I'm told the line went all the way around the perimeter of the building, and it's not a small building. I can't stand for that length of time, so I sat in one of the folding chairs out in the lobby and waited two hours for my turn to get my copy of his book signed. It was worth every minute of it. When it was my turn he held out his arms and said, "Hello, sweetheart" and gave me an amazing hug. (I get one hug a week. I'll be living off of this one for a long time.) He signed my book and chatted with me for a moment. This was nearly midnight after what had to be an exhausting time for him (he's been on tour for the last several weeks).

I've loved the man on TV ever since the show premiered. It fills my heart to know the real man is even sweeter, warmer and more wonderful.





Sunday, November 14, 2010
I hate myself tonight. I feel ugly, contaminated, disgusting. I just want to crawl into a hole and hide forever.

Everything I think I want to do just sounds so stupid today. Chef? Yeah, right. Knit anything for Christmas? That seems like a cop-out because I'm broke. I failed as a wife and I failed as a mother.

I don't know why I keep trying.





Wednesday, November 10, 2010
They're scheduling me for a uterine biopsy, probably at the beginning of December. This will probably involve some anesthesia, something I'm very skittish about. I have a consultation on the 22nd of this month to set it up. More when I know more.



First Page
1
2
3
4
5
6
7
8
9
10
11
12
13
14
15
16
17
18
19
20
21
22
23
24
25
26
27
28
29
30
31
32
33
34
35
36
37
38
39
40
41
42
43
44
45
46
47
48
49
50
51
52
53
54
55
56
57
58
59
60
61
62
63
64
65
66
67
68
69
70
71
72
73
74
75
76
77
78
79
80
81
82
83
84
85
86
87
88
89
90
91
92
93
94
95
96
97
98
99
100
101
102
103
104
105
106
107
108
109
110
111
112
113
114
115
116
117
118
119
120
121
122
123
124
125
126
127
128
129
130
131
132
133
134
135
136
137
138
139
140
141
142
143
144
145
146
147
148
149
150
151
152
153
154
155
156
157
158
159 160 161 162 163 164 165 166 167 168 169 170 171 172 173 174 175 176 177 178 179 180 181 182 183 184 185 186 187 188 189 190 Last Page

Get An Email Alert Each Time LADYIRISH317 Posts