Friday, May 04, 2012
I gave it a go on coloured calendar. I like synopsis and I added some notes on this one. I started back to work on 16th April (date in red) from maternity leave. My goal was to get back in a standard pant (non-pregnancy pant). I was thrilled to wear jean's again (not skinny one yet but getting there).
Mid-way I realized the exercises for ab rehab (Julie Tupler's technique to close the diastasis recti) were not followed thoroughly and I stopped doing planks, OH NOOO!! it hugely slowed me down (+ getting back to work + glutes/shoulder/hamstrings injuries).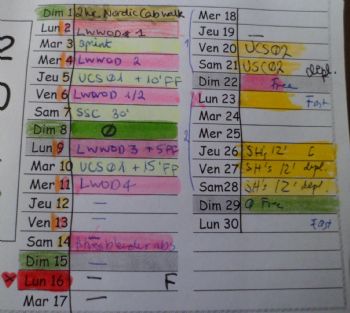 Well, for May I have ordered the ab spling and complete program, since I want that flat tummy I always drooled about.
MY GOALS: get to 60 kg by end of May

So I will follow Joel Marion's Xtreme fatloss diet...intensive!!! beware injuries and fatigue.

Well I had to decide between this and doing the 30 day challenge from Bodyrock. Since there is no strategy behind bodyrock, I will "keep" Bodyrock for maintenance once I reach my fitness goal.
I won't be far away from BR since Joel's XFLD is also about bodyweight, HIIT, strength training.

PS: LWOD: lababla's workout of the day (all my faved moves)
SH:Shaun Hadsall
UCS: Ultimate cardio sequence
SSC: stead state cardio