| | |
| --- | --- |
| | L.R.N.L's Recent Blog Entries |


Sunday, March 21, 2010
I'm so frustrated about gaining 7 pounds. I was so happy when I was 147 then I ended up going for a physical in September and finding out that my hemoglobin had dropped to 8.2. Not good. It is supposed to be 13 at the lowest. Because that usually indicates internal bleeding, the doctors were all over me; in and out, up and down. I had so many tests and had to take so many pills that I ended up really getting sick. I had a Colonoscopy, Endoscopy and several blood tests. I felt fine when they told me my hemoglobin was low. I told them I felt good. But after they got done with me, I was throwing up blood from being bombarded with so many drugs. I'm more of a natural cure person, so my body went haywire with all of these foreign substances. I laid there in the hospital bed for 3 days in excruciating pain because I refused to press the Morphine button. I'd rather be in pain. I was in there because of taking Motrin along with all the other garbage they prescribed for me. Now they want me to take Morphine? How crazy are these doctors? All that drama with 4 different types of doctors and they still said, "Well, we still don't know where you're bleeding from so we have to do more tests." I kept saying that I bleed heavy during my periods because of fibroids but they still wanted to do all these tests. They even sent me to a GYN for a sonogram. They saw the fibroids but said they were small. And went on with their various other tests and prescriptions. I couldn't take anymore. I was fine before I went to the doctor, so it had to be something else. I went to my regular GYN. She did a sonogram and said the fibroids were still small but they were in a bad place making me bleed more. She wanted to do the UFE procedure to shrink them and kill them. I agreed. Now three months after the procedure and I bleed less and have less pain. I feel like Woody Woodpecker right now. "If Woody had gone straight to the police, none of this would have happened". I hate doctors because they are just guessing but they act like they know. They don't really know anything. They only know what it could be according to their books and they try everything until they get a positive response. Everyone is different. We can't all be in sync with these books. Bastids! Now I have to get back to where I was in September 2009. I just got so discouraged. My eating habits didn't change too much. I just did no exercise and binged out several times on chocolate and cookies. I still look at calorie count and compare nutrition facts on the boxes before I buy, so I know Spark People has made a permanent change in my life. I'm very proud to be a part of this family and I know I will be back down to 147 in no time.




Saturday, February 21, 2009



This picture is from my daughter's Jr. High School Graduation. She's 23 now so that was a long time ago. I was about 130 pounds and a size 7. I was proud of the way I looked and took good care of my hair, nails, skin and eyebrows. I look a hot mess now because I'm not proud of the way I look. I went all the way up to 170 pounds and let my hair fall out and went Cro-Magnon man with my eyebrows. I lost 10 pounds on the Master Cleanser diet but could not commit to continue losing weight on that program because they encourage you to become a raw foodist. I will not even try to go there with myself. I love Ice cream and cheese too much. So I joined SparkPeople at 160 lbs. I'm down to 152 pounds in a little over a month and I feel like I have not put myself in a no win situation. I feel that this is going to work for the long run. Counting calories and checking nutritional values can last forever where-as eating only certain low calorie foods and eating things I don't want to eat will only last until I get tired of being controlled by the diet. Which usually last about 3 to 6 weeks.

The last time I wore this dress was June 17, 2006. At the time, Prince had a video out for his song "Fury" and in the background of the video were flames that sort of looked like the artwork on my dress. That night Prince was having a private party at his favorite restaurant "Butter".
tinyurl.com/cn5lla

I lucked out and got a ticket. I rushed past celebrities like P. Diddy, Paris Hilton and Lindsey Lohan to get to the front where his instruments were set up. I had a spot right in front of one of the mic stands and to the near right of Jay Z and Beyonce. You could tell the clebs who actually cared about seeing Prince. They left their booths and made their way to the front so they could actually see him. The show was amazing as usual. But there was one point in the show when Prince came to the mic where I was standing and I looked at him (kinda on a downward angle cuz he's about 5' 2") and I got totally self conscious and lowered my eyes. There was no stage because it's a restaurant, so he was right there floor level and stood about 2 feet away from my face. This is my mentor, I should have been looking him in the eye and beaming. However, one... I'm 5' 8" and I was wearing 1" heals and at that point realized why most of the girls in the front were stepping out of their heels. Then I realized there were several lumps and bulges in that dress that I was not proud of and immediately felt that I should not have squeezed my 160 pounds into that dress. I wore the dress because I was hoping he would notice the similarity from his "Fury" video and it would make him smile. Whenever I had the luck of approaching him, at close range, I always tried to do something to make him laugh or smile, but this time I ended up angry with myself for drawing attention that only made me feel sloppy and ugly.

The only thing that made me feel better was that he looked back at me but didn't seem to look at me in any way in particular and probably didn't have a care. I think the only thing he cared about was that I was standing on his mic cord. LOL!

But I thought about this picture when I joined SparkPeople and wanted to use this image to remind myself that I can lose the weight and get back into that dress and feel good and look good again. I have 6 pounds left to reach my SparkPeople goal. I'm 100% sure that I will make it. I'll be back in my Fury dress in no time.






Friday, February 06, 2009
I missed the 12am deadline so this entry is for Thursday (yesterday)...

I did a lot of exercises today, trying to make up for my lackadaisical attitude towards my goal. I know I have to stay focused but I fall off the wagon every once in a while. I guess as long as I keep picking myself up, dusting myself off and starting all over again, it can't be all bad.

I took a five minute break at work. I took my G1 into the bathroom and set the timer to 5 minutes and jogged in place until the alarm went off. Then I stretched and went back to my desk. I need to do that more often. Since I'm the only one there for now, I have the opportunity to do it. Then after work I walked from 42nd street to 8th street. Then I took the bus home. That took about 30 minutes. It was 17 degrees. Not a day to be walking but I was dressed warm and I felt good.

I know I'm a snack-a-holic so I've taken to purchasing healthier snacks. I used to just pick up a 99cent bag of Doritos Cool ranch and eat the whole bag in one sitting--within an hour actually. 3 or more servings per bag is probably over 500 calories. But now I spend a lot of time comparing snacks when I'm at the supermarket. I know some of the shoppers must think I'm crazy. I line up 3 or 4 boxes of crackers or chips that I'm interested in, so I can see the nutritional information. I look at the calorie count. If one serving is over 150 calories, I put it back. Especially if it's something that will be gone in a flash. I always go for low fat or no fat. Then I look at the protein and fiber values. I weigh those 3 things. I choose the one that rates the best out of all three. I may choose one with 5 more calories if it offers more protein or fiber. These are the most important elements to me. Those are the things I am always lacking in.

Wednesday night I made the most fabulous mac & cheese ever to grace the planet. I got the recipe from the Food Network. My daughter loves mac & cheese. She always gets the Kraft one and I just hate that 'oh so orange' cheese powder it comes with. She's trying to eat healthier now so she bought a box of mac & cheese from Trader Joe's. I was happy because the fat and calorie count were much less and I believe they use whole wheat pasta. But I was not interested in another orange powder cheese fiasco so I went online to find a recipe to spruce it up. Or kick it up a notch as Emeril would say. I found the 4 cheese mac & cheese recipe video. All they did was melt cheddar, Monterey Jack and ricotta in simmering purred squash. Wow! That adds a vegetable without my daughter even detecting it. (I used a can of Trader Joe's Organic Butternut squash soup.) It actually looked like melted cheese. They added a little mustard powder to the cheese mixture and poured it over the cooked pasta. Then they sprinkled the top with a little breadcrumbs mixed with parmesan cheese and baked it. OMG!!!! The cheese sauce was so buttery it was like heaven. No guilt either because I didn't use regular milk to make it creamier. I used almond milk. If I had any soy milk I might have used that, but I'm kinda liking the almond milk better these days. I topped that meal off with a tip I got from Chef Jamie Oliver about cooking pork chops. I used to over season and overcook them and they would be dry and tough and too sweet covered in maple syrup, coca cola or pineapples. LOL! All he seasoned the pork chops with was salt, pepper and sage. I had never thought of using sage on anything. I seasoned my chops with that and then he said to sear the chops for 2 minutes on both sides in a tablespoon of olive oil on high heat. Let them sit for a few minutes, to let the juices flow and let the meat rest. Then put them in the oven. Oh boy! Juicy, tender and delicious. That's my favorite protein now.

On my way home I stopped at an Asian grocery store to see if I could try a new type of food and of course, because of my addiction I could not leave without a box of Pocky. LOL.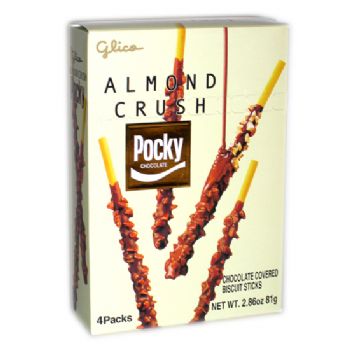 For dinner I had beans, rice & platanos maduro. Love it.

For exercise I hit my staple--the Jump Rope Cardio workout. I love that exercise. It always leaves me winded and sweating but that makes me feel like I did some work. Then I cooled down with a stretch and a few strength exercises, since I've been slacking off for the last few days.


Workin' up a black sweat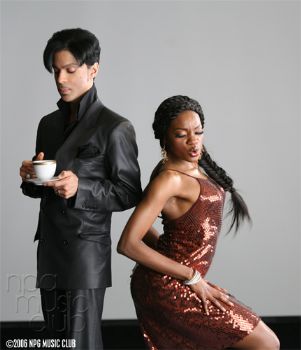 www.mtv.com/videos/prince/74691/blac
k-sweat.jhtml





Monday, January 26, 2009
Last week I decided to go back to having my green tea in the mornings. Friday I had a bowl of Oatmeal with Raisins, walnuts, and Cranberries; and a large cup of Kaiseki Hojicha green tea from Ito En. That's one of my favorite green teas. It has such a smokey flavor. Saturday morning I had a bowl of shredded wheat with strawberries and blueberries and a drizzle of Grade B Maple syrup. Instead of the green tea I had a large cup of Silver Needle White Tea, sweetened with the maple syrup. This morning I had a bagel with the homemade Strawberry Blueberry jam I made yesterday morning and a cup of my favorite green tea.

I haven't been doing too well with my decision to satisfy my cravings early in the day. I ate a few things I could have done without. They were mostly made of chocolate. But that's ok. I'll just have to go to the store and figure out some lower calorie snacks for work. I'm not going to pretend that I can go without them. Not right now. Maybe in the future I won't constantly snack during the day. I'm still staying within my calorie range though. And it is better that I have all of those things early so I can have time to burn them off. Far better than eating them at night and risking going to bed on a stomach full of apples, pears, carrots and popcorn. Because I love my popcorn. Even though apples, pears and carrots are good for me I don't want to be cramming them down at 10pm just so I can clear my fruits and veggies goals. Then I feel stupid because I feel like I ate too much and didn't want to. I'm probably over thinking this whole thing. Maybe I should just not eat if I'm not hungry and not worry so much about the fruit and veggie goal. I'll try the morning thing first. But if that doesn't work I will just let it go and eat only when I'm hungry. At least with Spark People I'm encouraged to eat healthier things... probably because I know I have to enter them later LOL!





I did a little research today to see if I could find a different calculation on what my ideal weight should be. Not that I think 146 is bad but I wanted to even it out to 145 at least so I checked a few sites.

Calculating my perfect weight
Spark People says: 146
Active.com says: 140
halls.md/ideal-weight/body.htm says: 143
Hamwi Formula says: 139
Devine Formula says: 141
Robinson Formula says: 138
Miller Formula says: 141

I calculated the total of the suggested weight by the number of suggestions. So the average perfect weight for me is 141.14. So I'm thinking I will change my weight goal when I advance to stage 2. That's if I feel I can get past 156. I seem to be a little stuck.






Saturday, January 17, 2009
Even though my birthday was on Wednesday the 14th, everything went downhill from there. It just had to be that time of the month starting exactly on my birthday. Great present. I was taken out to dinner and I did pretty well considering that I went to a major burger joint (Jackson Hole) where the burgers are huge and usually over 1,000 calories each. I decided to have a turkey burger with mushrooms and grilled onions, steak fries and marinated cucumbers on the side. That helped me out with my 5 servings of fruit and veggies. I didn't eat the bread so that took off some of the carbs. It wasn't that I didn't really want to eat the bread, it's just that the burger was so darn big I had to cut it with a knife. So I figured why bother with the bread if it won't hurt my friends feelings if I don't eat it. If I did the knife thing with a regular size burger it would be more noticeable and I didn't want her to think I made the choice because of her. It was actually my choice. I love that place. I didn't eat the bread because the burger was too big to eat like a regular burger and since I've been drinking so much water and eating better and smaller portions, I can't eat as much as I used to. Good thing we were going to the movies and had to leave. I could only eat half that burger. She bought me a big tin of caramel and cheese popcorn for my birthday. My favorite as well.
I'm such a glutton for punishment.



Then my boss turned around and bought me a box of really expensive chocolates on Thursday. He knows I'm a chocoholic. Having cramps and being surrounded by all these tempting goodies did not help me at all. To make matters worse, I was so doubled over in pain that I could not exercise like I always did every night. All I could do was cuddle up with my hot water bottle and go to sleep. That sucks. I really wanted to do my exercise every night. Since the pain limited me, I took to walking for 10 to 15 minutes before taking public transportation just to get my cardio in. Then instead of my usual strength training with the crunches and floor exercises I just stuck with the dumbbell work. I was so mad at myself because I couldn't drink the 8 glasses of water or eat all of my fruits and veggies. At work they secretly changed our water from Great Bear to America's Best. They need to change the name to America's Worst. It tastes like it's been dancing on sewer rocks. Water is not supposed to have a taste. That's why I usually bring my own, but I forgot that day. I'm kinda mad at myself for letting my monthly woes get the best of me but the pain is no joke. So I guess once a month I'll just have to get through it as best I can. I'm too scared to get the fibroid surgery. I'm just hoping they will one day shrink to nothing and I'll be pain free.

The thing that lifted my spirits today was when I went into the kitchen and noticed the cookie jar filled with oatmeal cookies. I bought those cookies over a week ago. I've only eaten two cookies from that whole pack of 30. Usually I'd finish the whole pack in 2 days. I remember when I ate those two cookies they did not taste the same. They were not as appealing for some reason. Maybe it's psychological but what the heck. If psychological works to stop me from binging on oatmeal cookies then I'm good with that. I don't think I can curb the chocolate thing though.



I was finally in good enough condition today to do a 10 minute cardio workout with jumping jacks and 5 minute stretch routine. I had a really hearty dinner so I really needed the exercise.

Dinner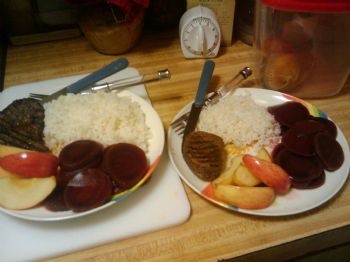 I divided the portions so that my daughter got the 6 oz steak and I got the 3 oz steak with less rice. If I can only get her to eat brown rice that would be great.

On a side note, just as a reminder to myself, I will never buy another box of Mom's Best Naturals Toasted Wheat-fuls cereal. At 200 calories per cup, without the milk you would think it should at least taste better than the box. That's more calories than the steak I had for dinner. Once this box is gone, 'cuz I know I can't even give it away, I will not waste another 200 calories on that cereal. Even Reese's Peanut Butter Puffs cereal has fewer calories. I know they are probably not healthier calories, but there has got to be a better way. That mom is not at her best.




1 2 3 Last Page

Get An Email Alert Each Time L.R.N.L Posts